Stanley Johnson
Recent Tweets
All Tweets
DraftExpress: Jaylen Brown is sick and not playing today. US Starters vs Mexico Tyus Jones Allonzo Trier Stanley Johnson Justise Winslow Myler Turner
2014-06-21 19:40:25
DraftExpress: (cnt'd) Jaylen Brown Justise Winslow Luke Kennard Myles Turner Stanley Johnson Stephen Zimmerman Thomas Welsh Tyler Lydon. Tyus Jones
2014-06-12 13:47:23
DraftExpress: 2014 High School Class Scouting Reports the Wings http://t.co/yvnohyHbPP Stanley Johnson Rashad Vaughn Daniel Hamilton Kelly Oubre & more
2013-09-05 15:13:29
DraftExpress: Stanley Johnson (@StanMan_41) DX Video Highlights and Interview http://t.co/qiaTIcHRpH
2013-09-05 14:46:56
DraftExpress: 15 and 8 for Stanley Johnson in 1st half of #adidasNations championship. He's been consistently good every time I've seen him this summer.
2013-08-05 21:44:14
Predraft Measurements
| Year | Source | Height w/o Shoes | Height w/shoes | Weight | Wingspan | Standing Reach | Body Fat | No Step Vert | Max Vert |
| --- | --- | --- | --- | --- | --- | --- | --- | --- | --- |
| 2015 | NBA Draft Combine | 6' 5" | 6' 6.5" | 242 | 6' 11.5" | 8' 6" | 7.5 | NA | NA |
| 2014 | USA Basketball | 6' 6.75" | NA | 243 | 6' 11.5" | NA | NA | NA | NA |
| 2014 | Nike Skills Academy | NA | 6' 7.5" | 235 | 6' 10.5" | NA | NA | NA | NA |
| 2014 | Hoop Summit | NA | 6' 7" | 237 | 6' 11" | 8' 7.5" | NA | NA | NA |
| 2013 | USA Basketball | NA | 6' 7" | 237 | 6' 10" | 8' 6" | NA | NA | NA |
| 2013 | LeBron James Camp | NA | 6' 7.5" | 226 | 6' 10.5" | NA | NA | NA | NA |
| 2013 | Kevin Durant Camp | NA | 6' 7.5" | 226 | 6' 10.5" | NA | NA | NA | NA |



Basic Per Game Statistics

- Comprehensive Stats - Statistical Top 25s
| Year | League | Name | GP | Min | Pts | FG | FGA | FG% | 2Pt | 2PtA | 2P% | 3Pt | 3PtA | 3P% | FTM | FTA | FT% | Off | Def | TOT | Asts | Stls | Blks | TOs | PFs |
| --- | --- | --- | --- | --- | --- | --- | --- | --- | --- | --- | --- | --- | --- | --- | --- | --- | --- | --- | --- | --- | --- | --- | --- | --- | --- |
| 2014/15 | NCAA | Stanley Johnson | 38 | 28.4 | 13.8 | 4.6 | 10.3 | 44.6 | 3.4 | 7.2 | 47.8 | 1.1 | 3.1 | 37.1 | 3.5 | 4.7 | 74.2 | 2.0 | 4.5 | 6.5 | 1.7 | 1.5 | 0.4 | 2.2 | 2.6 |

Player Page&nbsp&nbsp| Player Stats | Mock Draft History | Related Articles&nbsp&nbsp| Add to My Draft Express&nbsp
&nbsp
2015 NBA Draft Combine Measurements Analysis
May 13, 2015
-Stanley Johnson: The Arizona freshman measured 6'5 without shoes with a 6'11.5 wingspan and a 241.8 pound frame. Measured 6'6.75 without shoes by USA Basketball last summer, this is an underwhelming measurement for the strong, talented wing. His strength sets him apart from the average wing prospect, and he compares favorably to Jae Crowder who measured 6'4.75 with a 241-pound frame and a 6'9.25 wingspan in 2012.

[Read Full Article]

---
Stanley Johnson Interview
May 10, 2015
Discussing a variety of topics with Stanley Johnson in Santa Barbara, including what he's working on on and off the court, his time at Arizona, and how he's looking forward toward the pre-draft process.

(Video may not load with Internet Explorer. Use Chrome or Firefox)
---
More Pre-Draft Interviews/Workout Videos
-Kelly Oubre Interview
-Frank Kaminsky Interview
-Chris Walker Interview
-Chris Walker Workout Video
-Cameron Payne Workout Video
-Cameron Payne Interview
[Read Full Article]

---
Stanley Johnson NBA Draft Scouting Report and Video Breakdown
April 2, 2015
Scouting Report by Jonathan Givony. Video Analysis by Mike Schmitz

Stanley Johnson had a strong freshman season at Arizona, starting every game but one and playing 28 minutes per contest. The Wildcats lost in the NCAA Tournament Elite Eight to Wisconsin, with Johnson playing one of his worst games of the year, besides possibly his Round of 32 performance against Ohio State.

Johnson came into college with an absolutely chiseled frame, measuring around 6-8 in shoes at USA Basketball the summer prior, and tipping the scales at a rock solid 243 pounds. This is especially impressive considering that he reportedly had never lifted weights until arriving at Arizona. He has good length as well, with a 6-11 ˝ wingspan, and has a great combination of speed and power which will be extremely difficult for opposing small forwards to contain when he becomes a more polished offensive player.

(Video may not load with Internet Explorer. Use Chrome or Firefox)

Although not the most explosive leaper, Johnson has a strong first step and is a handful to stay in front of in transition or when operating downhill in the half-court. He posted a solid 19 points per-40 pace adjusted as a freshman with a 56% True Shooting percentage, despite playing in an offense with minimal spacing and little to no perimeter shooting. Johnson can create his own shot effectively with his outstanding combination of quickness, size and power, even showing some ability to operate at different speeds with developing ball-handling ability, particularly in transition or attacking closeouts, or even on the pick and roll.

As the year moved on, Johnson did a nice job adding a floater to his arsenal to account for his struggles finishing directly around the basket, showing nice touch in that area.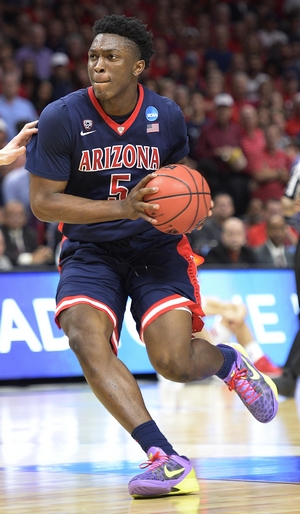 US Presswire



Johnson was not considered a great shooter coming into college, only making 82 of 279 3-point attempts (29%) in the nearly 2300 minutes of game-action we have on record for him prior to Arizona, including his play at the Nike EYBL, the Adidas nations, three FIBA events (at the U16, U17 and U18 level) and more. In spite of that, he impressed with his ability to make shots as a freshman, hitting 41 of his 111 3-point attempts on the season (37%), and showing a much quicker release and more compact mechanics than he had displayed earlier in his career, both shooting off the dribble (he converted 49% of his pull-ups in the half-court) and with his feet set (44% catch and shoot). Through hard work, Johnson turned himself into a player defenses need to account for at all times on the perimeter, including being capable of punishing opponents for going underneath screens on the pick and roll.

Johnson's biggest appeal as a NBA prospect likely lies with his potential on the defensive end. He has tremendous physical tools here, including great size for his position, a strong frame, solid length, and excellent anticipation skills. Although he wasn't always able to show it alongside Rondae Hollis-Jefferson, Johnson has the potential to guard up to three positions at the NBA level, as he should have no problem bodying up most power forwards thanks to his strength and toughness. He is extremely physical when locked in, displaying tremendous footwork on the perimeter, being capable of hounding smaller perimeter players, and also doing a nice job of getting in the passing lanes—averaging an impressive 2.1 steals per-40 minutes pace adjusted and a decent amount of blocks as well. He's also a terrific rebounder, grabbing 9 boards per-40 minutes despite spending heavy minutes at the shooting guard position.

With that said, Johnson's potential as a defender didn't always translate into production on this end of the floor. He has a tendency to take plays off at times, getting beat off the dribble a little more than you'd like, and not always quite showing that junkyard dog mentality he gives you in small doses. He's at times too focused on showing off his potential as a scorer, which appeared to be a source of frustration for his coaches and teammates at times, getting tunnel vision as a passer and not looking locked in consistently defensively.

(Video may not load with Internet Explorer. Use Chrome or Firefox)

Johnson was downright dreadful as a finisher around the basket as a freshman, hitting just 40% of his half-court shot attempts inside the paint this season, one of the worst rates among any prospect in our Top-100. He isn't very explosive from a vertical standpoint, and had a tough time adjusting to the physicality of the college game, simply trying to beast his way through defenders like he was usually able to in high school. He relies too heavily on his right hand, and isn't quite as physical as you might hope finishing through contact, although he did get to the free throw line at a very nice rate (6.6 times per-40p), which helped salvage his efficiency somewhat. As Johnson matures, teams will want to see him do a better job with his decision making, as he's not a bad passer when he commits to playing under control and surveying the entire floor, and is not particularly turnover prone either, coughing the ball up on just 15% of his possessions.

Johnson's poor finish to the season in the NCAA Tournament (7/26 FG in his last three games) likely dampened quite a bit of the enthusiasm around his draft stock, and may cause him to a least think about coming back for his sophomore year. Players with his size and frame who can shoot and defend and have a solid feel for the game are very difficult to come by, and with the increased spacing he'll enjoy in the NBA game (especially as a face-up 4-man in small-ball lineups), he certainly has a great deal of upside, especially when considering he is yet to turn 19 years old.

[Read Full Article]

---
Stanley Johnson vs Anthony Brown Head to Head Matchup Video Analysis
January 23, 2015
More Situational Videos from Mike Schmitz
-Jahlil Okafor vs Frank Kaminsky Head to Head Matchup Video Analysis
-Myles Turner vs Kentucky's NBA Frontcourt Video Analysis
-Kristaps Porzingis vs Barcelona Video Analysis
-Ben Simmons vs Ivan Rabb Video Analysis
-Jakob Poeltl vs Cliff Alexander Head to Head Matchup Video Analysis
-Montrezl Harrell vs Kentucky's NBA Frontcourt Video Analysis
-Rashad Vaughn vs Arizona Video Analysis
-Christian Wood vs Arizona Video Analysis
-Jerian Grant vs J.P. Tokoto Video Analysis
-Bobby Portis vs Damian Jones Video Analysis
-D'Angelo Russell vs Louisville Video Analysis
-Delon Wright vs Rondae Hollis-Jefferson Video Analysis
---
Take a look at our video section for a compilation of all the videos we've produced this year.
[Read Full Article]

---
Stanley Johnson vs Zak Irvin and Caris LeVert Video Analysis
December 16, 2014
More Situational Videos from Mike Schmitz
-Jahlil Okafor vs Frank Kaminsky Head to Head Matchup Video Analysis
-Myles Turner vs Kentucky's NBA Frontcourt Video Analysis
-Kristaps Porzingis vs Barcelona Video Analysis
---
Take a look at our video section for a compilation of all the videos we've produced this year.
[Read Full Article]

---
New Batch of USA Basketball Measurements Released on DraftExpress
October 3, 2014
Potential one and done prospect Stanley Johnson seems to be growing still, as he measured 6-7 in shoes last October, but seems to have added about an inch of height and possibly an inch to an inch and a half of wingspan as well. He's a chiseled 243 pounds, which will make him an absolute load to deal with for college defenders on the wing, and considering he doesn't turn 19 until a month before the 2015 draft, he may not be done growing yet.

[Read Full Article]

---
Top NBA Prospects in the Pac-12,Part 1: Stanley Johnson Scouting Video
September 2, 2014



Mike Schmitz is the video analyst for DraftExpress. Follow him on twitter and check out the DraftExpress Video section. He will be breaking down the NBA draft in digital format all year long for us.

[Read Full Article]

---
Future Lottery Picks Preview The 2014 NBA Draft
June 25, 2014
Stanley Johnson (Arizona), Myles Turner (Texas), Justise Winslow (Duke) and Tyus Jones (Duke) preview the 2014 NBA Draft for DraftExpress from Colorado Springs, where they just won the U18 FIBA Americas Championship for USA Basketball.



All DX videos can be found here.

[Read Full Article]

---
2014 Nike Hoop Summit Video Interview: Cliff Alexander,Stanley Johnson
April 16, 2014
[Read Full Article]

---
2014 Nike Hoop Summit: USA Measurements
April 12, 2014
Stanley Johnson
Weight: 237 lbs.
Height (w/shoes): 6'7"
Wingspan: 6'11"
Standing Reach: 8'7.5"

[Read Full Article]

---
High School Class of 2014 Scouting Reports, Part Three- the Wings
September 5, 2013


Jonathan Givony

Recruiting Rankings: 247: #2, ESPN: #12, Scout: #8, Rivals: #8

Strengths:
-Very good size for a wing at 6-7 ˝ in shoes. Good wingspan (6-10 1/2)
-Outstanding frame—absolutely chiseled at 226 pounds
-Terrific athlete. Strong, explosive, a highlight reel waiting to happen
-Very physical defender. Takes great pride in his work on this end of the court. Has the versatility to guard multiple positions, Defends all five positions at the high school level. Should be able to defend at least three in college (2-4) and possibly beyond
-Does a great job getting to the passing lanes
-Tremendous rebounder for his position, on both ends of the floor. Averaged over 14 rebounds per-40 at the Nike EYBL. Same story in every other setting he's played in
-Extremely aggressive in the open floor. Puts pressure on the defense. Takes the ball strong to the basket. Relishes contact inside the paint
-Solid ball-handler. Has a strong and quick first step. Can overpower defenders knifing through the lane
-Finishes with power
-Can post up a bit. Has the size, strength and desire to impose his will on opponents inside the paint
-Not a non-shooter. Can make an outside shot with his feet set, or sometimes even off the dribble
-Highly competitive player. Plays with emotion. Doesn't take plays off. A winner. Plays for the team. Sets the tone for his teammates with his intensity, swagger and toughness
-Makes extra pass. Not a selfish player. Finds the open man with solid vision

Weaknesses:
-Average perimeter shooter at best. Hit 31/104 (29%) 3-point attempts in 23 EYBL games this season. Made 31% last season
-Doesn't have the most fluid release on his shot. Short arms many of his attempts
-Shot-selection is not great. Settles for too many guarded attempts. Takes far more 3-pointers than he should considering how much more effective of a driver he is.
-Ball-handling skills are improvable in the half-court. Struggles to get all the way to the rim in the half-court at times if he can't simply blow by his opponent
-Fairly turnover prone. Averaged 4.2 turnovers per-40 in the EYBL.

Outlook: A college coach's dream. Has the body and athleticism of a NBA player, and his improved his skill-level and versatility substantially. Can do a little bit of everything on the floor. Has terrific intangibles on top of that. Competitor who wants to win and is willing to do what it takes to do so.

[Read Full Article]

---
Stanley Johnson Video Highlights and Interview
September 5, 2013
Stanley Johnson from Mater Dei high school talks about how he's improved his game, the college recruiting process, how college can better him, and how it affects his transition to the NBA. From the 2013 Under Armour Elite 24.



Filmed and edited by: Farhod Family

Twitter: twitter.com/farhaaaad

Website: http://farhod.com

[Read Full Article]

---
High School Class of 2014: Elite Prospect Scouting Reports, Part One
September 27, 2012
Jonathan Givony

Recruiting Rankings: ESPN: #24, Scout: #28, Rivals: #17, 24/7: #17

Strengths:
-Excellent physical tools
-Strong frame
-Very athletic- quick and explosive
-Extremely competitive
-Tremendous defender. Guards three positions (2/3/4). Fundamentally sound. Shows nice toughness
-Good offensive rebounder
-Very good in transition. Strong first step. Powerful driver
-Finishes strong around the basket. Very good body control
-Can post up a bit using strong frame

Showing flashes of a nice crossover but still needs to keep polishing it.

Weaknesses:
-Can make an open 3-pointer, but not yet a consistent outsider shooter
-Ball-handling skills still a work in progress in the half-court
-Average decision maker. Can be out of control at times offensively

Outlook: Strong, athletic prospect with intriguing versatility. Still rounding out his skill-level offensively, but has a lot of tools to work with.

Highlights:


[Read Full Article]

---