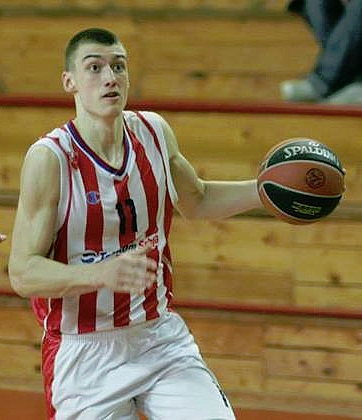 Jonathan Givony
Strengths:
-Good size for a wing. Solid athlete
-Acted as a pseudo point guard in the half-court for Red Star. Averaged 7.6 assists per-40 with a 2/1 assist to turnover ratio
-Smart player. Makes extra pass. Understands limitations
-Good footwork. Attacks opponents with both hands.
-Competitive defensively
-Tremendous rebounder. Hauled in 14 rebounds per-40, second best at the NIJT Belgrade.
Weaknesses:
-Extremely poor shooter. Didn't make a single 3-pointer at the tournament. Made just one 3-pointer in 250 minutes at the U16 European Championships. Made 50% of free throw attempts at the NIJT
-Somewhat of a jack of all trades, master of none
Outlook:
Impressed with his motor and ability to get teammates involved, but like many Red Star/FMP players, is mainly taking advantage of his superior strength, maturity and aggressiveness at this level to overwhelm weaker and more naïve opponents, sometimes from the power forward position. Very effective at this level of competition. Will have to improve his outside shot significantly to find a role at the pro level.