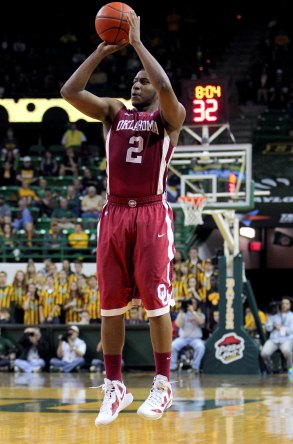 Matt Williams
Garnering Honorable Mention All-Conference honors last season,
Steven Pledger
was one of the most pleasant surprises in the Big XII as a junior. A fringe top-100 prospect , Pledger committed to play for Jeff Capel out of Atlantic Shores Christian HS. Developing a reputation as a dangerous jump shooter, the San Diego-born, Chesapeake-raised guard played a complementary role in his first two seasons at the collegiate level. Sticking around in Norman after Capel was fired in the spring of 2011, Pledger led the team with 16.2 points per-game in an expanded role for first-year Head Coach Lon Kruger last year.
Standing 6'4 with a 225-pound frame, Pledger is a well-built shooting guard who does most of his damage with his jump shot. Possessing subpar quickness and leaping ability for his position at the NBA level, Pledger could fit the mold of a perimeter-oriented offensive roleplayer who can spread the floor and take what defenses give him off the dribble.
A big part of Pledger's ability to fill such a role is based on his ability to hit shots from distance. Shooting 41.6% from 3-point range last season, Pledger is a dangerous spot-up threat who shoots the ball with great confidence and great follow-through. A capable shooter running off of screens and pulling up off the dribble as well, Pledger made 41.4% of his jump shots overall last season according to Synergy Sports Technology, a key number considering nearly 84% of all of his shot attempts were jumpers.
As a junior, Pledger also got the opportunity to create his own shot on the pick and roll in some sets, something that had not been as significant a part of his role earlier in his career. Lacking great ball-handling ability or the speed to turn the corner consistently, Pledger is a not a very shifty player with the ball in his hands one-on-one, but his ability to make sound decisions with the ball, take what defenses gave him at the rim, and pull-up and hit shots, even with a hand in his face, made him a serviceable threat in the two-man game last year.
Looking ahead to the coming season, the name of the game for Pledger will be consistency. In the last 10 games of the 2012 campaign, Pledger scored 0.872 points per-possession, down from the 1.100 he posted over the first 21 games of the year. Slowed by defensive gameplans that were geared towards chasing him off the line and not giving Oklahoma anything easy in transition, Pledger will need to show that he can maintain his efficiency from the perimeter even when shouldering the burdens associated with being his team's first-option.
Defensively, Pledger plays with a decent motor, but gets caught overcommitting to help when defending off the ball too frequently and doesn't have the lateral quickness to consistently overcome those lapses. Pledger's aggressiveness makes life a little bit easier for his teammates, but he'll need to do a better job splitting the difference and recovering to his man to give up fewer shots from the perimeter. In one-on-one situations, Pledger's strength helps him hold his ground, but questions remains about his ability to defend his position at the NBA level.
A player who can put points on the board in a hurry when he gets hot,
Steven Pledger
is not a glamorous NBA prospect, but has shown incremental improvement each year he has been at Oklahoma and is one of the top returning scorers in the Big XII. If he can be a more consistent defender and mesh with Lon Kruger's first haul of freshman and transfers to be more effective offensively, he could put together a good year. A prototypical candidate for the Portsmouth Invitational Tournament, Pledger will be a name to keep an eye on in the new-look Big XII.