T.J. Warren
Recent Tweets
All Tweets
DraftExpress: With the #14 pick in the 2014 NBA Draft the Phoenix Suns select T.J. Warren. The second best scorer in college basketball last season.
2014-06-26 21:03:23
DraftExpress: T.J. Warren DX Scouting Video http://t.co/fwgnoTKhMd
2013-09-05 15:27:38
DraftExpress: T.J. Warren will return to N.C. State next season according to his father http://t.co/6566RQdlYe "He'll be able to show what he can do."
2013-04-03 18:49:18
DraftExpress: Brewster vs Tilton tipping. Two of the best teams in America here and tons of elite recruits (Nerlens Noel, Mitch McGary, T.J. Warren, more)
2012-01-15 04:00:00
DraftExpress: 2011 National Prep Showcase: Elite 2012 Prospects: Mitch McGary, Ricky Ledo, T.J. Warren, Hanner Perea, JaKarr Sampson http://t.co/FJxxndAI
2011-11-23 12:07:09
Team: Suns
Physicals
Positions
Rankings
Salary
Misc
H: 6' 8"
W: 220 lbs
Bday: 09/05/1993
(22 Years Old)

Current: SF/PF
NBA: SF/PF
Possible: SF/PF

RSCI: 26

Agent: Ty Sullivan
Current Salary:$1,953,120

High School: Brewster Academy
Hometown: Raleigh, NC
Drafted: Pick 14 in 2014 by Suns

Predraft Measurements
| Year | Source | Height w/o Shoes | Height w/shoes | Weight | Wingspan | Standing Reach | Body Fat | No Step Vert | Max Vert |
| --- | --- | --- | --- | --- | --- | --- | --- | --- | --- |
| 2014 | NBA Draft Combine | 6' 7" | 6' 8.25" | 220 | 6' 10.25" | 8' 8" | 8.0 | 27.0 | 35.5 |
| 2013 | Kevin Durant Camp | NA | 6' 8.5" | 231 | 6' 9.5" | NA | NA | NA | NA |
| 2011 | LeBron James Camp | NA | 6' 8.5" | 230 | 6' 9" | NA | NA | NA | NA |
| 2011 | Kevin Durant Camp | NA | 6' 9" | 230 | 6' 9" | NA | NA | NA | NA |



Basic Per Game Statistics

- Comprehensive Stats - Statistical Top 25s
| Year | League | Name | GP | Min | Pts | FG | FGA | FG% | 2Pt | 2PtA | 2P% | 3Pt | 3PtA | 3P% | FTM | FTA | FT% | Off | Def | TOT | Asts | Stls | Blks | TOs | PFs |
| --- | --- | --- | --- | --- | --- | --- | --- | --- | --- | --- | --- | --- | --- | --- | --- | --- | --- | --- | --- | --- | --- | --- | --- | --- | --- |
| 2015/16 | NBA | T.J. Warren | 16 | 22.9 | 12.7 | 5.4 | 10.1 | 53.7 | 4.9 | 8.8 | 55.3 | 0.6 | 1.3 | 42.9 | 1.3 | 1.6 | 76.9 | 1.5 | 2.3 | 3.8 | 0.6 | 0.6 | 0.3 | 0.9 | 1.9 |

Player Page&nbsp&nbsp| Player Stats | Mock Draft History | Related Articles&nbsp&nbsp| Add to My Draft Express&nbsp
&nbsp
2014 NBA Draft Media Day Interviews: McDermott, Hood, Warren
June 26, 2014
[Read Full Article]

---
Situational Statistics: the 2014 Small Forward Crop
June 20, 2014
North Carolina State's T.J. Warren ranks as the highest usage player in this draft class averaging 23.5 possessions per-game. Ranking 2nd shooting 51.8% from the field but only scoring a slightly above average 1.02 points per possession, Warren is one of the most unique players in this class. He leads this group seeing 2.9 possessions per-game on cuts and 2.5 possessions per-game on put backs, but ranks below average in spot up and post up usage.

As much as Warren's proclivity towards catch and finish opportunities around the rim makes him unique, his shot distribution is what really stands out on paper. The talented forward made a below average 32.2% of his jump shots, but finished at a group-leading 70% clip around the rim, despite lacking elite athleticism.

Warren's finishing ability is the byproduct of his truly outstanding instincts and touch on short range shots. Those two things are also reflected in his knack for scoring with his floater. Scoring more points than any player in the country on runners shooting an impressive 49%, Warren makes up for his lack of jump shooting ability by making short range shots at an elite-level. Warren will be one of the truly interesting cases to keep track of in this class, as it's been some times since we've seen a small forward with his unique offensive skill set.

[Read Full Article]

---
T.J. Warren 2014 NBA Pre-Draft Workout and Interview Video
June 1, 2014
We joined T.J. Warren as he works out in preparation for the 2014 NBA Draft, and discussed a number of topics with him, including what he's trying to improve on in the short-term and what he feels he can bring to a NBA team.



Previous 2014 NBA Draft Workout Videos


-Elfrid Payton
-Zach LaVine
-Aaron Gordon
-Doug McDermott
-Nik Stauskas
-Adreian Payne
-K.J. McDaniels
-Sean Kilpatrick
-Joe Harris

[Read Full Article]

---
2014 NBA Combine Interviews: Warren, Dinwiddie, Wilcox
May 16, 2014
[Read Full Article]

---
NBA Draft Prospect of the Week: T.J. Warren
March 10, 2014
T.J. Warren is the #2 scorer in college basketball, posting over 28 points per-40 minutes, with a strong 59% true shooting percentage. Barring a miracle (four wins in four days at the ACC Tournament), Warren will likely miss the NCAA Tournament, but has nonetheless strung together an extremely impressive season, and is coming off back to back 40-point outings.
---
- NBA Draft Prospect of the Week: A.J. Hammons (Video Scouting Report)
-NBA Draft Prospect of the Week: K.J. McDaniels (Video Scouting Report)
-NBA Draft Prospect of the Week: Deonte Burton (Video Scouting Report)
-NBA Draft Prospect of the Week: Noah Vonleh (Video Scouting Report)
-NBA Draft Prospect of the Week: Nik Stauskas (Video Scouting Report)
-NBA Draft Prospect of the Week: Aaron Gordon (Video Scouting Report)
-NBA Draft Prospect of the Week: Clint Capela (Video Scouting Report)
-NBA Draft Prospect of the Week: Thanasis Antetokounmpo (Video Scouting Report)
-NBA Draft Prospect of the Week: Shabazz Napier (Video Scouting Report)
-NBA Draft Prospect of the Week: Bogdan Bogdanovic (Video Scouting Report)
-NBA Draft Prospect of the Week: Joel Embiid (Video Scouting Report)
-NBA Draft Prospect of the Week: Julius Randle (Video Scouting Report)
-NBA Draft Prospect of the Week: Jabari Parker (Video Scouting Report)
-Revisiting Giannis Antetokounmpo (Video Scouting Report)
-Revisiting Damian Lillard (Video Scouting Report)
-Revisiting Nikola Mirotic (Video Scouting Report)
-Revisiting Alexis Ajinca (Video Scouting Report)
---


Warren put a lot of work into transforming his body this past summer, reportedly cutting his weight from 235-240 pounds to a slender 218, which has made him downright impossible to defend at the college level.

A highly unconventional player, Warren is as gifted a scorer as you'll find. He moves off the ball exceptionally well, finding gaps instinctually in opposing defenses. He is difficult to slow down because of the versatility he displays, being extremely effective at putting the ball in the basket in a multitude of ways inside the arc.

Warren has taken the 3rd highest amount of runners and floaters in all of college basketball this season according to Synergy Sports Technology, hitting over 50% of these attempts, which is tops among DX Top-100 prospects.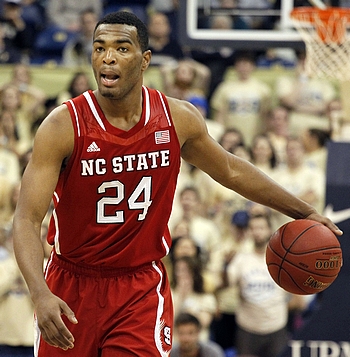 US Presswire



While not a traditional one on one player (most of his isolation plays come from the elbow or short corner), he's extremely tough to defend because of the quality of his mid-range game and how many different release points he has on his shots. Frequently used as a mismatch face-up power forward, He has terrific footwork, extremely soft touch and a knack for throwing the ball into the basket, sometimes going high off the glass.

He's also extremely effective in the direct vicinity of the basket, making 69% of his non-floater attempts around the rim in the half-court, which is also #1 among DX Top-100 prospects.

Warren does a great job of getting out in transition, as the biggest share of his offense comes in this fashion. While not exceptionally quick, a high flyer, or an amazing ball-handler, his scoring instincts really shine through here, as he shoots 65% from the field in these situations, 3rd best among Top-100 DX prospects.

One major question mark in Warren's evaluation as a NBA prospect revolves around his outside shot. He made just 29.5% of his 3-point attempts on the season, although he does make over one per game. Some of this has to do with poor shot-selection, but his inconsistent shooting mechanics play a substantial role in these mediocre percentages from beyond the arc as well. Warren shows sloppy footwork and a significant ball-dip on the catch, not getting his feet underneath him and fading away badly on most of his attempts.

He's often talented enough to throw ball into the basket regardless, despite his poor mechanics, which leaves some hope that he'll be able to figure it out in the pros with better coaching and more practice time. His consistency has improved as the season moved on, as he made 35% of his 3-point attempts in ACC play (17 games). NBA teams will likely want to get a better feel for this part of his game in private workouts, as his ability to space the floor effectively from the small forward position will likely play a major role in whether or not he's ultimately successful.

Another question pertaining to his role-player potential revolves around his passing ability, or rather lack thereof. He's dished out just 32 assists on the season in over 1000 minutes thus far, or one every 33 minutes he's on the floor. His assist percentage ranks third worst among DX Top-100 small forward prospects, and things were even worse last season as a freshman with better teammates around him, as his 5.9% assist percentage was identical to Shabazz Muhammad's.

Warren will likely have to make an adjustment in his game when surrounded by better talent in the NBA. He doesn't see the floor very well and forces up a lot of tough shots, being somewhat single-minded in his approach. What's interesting is that he doesn't even get that big of a share of his offense in isolation settings, as he's not the most advanced ball-handler you'll find in the half-court, so he doesn't really need the ball in his hands to be effective as a scorer, which should help his transition to the NBA.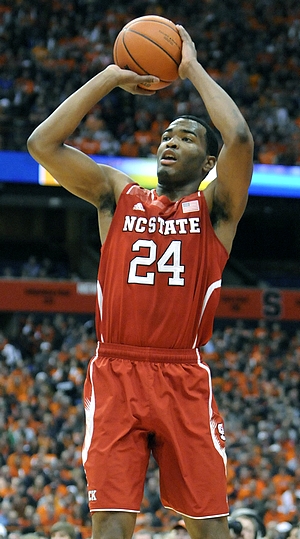 US Presswire



Mostly asked to guard power forwards at the college level, Warren will likely see more time on the perimeter defensively in the NBA, which poses another set of questions he'll have to answer in private workout settings. His effort here can be questionable at times, as he doesn't always get low the ground in his stance, and gets beat frequently off the dribble, often preferring to simply swipe at the ball rather than playing a more fundamentally sound style. On the other hand, Mark Gottfried teams have never been known for their defensive prowess, so a change of scenery might help.

Warren's instincts and anticipation skills really shine through in the way he approaches his work at the top of N.C. State's press, as he gets a good amount of steals that way, which leaves some room for optimism. Still, his lack of length is somewhat concerning, as he measured a 6-9 to 6-9 ½ wingspan on two separate occasions at the Kevin Durant Skills Academy in 2011 and 2013. Will he be able to guard small forwards consistently in the NBA?

Measured at 6-9 in shoes, or close to it, Warren is tall enough to spend a good amount of time at power forward in the NBA as well, but his very poor defensive rebounding rate at the college level could make that difficult at times if he doesn't make a more concerted effort here. He only pulls down 4.4 defensive rebounds per-40 (last year 3.1), which ranks extremely poorly for a PF prospect, and still below average for a SF.

With that said, Warren has one very valuable skill he can hang his hat on in his supreme scoring ability, and considering he's only 20, he can likely still improve on his very correctable weaknesses (perimeter defense, 3-point shooting) enough to develop into a solid NBA player. Finding a role for him at the NBA player isn't a cinch, though, which is why his draft stock hasn't really taken off just yet despite the gaudy scoring numbers he's produced this season.

Matchups against the likes of Duke, Syracuse, Virginia, Tennessee, Cincinnati, North Carolina, Pitt and others have given us ample opportunity to evaluate Warren's strengths and weaknesses as a prospect, which we've done in the following video scouting report, courtesy of Mike Schmitz.



All of our video scouting reports this season can be found here.

[Read Full Article]

---
Top NBA Prospects in the ACC, Part Two: T.J. Warren Scouting Video
September 5, 2013


Mike Schmitz is the video analyst for DraftExpress. Follow him on twitter and subscribe to the DraftExpress YouTube page. He will be breaking down the NBA draft in digital format all year long for us.

[Read Full Article]

---
2011 National Prep Showcase: Elite 2012 Prospects
November 23, 2011
Joe Treutlein

One of the most gifted pure scorers we saw this weekend, T.J. Warren (#23 ESPN, #22 Scout, #23 Rivals) has an interesting package of skills for a forward prospect, to go along with an excellent feel for the game.

Standing 6'8 with a thick frame and good strength, Warren has excellent size for a small forward, but is undersized for a power forward, while he is likely a below average athlete for either position from a quickness and explosiveness standpoint.

What makes Warren such a high level prospect is his ability to put the ball in the basket from all over the floor and his overall feel for doing so, something that was only partly on display this weekend given the role he sometimes has to play on his extremely talented team. In the game we saw, Warren did most of his damage finishing on lay-ups in the halfcourt in transition, showing good creativity and touch around the rim along with fantastic hands and an excellent ability to get open in good position, as he scored 22 points on excellent 10-for-12 shooting from the field.

Warren also flashed some perimeter abilities here, but largely didn't utilize his highly developed dribble-drive and spot-shooting game, arguably his best assets as a prospect at this stage. Warren doesn't have a blazing first step or incredibly advanced ball-handling, but he has a very controlled dribble, an excellent ability to make subtle changes of direction, and a knack for putting the ball in the basket no matter where he is on the floor. He also isn't shy about throwing around his well-built frame and using his great size advantage against opposing 3's, being a good finisher inside despite a mostly below-the-rim game. Warren's equally impressive as a shooter, having a high and quick release with clear cut three-point range, making him a very dangerous scorer in all regards.

Looking forward, Warren has the makings of an excellent college player with some serious scoring abilities, something that gives him a nice foundation to build upon looking ahead to the next level. Maximizing his athletic abilities and continuing to develop his overall game will be key for him, but it's tough to gauge his long term potential before seeing how his game translates against college competition and real half-court defenses.

[Read Full Article]

---