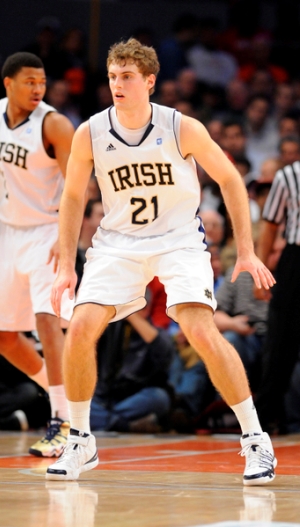 Jonathan Givony
Returning for his fifth and final year at Notre Dame as a redshirt senior, already with an MBA in hand,
Tim Abromaitis
certainly wasn't viewed as an NBA prospect coming out of high school, but slowly developed into one over time.
Young for his class, he redshirted his sophomore season, electing to spend more time working on his body and skill-set. Abromaitis exploded onto the national landscape the following year, developing into one of the best shooters in college basketball.
While he continued to shoot the ball at a blistering pace, Abromaitis regressed somewhat last year alongside Big East player of the year
Ben Hansbrough
. His scoring production and efficiency dropped from the previous season, while his #2 seeded Notre Dame team was upset by #10 seed Florida State in the second round of the NCAA tournament.
A two time academic All-American and Big East scholar athlete of the year, Abromaitis will try to use his last year of eligibility to solidify his resume as a NBA draft prospect while attempting to help his team make a deeper run in March to cap off an excellent college career.
Abromaitis has very good size for a small forward at 6-8, to go along with a sturdy frame. He's just an average athlete at best, however, not showing great quickness or explosiveness, which renders him somewhat of a specialist at the college level.
2/3rds of Abromaitis' shot attempts came on jumpers last season, 83% of which he attempted with his feet set. He has excellent shooting mechanics, boasting a high and quick release, and elevates nicely off the floor on each attempt. Also capable of coming off screens, he can get his shot off very effectively thanks to his size, and should have no problem adapting to the NBA 3-point line.
Abromaitis made 43% of his 3-point attempts in each of the past two seasons, making him one of the best returning shooters in all of college basketball.
Unlike most college players, Abromaitis could very well become a more efficient player in the NBA, thanks to the superior spacing he'll enjoy and the fact that he won't be as much of a focal point for opposing defenses as he is at Notre Dame. It will be interesting to see what happens to his efficiency this season with Notre Dame's best ball-handler and shot-creator,
Ben Hansbrough
, off to the professional ranks.
Outside of his perimeter shooting prowess, Abromaitis is fairly limited. He moves off ball intelligently, doing a good job cutting backdoor for layups when opponents crowd him, but rarely handles the ball and shows very little confidence when he does. His lack of strength and explosiveness makes it difficult for him to finish around the basket in traffic, and he doesn't have any type of post-game he can utilize to take advantage of smaller players guarding him at the small forward position.
Defensively, Abromaitis is a smart player with solid anticipation skills and usually puts a decent effort in. With that said, he has a hard time not emerging as somewhat of a liability at the college due to his limited athleticism, as his combination of poor lateral quickness and high center of gravity makes it difficult for him to stay in front of most guards and wings in isolation situations. Notre Dame is able to overcome that at times by playing him at the power forward position, but that's not going to be a great option in the NBA. For him to have any chance of seeing consistent minutes on an NBA team that values defensive play, he'll need to show a consistently high intensity level and continue to work on his technique to maximize his potential on this end of the floor.
A player with very clear cut strengths and weaknesses, Abromaitis is a niche player who could find a spot in the rotation of a team looking for a player in his mold. We've seen similarly one-dimensional shooters like
Andy Rautins
and
Jon Diebler
drafted over the last two years, and Abromaitis has better size than those two. There are plenty of players in this mold such as
Kyle Korver
,
James Jones
,
Steve Novak
and others who have carved out niches in the NBA, although there as just as many if not far more who ended up playing overseas.