Tony Snell
Recent Tweets
All Tweets
DraftExpress: With the #20 pick in the NBA Draft the Bulls select Tony Snell. Will be interesting to see how quickly he can pick up Thibodeau's defense.
2013-06-27 21:44:39
DraftExpress: Tony Snell working out in downtown Los Angeles with Scott Wood Abdul Gaddy Chase Tapley and Trevis Simpson http://t.co/ofcQKGDiZJ
2013-06-01 17:33:15
DraftExpress: As @ESPNAndyKatz writes it's tough to understand exactly what New Mexico and Tony Snell think they are accomplishing http://t.co/tlXC1oTZtc
2013-03-27 08:49:12
DraftExpress: Tony Snell has "decided to test the interest level of the NBA. He has until April 16 to make his decision" http://t.co/fSLHUmH52G
2013-03-27 08:43:46
DraftExpress: RT @ESPNAndyKatz This NBA draft situation is so odd now. UNM announces Tony Snell will test the interest of the NBA and has until April ...
2013-03-26 16:38:37
Team: Bulls
Physicals
Positions
Salary
Misc
H: 6' 7"
W: 198 lbs
Bday: 11/10/1991
(24 Years Old)

Current: SF
NBA: SF
Possible: SF

Agent: Noah Betzing
Current Salary:$1,472,400

High School: Martin Luther King
Hometown: Riverside, CA
Drafted: Pick 20 in 2013 by Bulls

Predraft Measurements
| Year | Source | Height w/o Shoes | Height w/shoes | Weight | Wingspan | Standing Reach | Body Fat | No Step Vert | Max Vert |
| --- | --- | --- | --- | --- | --- | --- | --- | --- | --- |
| 2013 | NBA Draft Combine | 6' 6" | 6' 7.25" | 198 | 6' 11.5" | 8' 9.5" | 4.9 | 30.0 | 36.5 |



Basic Per Game Statistics

- Comprehensive Stats - Statistical Top 25s
| Year | League | Name | GP | Min | Pts | FG | FGA | FG% | 2Pt | 2PtA | 2P% | 3Pt | 3PtA | 3P% | FTM | FTA | FT% | Off | Def | TOT | Asts | Stls | Blks | TOs | PFs |
| --- | --- | --- | --- | --- | --- | --- | --- | --- | --- | --- | --- | --- | --- | --- | --- | --- | --- | --- | --- | --- | --- | --- | --- | --- | --- |
| 2015/16 | NBA | Tony Snell | 15 | 22.5 | 6.3 | 2.1 | 6.1 | 34.8 | 0.7 | 2.9 | 23.3 | 1.5 | 3.3 | 44.9 | 0.6 | 0.7 | 90.0 | 0.1 | 3.1 | 3.2 | 1.0 | 0.3 | 0.3 | 0.9 | 1.9 |

Player Page&nbsp&nbsp| Player Stats | Mock Draft History | Related Articles&nbsp&nbsp| Add to My Draft Express&nbsp
&nbsp
Trending Prospects: Tony Snell
June 8, 2013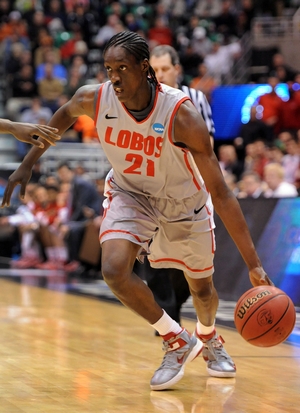 US Presswire



Walker Beeken

New Mexico's Tony Snell had a solid junior season as a major contributor for the Lobos, who won the Mountain West regular season and conference tournament. Snell's season ended in disappointment, however, as the Lobos were upset by Harvard in the first round of the NCAA tournament, marking an end to his college career, as he decided forgo his senior season and make himself eligible for the 2013 NBA Draft.

Snell played the small forward spot for Head Coach Steve Alford and the Lobos, and he brings a nice package of physical tools to the table as an NBA wing prospect, measuring in at over 6'7" in shoes with a near-7'0" wingspan at the NBA combine. He's improved his body some since arriving at New Mexico, but he'll need to continue to add strength to his thin frame to compete physically at the NBA level. He also stacks up well athletically, possessing good speed, quickness, and leaping ability.

Snell's game on the offensive end is built around his outstanding perimeter shooting, and he does a very good job moving without the ball to get open for his shot, as he was constantly being run off of screens in the Lobos' offense. He connected on 39% of his 3-pointers as a junior and has range that should stretch out past the NBA 3-point line. He does a nice job of rising and squaring himself up for jumpers off of screens or spotting up, and he's also able to pull up smoothly after a dribble or two.

Tony Snell Pre-Draft Workout Pull-Up Jumpers




Tony Snell Pre-Draft Workout Catch and Shoot NBA 3s




Despite his smooth outside shooting stroke and strong physical tools, Snell wasn't overly productive as a college player at New Mexico, as he seemed to lack a degree of assertiveness and toughness. Some of this can be attributed to a lack of advanced ball-handling skills and his role in a balanced offense as more of an off-the-ball shooter, spending most of his time being run off of screens or spotting up, but Snell also seemed to lack an attacking mentality, and he too often settled for contested jumpers as a junior.

While Snell's ball-handling skills did looked improved from his sophomore to junior season, he still wasn't much of a threat to create his own offense off the bounce. He did do a better job of using shot fakes and looked more comfortable putting the ball on the floor on close-outs, but he ended up taking a much higher percentage of 2-point jumpers as a junior, which dropped his efficiency, as his 45% on 2-pointers was the second lowest percentage of all small forwards in our Top-100 rankings. His also didn't get to the free throw line all that often, with his 3.8 attempts per-40 ranking fourth worst among Top-100 small forward prospects.

In addition to his passiveness attacking the rim, Snell's 3.4 rebounds per-forty was also the lowest of any small forward in our Top-100, further highlighting his lack of aggressiveness.

With his likely NBA role as a floor-spacing, catch-and-shoot player, Snell won't be asked to create much offense or be a major contributor on the boards, but being more of a well-rounded offensive threat and a player that do some of the dirty work would certainly help him carve out a niche at the NBA level.

Snell does show some potential as a passer and ball-mover on the offensive end, as his 3.7 assists per-forty actually led all small forwards in our Top-100, despite his lack of creating responsibility offensively. He has a nice feel for the game and makes the extra pass and shows some potential finding open shooters on drive-and-kick opportunities.

Defensively, Snell's physical tools make him an intriguing piece, as he has the size, length, and lateral quickness to be a versatile defender capable of defending both wing positions. If he makes a commitment to focusing on the defensive end, it would go a long ways towards helping him solidify a role at the NBA level. He'll need to continue to get stronger and play tougher, but he certainly has the potential to excel on this end of the floor.

Snell's lack of ability to create off the dribble likely limits his upside, and NBA teams will want to do their research and hear from him in interviews regarding his lack of aggressiveness, but he certainly has some qualities that make him an attractive prospect for NBA teams. His size, length, and athleticism give him nice potential to defend both wing positions at the NBA level, while his ability to knock down perimeter shots with his feet or off of screens, and play within the flow of the offense give him potential as a floor-spacer and ball-mover.

With only a few weeks left until draft day, Snell will likely be one of many players hoping to land a spot late in the first round, or somewhere early in the second round, depending on how his workouts and interviews go throughout the rest of the pre-draft process.

[Read Full Article]

---
NBA Combine Interviews: Snell, Young, Green, Blue
May 24, 2013
[Read Full Article]

---
Top NBA Prospects in the Non-BCS Conferences, Part Six
November 20, 2012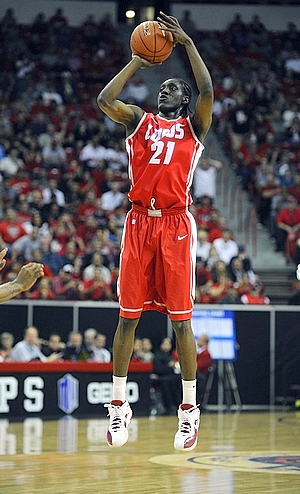 US Presswire



Derek Bodner

After a relatively nondescript freshman campaign, Tony Snell became a key part of New Mexico's rotation as a sophomore. Snell saw his minutes (from 17.5 minutes per game to 25.6), scoring (4.4 points per game to 10.5) and efficiency (51% true shooting percentage to 61%) all take significant jumps during his second season in Albuquerque.

Standing 6'7" with long arms, Snell has good size and length a small forward, although at just 200 pounds he could stand to add bulk in order to defend his position at the NBA level.

At this stage of Snell's career, he is mostly a catch and shoot player on the offensive end. According to Synergy Sports Technology, over 76% of Snell's offense came out of catch and shoot situations, a role at which he excels. Snell has excellent form on his release, with a high release point, excellent follow through, and great balance on his jump shots, and he does a very good job of being in position to receive the pass and get the shot off quickly.

New Mexico coach Steve Alford runs a 2-out-3-in motion offense, which is able to generate a lot of open looks for three point shooters stationed in the corners, a system which does a wonderful job of taking advantage of Snell's proficiency as a catch and shoot player. Snell shot 48.2% on open catch and shoot jump shots last season, which was in the 86th percentile according to Synergy Sports.

Not just a stand still catch and shoot player, Snell got much more of his offense running off of screens to free himself up for open looks, up to nearly 24% of his offense (from under 8%). Snell's footwork looks much improved in this regard, and he is able to gather himself quickly for a jump shot attempt when coming off of baseline screens and curls.

Snell isn't quite as proficient when shooting with a hand in his face, with his field goal percentage dropping to 31.6% when guarded, which is right about average. This could be somewhat alleviated if he were more assertive in establishing an in-between game, as defenders are able to close out aggressively on him due to the limited threat he provides off the dribble. While Snell has shown some ability to shoot off the dribble, that has so far been used so infrequently that it is not something defenders game plan against.

Snell's limited contribution off the dribble is a combination of New Mexico's offense, Snell's average ball handling skills, and a penchant for settling for outside jump shots too frequently. Snell has decent quickness, and he shows some ability as a ball-handler, including a crossover that he is reasonably good with, but he can get loose with his dribble in traffic and overall doesn't seem to trust it very much. One advantage Snell does have is he appears to be more comfortable driving to his left, giving him an advantage over defenders who will instinctively overplay his right hand, since he is a right handed player.

Developing his ball handling and gaining confidence in using one or two dribbles for a pull-up jump shot or a floater in the lane is a key for Snell going forward, as his catch and shoot ability opens up considerable driving lanes for him. If defenders have to give pause before closing out on him it will also give him that split second he needs to get more quality catch and shoot attempts up.

One area where Snell might have some untapped potential is as a passer. Snell's 3.7 assists per 40 minutes pace adjusted is a very good mark for a small forward overall, and especially when taken into the context of how relatively little Snell handled the basketball. Some of that is due to Alford's scheme, as it requires everybody be able to move the basketball, but overall Snell shows solid court vision, even if the execution of his passes aren't always up to the same level. Should Snell improve his ball handling and be able to get into the lane with more regularity, this could be an area of his game where we might see improvement.

At only 200 pounds, Snell would need to add significant strength to be able to defend small forwards, and even many shooting guards, at the NBA level. He can get taken advantage of by bigger guards and forwards already at the collegiate level, and this will only become more pronounced against some of the bruising wing scorers in the NBA.

Snell is also a very anemic rebounder, particularly on the defensive end of the court. Snell averaged only 3.7 defensive rebounds per 40 minutes pace adjusted, which ranks towards the bottom of our database for small forward prospects. While adding some strength to his frame would help, Snell does not appear to be an overly instinctive rebounder, nor does he seem all that willing to fight for rebounds down low. With the loss of Drew Gordon to graduation, this is an area where New Mexico might need to rely on Snell more than they previously did.

That being said, Snell does have some tools to work with on the defensive end. He moves his feet well defensively, which combined with his length gives him ability to contain his man off the dribble. He does a fair job of fighting through pick and rolls, and he does a pretty good job of tracking his man off the ball and fighting through screens. Perhaps most importantly, Snell seems to give solid and consistent effort on this end of the court,

Snell has one definite NBA level skill in his ability to be a catch and shoot threat, which with his size and athleticism will keep him on the radar as a draft prospect. If Snell could add some weight to his frame and show more ability off the dribble and on pull-up jump shots, he could be seen as a potential role player at the next level. It will be interesting how Snell, and the New Mexico offense in general, is able to replace the loss of Drew Gordon, who was responsible for much of the post-up offense Steve Alford's offensive scheme utilizes.

Perhaps more important than any skill set Snell would need to show is an improvement in consistency. Far too often Snell would appear invisible during large stretches of a game, seemingly happy to relegate himself to standing in the corner and taking whatever opportunities came his way. So far through four games this season, Snell has started off his 2012-2013 campaign on the right foot, as he set a career high with 25 points against Davidson on opening night then bested that with 27 against George Mason two games later, getting to the line a combined 19 times in those three games. If Snell maintains that kind of mentality, he could improving his standing considerably amongst NBA decision makers.

[Read Full Article]

---