Tony Wroten
Recent Tweets
All Tweets
DraftExpress: Atlanta is on the clock at 23, and we already know the next three picks (John Jenkins, Jared Cunningham, Tony Wroten). The information era.
2012-06-28 09:47:26
DraftExpress: DX NBA Combine Video Interviews: Austin Rivers, Kendall Marshall, Tony Wroten http://t.co/m8aqTkwy
2012-06-09 11:08:42
DraftExpress: Interviews with Doron Lamb and Tony Wroten with video footage from a workout they conducted in front of NBA teams in LA http://t.co/HtWZoG1n
2012-06-04 09:08:14
DraftExpress: Our latest video scouting report breaks down the strengths and weaknesses of Tony Wroten: http://t.co/YKo0OZrT
2012-06-02 06:00:38
DraftExpress: Wasserman Media Group's 2012 draft haul thus far: Jordan Taylor, Fab Melo, Yancy Gates, Tony Wroten, Jorge Gutierrez and Dominique Sutton
2012-04-23 10:45:10
Team: 76ers
Physicals
Positions
Rankings
Salary
Misc
H: 6' 6"
W: 203 lbs
Bday: 04/14/1993
(22 Years Old)

Current: PG/SG
NBA: PG/SG
Possible: PG/SG

RSCI: 16

Agent: Greg Lawrence
Current Salary:$1,210,080

High School: Garfield
Hometown: Seattle, WA
Drafted: Pick 25 in 2012 by Grizzlies
Best Case: Tyreke Evans
Worst Case: Marcus Banks

Predraft Measurements
| Year | Source | Height w/o Shoes | Height w/shoes | Weight | Wingspan | Standing Reach | Body Fat | No Step Vert | Max Vert |
| --- | --- | --- | --- | --- | --- | --- | --- | --- | --- |
| 2012 | NBA Draft Combine | 6' 4.75" | 6' 6" | 203 | 6' 9" | 8' 5" | 5.2 | 30.0 | 35.5 |
| 2011 | Deron Williams Camp | NA | 6' 6.5" | 204 | 6' 8" | NA | NA | NA | NA |



Basic Per Game Statistics

- Comprehensive Stats - Statistical Top 25s

Player Page&nbsp&nbsp| Player Stats | Mock Draft History | Related Articles&nbsp&nbsp| Add to My Draft Express&nbsp
&nbsp
NBA Combine Interviews: Rivers, Marshall, Wroten
June 9, 2012
[Read Full Article]

---
Doron Lamb/Tony Wroten Workout Interviews
June 4, 2012
[Read Full Article]

---
Tony Wroten Video Scouting Report
June 2, 2012
Mike Schmitz takes a look at the strengths and weaknesses of Tony Wroten, with the help of Washington game-film and head coach Lorenzo Romar.






---




More DraftExpress Video Breakdowns:


-Perry Jones Video Scouting Report
-Thomas Robinson Video Scouting Report
-Andre Drummond Video Scouting Report
-Quincy Miller Video Scouting Report


---


Mike Schmitz is a writer for ValleyoftheSuns, a member of the TrueHoop Network. Follow him on twitter and subscribe to his YouTube page.

[Read Full Article]

---
Trending Prospects (3/14/2012)
March 14, 2012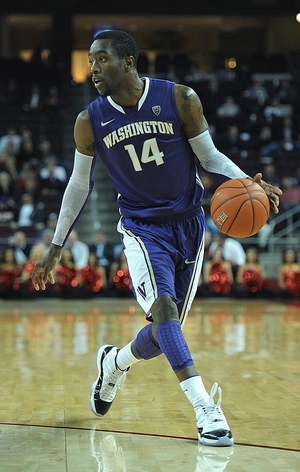 Icon SMI



Joe Treutlein

Drawing accolades as one of the most talented young players in America since he was in 8th grade, Tony Wroten finally landed on the college basketball landscape and had a solid overall season for the Washington Huskies, prominently displaying both his many well defined strengths and weaknesses all year long. Washington's NCAA tournament hopes ended prematurely with a loss in the Pac-12 Tournament quarterfinals to Oregon State, and it couldn't have happened in a worse way for Wroten, who played a spectacular second half but missed four consecutive free throws in the closing possessions of the 86-84 game.

Standing somewhere between 6-5 and 6-6 with a solid frame, good length, and very good overall athleticism, Tony Wroten has a great set of tools for the shooting guard position, and even better one for a combo or point guard. Wroten plays with a very aggressive mentality on the offensive end, taking full advantage of his physical attributes at this level.

Wroten's offensive game revolves heavily on his ability to attack the basket off the dribble, both in the half court and transition. He's a very ball dominant player who sees the majority of his looks in isolations or pick-and-rolls, being a Tyreke Evans-esqe force at times lowering his shoulder and barreling his way into the lane.

Wroten has excellent ability to get to the rim at this level, having a strong first step, terrific ability to change speeds and directions with the ball, strong ball-handling ability, great instincts in the lane, and a mean streak going hard to the basket, as evidenced by his excellent 7.8 free throw attempts compared to just 13.1 field goal attempts per-game. His ability to create his own shot is an incredibly coveted skill in today's NBA, and is something that would likely translate over fairly quickly despite his young age.

Wroten does have one major Achilles heel with his dribble drive game, however, and that's his very deficient right hand, which he struggles with when both creating and finishing. While Wroten starts a good deal of his drives heading right, he does so predominantly to set up opportunities to go back left. On the occasions he does go all the way to the basket with his right hand, he invariably attempts to finish with his left, usually with poor results. In isolations charted by Synergy Sports Technology this season, Wroten is scoring a very strong 0.98 points per possession on drives going left compared to just 0.66 going right, a very wide disparity that most coaches in the Pac-12 caught onto very quickly, even if they did not always have the personnel to take advantage of it.

Holding a consistent size and athleticism advantage over most of his matchups at this level and not usually facing NBA-caliber help defenders in the paint, Wroten is able to consistently overcome his one-sided dribble-drive game, but may face more problems in the NBA, especially against well-coached defensive teams. On the other hand, the more well-spaced and isolation/pick-and-roll oriented NBA is also undoubtedly a better fit for his game stylistically, so that could offset some of his other issues.

Wroten's bigger offensive problem projecting forward is likely his dreadful perimeter shooting ability, as he shot an atrocious 0.532 points per shot on jumpers according to Synergy, and an equally unimpressive 58% from the free-throw line and 18% from behind the three-point arc. As was the issue throughout his high school career, Wroten exhibits inconsistent mechanics and poor feel with his shot, never really showing sustained progress in this area of his game. He made just 3 of the 24 jumpers he attempted this season with his feet set, which makes it very difficult for him to play off the ball since the defense does not need to respect his shooting range. Wroten also has troubles with his mid-range game, not showing the ability to pull-up off the dribble consistently (6/27 this season) and being very erratic with floaters and runners in the lane.

Wroten does bring another plus offensive skill to the table, however, and that is his excellent court vision and passing ability, even though this also comes with some problems. While Wroten possesses superb ability to see the floor and make many difficult passes on drive-and-dishes or when splitting double teams, it isn't something he consistently utilizes. While Wroten is averaging a solid 3.6 assists per-game on the season, he's also averaging an awful 3.9 turnovers per-game and 0.22 turnovers per-possession. Wroten is prone to frequently making lackluster passes that are easily picked off, not showing urgency and focus consistently in this area of his game. While Wroten has ample tools to play the point guard position in terms of his size, court vision and ball-handling, he's never consistently shown the ability to run a team's offense and balance his game.

On the defensive end, Wroten has actually had a more consistently positive season, being an effective defender overall having fewer problems than on the offensive side of the ball. With his superior size, strength, length, and instincts, Wroten has spectacular potential on this end of the floor, and is a very effective man-to-man defender at the two-guard spot when he locks in. He's very prone to gambling, be it swiping at the ball in isolation situations or lunging into the passing lanes, but he has excellent anticipation and hands, which leads to a lot of disruptive plays for him, as well as plenty of steals and rebounds. He is prone to letting out of his stance and his urgency level can drop when things aren't going well for him, but overall he has good tools to guard the two-guard or combo-guard spot well in the pros, and could be an excellent defender if he truly commits himself.

Looking forward, Wroten brings some excellent skills to the table with his physical tools, aggressive dribble-drive game, passing ability, and defense, but he also has some notable weaknesses to overcome, all of which will likely become even more glaring at the next level and none of which he's shown much of a learning curve with in his career.

While there's little doubt he could put up numbers on a bad team in the NBA if given the minutes and enough possessions, the bigger question is if he can do so efficiently, within a team concept, and in a way that helps his team win games, something that will likely be dependent on the development of his decision-making, right hand, and perimeter shooting ability. The fact that he was unable to lead his team to the NCAA tournament, even in the very weak Pac-12, is a major red flag, and evidence of his struggles playing winning, efficient basketball at this stage of his career.

At just 18 years old, Wroten still has plenty of time to reach his potential, and his draft stock could vary widely from team to team depending on how they view his likelihood to improve his many weaknesses. Based on talent alone, Wroten is likely a top-10 pick in this draft, but teams will need to factor in how he fits with their current personnel and style of play in evaluating whether they'll be able to take advantage of that, and how long that might take.

Considering his age and the upside of having such a dynamic shot-creating force on the roster, and the weakness of this draft class at the point guard position, the longer Wroten is on the board the more likely teams may be willing to overlook his weaknesses. Teams tend to fall in love with talent in the NBA draft, and Wroten will be one of the more interesting case studies to follow should he elect to put his name in.

[Read Full Article]

---
2011 Nike Hoop Summit: USA Team Measurements
April 12, 2011
Tony Wroten
Height (with shoes): 6-5
Weight: 204.5
Wingspan: 6-8

[Read Full Article]

---
HoopHall Classic Scouting Reports: Elite Prospects (Part Two)
January 22, 2011
Joseph Treutlein

A player we've profiled extensively since he was just 15 years old, Tony Wroten (#28 Scout, #30 Rivals, #24 ESPN) appears to be back in top physical condition after a torn ACL he suffered 15 months ago, putting his full array of skills on display in his team's loss to Wayne Blackshear's Morgan Park High School.

Finishing with a peculiar stat line of just nine field goal attempts compared to a ridiculous 21 free throw attempts, Wroten played a very aggressive game. He showed great creativity and fearlessness attacking the rim, but also tried to do a bit too much with his isolation offense at times, a concern that has popped up multiple times in his high school and AAU career.

Looking at his ability to attack the basket, Wroten appears to be in the best physical shape we've seen, looking quicker off the dribble and being capable of scoring in a variety of ways in the lane. He shows excellent body control in executing his moves, while his right hand has improved over time in both finishing and handling, though more so for the former.

In terms of perimeter shooting, Wroten didn't show much, missing on his three 3-point attempts on the game and spending almost all of his time attacking the rim rather than trying to score from outside. His mechanics still appear somewhat inconsistent and while he is certainly capable of making shots from outside, it's clear this is the area he could stand to improve the most going forward.

While Wroten's play here was definitely oriented towards creating his own offense from isolation situations, the flashes of playmaking for teammates he showed were impressive. Wroten's court vision is nothing short of outstanding both in the half-court and in transition, and he has excellent instincts and ability passing on the move.

While he frequently brings the ball up the court for his team, he doesn't have much feel for running his team's half-court offense as a pure point guard, looking much more comfortable making passes on the move as opposed to running plays or letting things develop.

Defensively, Wroten showed good awareness in team defense and outstanding anticipation making plays in the passing lanes, making use of his great length frequently to break up plays and pick off passes. He isn't always the most disciplined in his stance in isolation and his body language can get questionable when things don't go his way, but when he's keyed in he is great on this end, and appears to have all the physical tools to defend shooting guards at any level.

Wroten's overall mentality still appears to be somewhat questionable, as he still gives off the feeling that he's more interesting in playing the game for himself than he is for helping his team win games. How well Wroten will be able to function without the ball in his hands and how he'll respond to adversity when things don't go his way in the future are still serious question marks. These concerns have led recruiting analysts to drop him dramatically in their rankings, to the point that it's no longer a sure thing that he'll be invited to the most prestigious post-season all-star games. It's quite clear that the huge amount of attention Wroten received from an incredibly early stage did not do him any favors in his development, something we were concerned about when we first wrote about him two and a half years ago.

Looking forward, Wroten has all the tools and ability to make an instant impact at the college level, and could put himself into draft discussions the second he steps on the court. How he will adjust to playing high level competition more frequently, if he can balance his scoring and passing, and if he can improve his perimeter shooting will be the most important things for him in college, as will staying humble in his approach on and off the court.

[Read Full Article]

---
FIBA U-17 World Championships: Top American Prospects
August 16, 2010
Wroten was very up and down throughout this tournament. On one hand he showed a phenomenal talent level and an extremely good feel for the game. On the other, he struggled badly with his decision making at times and clearly did not look 100% following the knee injury he suffered earlier this year.

Wroten played on and off the ball but was clearly most effective with the ball in his hands, where his imagination and feel for the game as a shot creator and passer really shined through. He sees the floor incredibly well and is capable of making some amazing passes by anticipating his teammate's next move in a manner that only a handful of guards outside the NBA can do.

At the same time, Wroten tries to make spectacular plays on each and every possession, rendering him turnover prone and difficult to play with if the offense doesn't run exclusively through him. His jump shot remains streaky, largely due to his poor shooting mechanics. He flicks the ball at the basket with very little arc, something he absolutely must work on if he's going to reach his full potential as a player.

Wroten's body language also leaves something to be desired. He tends to pout and complain at the first sign of adversity and proceeds to blame his teammates or referees for mistakes that were clearly his. He can play excellent defense when motivated but looks too focused on gambling for steals and getting in the passing lanes.

More than most players, Wroten will need to land at a school that not only caters to his strengths but is also committed to working on improving his weaknesses. Despite his incredible talent level, he has some serious adjustments he'll need to make to his game over the next few years. The problem is that he was such a highly touted player earlier on in his career that it might not be that easy to get him to change his ways at this point. It's pretty clear that he holds himself in very high esteem.

[Read Full Article]

---
Boost Mobile Elite 24 Player Scouting Reports
August 29, 2009
We had numerous opportunities to evaluate the progress of Tony Wroten (#4 Scout, #9 Rivals, #5 ESPN) this summer, be it at a number of AAU games in Las Vegas, the Adidas Nations camp in Dallas, or the Boost Mobile Elite 24 scrimmage in New York. Heís a pretty tough nut to crack from what we can gather, as his play seems to vary radically based on the setting.

When at his best (such as at an epic showdown with the incredibly deep and talented Mac Irvin Fire AAU team, or against an equally imposing Memphis Magic Elite squad), Wroten looks like a canít miss prospect, one of the smartest and most creative prospects weíve ever evaluated at the high school level. He sees plays developing on the court that many NBA point guards would miss, and surprises his teammates on a regular basis with incredible passes right into the heart of the defense for easy baskets.

On more than one occasion youíll watch Wroten thread the needle with a bullet pass that doesnít appear to be anywhere close to anyone on his team, only to see a streaking teammate emerge at the very last moment to grab the ball and calmly lay it in. This ability to anticipate is an extremely special quality that could hint at a very promising future for this 16-year old, and probably shows up most often right now with his ability to get in the passing lanes, which he does at an amazing rate.

In addition to being able to make these magical plays on a whim, he is unique in the way heís able to make simple plays as well. When truly dialed in, Wroten plays the game at an outstanding pace, passing the ball ahead unselfishly in transition, making terrific post-entry passes, reading the floor constantly, and just showing a savvy that belies his age. His IQ is simply off the charts, as everything comes so easily for him, which may be part of the issue.

Mixed in with the good were plenty of bad moments this summer as well, which surely contribute to the general lack of enthusiasm you find amongst many recruiting analysts regarding his development these days. Wroten clearly isnít the most athletic guy in the world, and he could definitely stand to put in some work in the weight room in order to maximize his conditioning level.

Far more concerning though is the general apathy he shows in many games he participates in, particularly those where there isnít as much at stake. Wroten loves to compete under the bright lights, but when heís playing in just another ordinary game, he can look extremely average. In these moments heíll try to do far too much with the ball in his hands, going one on one excessively and exposing his somewhat mediocre first step and near-non-existent right hand in the process. There are some concerns that he may have gotten too much hype too early in his career, which may be causing some red flags to emerge.

More than anything, though, Wroten needs to work on his shooting mechanics significantly, as he shoots a very flat, ugly jumper that gets very poor results. He can make some spot-up jumpers from time to time, but really doesnít have much of a mid-range game, which is sure to emerge as a much bigger issue later in his career as the competition stiffens.

Itís going to be very interesting to see how Wrotenís game continues to evolve over time, as there are many who feel like heís not improving at the same rate as some of his counterparts, which has caused him to drop somewhat in the recruiting rankings as of late. We personally canít ignore the amazing feel he brings to the tableóshowing passing skills reminiscent of Deron Williams at timesóbut itís not hard to see where the criticism is coming from. Wroten cannot buy into his own hype at this stage in his development, as he still has a great deal of work left to put in before he reaches his full potential. It will be fascinating to evaluate his progress a year from now.

[Read Full Article]

---
adidas Nations Experience 2008: NCAA Counselors,High School Interviews
August 12, 2008
[Read Full Article]

---
Initial Scouting Reports, High School Classes of 2010 and 2011
August 1, 2008
Following in the strong tradition of top-flight guards to come out of Seattle recently (think Brandon Roy, Rodney Stuckey, Jason Terry, Jamal Crawford, many more), Tony Wroten (or Anthony Wroten) could very well be the next superstar in the making. Thatís quite an irresponsible thing to write about a kid who is only 15 years old right now, but those are exactly the type of strong feelings that are evoked when watching this young phenom play. Not many outside of the inner basketball recruiting circles are all that familiar with him at this point, but that will change soon enough we can imagine. Heís currently not ranked anywhere on the 2011 recruiting rankings, because those donít exist just yet.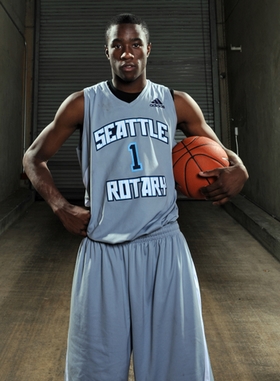 Icon SMI



Physically, Wroten fills the bill for a top prospect, and then some. He is a 6-5 left-handed guard with excellent length, nice size, and a frame that should fill out in time. He is a very good athlete with a strong first step, explosive leaping ability and great body control making adjustments around the rim.

Skill-wise, Wroten can really create his own shot from the perimeter, as he has the ability to change speeds and directions sharply, and is a very gifted ball-handler considering his age. He is also capable of getting hot from outside and unloading a barrage of 3-pointers, though. His shot is extremely flat, but it went in at a very solid rate in the three games we evaluated in catch and shoot situations, and he also displayed a high-skill level pulling up off the dribble at times as well, sometimes from behind the arc fading away off a sharp crossover.

What really separates Wroten from possibly any other player in Vegas (in any class?) was his incredible basketball IQ for a player so young. Wroten spent minutes at the point guard spot and did not look out of place, surveying the floor and showing advanced passing instincts that you rarely see from even true point guards at the high school level. Wroten is extremely unselfish and has a great understanding for how to make those around him better, regularly making heady non-highlight reel caliber passes ahead in transition or on the drive and dish--which hinted at an uncanny natural feel for the game. He also is extremely intelligent moving off the ball as well.

Wroten seems to be a highly competitive kid, fighting for rebounds and also making an effort to play solid defense. He did a great job getting in the passing lanes on a regular basis, and was spectacular finishing or making decisions in transition once there.

Considering that he still has three full years left of high school basketball to play, Wroten will still need to work extremely hard to continue to improve and match the incredible expectations that are bound to come once the word gets out. Improving his shooting mechanics, developing an in-between game, and continuing to work on his weaker right-hand should be his priorities at the moment. Staying humble and surrounding himself with the right people will be key.

[Read Full Article]

---