Trevor Mbakwe
Recent Tweets
All Tweets
DraftExpress: We had 55\/60 of the overall players drafted. Missed on Jackie Carmichael Myck Kabongo James Southerland Trevor Mbakwe and C.J. Leslie.
2013-06-28 00:11:33
DraftExpress: Still available DeShaun Thomas Jackie Carmichael Myck Kabongo Trevor Mbakwe Bojan Dubljevic C.J. Leslie James Southerland
2013-06-28 00:05:01
DraftExpress: Vegas ASM Pro Day Sergey Karasev Lorenzo Brown & Trevor Mbakwe playing 3 on 3 vs C.J. Aiken Durand Scott and Khalif Wyatt. 28 teams here.
2013-05-31 20:21:03
DraftExpress: Trevor Mbakwe has similar sized hands to Kawhi Leonard and also a 7-4 wingspan. He's an offensive rebounding machine http://t.co/nAHW5A6NPN
2013-05-22 16:14:01
DraftExpress: Trevor Mbakwe doing a great job scrapping inside the paint. Has come away with countless offensive rebounds pushing around poor Norvel Pelle
2013-05-22 12:56:57
Team: Maccabi Tel Aviv
Physicals
Positions
Rankings
Salary
Misc
H: 6' 8"
W: 236 lbs
Bday: 01/24/1989
(26 Years Old)

Current: PF/C
NBA: PF
Possible: PF

RSCI: 92

Agent: Andy Miller

High School: St. Bernard
Hometown: St. Paul, MN

Predraft Measurements
| Year | Source | Height w/o Shoes | Height w/shoes | Weight | Wingspan | Standing Reach | Body Fat | No Step Vert | Max Vert |
| --- | --- | --- | --- | --- | --- | --- | --- | --- | --- |
| 2013 | NBA Draft Combine | 6' 6.75" | 6' 8" | 236 | 7' 4" | 8' 10.5" | 5.9 | 30.0 | 36.5 |
| 2013 | Nets Workout | 6' 6.75" | 6' 8" | 236 | 7' 4" | 8' 10.5" | 5.9 | 30.0 | 36.5 |
| 2011 | LeBron James Camp | NA | 6' 8.5" | 237 | 7' 4" | NA | NA | NA | NA |
| 2011 | Amare Stoudemire Camp | NA | 6' 8.5" | 237 | 7' 4" | NA | NA | NA | NA |



Basic Per Game Statistics

- Comprehensive Stats - Statistical Top 25s
| Year | League | Name | GP | Min | Pts | FG | FGA | FG% | 2Pt | 2PtA | 2P% | 3Pt | 3PtA | 3P% | FTM | FTA | FT% | Off | Def | TOT | Asts | Stls | Blks | TOs | PFs |
| --- | --- | --- | --- | --- | --- | --- | --- | --- | --- | --- | --- | --- | --- | --- | --- | --- | --- | --- | --- | --- | --- | --- | --- | --- | --- |
| 2015/16 | EURO | Trevor Mbakwe | 7 | 24.9 | 5.9 | 2.0 | 4.1 | 48.3 | 2.0 | 4.1 | 48.3 | 0.0 | 0.0 | &nbsp | 1.9 | 2.3 | 81.3 | 3.1 | 4.3 | 7.4 | 1.0 | 0.3 | 0.9 | 2.0 | 3.1 |

Player Page&nbsp&nbsp| Player Stats | Mock Draft History | Related Articles&nbsp&nbsp| Add to My Draft Express&nbsp
&nbsp
NBA Combine Interviews: Zeller, Olynyk, Carmichael, Mbakwe
May 18, 2013
[Read Full Article]

---
Top NBA Draft Prospects in the Big Ten, Part Three (#6-10)
September 11, 2012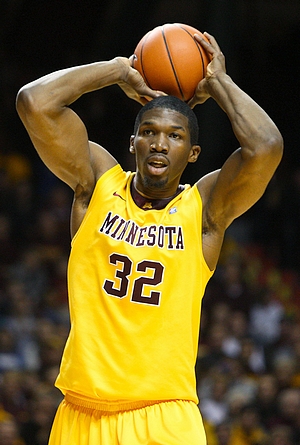 US Presswire



Matt Kamalsky

When we last checked in our Trevor Mbakwe in January of 2011, he was averaging a double-double and in the midst of a breakout junior season that could accurately be characterized as his first full season at the Division 1 level. As we outlined in our last report, Mbakwe's career to that point had been tumultuous to say the least, marked by a miraculous recovery from preseason knee surgery during his 11 game freshman campaign under Tom Crean, a transfer from Marquette, an assault charge stemming from his time at Miami Dade Junior College, and ultimately, two full seasons without appearing in NCAA games.

The last year and a half has offered some solace on the legal front for the Minnesota native. Despite violating the terms of a restraining order just days after we wrote about him, he finally pled no contest to the assault charges in January, effectively putting an end to the case that had loomed large for nearly three years.

Amidst the challenges he faced off the court, Mbakwe managed to build a strong resume coming into his redshirt senior season. Suffering a torn ACL just seven games into the 2011-2012 campaign, Mbakwe was granted a rare sixth of eligibility. Recently returning to practice, the 23 year old (turning 24 in January) will look to be the leader many expected him to be for the Golden Gophers a season ago as he begins to rebuild his draft stock after playing just 49 official games in the past five years.

Where Mbakwe appears to be physically will have a lot to do with how he's perceived by the end of the year. An undersized power forward cut from the same mold as Morehead State product Kenneth Faried, Mbakwe stands 6'8 with a 7'4 wingspan. He was not as quick off the ground or quite as relentless as the Nuggets bruiser, but Mbakwe was a similarly effortless athlete with a penchant for rebounding out of his area and finishing emphatically above the rim before his injury. Mbakwe will need return to the form that made him one of the top per-40 minute pace-adjusted rebounders in our database if he is to reclaim the buzz he had generated among NBA scouts.

Mbakwe's rebounding and energy are the keys to his value at the NBA level at this juncture. A capable finisher thanks to his length and athleticism, Mbakwe is otherwise a mixed bag offensively. He was shooting a super-efficient 60.4% before his injury last season, and has proven to be a capable scorer at the college level, but is a limited shooter and unrefined back-to-the-basket scorer. He shows some promise in both areas, having improved the mechanics of his shot at the foul line and dropping in a deft jump hook on occasion. Despite seeing most of his touches in the post, but otherwise earning his points by playing with tenacity on the offensive glass and ducking in for catch-and-finish opportunities, Mbakwe's skill set seems to align itself well with the type of hustle-based role he'd likely be asked to play at the next level, but continued development as a shooter or one-on-one threat would add a dimension to his game.

Defensively, Mbakwe makes an impact with his length and leaping ability, but is still figuring out how to be a consistent presence on this end of the floor. He shows good quickness on the perimeter and has solid strength for his size defending the post, but looks most impressive when making the occasional highlight reel block or pulling down a rebound in traffic by virtue of his athleticism and length. The power forward struggles with bigger players who make it a point to pin him in the post and is still prone to his share of mental lapses. Making the most of his tools defensively and finding ways to better compensate for his lack of great bulk inside would help Mbakwe take his game to the next level on that end of the floor.

An undersized but athletic big man always has a place in an NBA rotation if he can rebound and defend at an elite level. Prior to his injury, Mbakwe seemed to have at least half of that equation figured out. His age is obviously a concern, as he'll be 24 years old at the time of the draft, but his health is a bigger factor. Teams will do their homework on Mbakwe's health and off-the-court incidents, but he's certainly a name to keep an eye on if he is the same prospect he was a season ago, as players with his motor and physical tools are always extremely coveted.

[Read Full Article]

---
Trending Prospects (1/6/2011)
January 6, 2011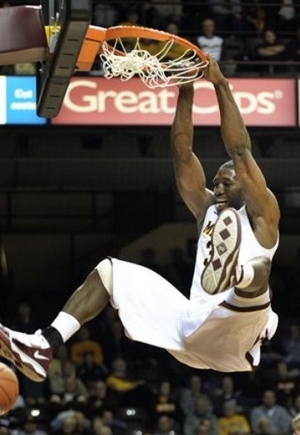 AP



Walker Beeken

Trevor Mbakwe has given Minnesota a big lift so far this season with his rebounding and presence in the paint. The redshirt junior, who will be 22 years old later this month, played his freshman season at Marquette in 2007-2008, before transferring to Miami Dade Junior College. He spent one season there, then committed to Minnesota, but he was forced to sit out all of last season due to a bizarre assault charge (of which he was eventually cleared) stemming from his time at Miami Dade.

He's made a big difference on the court for Tubby Smith's squad this season though, and has caught the attention of NBA scouts as a potential player to watch at the power forward position.

Mbakwe makes his biggest impact on the game with his tremendous rebounding ability. He's currently grabbing 14.3 rebounds per forty minutes pace adjusted, which ranks him sixth amongst all prospects in our database.

Although he's a bit undersized for an NBA power forward prospect at 6'8", he makes up for that with a great motor, good elevation, a strong body, and an excellent wingspan. His intensity on the boards is something he should continue to focus on, as rebounding is clearly his bread and butter and will be the skill that that he hangs his hat on as an NBA prospect.

Offensively, Mbakwe has been pretty efficient so far this season, but he still lacks quite a bit of polish. He uses about 25% of his possessions in the post, and right now he's still a work in progress. He does a nice job using his strong lower body to establish position and is at his best when he can catch and make a power move to the basket. He goes up to the rim aggressively, usually looking to dunk the ball, but he can also finish with either hand with decent touch.

With his back to the basket, Mbakwe lacks some skill and doesn't have much in terms of a go-to move. He also struggles with turnovers, which can be traced to putting the ball on the floor in traffic, as well as travelling calls due to poor footwork.

A key to Mbakwe's development going forward will be his ability to establish himself as a better jump shooter. Right now, Mbakwe rarely attempts any jumpers, and when he does, it is clear that he's uncomfortable and lacks confidence.

Even when left wide open inside fifteen feet, his release is tentative and his balance is usually off. His free throw percentage further illustrates this as he's shooting a very poor 59% from the stripe so far this season. His stroke and touch aren't that bad, though, so there is room for improvement, which would go a long way towards making him more valuable on the offensive end.

Mbakwe has all of the tools to be successful defensively, despite being slightly undersized as a power forward. His length, strength, athleticism, and toughness enable him to compete on the interior, and he's blocking a solid 1.5 shots per game so far this season.

He also moves pretty well laterally for a four man, which should help him in trying to cover pick and rolls and defending face up power forwards. He has too many lapses in focus though, especially off the ball, which occasionally lead to poor positioning and some careless fouls. NBA teams will want to see a player with his offensive limitations bring 100% effort on the defensive end on every single possession, and right now it's tough to say that Mbakwe does that, even if it's clear that he has the tools to if he so desires.

Overall, Mbakwe will face some challenges in proving to scouts that he'd be able to contribute at the NBA level due to his age, height, average bulk, and lack of polish offensively. He still has another season at Minnesota though, and if he can continue to dominate the glass and develop a reliable jump shot, he'll get some looks from teams who need toughness, energy, and rebounding at the power forward position.

We've seen there is a place in the league for players of that mold, and right now the demand for them is higher than the supply.

[Read Full Article]

---