Trey Burke
Recent Tweets
All Tweets
DraftExpress: I personally think this is a great pick for Utah and love the fit between Dante Exum and Trey Burke. They complement each other beautifully.
2014-06-26 20:10:06
DraftExpress: Where does Dante Exum go now? He refused to work out for Utah and did not want to get picked there because of "their market" and Trey Burke.
2014-06-26 20:04:26
DraftExpress: With the #21 pick in the NBA Draft the Utah Jazz select Gorgui Dieng. This pick has been traded to Minnesota in the Trey Burke deal.
2013-06-27 21:50:58
DraftExpress2: Trey Burke should be the early favorite for Rookie of the Year as the starter in Utah.
2013-06-27 20:40:00
DraftExpress: Doesn't make a great deal of sense either actually. RT @WojYahooNBA Trey Burke will go to Portland in a trade league source tells Y! Sports
2013-06-27 20:33:10
Team: Jazz
Physicals
Positions
Rankings
Salary
Misc
H: 6' 1"
W: 187 lbs
Bday: 11/12/1992
(23 Years Old)

Current: PG
NBA: PG
Possible: PG

RSCI: 83

Agent: Austin Brown
Current Salary:$2,548,560

High School: Northland
Hometown: Columbus, OH
Drafted: Pick 9 in 2013 by Jazz

Predraft Measurements
| Year | Source | Height w/o Shoes | Height w/shoes | Weight | Wingspan | Standing Reach | Body Fat | No Step Vert | Max Vert |
| --- | --- | --- | --- | --- | --- | --- | --- | --- | --- |
| 2013 | NBA Draft Combine | 5' 11.75" | 6' 1.25" | 187 | 6' 5.5" | 8' 1.5" | 6.9 | 29.5 | 36.5 |
| 2012 | LeBron James Camp | NA | 6' 0" | 185 | 6' 5" | NA | NA | NA | NA |
| 2012 | Deron Williams Camp | NA | 6' 0" | 185 | 6' 5" | NA | NA | NA | NA |



Basic Per Game Statistics

- Comprehensive Stats - Statistical Top 25s
| Year | League | Name | GP | Min | Pts | FG | FGA | FG% | 2Pt | 2PtA | 2P% | 3Pt | 3PtA | 3P% | FTM | FTA | FT% | Off | Def | TOT | Asts | Stls | Blks | TOs | PFs |
| --- | --- | --- | --- | --- | --- | --- | --- | --- | --- | --- | --- | --- | --- | --- | --- | --- | --- | --- | --- | --- | --- | --- | --- | --- | --- |
| 2015/16 | NBA | Trey Burke | 16 | 21.5 | 10.2 | 3.9 | 8.9 | 44.4 | 2.6 | 5.8 | 44.6 | 1.4 | 3.1 | 44.0 | 0.9 | 1.4 | 68.2 | 0.3 | 1.8 | 2.1 | 2.1 | 0.9 | 0.0 | 1.6 | 1.6 |

Player Page&nbsp&nbsp| Player Stats | Mock Draft History | Related Articles&nbsp&nbsp| Add to My Draft Express&nbsp
&nbsp
2013 NBA Draft Media Day Interviews, Part Two
June 27, 2013
[Read Full Article]

---
Situational Statistics: the 2013 Point Guard Crop
June 18, 2013
-Trey Burke is widely considered the top point guard available in the 2013 draft and nothing we found in studying his situational stats would lead us to believe otherwise. He does not stand out in a major way on paper, but ranks well across the board and excels in a few key areas that should aid him in his transition to the next level.

Looking at the bigger picture, Burke's 18.5 possessions per-game, 0.999 overall points per-possessions (PPP), and 11.5% turnover rate all place him in the top-six of those respective categories. Erick Green, C.J. McCollum, and Nate Wolters all rank similarly well by those standards, and maybe even a little better, but Burke's standing in both usage and efficiency are especially impressive considering the quality of defense he faced on a nightly basis in the Big Ten and the pressure associated with being the top threat on a National Championship caliber team.

Burke did his best work as a scorer in the half court, where he once again hovers around the top-five in usage and efficiency. More a facilitator in transition, Burke sports a terrific 4.3-to-1 assist to turnover ratio on the fast break. His biggest weakness relative to his peer group may be his average scoring efficiency in transition, which is mostly due to the fact he got to the line on a sample worse 12.3% of his transition possessions.

Perhaps more so than any position in the NBA, point guards are defined by their ability to excel in one particular situation: the pick and roll. While Trey Burke ranks well in both the number of possessions he used dribble off of ball screens and the rate at which he turned them into points, what is truly remarkable about his numbers in the two-man game is the degree to which he valued the ball. Turning it over on just 8.2% of his pick and roll possessions, Burke's command of the ball makes him the only player with a single-digit turnover percentage.

Aside from the pick and roll, Burke ranks average to above average as a spot-up shooter, isolation scorer, and off screen threat. A 44.7% jump shooter off the catch and effective slasher with his left hand, Burke is a crafty shot creator with an array of weapons at his disposal to get the ball in the basket.

His biggest weapon as a scorer is his pull-up jump shot, which accounted for a sample leading 46.4% of his attempts in the half court last season. Yielding 1.01 points per-shot, Burke's pull-up is on par with Damian Lillard's coming out of Weber State (1 PPP) and was almost more effective for him than a finishing opportunity, where his 1.052 points per-shot ranks below average. It will be worth tracking how Burke fares when he attacks the rim at the next level, as his shooting at the basket and ability to create easy opportunities for himself at the line could be the key to his ability to take the next step as a pro.

[Read Full Article]

---
NBA Combine Interviews: Noel, Porter, McLemore, Burke
May 17, 2013
[Read Full Article]

---
NBA Draft Prospect of the Week: Trey Burke
April 12, 2013
Scouting report by Jonathan Givony. Video analysis by Mike Schmitz

The consensus national player of the year in every major award, even before leading Michigan on an exhilarating NCAA Tournament run to the national championship game, Trey Burke made tremendous strides in his sophomore season, upping his NBA draft stock significantly in the process.

Burke made a substantial statistical jump in many key areas this season, improving his scoring (+21%), assist (+40%) and steal (+75%) rates, upping his 2-point (+1%), 3-point (+3.5%), and free throw percentages (6.1%), while cutting down on his turnover rate (-35%) and nearly doubling his assist to turnover ratio. In addition, his pure point rating went from being ranked 57th amongst all NCAA point guards last season to second best this year.

Burke is undersized for a point guard, standing around six feet with a relatively narrow frame, but as mentioned in the past, he compensates for that somewhat with an extremely long 6-5 wingspan. He is a solid athlete as well, quick in the open floor and extremely shifty in the half-court, although not terribly explosive around the basket.



Video Analysis



More Scouting Report Videos

The engine behind the #1 offense in college basketball, Burke was arguably the best pick and roll point guard in the NCAA this season, able to put incredible pressure on the defense thanks to the tremendous balance he brings between scoring and facilitating for others. The fact that he can make shots from anywhere on the floor, find the open man instantaneously, or get to the rim makes him extremely difficult to game-plan against.

A highly creative passer, Burke can make plays for teammates in a number of ways, using lobs, bounce passes, kick-outs or dump-offs to find the open man confidently in the half-court or in transition. He sees the floor well, and is not predictable at all with the way he decides to attack the defense on any given possession, thanks to his tremendous versatility.

A fantastic ball-handler with the ability to create offense with either hand and also change speeds at will, Burke has terrific timing and patience in the half-court, not being afraid to use his body to seek out contact in the lane or put a defender on his hip in the mid-range area to create an advantage. He is an expert at stopping and using an extra dribble or two to force the defense to react, and then subsequently reading what happens, either finding the open man or pulling up off the dribble himself.

His maturity as a playmaker came a long way this season, as he did a great job cutting down on turnovers this season, coughing the ball up on just 13% of his possessions, second best among DX Top-100 ranked point guards.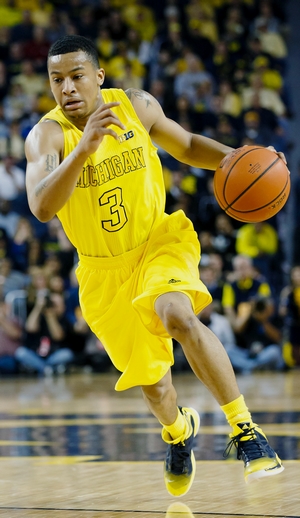 US Presswire



In addition to the 7.7 assists per-40 minutes he averaged this season, Burke also carried Michigan on plenty of nights in the scoring column as well, averaging 21.5 points per-40 on excellent shooting percentages (50% 2P%, 38% 3P%, 80% FT%).

Burke is first and foremost an excellent shooter, able to make shots with both his feet set (44%) or off the dribble (42%), inside and outside the arc. He has excellent core strength and subsequently deep range on his jump-shot, as he displayed on numerous occasions by hitting dagger shots from well beyond the NBA 3-point line at some of the biggest moments of Michigan's season. He has unlimited confidence in his abilities and looks to be extremely tough both mentally and physically, playing the game with terrific swagger.

One area which Burke may struggle at the NBA level is with his ability to finish plays inside the paint in traffic. He converts just 52% of his attempts around the basket in the half-court, a fairly average rate, as he's hampered at times by his lack of size and strength against bigger, longer and more athletic frontcourt players. He tends to settle for tough runners and floaters in the lane, which he finds mixed success with, and needs to get much better at using his left hand around the rim, which he seemingly avoids at all costs.

He's not afraid to drive right into the teeth of the defense and initiate contact to draw fouls, but it remains to be seen whether he'll be able to get to the free throw line at the same rate he did in college (five times per-40 minutes), especially considering his narrow frame. There may be some concerns about whether he'll be able to stay healthy over the course of an 82-game season if he's constantly taking hits around the basket.

The other major area of concern with Burke lies on the defensive end of the floor, where he'll seemingly always be at somewhat of a disadvantage considering his average physical profile. Michigan in general was not a great team defensively this season, and Burke certainly played a role in that, as his effort on this end of the floor wavers at times. Bigger guards can give him problems having their way with him physically, and he allows himself to get screened off rather easily in pick and roll situations, not doing a great job fighting over the top. His long arms do help compensate somewhat at times, particularly in his ability to anticipate and come up with steals and even blocks, but generally speaking he often wasn't much of a factor on this end of the floor, seemingly saving himself at times, which is somewhat understandable considering the amount of minutes he saw and the all-everything role he played for Michigan offensively.

All things considered, it's difficult not to consider Burke the best point guard in this year's draft class when evaluating how much of a complete package he brings to the table offensively. Athletic, intelligent, competitive point guards who can create, distribute and score are incredibly rare and coveted assets, and despite his defensive limitations he should have no issues carving out a long career as a NBA starter, as long as he's able to stay healthy.

[Read Full Article]

---
Top NBA Draft Prospects in the Big Ten, Part Two (#2-5)
September 8, 2012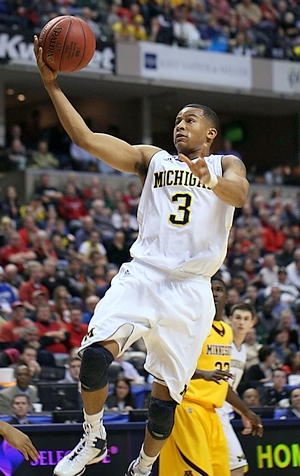 US Presswire



Jonathan Givony

Ranked as a borderline top-100 high school prospect by recruiting services just a year ago, few could have projected Trey Burke developing into one of the best freshmen point guards in college basketball, splitting Big Ten freshman of the year awards with Indiana's Cody Zeller, and being named to the All-Big Ten Second Team.

After a disappointing first round NCAA tournament exit at the hands of the Ohio Bobcats, Burke was already out the door last spring according to all accounts. He reportedly made up his mind to leave Michigan for the uncertainty of the 2012 NBA draft, where he was considered a possible first rounder in a shallow class for point guards.

Burke ended up changing his mind a few days later after heavy pressure from his parents, coaches and Michigan fans, and now returns as one of the faces of college basketball and the leader of a team ranked in the top-10 of most preseason rankings.

Measured at 6-0 in shoes at the Lebron James Academy this summer, Burke has average size for a NBA point guard. His 6-5 wingspan will help him a lot in overcoming that, though, as will his excellent athletic ability and aggressive mentality.

As the primary ball-handler of the slowest tempo team in the Big Ten conference, with no real post presence and very few creators besides him, Burke is by nature a very ball-dominant point guard. A huge amount of his offensive possessions (nearly half) come in pick and roll situations, where he is pretty effective.

Extremely fast in the open floor, Burke is an excellent ball-handler, capable of playing at different speeds and showing a terrific burst blowing by opponents en-route to the rim. He does a good job of keeping his dribble alive and weaving his way around traffic, which allows him to draw the defense and find open shooters spotting up on the wing or cutters diving to the basket.

While much more of a scorer than a pure playmaker at this stage, Burke is capable of creating for others as well, doing a good job reading the floor and anticipating teammates getting open. He makes smart passes ahead in transition, and is very effective in particular on the drive and dish.

Burke's best weapon offensively revolves around his jump-shot, as he has very good shooting mechanics, and is equally effective spotting up with his feet set as he is pulling up off the dribble. He in fact took almost twice as many jumpers off the dribble last season as he did with his feet set, but made both at nearly the same rate (38-39%).

The thing that hurts Burkes' offensive efficiency the most is his propensity for losing patience and falling in love with the pull-up 3-point jumper, something he does on a couple of occasions per game, sometimes before any of his teammates get a chance to touch the ball. Nearly half of his field goal attempts come from beyond the arc, and he makes 35% of them. Pull-up jumpers from 3-point range aren't a particularly high percentage shot for anyone, but he takes plenty of them every game, sometimes by necessity. Now that he will have more help around him this season (Michigan's incoming recruiting class is very strong), it will be interesting to see how well Burke can utilize the new different options he has at his disposal, and whether he can improve his fairly paltry 0.73 Pure Point Rating.

The place Burke's size seems to affect him the most is as a finisher around the basket, where he makes just 50% of his attempts, and gets to the free throw line 4.4 times per-40 minutes, both average rates. While a pretty solid leaper for his size, Burke tends to struggles finishing in traffic against better competition. This could be an even more pronounced issue in the NBA, where everyone is taller, stronger, longer and more athletic, especially the big men. Getting stronger could help here, as could developing a better in-between game inside the lane to finish over the top of taller defenders.

The area where Burke might be scrutinized the most heavily this upcoming season by NBA talent evaluators is on the defensive end. Already projected to give up a couple of inches in most NBA matchups, Burke isn't the toughest or most attentive defender you'll find, not doing a great job keeping his man in front of him, and sometimes looking like he's only going half-speed on this end of the floor. While he has the length and quickness to be relatively effective here, and will show that in small doses from time to time when really called upon, he doesn't really put as much pride into his work on this end of the court as he does offensively.

Still very young, and shouldering an inordinately large share of responsibility as his team's primary ball-handler, facilitator and scorer, Burke looked pretty wore down by the end of last season. He has plenty of time to improve defensively, something that NBA teams would likely want to see considering the concerns that already exist due to his below average size.

There aren't a huge number of 6-0 point guards in the NBA right now, but the ones that are are similar to Burke-- extremely fast, excellent ball-handlers, and prolific scorers who can shoot with range, play the pick and roll and show great poise, confidence and toughness. There will surely be adjustments that he'll need to make to playing in the NBA, particularly if asked to start off in a backup role, but Burke looks to have the talent to do so.

Coming off an unexpectedly strong freshman campaign, NBA teams will be watching closely all season to see how Burke follows up as a sophomore and whether he's able to take his game, and his team, to the next level.

[Read Full Article]

---