Trey Lyles
Recent Tweets
All Tweets
DraftExpress: John Calipari just informed Trey Lyles he's getting picked here by the Jazz. Cool moment in the Green Room.
2015-06-25 20:54:44
DraftExpress: Pacers interest in Payne was always overstated by other draft outlets. Myles Turner and Trey Lyles were neck and neck there. Turner won.
2015-06-25 20:52:50
DraftExpress: Some teams feel Indiana is actually higher on Trey Lyles than on Cauley-Stein. Cam Payne also an option but not as strong as once thought.
2015-06-24 16:27:07
DraftExpress: High School Class of 2014 Scouting Reports-the Big Men http://t.co/MQ45RG3eOg Myles Turner Cliff Alexander Trey Lyles Kevon Looney & more
2013-09-04 11:11:24
DraftExpress: Interviews conducted at the FIBA U19 World Championship in Prague with Jahlil Okafor Trey Lyles and Aaron Gordon http://t.co/gJioY8cyYt
2013-07-07 12:17:52
Team: Jazz
Physicals
Positions
Rankings
Salary
Misc
H: 6' 10"
W: 241 lbs
Bday: 11/05/1995
(20 Years Old)

Current: PF
NBA: PF
Possible: PF

RSCI: 13

Agent: Rich Paul

High School: Arsenal Tech
Hometown: Saskatoon, SK
Drafted: Pick 12 in 2015 by Jazz

Predraft Measurements
| Year | Source | Height w/o Shoes | Height w/shoes | Weight | Wingspan | Standing Reach | Body Fat | No Step Vert | Max Vert |
| --- | --- | --- | --- | --- | --- | --- | --- | --- | --- |
| 2015 | NBA Draft Combine | 6' 9" | 6' 10.25" | 241 | 7' 1.5" | 9' 0" | 12.1 | NA | NA |
| 2014 | Kentucky Combine | 6' 9" | 6' 10.25" | 235 | NA | NA | NA | NA | NA |
| 2014 | Hoop Summit | NA | 6' 10" | 250 | 7' 3.5" | 8' 11.5" | NA | NA | NA |
| 2012 | LeBron James Camp | NA | 6' 9.5" | 228 | 7' 0" | NA | NA | NA | NA |



Basic Per Game Statistics

- Comprehensive Stats - Statistical Top 25s
| Year | League | Name | GP | Min | Pts | FG | FGA | FG% | 2Pt | 2PtA | 2P% | 3Pt | 3PtA | 3P% | FTM | FTA | FT% | Off | Def | TOT | Asts | Stls | Blks | TOs | PFs |
| --- | --- | --- | --- | --- | --- | --- | --- | --- | --- | --- | --- | --- | --- | --- | --- | --- | --- | --- | --- | --- | --- | --- | --- | --- | --- |
| 2015/16 | NBA | Trey Lyles | 13 | 8.5 | 2.1 | 0.9 | 2.8 | 33.3 | 0.8 | 2.3 | 36.7 | 0.1 | 0.5 | 16.7 | 0.2 | 0.4 | 40.0 | 0.8 | 1.4 | 2.2 | 0.2 | 0.1 | 0.2 | 0.5 | 1.1 |

Player Page&nbsp&nbsp| Player Stats | Mock Draft History | Related Articles&nbsp&nbsp| Add to My Draft Express&nbsp
&nbsp
2015 NBA Draft Combine Measurements Analysis
May 13, 2015
-Trey Lyles: The freshman forward measured 6'9 without shoes on with a 7'1.5 wingspan and a 241.2 pound frame. He's about the same size as Josh McRoberts who measured 6'8.75 without shoes with a 7'1 wingspan and a 240 pound frame coming out of Duke. Lyles has the size to play power forward at the NBA level, but with his 9-foot standing reach, he could even see some minutes as a small-ball center.

[Read Full Article]

---
Trey Lyles NBA Draft Scouting Report and Video Breakdown
April 22, 2015
Scouting Report by Jonathan Givony. Video Analysis by Mike Schmitz

Trey Lyles came into Kentucky with a big reputation as part of a heralded recruiting class that featured four McDonald's All-Americans. With Willie Cauley-Stein surprisingly deciding to stay in school, along with former McDonald's All-American big men Dakari Johnson and Marcus Lee, Kentucky sported one of the deepest and most talented frontcourts in recent memory this past season, which forced Lyles to transition to the small forward position, a completely new role for him.

He had an up and down season individually on the whole, a product of playing out of position, but had some nice moments as Kentucky went undefeated until the NCAA Final Four, where they lost to Wisconsin. Lyles' playing time and production increased steadily as the year moved on, particularly after the season-ending injury to Alex Poythress, and he ended up developing into a very important cog for John Calipari, drawing significant praise throughout the year for his skill-level and smarts, calling him an "x-factor" and "as good as any player in the country."

(Video may not load with Internet Explorer. Use Chrome or Firefox)

Lyles has excellent size and length for a power forward, measuring 6-10 in shoes, with a strong 235 pound frame, and a huge 7-3 ˝ wingspan. He is a fluid and mobile big man, but not overly quick or explosive, lacking a degree of athleticism that may limit his long-term upside to a certain extent. He's done a good job of working on his body over the past 18 months, as he has struggled in the past with his conditioning level, but has worked hard to maximize his physical tools after looking somewhat out of shape in the past.

Lyles has a very nice skill-level for a player his size. Showing advanced footwork and very soft touch, he's strong enough to make some plays with his back to the basket, something that wasn't a featured part of his game at Kentucky, but he's nevertheless capable of. He finished 50% of his field goal attempts in the post according to Synergy Sports Technology, and drew a free throw on 25% of his possessions on top of that.

He also shows nice potential as a ball-handler on the perimeter, being capable of attacking his man off the dribble smoothly driving in either direction, mixing in crafty spin-moves with strong body control and choppy footwork, and often finishing with a floater or using the glass with his soft touch. While he's not overly quick, his strong frame and solid timing and patience helps, and as he goes back to playing at the 4/5 spots like he did earlier in his career, he'll have even more of an advantage taking opposing players out on the perimeter.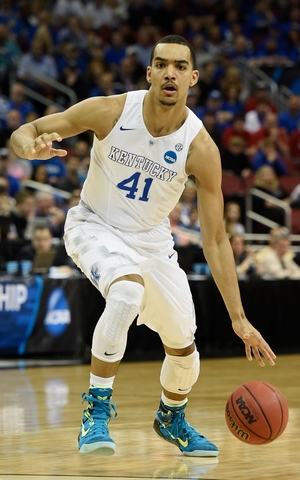 US Presswire



Lyles finished at a very high rate around the basket this past season, converting 59.5% of his looks in the paint according to Synergy. His long arms give him an excellent vantage point to get his shot off, while his touch around the rim does the rest. With that said, there are some question marks about how his lack of explosiveness in traffic will affect him against higher level competition, something teams will likely try to better read on in private workout settings.

Another area NBA teams will likely try to learn more about is Lyles' potential as an outside shooter. He was somewhat of a mixed bag at Kentucky in this area, only converting 4 of his 29 3-point attempts (14%) on the season, and 32/87 jumpers (37%) overall according to Synergy. With that said, Lyles has good shooting mechanics, both with his feet set and off the dribble, evidenced by the 74% he shot from the free throw line this season, and has been sporting range out to the 3-point line already in high school, although not at consistent enough rate just yet.

Continuing to work on his jumper will be very important for his chances of carving out a role in the NBA early in his career, as he doesn't really have any one means of scoring consistently he can hang his hat on at the moment. He's somewhat of a jack of all trades, master of none, but has already showed he can play a disciplined role alongside other good players, even in a system that didn't necessarily suit his strengths perfectly.

Lyles has a good feel for the game and is a solid passer, not turning the ball over very frequently as well. His basketball IQ shows up with his ability to crash the glass, where he posted 3.2 offensive rebounds per-40, despite seeing heavy minutes on the perimeter. He's been a solid rebounder throughout his career—aided by his huge wingspan, as well as good timing and soft hands—and should continue to hold his own here in the NBA despite his average athleticism and the fact that he's not overly physical.

(Video may not load with Internet Explorer. Use Chrome or Firefox)

The biggest questions about Lyles as a NBA prospect likely revolve around his defense, which was considered a major weakness going into college. This is where playing out of position on the perimeter may have helped him the most, as it forced him to work hard on his ability to stay in front of smaller players, instead of being able to hide at the center position like he almost certainly would have on pretty much any other team.

Lyles did a decent job considering the circumstances, but wasn't immune to getting blown by badly on the perimeter at times, looking very hunched over in his stance. He accumulated a very low amount of blocks and steals—the biggest indicators we have for athleticism—posting under one block and one steal per-40 minutes, which is extremely low for a player with his length. It's easy to write that off due to playing at small forward, but Lyles wasn't very good in those areas in the 1800+ minutes of non-Kentucky action we have logged in other settings (FIBA, EYBL, Adidas Nations), posting one steal and 1.2 blocks per-40 there.

On the interior, Lyles is far from perfect as well, as he has a tendency to give up deep post-position and shows average toughness fighting with stronger players inside the paint. Since he's unlikely to be a rim-protector due to his lack of lift, and doesn't sport great lateral quickness, he'll have to show better effort, fundamentals and awareness here than he has over the course of his career to not be a negative on this side of the floor. His long wingspan, and the season he played under John Calipari, should help him somewhat. This is yet another area that NBA teams will want to study closely in private workouts.

Lyles is somewhat of a divisive prospect among NBA scouts. He has some very obvious tools, with his size, length, high skill-level and strong feel for the game, but wasn't overly productive (15.5 points, 9.3 rebounds per-40) or efficient (55% TS%) in college, which is easy to understand due to the circumstances. Power forwards who aren't great perimeter shooters, athletes or shot-blockers are not the most en vogue players in today's NBA, so he'll have to be drafted into the right situation with the understanding of what his strengths and weaknesses are to reach his full potential. Nevertheless, only being 19 years old, time is clearly on Lyles' side.

[Read Full Article]

---
2014 Nike Hoop Summit Video Interview: Trey Lyles, James Birsen
April 20, 2014
[Read Full Article]

---
2014 Nike Hoop Summit Recap
April 12, 2014
One of the top players in the 2014 high school class, Trey Lyles struggled with his shot in Portland limiting his ability to make as consistent an impact as he's proven capable of making in these types of events over the last few seasons.

Standing 6'10 with a 7'3.5 wingspan, Lyles looks to be entering college in the best shape of his young career, having put plenty of work into his body over the last year. He's a good, not great athlete by NBA standards, but has terrific physical tools for a young power forward prospect overall.

As we've noted every time we've watched him, the Saskatoon native is an extremely skilled power forward, and that much was evident immediately when watching his polished footwork and outstanding body control in drills all week. Though the consensus top-10 recruit struggled to make shots from the perimeter and finish against length in the competitive portions of practice, he made some adjustments on game day, looking to compensate by crashing the glass more aggressively.

This was obviously not Lyles's best showing, but it doesn't change his outlook heading into his freshman year at Kentucky. He had a nice showing in Chicago at the McDonald's All-American Game practices and has proven over the course of his career than he has the inside-outside scoring ability and exceptional basketball IQ to be a potential matchup problem and impact player from day one at the college level. His ability to score efficiently and defend will play a big role in how he's perceived around this time next year.

[Read Full Article]

---
2014 Nike Hoop Summit: International Measurements
April 8, 2014
Trey Lyles
Weight: 250 lbs.
Height (w/shoes): 6'10"
Wingspan: 7'3.5"
Standing Reach: 8'11.5"
Hand Width: 10.25"
Hand Length: 9"

[Read Full Article]

---
High School Class of 2014 Scouting Reports, Part Two- the Big Men
September 4, 2013
Jonathan Givony

Recruiting Rankings: 247: #17, ESPN: #4, Scout: #4, Rivals: #5

Strengths:
-Good size and strong frame
-Exceptionally skilled big man
-Can score one on one inside the post. Has very good footwork, soft touch and is very adept at making turnaround jumpers
-Can create his own shot from the perimeter
-Handles the ball in open floor and passes on the move
-Can make an open 3-pointer.
-Possesses an excellent basketball IQ.
-Terrific passer

Weaknesses:
-Average athlete in terms of quickness and explosiveness
-Conditioning has fallen off significantly. Did not look in shape at all
-Average defender. Somewhat stuck between positions defensively
-Lacks the lateral quickness or intensity needed to guard skilled power forwards on the perimeter
-Not enough of a rim protector to anchor the defense as a center
-Does not step out on the pick and roll

Outlook: Extremely fluid and agile big man with a terrific blend of power and finesse. Should develop into a very effective scorer. Has plenty of room to develop on the other end of the floor. Must improve his conditioning level.

[Read Full Article]

---
2013 FIBA U19 World Championship Interviews: Okafor, Lyles, Gordon
July 7, 2013
[Read Full Article]

---
High School Class of 2014: Elite Prospect Scouting Reports, Part One
September 27, 2012
Jonathan Givony

Recruiting Rankings: ESPN: #7, Scout: #8, Rivals: #8, 24/7: #10

Strengths:
-6-9 ˝ in shoes with a 7-0 wingspan
-Solid frame that will fill out nicely in time
-Do-it all power forward with tremendous versatility
-Very good ball-handler for his size. Can create from the perimeter with ease. Handles the ball in transition and sometimes even in the pick and roll
-Very difficult for opposing big man to match up with on the perimeter
-Draws plenty of fouls
-Excellent footwork and body control
-Can play above the rim. Takes contact and finishes
-Can pick and pop, knock down jumpers with range out to the 3-point line
-Can make a mid-range jumper, sometimes pulling up off the dribble
-Intelligent player. Makes smart passes. Can drive and dish
-Solid rebounder. Excellent hands
-Competitive player

Weaknesses:
-Good, not amazing athlete
-Could probably stand to get a little tougher as he gets older
-Lateral quickness is average. Struggles guarding the perimeter

Outlook: Smooth, skilled, smart big man with incredible versatility for a player age. A young Greg Monroe? Still only 16 years old, but can seemingly do everything offensively. Sky is the limit if he continues to improve.

[Read Full Article]

---