Matt Williams
Not a very highly regarded prospects coming out of high school, New York native Troy Caupain emerged as a versatile contributor for Cincinnati already as a freshman, playing behind and alongside then-senior Sean Kilpatrick, averaging 12.2 points, 5.2 rebounds, and 5 assists per-40 minutes pace-adjusted over 18.8 minutes per-game.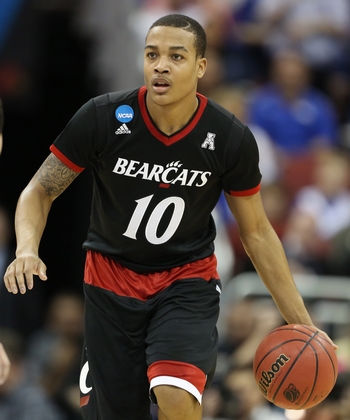 Seeing his role expand as a 19 year old sophomore, Caupain proved once again to be a well-rounded contributor, averaging nearly identical numbers per-40 minutes pace adjusted, only this time over 31.4 minutes per game. He earned All-Conference Honorable Mention honors in the AAC as the Bearcats bear Purdue in the NCAA Tournament before their season came to an end at the hands of the Kentucky Wildcats.
Standing 6'4 with a 200-pound frame, Caupain's physical profile matches his game. He's a well-rounded athlete who possesses nice speed and strength, even if he lacks elite explosiveness. What makes Caupain intriguing from a physical perspective is the amount of time he spends handling the ball as a de facto point guard for the Bearcats, as he has great size for the position.
Playing both on and off the ball for stretches, Caupain's role offensively revolved around his ability to make spot up shots, push the ball in transition, and create on the pick and roll in the half court. Without a double-figure scorer on its roster and a dearth of shooters to space the floor, Cincinnati relied heavily on Caupain to create offense in their deliberate half court offense. A high energy player, Caupain doesn't have a ton of flash to his game, but displays nice potential in a number of areas.
As a primary ball-handler and distributor, the Cosby HS (VA) product ranked among the top-25 or so assist-men in the country among big guards, averaging 5 assists per-40 minutes pace adjusted. He is not an overwhelmingly dynamic ball handler, nor does he have a lightning quick first step, but he does a nice job using his strength to his advantage and changing speeds to get where he wants to on the floor. A fairly steady decision-maker who proves adept at making the simple play in transition and on the pick and roll, Caupain is an unselfish passer with good vision who gets himself into a bit of trouble at times when he plays too fast or tries to get too creative getting into the paint.
As a scorer, Caupain is a fairly balanced threat, showing the ability to find lanes to the rim while also proving to be a pretty consistent threat from the perimeter. An improved shooter, making 39% of his jump shots this year up from 32% last year, around half of Caupain's field goal attempts in the half court come from the outside according to Synergy Sports Technology. Attempting only 2.2 3-pointers per game, but making 41% this season, Caupain isn't a particularly smooth jump shooter, but he's a threat both off the catch and the dribble who won't hesitate to pull-up from the midrange when given space.
Adept at attacking closeouts and aggressively taking the ball to the rim when given a lane, Caupain is an average finisher due to his lack of great explosiveness, but does flash a relatively reliable floater, has a decent left hand, and doesn't shy away from contact. Making 44% of attempts inside but 40% of his floaters and 79% of his 3.1 free throw attempts per game, Caupain isn't overwhelmingly efficient scoring the ball when he ventures into the paint, but he seems to have some potential to continue to improve down the line, particularly with better spacing around him.
Like so many of the prospects out of Cincinnati that have come before him, one of the biggest positives of Caupain's game is what he offers defensively. Pressing full court and mixing in plenty of zone, Cincinnati was one of the best defensive teams in the country a year ago, and Caupain played a role in that, doing a nice job staying active with his feet and being quick to pursue loose balls or get into the passing lanes. He's also a scrappy rebounder for a guard, not simply getting into position to receive outlet passes, but instead mixing it up inside and looking to dig for the ball when opposing big men corral it outside of their comfort zone. A step slow when rotating to contest shots at and getting caught on ball screens at times in the half court, Caupain still has room to grow defensively, but is already a nice fit in a demanding system and flashes enough lateral quickness when playing man to man to leave room for optimism in projecting him to the next level.
Even with what he's shown to this point, it's a bit early to draw too many long-term conclusions about Caupain's upside. His size, versatility, and ability to do a variety of things well are appealing, and the fact that he's the youngest player in our junior rankings (he doesn't turn 20 until late November, making him younger than some freshmen) is a huge plus. Considering the growth he showed as a sophomore, it will be fascinating to see if he continues to blossom as a junior or if his third year holds much of the same as Cincinnati returns most of its contributors. The Bearcats would relish his development into a go-to scorer if that's the direction his game heads, but he figures to be one of the AAC's more valuable guards and a player to watch down the road either way.