Top NBA Prospects in the Big 10, Part 4: Troy Williams Scouting Video
October 22, 2015
Mike Schmitz continues our coverage of the top NBA prospects in the Big Ten with a video scouting report of the #4 prospect in the conference, Indiana's Troy Williams.
---
More DX Conference Preseason Previews:
-The Top 20 NBA Draft Prospects in the Pac-12
-The Top 20 NBA Draft Prospects in the Big East
-The Top 15 NBA Draft Prospects in the Big 12
-The Top 20 NBA Draft Prospects in the SEC
-The Top 10 NBA Draft Prospects in the AAC
-The Top 30 NBA Draft Prospects in the ACC
---
Top NBA Draft Prospects in the Big 10


-Top NBA Draft Prospects in the Big Ten, Part One


(#1) Diamond Stone (Scouting Video)


-Top NBA Draft Prospects in the Big Ten, Part Two


(#2) Thomas Bryant (Scouting Video)


-Top NBA Draft Prospects in the Big Ten, Part Three


(#3) Caris LeVert (Scouting Video)
---
(#4) Troy Williams 6'6, Junior, Small Forward, Indiana



Strengths



Weaknesses



Mike Schmitz is the video analyst for DraftExpress. Follow him on twitter and check out his archive. He will be breaking down the NBA draft in digital format all year long for us.

[Read Full Article]

---
Troy Williams 2015 adidas Nations Interview
August 18, 2015
An interview with Indiana forward Troy Williams at the 2015 adidas Nations in Los Angeles.
---
More adidas Nations Content:
-Center Prospect Scouting Reports
-Power Forward Prospect Scouting Reports
-Wing Prospect Scouting Reports
-Point Guard Prospect Scouting Reports
-Amida Brimah Interview
-Simi Shittu Interview
-James Webb III Interview
-Udkoa Azubuike Interview
-Zach Auguste Interview
-Nickeil Alexander-Walker Interview
-Wenyen Gabrien Interview
-Markelle Fultz Interview
-Dennis Smith Interview
-Kobe Paras Interview
-Tim Quarterman Interview
---
[Read Full Article]

---
Nike Academy Scouting Reports: College Small Forward Prospects
July 3, 2015
Mike Schmitz

As has been the case over the course of his first two years at Indiana, Troy Williams was wildly inconsistent at Nike Academy, but showed flashes of why he's considered an intriguing draft prospect.

The do-it-all small forward made plays all over the floor, highlighted by his impressive bounce and passing ability. Williams was relentless filling the lanes in transition and put home multiple tip-dunks in the half court. The 20-year-old soon-to-be junior springs off the floor off of either leg and displayed an ability to finish above the rim and through contact with ease.

What was even more impressive than Williams' already-heralded athleticism was his passing ability in the half court. The Hampton, VA native is comfortable handling the ball in pick and roll situations and made a handful impressive passes to the roll man, as well as shooters along the perimeter.

But while Williams is a very capable passer, his true colors as a questionable decision maker started to show as the camp went on. Williams doesn't have a great feel for the game and isn't a very high IQ player overall, which started to come to light as he forced passes into crowds and drove into traffic without much of a plan.

Williams is a unique and versatile talent, but he'll have to find a way to hone in some of his wild mistakes to be trusted with the ball at the NBA level. Despite some of his mistakes, Williams did show some potential as a shooter. Having taken only 42 threes (28.6%) in 1,571 career minutes, any sign of promise as a shooter is encouraging for Williams.

As is the case with his game, his mechanics are a little wild as he has quite a lengthy windup before getting to his shooting motion and holds onto the ball a little too long at the top of his release. But with that said, the ball comes out of Williams' hand fairly nicely as he gets solid rotation and was able to knock down a few pull up threes in transition. Williams actually seems more comfortable pulling up off the bounce than shooting off the catch, an area he'll have to improve if he wants to bolster his stock as a 3 and D prospect who can make plays with the ball.

Defensively, Williams showed his versatility and quickness despite his lack of elite length. While Williams can improve his overall awareness off the ball, he has the athleticism to contain penetration and the quickness to recover and make a play on the ball if he gets beat. Although his lack of length isn't ideal, Williams has the size, athleticism and frame to develop into a two-way player in time. Williams is a bit rough around the edges as a prospect but there's no denying his explosiveness and overall talent, making him an intriguing prospect if he's able to turn in a productive junior season at Indiana.

[Read Full Article]

---
Top NBA Prospects in the Big Ten, Part 6: Prospects #12-15
October 13, 2014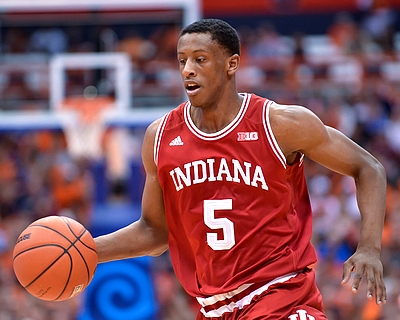 US Presswire



Jonathan Givony

The 50th best prospect in his high school class according to the RSCI, Troy Williams came into Indiana with modest expectations and was unable to help the Hoosiers avoid their disappointing 7-11 finish in the Big Ten.

Williams certainly passes the eye test, as he has very strong physical attributes for a wing prospect, showing good size at 6-7, a solid frame (currently listed at 215 pounds), and outstanding athleticism.

Offensively, he saw the biggest share of his offense in transition, which not a surprise considering his raw skill-level is and how freakishly athletic he is. He runs the floor extremely well, and shows tremendous quickness and explosiveness, helping him establish himself as one of the best two-foot jumpers in college basketball.

In the half-court, Williams is very much a work in progress, as he's neither a great ball-handler, nor a consistent outside shooter, with most of his offense being created for him by others inside the paint.

He struggled to space the floor for Indiana last season, as despite seeing many of his minutes at the power forward position, he rarely proved to be someone that opposing defenses need to account for on the perimeter.

Williams made just 12 of his 41 jump-shots (29%) on the season, making just six 3-pointers on the season on 29 attempts. He gets very good elevation on his jump-shot, but struggles with the consistency of his release point, often shooting the ball on the way down after jumping high in the air. His balance and footwork is poor, and he tends to fade away on many of his attempts, things he'll have to improve on significantly before he's able to think about stepping into a NBA lineup.

In today's NBA, there is no such thing as a perimeter player who isn't at least somewhat of a threat to make an open 3-pointer with his feet set. Williams shot just 21% in catch and shoot situations, on a small number of attempts.

Just an average ball-handler, Williams is not a very prolific shot-creator, as he struggles to get by opponents if he can't simply blow by them with his very quick and long first step. He tends to dribble with his head down, not reading the floor and relying very heavily on his superior athleticism to help make plays, something that can work at times against slower defenders.

When Williams is able to the rim, or better yet, have a shot created for him inside the paint, he's absolutely electric. He made 65% of his field goal attempts around the basket, an outstanding rate, as he can elevate from absurd distances for ridiculously explosive finishes, without much of a head start. Williams is guaranteed to make Sportscenter a few times this year just by being on the floor with his amazing athleticism, but he's still working on rounding out the rest of his game.

Against higher level competition, he'll have to improve his off hand and ability to operate at different speeds, as he struggles to change directions on the fly and rarely creates much offense for his teammates. He turns the ball over on a very high 22% of his possessions, and only generates an assist on 9% of his possessions, giving him a -5.5 pure point rating, one of the lowest among wing prospects in the freshman class last year. His awareness and overall feel for the game leaves something to be desired at times, something he'll have to work on as he matures and gains experience.

Defensively, Williams was somewhat of a mixed bag last year. On one hand, he shows terrific potential on this end of the floor with his excellent combination of size and athleticism. The Hoosiers did a lot of switching on the perimeter and Williams was no exception to this, allowing him to show some very nice versatility staying with and in front of guards and forwards alike. He has excellent feet and is extremely quick laterally, something that shows up in the boxscore, whether in his ability to jump in the passing lanes for steals, elevate for blocks, or come up with rebounds in traffic.

Williams' average length, combined with his lack of experience, immature frame and poor fundamentals, often played against him on this end of the floor. He tends to lose his focus easily here, getting out of a stance mid-possession, giving up on plays, not fighting through screens, and getting lost off the ball. His awareness leaves something to be desired, as he doesn't do a good job of closing out on shooters and tends to bite on pump-fakes rather easily. Some of this will likely improve with maturity, strength and good coaching.

Williams' size and athleticism gives him plenty of potential to continue to develop as a NBA prospect, and eventually make the transition to playing on the wing full time as his skill-level improves. It will be interesting to see how he looks as a sophomore on a team that might not look all that different from the one that finished ninth in the Big Ten last season. If he's able to make a major jump, and help Indiana return to the NCAA Tournament, scouts will surely take notice.

[Read Full Article]

---
High School Class of 2013: Elite Prospect Scouting Reports, Part Two
September 12, 2012
Jonathan Givony

Recruiting Rankings: ESPN: #30, Scout: #40, Rivals: #35, 24/7: #34

Strengths:
-6-6 in shoes with a 6-8 wingspan
-Great frame
-Outstanding athlete
-Excellent in transition
-Solid offensive rebounder
-Great elevation on jump-shot
-Finishes in transition
-Can beat opponents off the dribble in straight line with a dynamite first step
-Makes spectacular plays on defense at times thanks to his physical tools

Weaknesses:
-Very inconsistent shooter
-Low release point. Shooting mechanics seemingly change every time
-Settles for way too many 3-pointers
-Lacks experience. Plays off his instincts, forces issue badly at times
-Feel for game seemingly average
-Doesn't create much for others
-Struggles to play without the ball
-Advanced ball-handling skills a work in progress. Struggles to create good shots in half-court if he can't simply blow by his opponent with his strong first step
-Loses focus easily. A bit immature?

Outlook:
Looks the part of a NBA wing and then some with his terrific size, athleticism and scoring instincts. Has major talent and long-term potential, but is extremely unpolished even considering his age. Needs to get with a good coaching staff and improve his fundamentals and overall feel for the game.

Highlights:


[Read Full Article]

---