Trending Prospects (2/3/2012)
February 3, 2012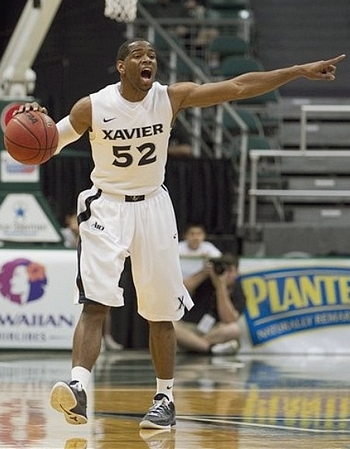 AP
Joe Treutlein
Coming off an excellent junior season where he earned Atlantic 10 Player of the Year honors,
Tu Holloway
has mostly maintained his performance as a senior, even regressing slightly in some areas.
Holloway drew some
unnecessary attention to himself
for his actions and postgame comments related to Xavier's infamous brawl with Cincinnati in December. He's done a good job getting back to business since the incident, and doesn't have a history of characters concerns, but NBA decision-makers will probably spend a little extra time doing their due diligence into his background come pre-draft time as a result.
Looking at Holloway's performance on the court, his production remains mostly the same this year, though his scoring is down and his passing metrics are slightly up, which could be a positive long-term adjustment for him to make.
As a scorer, Holloway's game relies mostly on his jump shot, something that gets mixed results depending on the situation. Holloway is pretty good with his feet set on catch-and-shoot opportunities, but has been about six times more likely to take a shot pulling up off the dribble this season according to Synergy. He shows potential in pull-up situations, doing a good job keeping his balance when he's able to get to open space for his shot, but is heavily prone to forcing ill-advised, fade-away jumpers with a hand in his face at times.
Projecting to the next level against bigger, more athletic competition, Holloway will likely have even more trouble consistently getting space for his jumper, and will need to be more selective utilizing this area of his game. Improving his jumper in general should also be a priority, as his 30% shooting from three-point range (down from 35% last season) isn't very impressive even after you account for how many of his shots come off the dribble.
Holloway's done a solid job attacking the rim this season, though more so in up-tempo situations than in the half court. In the half court, Holloway's lack of a great top speed to blow by his man and lack of great size to finish in the lane leave him somewhat limited, but he does a much better job when operating before the defense gets set. In these situations, Holloway shows a very good feel for reading lanes and picking his spots, using a strong handle and great craftiness to maneuver his way to the basket, where he finishes with good touch.
Holloway's feel for the game has also improved some as a distributor, where he does a good job running his team's offense and setting the team's pace, while also having versatile court vision and passing ability. While still clearly growing into a role as more of a pure point guard, Holloway shows nice flashes of setting up his teammates in a variety of situations, being effective with post entry passes, drive-and-kicks, and in the pick-and-roll. He looks most comfortable as a distributor in up-tempo situations as well, having a very good feel for keeping his head up and making good decisions with the ball there.
Defensively, Holloway has been excellent in man-to-man defense this season, showing great fundamentals and a high activity level. He gets right up into his man, moves his feet well, and does a good job using his hands to contest shots and make steals. His size is somewhat concerning projecting to the next level, and he will also be at a quickness disadvantage against elite guards, but his tools are solid enough here and he should be able to be an effective man defender if he continues showing the same commitment.
Holloway's also a solid team defender, showing good weakside awareness and doing a decent job in the passing lanes, but does struggle dealing with screens at times, specifically in pick-and-rolls, where he's prone to getting beat badly.
Looking forward, Holloway has done a nice job developing his game over his four years in college, but will still likely need to significantly adjust his role projecting to the next level. His point guard skills, spot shooting, ability to attack in transition, feel for the game, and defensive abilities are all attractive from an NBA perspective, but how he puts it all together to play less of a score-first role will be key.
[
Read Full Article
]
Atlantic 10 Conference Scouting Reports
March 17, 2011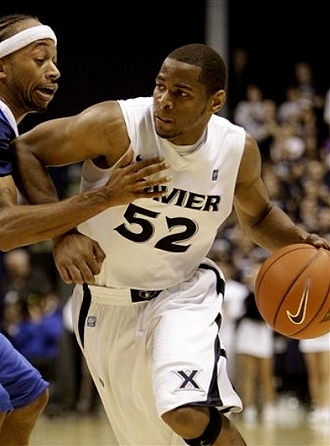 AP
Kyle Nelson
Junior point guard
Tu Holloway
has improved in each of his three seasons at Xavier and was named 2010-2011 Atlantic 10 Conference Player of the Year this season. As the season winds to a close with a high profile NCAA Tournament match up against a gritty and guard-dominant Marquette team, Holloway has the opportunity to emerge from relative obscurity into an NBA prospect.
Holloway is an undersized point guard, standing around 6'0 with a strong frame and solid length. He is quick, but not terribly explosive, resulting in a decidedly average athletic profile that does not bode particularly well for his NBA draft stock.
Though Holloway does not stand out from a physical standpoint, he has improved considerably as a scorer, averaging a career-high 21.3 points per 40 minutes pace adjusted this season.
Holloway is a solid shooter, but hasn't demonstrated consistent shot selection in his career, attempting over twice as many shots off of the dribble despite shooting the ball far better with his feet set. Though he remains streaky, he has markedly improved from beyond the three-point arc, shooting a decent 34.9% on 5.5 attempts per game with range beyond the NBA three-point line. His mechanics are fluid, particularly from a standstill, and his release is quick and consistent.
Holloway's scoring instincts inside of the arc have developed as well, where he displays a reliable mid-range game consisting primarily of pull up jump shots. He is a good collegiate shot creator, but he may struggle to score efficiently at the next level due to his inability to finish at the rim. He does not possess the same jet-quickness we see from other tiny NBA point guards—making his 9.1 free throw attempts per-40 minutes pace adjusted look somewhat dubious--and his lack of size, strength, and leaping ability do him few favors finishing around the rim against bigger, more athletic defenders.
While Holloway is clearly not a pure point guard, he has improved as a distributor and is averaging a career high 5.5 assists per game with a 1.61 assist/turnover ratio. He is particularly proficient at running the pick and roll, where he sees more than a third of his offensive possessions. While he usually looks for his own shot first, he does a decent job of finding his teammates as well, even if his shot-selection often leaves something to be desired.
Holloway is a solid defender at the collegiate level, mainly due to his toughness and the very disciplined system he plays in. He will likely struggle guarding bigger and quicker players in the NBA, though he will be able to compensate somewhat with his high energy level.
While there is no doubt that Holloway is an outstanding collegiate guard, his merits as an NBA prospects are still somewhat up in the air. A good showing in the NCAA Tournament would increase his exposure and momentum going into the off-season where may decide to test his draft stock.
[
Read Full Article
]