Top NBA Prospects In the Rest of the NCAA, Part Five: Prospects 8-12
November 9, 2016
Jeremy Bauman

Tyler Hall was a sparsely recruited shooting guard out of Rock Island High School in Illinois when he committed to the Montana State Bobcats over the likes of Northern Iowa and Western Michigan just before his senior season in the fall of 2014. Hall, a shooting guard with a quick release and deep range, played with a chip on his shoulder and showed serious moxy as an 18-year old freshman, forcing NBA scouts to take note of a season in which he scored 23.1 points per-40 minutes and knocked down 3.1 treys per game at a 43.1% clip as the unquestioned go-to guy of an inexperienced team in the Big Sky conference that finished 14-17 on the season.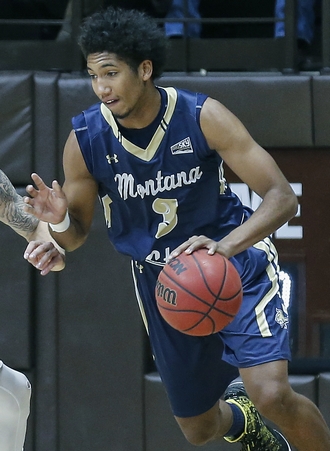 US Presswire
Standing at 6-4 and 175 pounds, Hall is slightly undersized with an average wingspan and a decent frame that definitely needs to be strengthened for a shooting guard at the next level. He isn't terribly fast or explosive, and doesn't have great lateral quickness, which is evident at the defensive end. Hall is a product of two college basketball playing parents, however, and he's an upbeat and competitive teammate.
Without a doubt, Hall's professional calling card is his perimeter range and form, as he has a quick, high and timely release at the peak of his jump to go with excellent wrist action. He was especially effective in spot-up situations as a freshman, where he demonstrated the ability to be a tough shot maker and scored 1.24 points per possession, which ranked in the 94th percentile of all players in college basketball, according to Synergy Sports Technology.
Hall has a knack for finding open space and doesn't need much of it to get his shot off because he's confident enough to rise up with a defender in his airspace. He has excellent pre-shot preparation and footwork and utilizes changes of pace and V-cuts, which helped him to be extremely efficient coming off seemingly every type of screen in the book last season. Sometimes when he's rushed he pulls the string, which contributes to shots falling short, and he does have a habit of jumping forward with his legs semi-splayed out.
Though he's capable of creating shots for himself by attacking close-outs and isolations off the bounce, Hall needs to work on his creativity as a ball-handler and shot creator. Too often his first inclination is to lower his head and go into isolation mode upon catching the ball. Though he can get away with this habit against the current level of competition, it is imperative that he reads the defense before making his move. He shows touch on his pull-ups, specifically moving to his left, and he utilizes pivots, misdirection and spins to create space, but he still needs to be craftier, shiftier and more skilled off the bounce to diversify his repertoire and create easier looks on a more consistent basis.
As the go-to scorer and one of the best shot-creators on a team that simply didn't have many offensive weapons, Hall drew the bulk of the defensive attention from opponents. He left much to be desired in terms of his playmaking abilities during his first season in Bozeman, Montana, sporting a negative assist to turnover ratio, but his future as a playmaker still has potential. Marcus Colbert, who started at point guard last season, graduated this past spring. Hall will likely slide over to shoulder more playmaking responsibilities, where he will be able to fight through his mistakes and enhance his combo guard skills.
Hall must work on his handle and continue to hone his passing skills, patience and poise to prove that he can potentially handle ball-handling responsibilities at the next level. His lack of strength and carelessness were the leading causes of his 1.8 turnovers per game as a freshman, as he was ripped by defenders on weak drives and left his feet to make errant passes regularly. Considering his physical profile and skill-set, it is of the utmost importance for his professional prospects to become a more efficient creator.
Hall can also stand to improve his creativity around the rim. He proved that he's capable of using his left hand and flashed a floater at times, but he needs to add more tricks to his in-between game, along with gaining confidence in completing plays, if he's going to consistently finish plays through taller, longer, stronger and more athletic defenders.
The defensive end of the court is where the shooting guard seemingly has the most room for growth. Hall doesn't have great lateral quickness, strength or length and on top of that his focus, effort, and competitive spirit and IQ are in need of a significant boost next season. Considering the type of competition he's facing, Hall gets lost in the action far too often, as he fails to get into a defensive stance, doesn't understand rotations, runs into screens, gets overpowered by stronger players and constantly has delayed reactions, which gives shooters time to get their shots off.
If the 19-year old weren't such a high-level scorer so early on in his career, it would be tough to get overly excited about his professional prospects. With that in mind, it is imperative that he continues to score at a high level while improving his polish on both ends of the floor as a sophomore and beyond to earn serious consideration from NBA decision makers in the future.
[
Read Full Article
]