Vernon Macklin
Recent Tweets
All Tweets
DraftExpress: .@TheBigLead Just like Chandler Parsons, Nick Calathes, Vernon Macklin, Kenny Boynton and all of UF's other NBA prospects got a pass from us
2011-07-09 10:24:40
DraftExpress: DX All-PIT 1st Team: Jimmy Butler, Malcolm Thomas, Matthew Bryan-Amaning, Andrew Goudelock, Vernon Macklin. Article: http://bit.ly/e9s4he
2011-04-12 04:00:34
DraftExpress: DX Trending Prospects 3/31- Updated scouting reports on Shelvin Mack, Josh Harrellson, Jon Diebler & Vernon Macklin: http://bit.ly/hLt21i
2011-03-31 07:37:08
DraftExpress: Top NBA Draft Prospects in the SEC, Part 3: http://bit.ly/90wF8M - Marshawn Powell, Erik Murphy, Darius Miller, Vernon Macklin, Sam Muldrow
2010-10-03 09:20:30
He's 24 and not super fluid or athletic. Will make good money in Europe though. RT @Jorrye: How do y'all feel about Vernon Macklin's upside?
2010-03-18 14:14:04
Top 25s - Full List
Team: Gaziantep
Physicals
Positions
Rankings
Salary
Misc
H: 6' 10"
W: 243 lbs
Bday: 09/26/1986
(29 Years Old)

Current: C
NBA: C
Possible: C

RSCI: 17

Agent: Greg Nunn

High School: I.C. Norcom
Hometown: Portsmouth, VA
Drafted: Pick 52 in 2011 by Nuggets

Predraft Measurements
| Year | Source | Height w/o Shoes | Height w/shoes | Weight | Wingspan | Standing Reach | Body Fat | No Step Vert | Max Vert |
| --- | --- | --- | --- | --- | --- | --- | --- | --- | --- |
| 2011 | Portsmouth | 6' 8.5" | NA | 243 | 7' 3.5" | 9' 0.75" | NA | 31.0 | NA |
| 2010 | LeBron James Camp | NA | 6' 10" | 230 | 7' 3" | NA | NA | NA | NA |
| 2010 | Amare Stoudemire Camp | NA | 6' 10" | 230 | 7' 3" | NA | NA | NA | NA |
| 2006 | Hoop Summit | 6' 8.5" | NA | NA | 7' 4" | 9' 1" | NA | NA | NA |



Basic Per Game Statistics

- Comprehensive Stats - Statistical Top 25s

Player Page&nbsp&nbsp| Player Stats | Related Articles&nbsp&nbsp| Add to My Draft Express&nbsp
&nbsp
All-Portsmouth Invitational Tournament, First-Team
April 12, 2011
Matt Kamalsky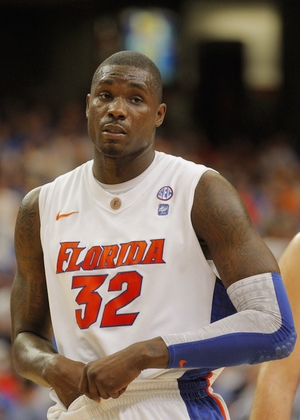 Icon SMI



Enjoying a homecoming of sorts in his hometown of Portsmouth, Virginia, Vernon Macklin was one of the most productive players we saw at the PIT, and also one of the most physically impressive.

Macklin used a steady stream of post feeds and an occasional highlight reel dunk to do most of his damage offensively. While he relied on his right handed hook shot to score with his back to the basket, he flashed some potential with his left hand too. He struggled to convert when he couldn't get ideal position, but managed to get going in the second half of every game we watched and finished the PIT ranked third in points per-game.

Lacking much in the way of a jump shot as evidenced by the 4 total jump shots he took over the course of the 2011 season according to Synergy Sports Technology, Macklin is not a factor away from the rim, meaning his ability to develop counter moves and make plays on the offensive glass factor heavily into what he can bring to the table on the offensive end down the road. The former Gator is a terrific finisher, and is a nice target around the rim, but he would be well served to diversify the spaces he can occupy on the floor to help him on the next level.

On the defensive end, Macklin had some impressive moments using his near 7'4 wingspan to adjust shots around the basket, though he didn't come up with blocks. He's very good when he's dialed in, especially when defending the post one-on-one, but it would be nice to see him show more intensity on the defensive glass. Macklin averaged a respectable 8.0 rebounds over the week here, but seemed capable of more after looking terrific cleaning the boards in the first game. Mostly an area rebounder at this juncture, it would be nice to see Macklin show the aggressiveness on the glass that he showed on the offensive end this week.

Though Macklin's weaknesses are clearly defined, it was nice to see him try to assert himself offensively. The results were mixed early in games, but he was an impact player in this setting once he got going. If he fills in some of the gaps in his game, he could be well positioned for the future, but at 24 years old, he'll need to make those changes quickly to improve his short-term NBA prospects.

[Read Full Article]

---
Portsmouth Invitational Measurements and Athletic Testing Results
April 12, 2011
Vernon Macklin looks the part of a NBA center, standing 6-8 ˝ without shoes, with a gigantic 7-3 ˝ wingspan and near 9-1 standing reach. He surprisingly tested #1 in the lane agility drill as well. He's older than most players in this draft class (and not by a small margin) but he comes ready to play right away.

[Read Full Article]

---
2011 Portsmouth Invitational Tournament, Day Three
April 9, 2011
Vernon Macklin continued to showcase his post game and athleticism today to the tune of 21 points. While he isn't overly polished, he has scored consistently here with a nice hook shot and repeatedly flashes potential finishing with his left hand -a promising tool he needs to continue working on. One of the more impressive physical specimen in attendance, Macklin didn't make a big impact in his second game on the glass, which was a bit disconcerting, but he has helped himself immensely in front of his hometown crowd, and could certainly find himself on an NBA roster next season.

[Read Full Article]

---
Trending Prospects (3/31/2011)
March 31, 2011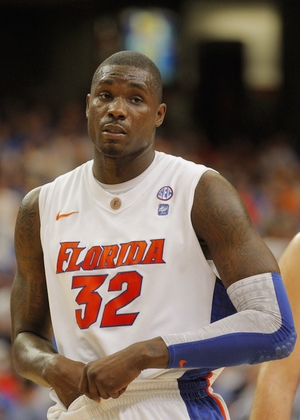 Icon SMI



Joseph Treutlein

Five years and one school transfer after entering college, former McDonald's All-American Vernon Macklin finally started to show some consistent ability as a fifth-year senior. Steadily improving his production each of his seasons in college, Macklin saved his best for last with a career-high 25 point performance in an Elite Eight loss to Butler.

Possessing good physical tools for a PF/C at the next level, Macklin has excellent length and a wiry strong frame, while he possesses more than enough fluidity and explosiveness for a player his size. Vastly improving his feel for the game over his time in college, Macklin now has a few skills he relies on frequently to go along with his raw abilities.

On the offensive end, Macklin has undergone a dramatic role change over the course of his college career, initially having little in the form of individual offense, but now seeing over 55% of his half-court shot attempts come in the form of back-to-the-basket possessions. He has a limited arsenal of post moves, but he shows pretty good footwork and feel on the few moves he does use, being very effective with his right-handed hook shot in particular.

His length and mobility allow him to get good separation on his hook shot, but he's highly reliant on turning left shoulder and even more so on using his right hand, while his overall polish on the other few moves in his arsenal are lacking. Teams will be unlikely to rely on Macklin as a post-up threat at the next level given his late development and lack of polish, but having his one go-to move is a nice luxury to have.

The rest of Macklin's offensive contributions come in the form of finishing around the rim on off-ball cuts, pick-and-rolls, and offensive rebounds. He shows good mobility and decent hands on these types of plays, while he's capable of finishing with power around the rim. His feel for the game in reading the floor has also developed significantly over his time in college.

The biggest area Macklin is lacking on the offensive end is having any semblance of a mid-range jump shot, attempting only four jumpers on the year according to Synergy. His free-throw percentage is an abysmal 45% and has been below 50% in three of his four college seasons. This noticeable void in his skill set will may tough to overcome for a role player at the next level.

Defensively, Macklin has very good tools for being an inside-out defender, and shows solid flashes in all areas but is still somewhat behind in fundamentals and feel. He often looks like a fish out of water defending pick-and-rolls, though he has all the length, mobility, and change of direction ability to develop into a good defender there in time. He looks a little more comfortable moving laterally in isolations, where he should be able to respectably defend power forwards with some work.

In the post, Macklin does a great job using his length to contest and is pretty active and focused in general, but he doesn't show the greatest fundamentals and doesn't get as good of leverage as he could, often giving up position and not playing to his potential.

On the glass, Macklin has improved his per 40 pace adjusted rebounding every single season, but has still only topped out at an extremely poor 9.0 per 40 pace adjusted this season. He's better on the offensive than defensive end, but for a scrappy, off-ball role player with no jump shot, Macklin will need to continue improving in this area to have a long term chance. He currently ranks amongst the worst prospects at his position as a defensive rebounder, which will surely be viewed as a glaring weakness.

Looking forward, Macklin did himself a great service by having his best offensive performance in the final game of his career when the most NBA scouts were watching, but his advanced age of 24 combined with his modest production and skill set could put him at a disadvantage in this draft. That said, his learning curve and physical tools could lead someone to take a chance on him, and big bodies with a pulse will always get multiple opportunities to catch on in the NBA in the long term.

Macklin has a good chance to showcase himself in front of NBA scouts at the Portsmouth Invitational Tournament next week, which also happens to be his hometown, and could definitely find himself in second round discussions if he continues to impress during the pre-draft process.

[Read Full Article]

---
Top NBA Draft Prospects in the SEC, Part Three (#11-15)
October 3, 2010
Walker Beeken

After looking like a fish out of water for two years in Georgetown's offense playing a very limited role, Vernon Macklin transferred to Florida where he sat out the 2008-2009 season, and then got a chance to earn more minutes for the Gators last season as a junior. Macklin showed improvement in a couple key areas, but still has quite a bit to prove this season to legitimize himself as candidate for the 2011 NBA Draft.

From a physical standpoint, Macklin stacks up fairly well as NBA big man prospect. Standing 6'10" with a long wingspan and a solid frame, he's added a good amount of strength since he entered college. Although not particularly fluid, he also runs the floor pretty well for a guy his size and is a decent athlete who could probably match up physically to play some at the power forward or center position at the NBA level.

While it is encouraging that Macklin raised his free throw percentage up to 59% last season after a miserable 25% as a sophomore, he still has a long way to go as a shooter. Most all of his field goal attempts last season came in the basket area, and he looked uncomfortable with the ball facing up away from the basket. Being able to knock down a 12 to 15 foot jump shot when left open would surely help to make him more of an offensive threat. At this point, however, Macklin lacks the fluidity and polish that scouts would like to see from a big man at his age.

Over one third of Macklin's offensive possessions last season came from the post up variety, where he managed to be pretty efficient, averaging 1 point per possession. His post=game is one very one dimensional though, as his go-to move is clearly to turn to his left shoulder for a right-handed jump hook from either block, regardless of what the defense gives him. It would be nice to see him develop the same jump hook with his left hand when turning to his right shoulder, as well as some counter moves depending on what the defender takes away.

One area where Macklin should focus is continuing to improve his rebounding. He averaged 8.7 rebounds per forty minutes pace adjusted last season, which was a nice jump from the 6.6 he averaged as a sophomore at Georgetown. At his size though, establishing himself as a beast on the glass would be a tremendous asset, especially because at this point, he doesn't have a skill that he does at an NBA level.

Macklin is a more intriguing prospect on the defensive end. While not a great shot-blocker or defensive rebounder, he does play with an aggressive mentality in the basket area. He also moves fairly well laterally for a guy his size, which along with his length and strength inside, gives him the potential to compete against the bigger, longer, more athletic players at the NBA level.

While Macklin does possess the size and wingspan of an NBA big man, being a 24 year old senior will no doubt have an effect on his draft stock, as scouts will assume that he is much closer to reaching his potential than other younger prospects. When you combine that his lack of production and offensive polish, Macklin's chances of hearing his name called at the 2011 NBA Draft are probably fairly slim.

[Read Full Article]

---
2006 Nike Hoop Summit Game Recap
April 10, 2006
Macklin has good length and a good frame with room to add a lot more bulk. Known at the high school level for his rebounding, he played limited minutes and was unable to get into the flow of the game. Macklin is more of a half court player, and all-star games aren't the best place for him to utilize his skills effectively. He will have to fight for minutes his freshman year, because Georgetown has a loaded front court.

[Read Full Article]

---
2006 McDonald's All-American Game, individual player breakdown
March 30, 2006
Macklin possesses very good athleticism and leaping ability. He uses it to its fullest on the glass, where he pulled down 10 rebounds throughout the game. Some of these came on the offensive end of the floor, and led to second chance points in the paint. Macklin is not all that skilled right now. He showed some pretty good finishing ability during the McDonalds game, but lacks any type of perimeter game or shooting ability. In addition, he doesn't do much to create his own looks with his back to the basket, and doesn't really have a defined role besides running and jumping. His athleticism helps him greatly, but Macklin will really have to develop some offensive skills to put himself firmly on the NBA radar.

[Read Full Article]

---