Victor Claver
STRENGTHS:
- Off-ball defense
- Potential
- Role-player potential
- Ability to finish around basket
- Athleticism
- Rebounding tools
- 3-point range
- 3-point shooting percentages
- Ability to catch and shoot
WEAKNESSES:
- Ability to get to free throw line
- Mid-range game
- Stuck between 3 and 4
- Inability to create own shot
- Ability to defend position at next level?
- Lateral quickness
- Assertiveness
- Confidence
- Consistency
- Doesn't always play hard
- Mental/Physical toughness?
- Can NBA rookie scale compete financially w/other options?
- Relies too heavily on outside shot
Recent Tweets
All Tweets
DraftExpress: Valencia are big underdogs going up against the local team, who have been playing well. Can Victor Claver make the difference? #copaacb
2011-02-12 12:01:06
DraftExpress: No doubt. Looks excellent RT @dejangod: Victor Claver is more than legit. Size, athleticism, fundamentals. W/Pesic he's taken a step forward
2011-02-10 02:17:57
DraftExpress: Victor Claver doing a bit of everything. Making shots, passing, crashing glass hard both ends. Looks like a legit NBA player to me. #copaacb
2011-02-10 02:09:11
DraftExpress: Like what Victor Claver has done with his body. No longer a combo forward. Looks like a straight 3 with great size. Playing well. #copaacb
2011-02-10 01:37:53
DraftExpress: #copaacb About to tip off. First game: Valladolid vs Valencia. Good chance to take a look at the progress of Portland draftee Victor Claver.
2011-02-10 01:00:43
Top 25s - Full List
Team: Trailblazers College Team: Kuban
Physicals
Positions
Salary
Misc
H: 6' 10"
W: 218 lbs
Bday: 09/01/1988
(27 Years Old)

Current: PF
NBA: SF/PF
Possible: SF/PF

Agent: Arn Tellem
Current Salary:$1,370,000

High School:
Hometown: Valencia, Spain
Drafted: Pick 22 in 2009 by Trailblazers




Basic Per Game Statistics

- Comprehensive Stats - Statistical Top 25s
| Year | League | Name | GP | Min | Pts | FG | FGA | FG% | 2Pt | 2PtA | 2P% | 3Pt | 3PtA | 3P% | FTM | FTA | FT% | Off | Def | TOT | Asts | Stls | Blks | TOs | PFs |
| --- | --- | --- | --- | --- | --- | --- | --- | --- | --- | --- | --- | --- | --- | --- | --- | --- | --- | --- | --- | --- | --- | --- | --- | --- | --- |
| 2015/16 | EURO | Victor Claver | 7 | 26.7 | 11.4 | 4.0 | 7.9 | 50.9 | 2.7 | 4.6 | 59.4 | 1.3 | 3.3 | 39.1 | 2.1 | 2.6 | 83.3 | 1.1 | 4.7 | 5.9 | 1.1 | 0.9 | 0.7 | 1.1 | 1.7 |

Player Page&nbsp&nbsp| Player Stats | Mock Draft History | Related Articles&nbsp&nbsp| Add to My Draft Express&nbsp
&nbsp
Situational Statistics: This Year's Small Forward Crop
April 24, 2009
No one will ever know how high Victor Claver's stock could have rose had he not gotten hurt, and we'll probably have to see if he can bounce back next season before knowing how to fully evaluate his NBA potential.

Claver was the definition of an opportunist before losing the vast majority of his season to a knee injury. Finishing at the rim at a 60% clip (very solid in the competitive Spanish ACB) and shooting 40% from three in catch and shoot situations, the 1988-born forward appeared to be turning the corner on his immense potential. Claver's midrange game is still lacking, as evidenced by his .44 PPP on pull up jumpers, but the biggest concerns surrounding his game stem from the fact that he turned the ball over on 22.6% of his logged possession in half court settings and was fouled on only 6.4% of his shots, ranking him as the most turnover prone and the second-worst player at drawing fouls in our group. It's pretty clear what he needs to work on the most this summer—his ball-handling skills. Considering the serious setback he endured, all Claver needs to do to keep his stock high going into next summer is prove that he hasn't lost any of his considerable athleticism and continue shooting the ball at an excellent clip.

[Read Full Article]

---
European Roundup: Claver Showing his Stuff
November 22, 2008
While Ricky Rubio is unquestionably the top NBA prospect in the ACB, Victor Claver has given scouts a very good reason to continue to head to Spain this season, despite Rubio's continuous absence. After getting his first taste of ACB basketball in 2006, Claver saw consistent minutes last year with Pamesa Valencia. While his production was solid (albeit inconsistent) considering he was only 19, Claver has taken his game to a completely different level this season despite having the added pressure of being one of Pamesa's go-to players.

The name of the game for Claver has always been confidence (he's been criticized for being passive and underachieving at times), and he's been riding a rollercoaster this year, but still finds himself amongst the ACB's most efficient players. At 6'10, with a developing frame, Claver has the size to play power forward and the quickness and skill set to play out on the perimeter. While he has seen a lot of time at power forward in the past, this season marked his first opportunity to see extensive minutes at small forward. His transition from backup four to starting three has looked very encouraging at times, and is clearly hugely beneficial to his NBA stock.

Though he started out the season on an absolute tear from the outside, putting up big numbers in the first three rounds of the season before dropping 23 on MMT Estudiantes in round four, he followed up that game with 19 combined points and ice cold shooting in his next three contests. After consecutive losses to significantly less talented opponents in Menorca and Ricoh Manresa is rounds 5 and 6, Valencia let go both Head Coach Fotis Katsikaris and General Manager Johnny Rogers. With Croatian coach Neven Spahija now on board, Claver's fortunes seems to have taken a turn for the better after quality outting in back to back games against ACB powers Unicaja Malaga and Real Madrid.

In a round eight contest against Unicaja, Claver paced Pamesa with 19 points on 3-4 shooting from the field, 4-5 from three, and 1-3 from the line to go along with 4 rebounds, 2 blocks, and a steal. He started the game by running off the back screen for an easy alley-oop before raining a couple of catch and shoot jumpers from the outside. His other baskets came from quick moves to the rim for acrobatic finishes, largely characteristic of his offensive game at this point.

In Pamesa's round nine game against Real Madrid, Claver looked like a completely different player, going 0-6 from three, but still managing 8 points and 10 rebounds. This game offered a glimpse of the type of player he can be as a power forward when his shot isn't falling, an example of the inside ability he hasn't gotten a chance to showcase very often this season.

While he has played well recently, there may still be more changes coming in Valencia. Although Claver's increased role has done a lot for his development, it seems that Pamesa may not be entirely satisfied with his production thus far. They have been linked recently to names like Gabe Muoneke and Marc Salyers, both combo forwards who would fill similar roles to Claver in many situations. Whether they choose to sign another player could determine what position Claver plays the rest of this season, and where he winds up in the future.

The first thing that jumps out about Claver's game this is just how opportunistically he plays his position offensively. With two talented guards that love to shoot or break their defender down off the dribble in Ruben Douglas and Shammond Williams playing next to him, Claver often finds himself receiving the ball with an open look or with his defender off balance. While his silky smooth three point shot (he's ranked seventh in 3FG% in our ACB database) has been his calling card this season, he's experienced more than his fair share of struggles.

When Claver is making his shots, he's a force, but his confidence tends to wane when he misses his first couple of jumpers. At times he'll get tentative, but against Real Madrid he continued to try and get going. While he didn't see positive results, it's a good sign that he didn't take himself out of the game entirely like he did in rounds three through six. 50% of Claver's attempts from the field this season have come from beyond the arc, and he's making 54% of them so far, while hitting 61% of his overall shots.

In addition to showing vastly improved consistency from the outside, Claver has also been more aggressive putting the ball on the floor when he sees an opportunity to get to the rim. He shows an explosive first step and is capable of playing above the rim, but is still learning to finish consistently.

What makes Claver such an opportunist is how well he picks and chooses his spots when attacking the rim. He almost never forces a drive or a shot from the perimeter, seeming to only shoot when open and only drive when he knows he can go straight to the rim. This was apparent against Unicaja, where Claver was able to beat a slowed player in Carlos Jiminez on a couple occasions, but didn't even try to get to the rim against the quicker Marcus Haislip. Claver is getting to the free throw line at a pretty poor rate, which is a bit disappointing considering the athletic advantages he enjoys against most matchups.

While his measured style of basketball has helped him put up some gaudy efficiency numbers (he ranks 2nd in the ACB in points per play, 3rd in true shooting percentage, and 2nd in effective field goal percentage while also ranking tenth in PER and EFF amongst qualified players in our database), it still exposes some of his weaknesses.

Claver doesn't turn the ball over very often because he doesn't take risks, a characteristic of his game that can be attributed to his inability change directions with the ball in his hands when attacking the rim. He seems more content to give the ball up when he gets cut off, and could definitely stand to become a more dynamic ball-handler to augment his growing perimeter arsenal. At times he shows nice court vision, so getting better at drawing addition defenders could improve his playmaking ability as well. Right now he sports a very poor 1/2 assist to turnover ratio, which definitely needs to improve if he's to play on the perimeter full time.

Despite having not possessing great lateral quickness, Claver has done a very nice job defending the perimeter this season. His length gives him the ability to tip some passes and he's not adverse to giving some effort on the defensive end. While he doesn't garner much attention for his defense, his ability to create turnovers is a very promising sign (he ranks amongst just outside of the top 20 in steals per game). In addition to having the ability to create some turnovers, Claver shows nice anticipation as a help side defender at times, and is a lot more active defensively than most heralded players his age.

That same ability to anticipate also helps him rebound the ball, and while he's not a standout in that area of the game, his size and athleticism let him make an impact despite spending most of his time defending the perimeter (he ranks 15th in rebounds per game in our database). When Claver does get a chance to defend the post, he shows good fundamentals, but isn't quite strong enough yet to be a factor. He does a great job boxing out his man, something that helped him quite a bit against a Real Madrid team that features tremendous rebounders in Felipe Reyes and Jeremiah Massey.

Claver's strong play in his past two games hasn't necessarily led his team to a win, which is somewhat emblematic of his status as a role-player who doesn't necessarily change the complexion of the game. While Claver will undoubtedly see his percentages dip and rise as the season goes on, he will need to maintain his confidence and consistency and not let a small step backwards hurt what has become a solid season. With Eurocup play on the horizon, and thus the amount of games doubling from one per week to two, Claver is going to have to deal with a whole new group of challenges, and will have to assume a bigger role in Pamesa's offense to help the team avoid the letdowns they experienced in the ACB against much more formidable competition. Whether he accomplishes this feat should be reflected in how NBA scouts perceive his stock this summer.

[Read Full Article]

---
Roundup: Career-High for Victor Claver
February 28, 2008
In a season full of up and downs, actually more frequent in the downs, Victor Claver just happened to deliver his best offensive effort this past weekend. His 24 points where crucial for Pamesa Valencia to erase a 16-point deficit they suffered late in the third quarter against Kalise Gran Canaria, becoming just the second team this season to come away from the Canary Islands with a victory under their belt.

Regardless of his inconsistency, coach Katsikaris has played Victor with some regularity, giving him chances to regain his confidence. The mental side of Claver's game is always important to stress: he's not the most self-confident player around, while his skill limitations hinder his ability to produce consistently.

Claver continues living off his ability to take advantage of the different opportunities that arise for him during the game, but he struggles to make things happen for himself. Playing as a full-time power forward this time (as he's been regularly doing in the past weeks), he didn't waste the looks he enjoyed on the perimeter, netting three of the four open spot-up treys he found. He was active moving without the ball, and his cuts towards the basket provided him easy layups, dunks and free-throws (he almost completed a spectacular reverse dunk by the baseline after being fouled).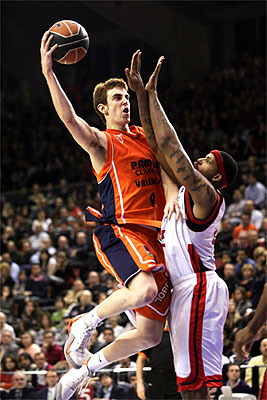 ACB.com


When it came to putting the ball on the floor, Claver basically only tried to do so with the defense unbalanced, always with good results for his team. Still, he needs to become more aggressive creating opportunities off the dribble. Perhaps his ball-handling skills are not the greatest around, but his first step is excellent, and especially when playing power forward, there shouldn't be any match-up capable of keeping up with him. He also could develop more of a mid-range game, as a resource to finish when the lane is too crowded (actually he showed something of this nature back in the junior category, but hardly anything with the veterans).

It wasn't only about scoring, as Victor delivered a few excellent passes, feeding the low post or some cutters, while he stayed very consistent on defense. Although matching-up against power forwards, he switched several times on smaller players, showcasing improved lateral quickness. Anyway, he was effective both in his man and team defense, showing great activity and a good sense for positioning. However, he also benefited from not having to face really big opponents, and indeed was almost never taken to the low post during the game.

It was a pretty complete game for him, but as exposed, there's still a long way to go for Victor in order to become a reliable player, to fulfill the star potential he enjoys. The draft doesn't look like a particularly appeal option for him at this point, perhaps not even next year (of course, always depending on his development).

[Read Full Article]

---
Scouting the NBA Draft Prospects at the 2008 Copa del Rey
February 18, 2008
After a very promising ending to his rookie season, particularly with his showing in the ACB playoffs, Victor Claver has seen inconsistent playing time on this very ambitious Pamesa Valencia squad, which plays both in Spain and in the ULEB Cup. That is somewhat to be expected considering his age, but due to numerous injuries Pamesa suffered on their front line, we were fortunate enough to see Claver get a career-high 35 minutes in the Copa del Rey.

Claver is a very intriguing prospect for a number of reasons, first and foremost due to his physical profile. Standing 6-9 with a good frame, long arms, and very intriguing athleticism for a European forward, Claver passes the eye test and then some on first glance. He has a very quick first step, is explosive off his feet, and looks like a very fluid all-around player, bouncy and reactive to things going on around him, clearly looking like his physical tools will not be what stands in his way of a hypothetical NBA future.

Claver started at the power forward position for Pamesa, and wasn't really anything more than a cog in their offense, which seems to be the case for how he's been playing all season long. His job here is to be a part of his team's ball-movement, mostly a spot-up shooter who moves off the ball looking for room to use his athleticism in open spaces, either with a sharp cut to the basket or a simple two-dribble foray and finish at the rim.

His perimeter shot looks decent when he has time and space to set his feet, with solid, fluid mechanics, and decent elevation off the floor, but he's inconsistent with his release point at times, particularly when rushed. He needs to improve his versatility here—especially the quickness in which he gets his shot off, as well as his ability to knock down shots off the dribble and in movement. He doesn't always fully set his feet and square his shoulders, which leads to some off-balance attempts, and it doesn't seem like he's fully confident in his ability to knock down shots, as he'll look quite hesitant at times if not completely open.

This seems to be a bit of a theme with Claver in general from what we saw at the Copa del Rey, and from the footage we evaluated of him this season. He's not a confident offensive player, somewhat cold in his approach to the game, and a bit tentative or passive on the offensive end. He has great tools to play the game, but at this point (possibly partially due to his role on the team), doesn't look 100% certain in his abilities as a player.

To fully make the transition to the small forward position, Claver needs to become a much better ball-handler. He is capable of taking advantage of unbalanced defenses and putting the ball down on the floor with a very quick first step, but struggles when forced to create anything more complicated than that off the bounce. He doesn't show much in the ways of advanced moves, not being able to change directions or use his off hand, which limits his potential on the offensive end of the floor, since he's not yet a great shooter.

Defensively, Claver brings excellent energy, looking very intense moving his feet and contesting shots, and doing a good job using his excellent leaping ability to make his presence felt in the paint and come away with rebounds. At this level, he does a fine job stepping out to defend the perimeter, but there are some question marks about his ability to defend the small forward position in the NBA, as he's a bit too upright in his stance (he's not very flexible bending his knees), and shows average lateral quickness staying in front of athletic wing players. He appears to be more comfortable in a hybrid forward role on an up-tempo team, but might not quite be as tough as you'd hope a player like that to be.

This summer is going to be very important for Claver's development, as it will go a long way in deciding what position he'll be best suited to play down the road. He needs to work on his ball-handling skills in particular, and become more versatile with his perimeter shooting ability. Getting more comfortable defending the perimeter will also be key for him.

[Read Full Article]

---
U-19 World Championship Review: Forwards
August 23, 2007
What early into the tournament looked like a possible big-time outing, ended up as a rather inconsistent performance, very dependant on his perimeter accuracy, while opponent teams also adjusted on Victor to slow him down after those early impressive showings.

Still, there's plenty to feel intrigued about regarding Claver's game. Most of his best attributes have been showcased in this championship. Obviously beginning with his superb physical/athletic profile. You don't see such a skilled guy standing 6-10 and enjoying that kind of quickness and leaping ability every day. However, it's still an athletic issue that (perhaps momentarily) keeps him away from the perimeter, as his defensive lateral quickness struggles against real wings. Skill-wise, he's all the way a perimeter player.

At some point, we could see the complete package. Shooting, ball-handling, passing, shot-blocking, rebounding, activity on the court, basketball IQ... His perimeter stroke looked extremely intriguing at times. If he manages to gain consistency with his off-the-dribble long-range attempts, he would become next-to unstoppable. The way he puts the ball on the floor to get his match-up off-balance and go up for a shot--using his length and nice elevation-- makes those jumpers extremely difficult to contest at any level. He was also productive with turnaround jumpers from the mid-post, usually from near the baseline. For a guy with his ability to light his opponent up off the dribble, it would be extremely useful to work on his skills finishing around the basket. He struggles using his left hands in layups, and it's not like he can make magic with his right. He could probably use a bit of body control while in the air and better footwork in the slashing department.

Defensively, he suffers from his lack of clear position, as besides his struggles facing perimeter opponents, he's not strong and physical enough to deal with some inside players. We'll see how things turn out for him, but expect Claver to play the power forward position full time next season in Pamesa Valencia.

[Read Full Article]

---
U-19 World Championship: Early Rounds
July 20, 2007
Victor Claver was probably the biggest story in the preliminary round, but has faded a bit off the tournament sky these last days, somehow following the evolution of his perimeter accuracy. He has dominated while his jumpers have gone in, showcasing a great ability to create his own shot, but he has struggled in the last couple of games, right when his team needed him the most to emerge as the go-to player. He's still one of the best prospects here hands down: length, athleticism, activity, passing, rebounding, handles, it's hard not to feel very intrigued with him.

[Read Full Article]

---
2007 RBK Eurocamp: Day Four
June 14, 2007
Likely the top prospect at the camp, Claver hasn't damaged his stock one bit after his showing here, which is already a great success after his impressive performance in the ACB playoffs. He didn't make much noise in his last day here, but still he delivered some intriguing details. Growing in defensive toughness since the days we first reported about a few years back him in the L'Hospitalet tournament, Claver has actively looked for charges to force offensive fouls. He also did a nice job hedging pick and roll situations, stepping in the way of the ball-handler without hesitation. He also has provided some spectacular moves while dribbling the ball; particularly yesterday when executing a great direction change in transition at full speed. Actually, he's taking advantage of any opportunity he has to take the ball up-court in early transition. Next season he should become an important contributor for Pamesa Valencia in the ACB League.

[Read Full Article]

---
2007 RBK Eurocamp: Day Three
June 12, 2007
After yesterday's phenomenal performance, we were hoping for a big encore from the Spanish combo forward, probably the best NBA prospect in the entire camp so far. He made some unselfish passes, showed great quickness getting to the basket, knocked down one beautiful 3-pointer, and even posted up a bit, but for the most part didn't find a lot of success in most everything he did. He fluctuated greatly from being way too passive to being very shot-happy for short spurts, usually gravitating more towards the passive side as he coasted up and down the court.

[Read Full Article]

---
2007 RBK Eurocamp: Day Two (Part Two)
June 12, 2007
After his excellent performance in the ACB playoffs he's pretty much matching the expectations, emerging as one of the very top prospects in the camp. Still, he's combining spectacular actions (he finished an alley-oop with a jaw-dropping reverse dunk) and general solid play with a few silly mistakes. Claver missed various easy layups and sometimes seemed a bit out of focus, but those are just flashes of inconsistency in a player that seems to have gained a lot of character and steadiness over the last year.

Anyway, he delivered plenty of stuff for the scouts to drool over. Easily handling the ball either in the open court (he loves to take the ball up-court in quick transitions) or attacking his matchups, he felt pretty comfortable on the court, ready to try and make things happen during most stretches. His perimeter shot remains inconsistent, though. He seems to enjoy a good stroke, but perhaps he gets unnecessarily unbalanced during the release too often. Claver particularly shined passing the ball, showing a nice understanding of the game. He was very active on defense, looking for the passing lanes, working hard on his man, but also helping out his teammates. Still, he hasn't solved the doubts about his lateral quickness when facing perimeter guys. Actually, he's spending extended minutes at the power forward position, which is a bit surprising in a setting like this camp that usually promotes its participants in the most intriguing position they can play. It seemed to work out pretty well for him today, though.

[Read Full Article]

---
Roundup: Claver Flying Over the ACB Playoffs
May 22, 2007
It had been a very quiet season for Víctor Claver. As we predicted last summer, he wasn't bound to have a sudden impact in the ACB League (unlike players such as Rudy Fernández or Sergio Rodríguez in recent years) considering the strength of the league and his team, his position on the court and his character. Seeing only a few sparing minutes of playing time, he couldn't score his first point until April the 1st. But it wasn't April Fools Day for him; the very next weekend he led an unbelievable fourth-quarter comeback against Akasvayu Girona after Pamesa's starting power forward Dejan Milojevic fell injured. It was a real turning point for him: he proved his coach to be capable of contributing right away and a spot in the rotation opened up for him.

In the following games he kept on leaving drops of his talent and potential, but it wasn't until the playoffs when Víctor emerged as a real force for Pamesa. He needed only 14 minutes to score 12 points in the opening game against Real Madrid. It was a thriller, full of questionable calls. Two of those calls resulted in four points for Real Madrid, off supposedly illegal blocks by Claver. Actually, both were legal rejections that could have added a three-block total to his stat-line. He rounded out his acrobatic show with a terrific one-handed put-back dunk.

This is excellent production for a limited tenure on court, and well reflects the unexpected aggressiveness and activity Víctor is showing. That was the primary concern about this supposedly timid player, a certain lack of self-confidence and aggressiveness on court. Last summer we already saw a new Claver, a guy who played hard on both ends of the court and was more committed than ever to claiming victory. You would always think it was temporary behavior, helped by a great coaching staff and an easy-going group of teammates, but the consistency of this improved attitude points towards a maturation process.

Just like he did last summer with the Junior National Team, Claver is playing full-time power forward. Remember, he's a 6-9, athletic and multi-skilled player adaptable to the small forward position, where Pamesa had been developing him, but right now he's more productive at the four, where he feels more comfortable taking his frontcourt match-ups to the perimeter to light them up with his quickness, while he avoids having to keep defensively up with wings through picks and screens.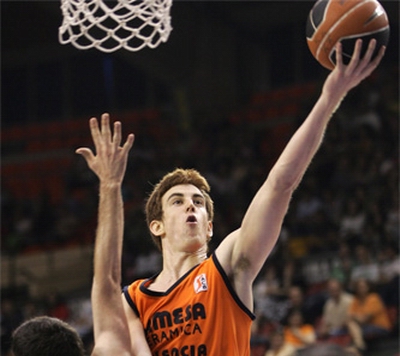 Photo: Cipriano Fornas


Claver improved in the second game to a career-high 18 points and 2 rebounds, playing 27 minutes this time. He made some very important plays for the final (favorable) outcome. Particularly, the way he dunked a ball after receiving it wide-open under the rim while being fouled by Axel Hervelle (who arrived too late to have any chance of stopping him), just brought the house down and somehow changed the game's momentum. Claver even challenged Hervelle, staring at him with a malicious smile, bringing out again that competitive character we've talked about. He also scored a key three-pointer in the last minutes to put Pamesa on Real Madrid's heals.

We're seeing similar stuff to what he showed during the summer. His quickness in the slashing move remains ridiculously superior to his match-ups, although he saves his efforts for clear options. He has scored from downtown, but still needs to gain consistency with his jumper. He's not looking very prolific from the mid-range area, a distance he could really use. Víctor is resulting very useful on defense, being able to switch opponents with most of his teammates, annoying his rivals with his length, and intimidating with his blocks. He's a reactive guy who is easy to get off his feet even from a standstill position. Although banged around from time to time, for the moment he isn't a serious liability defending the low post. However, he has eventually suffered defending the perimeter, sometimes lacking a bit of lateral quickness, usually getting burned too easily on screens, something that should be sorted out as he grows stronger and tougher.

Anyway, we're dealing with major potential here. Perhaps it would be more interesting to keep developing Víctor on the perimeter and after a few years just use him in the position where he results more effective. According to his coach Fotis Katsikaris (in statements published by SoloBasket.com), "when I arrived to the team, Claver played as a three, but had problems to defend faster players than him. He's a four, what the Americans call a forward. He's a four who can evolve on the perimeter to shoot and plays facing the basket". Obviously we have to consider also Pamesa's own interests and the fact that he somehow still plays on the perimeter, although facing big match-ups. Still, it seems pretty clear that he enjoys good enough tools to end up as an NBA small forward.

[Read Full Article]

---
U-18 European Championship Prospects: The Wings
September 13, 2006
Enjoying a superb combination of size, athleticism and skills, Claver's awful performance in last year's championship now looks like a mere illusion. Being a first-year guy in a troubling locker room probably had a lot to do with it. He has made everybody forget about it with an impressive showing in Greece, showcasing his excellent array of skills, but also surprising intensity and character.

Claver symbolizes like anybody else in the Spanish team the excellent work done by the coaching staff regarding mental preparation, and indeed some of that preparation was specific for him. For our loyal readers, it was no secret that they guy was a very talented player with excellent potential, but there were always doubts about his competitiveness, aggressiveness, and character on court. A good example was his defense. Before this tournament, he had never looked really intense and aggressive. Particularly his team defense was rather poor. In Greece, besides his nice man-to-man defense showing good lateral quickness, he has been very active chasing his matchup, helping his teammates, staying alert to the passing lines, even if he sometimes struggled a little bit defending the low post against true inside players.

After all, Claver has played all tournament long as a power forward, were he took advantage of his ridiculously superior quickness and impressive first step. Enjoying nice ball-handling skills, he just blows by his defender attacking with either hand to look for the basket. He doesn't like to force his slashing attempts, and usually waits until the ball movement unbalances his defender, but he can beat perimeter guys in pure one-on-one settings. Once he's in motion towards the basket, there arise some possibilities, always considering his limitations. These limitations are a poor use of his left hand to finish around the basket (indeed, if he attacks his rival from his left, he will try to change directions to regain the right), little creativeness with his right hand to perform anything else than a rather orthodox layup and some certain problems to properly release the ball after contacting a rival. So, his usual options are to look for the rim with his right-handed layups or with remarkable dunks (a guy of his size and athleticism looks quite spectacular attacking the rim). He can also search for a teammate if he doesn't see a clear option to go all the way to the basket, showing nice passing ability and decision making, something that he also delivers moving the ball in the perimeter.

Another possibility, not frequent though, he has in his slashing repertoire is to release an off-the-dribble mid-range jumper. Claver has quite a solid stroke with good range, out to the international three-point range, although he's not an automatic shooter. He is capable of fading away a bit in order to gain room for the shot, although he loses almost all his accuracy with a rival right by him. His mechanics are nice, although with average quickness releasing the ball.

Also in this tournament we saw him take advantage of his size in the low post against smaller matchups, just with simple moves to release the ball over his rival. This was a glaring miss for him in previous events, but a very useful skill for a 6-9 small forward.

Claver has now a three-year deal signed with Pamesa Valencia, reportedly worth around 1 million euros, and he will play in the ACB League next season. We don't expect a big impact; the setting is too demanding and Claver might not be the type of player with that fearless attitude in order to shine so soon surrounded by veteran established men on a demanding team. However, the talent is there and so is his apparently more aggressive character (was it a midsummer night's dream or will we keep seeing that new character in the future?), so anything is possible.

[Read Full Article]

---
2006 L'Hospitalet Tournament: the Top 5 prospects
January 11, 2006
Claver has been doing his best Dr. Jekyll and Mr. Hyde impersonation over the past few months. After an almost invisible performance at the European Junior Championships in Belgrade last summer, this time we saw Víctor Claver at his absolute best once again on his home soil. Back in Pamesa Valencia, where he's the cut-clear leader, Víctor was easily the most impressive player seen in the tournament, even surpassing the excellent showing he delivered in last year's edition. Just for the sake of comparison, we could say that Claver played at a similar level at this same tournament displayed by eventual lottery pick Yaroslav Korolev one year ago.

More clearly than in past occasions, Claver showed that he's a pure small forward, the position where Pamesa is wisely developing and playing him. He enjoys most of the tools he needs to maximize his potential at that position, whether physical or technical.

His strengths and weaknesses remain rather constant from what we told you one year ago at the previous edition of the L'Hospitalet tournament. But let's rehash for a quick reminder.

Claver is a gifted athlete, a 6-9 wing with a solid frame and excellent quickness for his size. He's a very complete face-up offensive player, enjoying a surprisingly good jump-shot, with good fluid mechanics, being able to deliver it off the dribble, in turnaround fashion, or even with a fade-away movement. He's far from being a pure shooter, but he's rather skilled in this department and his size makes him hard to stop. Also a very nice slasher, Claver has an excellent first step and the ball-handling skills to get the job done. He feels more comfortable driving with his right hand, but can also change directions if he starts the movement with his left. On defense, he shows accurate lateral movement, although he perhaps lacks a bit of aggressiveness.

With the ups and downs that Víctor has showed in the past year, his consistency is an important question mark. In L'Hospitalet, he played only one real game. After a ridiculously easy debut against the Dominican Republic, where he was rested on the bench for the most part, Claver and Pamesa faced Real Madrid in a decisive contest. He dominated the game from the opening tip-off right until his teammates decided to go away from him, although Real's off the ball defense also played a part in this. Víctor got frustrated at that point, making some questionable decisions when the game was already lost.

However, the final impression was excellent. He was extremely positive for his team whenever he had the ball in his hands, showing a great basketball IQ, a rather improved character and intensity and leaving everybody in L'Hospitalet drooling over his potential.

[Read Full Article]

---
The European Junior (U-18) Championships: The Power Forwards
August 30, 2005
A pretty sad story, Claver probably displayed the biggest differential between expectations and actual performance. He's a 6-9 forward with excellent skill and nice athleticism, as we told you earlier this year from L'Hospitalet, but who probably lacks character and competitiveness. It doesn't look like a matter of attitude, as he seems to be a fine kid, but a problem of confidence and fire in his game.

Víctor was downright awful all tournament long except in the last game, where Spain fought for the bronze medal. After an endless succession of turnovers (1.9 per game), hesitance, doubts, defensive mistakes and frustrating play, he finally had a decent showing, collaborating on both ends of the floor, and looking more confident to try things.

Let's summarize, because it doesn't make too much sense to go into detail about the skills that Claver didn't show this time (you can get extended information on him in the L'Hospitalet report): he is an athletic and skilled combo forward with a perimeter shot, solid slashing abilities, nice court vision and quite a good basketball IQ, although nobody would say these things after watching him in this tournament. Besides, a good part of his potential relies in his ability to play small forward at 6-9, and he looked slower than usual on defense in Belgrade.

His mental issues don't seem easy to change, and Pamesa Valencia, his club, doesn't have the best track record regarding developing young talent. But let's remain optimistic: Claver has the gifts to become a very good player, and it would be really disappointing to see such a great potential go to waste.

[Read Full Article]

---
L'Hospitalet Tournament: Searching for New Talent
January 9, 2005
If Korolev was the star of the 1987 group age, it was Víctor Claver who stood out for the 1988 kids. No question about it. He was already a well-known name for those who follow youth basketball in Spain, and this tournament was his confirmation as a legit top prospect.

From the moment the clock started to run in his first game, everyone in the pavillion felt like something special was going on. A red-haired boy, standing 6-9, was displaying the kind of performance from the wing that leaves your mouth open.

Claver is really long. You think about a power forward the first time you see him, but once you check his athleticism and skills, you know he belongs to the perimeter.

He enjoys a nice stroke from anywhere on the court. He's smooth, showing great mechanics. If necessary, he will make a delicate fade away movement. At this point he still needs some space to nail the long-range jumpers consistently, but with his size and quickness, it's not that difficult for him. He can put the ball on the floor using his very good handles and a long, quick first step, and take advantage of his match-up's unbalanced position to deliver the shot. Indeed he's a very nice slasher. Perhaps his best play was a crossover dribble mid-way towards the basket that killed his defender, finished with a powerful dunk. Unstoppable.

The low post is not a very familiar place for him. He's very perimeter-oriented right now, but I think he should work some post moves to take advantage of his size against smaller defenders.

But not everything is about scoring skills. Claver is a guy who understands the game and usually does the right thing, whether it's trying to score or passing the ball. His court vision is pretty good and he helps his team's ball movement to be more fluid, usually passing the ball to the right teammate, even when he's double-matched.

The biggest concern with those big perimeter guys is usually their defense, but Claver has enough lateral quickness to defend his position. Besides, his long wingspan makes him an intimidator with a nice blocking ability. On the other hand, he's not particulary agressive, and can eventually look a little bit static in team defense. Nothing to worry about, anyway.

With Víctor Claver, Spain gives continuity to an unprecedented (in Spain) series of very talented prospects that started with Pau Gasol and seems not to have a near end.

[Read Full Article]

---