Matt Williams
A prospect who has seemingly been on the radar of international scouts forever,
Viktor Gaddefors
ranks among the top international prospects in the 1992 age group that is automatically eligible for the 2014 NBA Draft.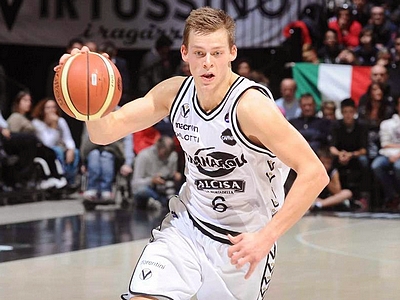 Gaddefors, whose father and older brother both played for Sweden at the international level, emerged as a prospect in 2008 when he averaged 12.3 points and 3.5 rebounds per game at the FIBA U16 Division B European Championship. Making his debut for KFUM Uppsala in 2008, the Ostersund native would spend two seasons playing in his home country, ranking among its leading scorers at age 18, pouring in 19.4 points per game.
Catching the attention of Virtus Bologna, Gaddefors followed in the footsteps of countryman
Jonas Jerebko
, who made the jump from the Basketligan to Serie A in 2007, by signing a long-term deal in Italy. Though he played sparingly during the 2011 season, his first in Italy, he emerged as a valuable roleplayer the following year when he was loaned to Avellino, another 1st division team. Playing well at the 2012 U20 European Championship, Gaddefors has been a key member of Virtus Bologna's wing rotation and a semi-regular starter since then.
Playing alongside former NBA players like
Willie Warren
,
Matt Walsh
,
Jerome Jordan
, and
Ndudi Ebi
, Gaddefors has gained considerable experience against quality competition each of the last two years. He ranked fourth on the team in minutes per-game among players who appeared in more than half of the teams games, and was the only Virtus Bologna player to see action in all 30 of their regular season games. Though Gaddefors averaged just 6.8 points per game, and his team finished just 11-19, he showed the same intriguing role-player potential that made him one of the standouts at last year's adidias EuroCamp throughout the season.
Standing 6'8 in shoes with 6'8 wingspan and a solid 216-pound frame, Gaddefors has good size for a small forward even if he lacks great length. A very strong and fairly explosive athlete, Gaddefors's strong physical tools are his most appealing quality as a prospect. He plays hard on both ends, and is able to make an impact at times by being scrappy and aggressive.
Mostly asked to blend in among Virtus Bologna's starters offensively, Gaddefors's game revolves around his ability to hit open jump shots and finish opportunistically around the rim. He saw his role shrink a bit as promising Italian 18-year old
Simone Fontecchio
came into his own in mid-March, but continued to make efficient contributions as a reserve.
Gaddefors does his best work offensively around the rim and in transition, where his size, athleticism, and ability to absorb contact make him an effective finisher. He seldom forces the issue offensively on the whole, and his 65% shooting from two-point range reflect his selectiveness with his dribble drives, his ability to convert in close, and his willingness to accept and play within a small complementary role on the offensive end.
Away from the rim, Gaddefors is not very consistent, as he is a fairly streaky shooter from beyond the arc. On the whole, his perimeter skill level is still a major work in progress, as he's not a very good ball-handler or efficient midrange scorer at this stage of his career. The vast majority of Gaddefors's attempts from the perimeter are spot ups created for him by teammates. Knocking down just 32% of his shots from beyond the arc, he still has plenty of room to improve his jump shooting, which is likely the biggest key to him carving out a niche at the top level of European basketball, let alone the NBA.
Defensively, Gaddefors plays with good energy, and his size and athleticism make him effective in the Italian League and leave some room for optimism about his ability to hold his own against NBA caliber competition. A solid rebounder for a wing who is aggressive in the passing lanes, Gaddefors can be late to close out and is a bit foul prone at times, but has some nice moments on this end of the floor.
Looking ahead, Gaddefors would benefit from continuing to develop his skill level and becoming a more reliable shooter regardless of whether he hears his name called on draft night. His size, athleticism, effort level, and ability to fill a role are appealing, but whether they're enough to get him drafted will likely come down the numbers game we regularly see in the back half of the second round. A potential draft and stash candidate, Gaddefors could be in play in the later part of the draft depending on just how many of the young international prospects who have declared for this draft withdraw their names before the deadline.