Vitor Faverani
Recent Tweets
All Tweets
DraftExpress: Faverani can really score. Very good offensive rebounder RT @Vujak Its a major surprise for us as well. But he's better than Vitor Faverani.
2013-07-24 08:24:12
Team: NON-NBA College Team: Maccabi Tel Aviv
Physicals
Positions
Salary
Misc
H: 6' 11"
W: 233 lbs
Bday: 05/05/1988
(27 Years Old)

Current: PF/C
NBA: PF/C
Possible: PF/C

Agent: Herb Rudoy

High School:
Hometown: Paulinea, Brazil
Best Case: Rasheed Wallace
Worst Case: C.J. Giles




Basic Per Game Statistics

- Comprehensive Stats - Statistical Top 25s
| Year | League | Name | GP | Min | Pts | FG | FGA | FG% | 2Pt | 2PtA | 2P% | 3Pt | 3PtA | 3P% | FTM | FTA | FT% | Off | Def | TOT | Asts | Stls | Blks | TOs | PFs |
| --- | --- | --- | --- | --- | --- | --- | --- | --- | --- | --- | --- | --- | --- | --- | --- | --- | --- | --- | --- | --- | --- | --- | --- | --- | --- |
| 2015/16 | EURO | Vitor Faverani | 2 | 7.0 | 3.5 | 1.5 | 3.5 | 42.9 | 1.5 | 3.5 | 42.9 | 0.0 | 0.0 | &nbsp | 0.5 | 1.0 | 50.0 | 1.0 | 0.0 | 1.0 | 0.5 | 0.0 | 0.0 | 0.5 | 2.0 |

Player Page&nbsp&nbsp| Player Stats | Mock Draft History | Related Articles&nbsp&nbsp| Add to My Draft Express&nbsp
&nbsp
Blogging Through Europe 2008 (Part Six: Spain-2)
December 17, 2008
The main prospect in this game was Brazilian big man Vitor Faverani, and unfortunately we seemed to have landed on a very poor outing. Faverani turned the ball over seven times in just 18 minutes, scoring 10 points but settling excessively for playing outside in a game that quickly became a blowout by the second quarter.

Faverani's physical tools are undeniable. Showing great size at 6-10 or 6-11, he has a great frame, an nice wingspan and very good athleticism. He's bulked up pretty well since the last time we saw him, and showed great leaping ability and nice overall mobility. Offensively he mostly tried to shoot flat-footed jumpers from outside, even making a few thanks to his nice touch, while in the post he displayed a good looking left-handed jump-hook but mostly looked disinterested in making his presence inside.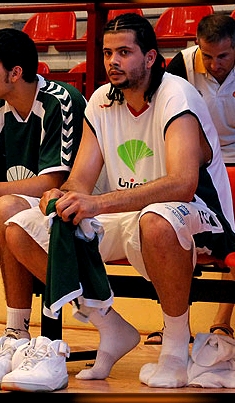 ACB.com



Faverani's fundamentals on defense are pretty poor, even if he has very good tools to get the job done. He looked pretty lethargic for the most part though, doing everything at his own deliberate pace and not showing any real sense of urgency. His body language looked poor both in warm-ups and around his teammates, while the intel from off the court speaks of much more serious issues.

Faverani remains a great talent but looks highly unlikely to achieve his potential looking at the career path he appears to be on these days. He's been able to put up good numbers in the Spanish second division (LEB Gold) and is even seeing some occasional playing time in the Euroleague as well with Unicaja, but the biggest improvement he needs to make—regarding his intangibles—looks like just as much a problem as ever.

He's the type of talent someone is bound to gamble on in the second round, either this year or next when he becomes automatically eligible for the draft.

[Read Full Article]

---
Roundup: Gallinari is Back
November 13, 2007
You never know how Vitor Faverani is going to look in any given game. Fortunately, coming off an increasingly bad run after his promising season start, this weekend he rebounded for a very positive showing against Alicante Costa Blanca in the LEB league. Perhaps not by coincidence, he recovered his place in the starting five for this game. After all, he's very much about momentum and motivation, still not a consistent guy from a mental point of view.

What Faverani brought to this game was aggressiveness and a lot of activity. He repeatedly attacked the rim, trying to take advantage of his wonderful physical conditions. The guy is so long, so greatly mobile, and already pretty strong, that he becomes a headache for any defense whenever he decides to use his gifts up to his potential. Vitor delivered three powerful dunks: the first one, after a pick and roll play, a situation where he feels extremely comfortable; the second, just rising up from a standstill position for a one-handed dunk after receiving the ball in the paint, and you can bet he managed to put the ball way above the rim; while the final one happened after he received the ball just in front of the basket on the three-point line, and as nobody came to cover him, he just took a few steps and smashed the ball with his right hand in spectacular fashion.

Faverani kept attacking the rim all the game long, drawing fouls and sometimes scoring off contact for and-one plays. He also had a very nice finish with his left hand, showing soft touch also with his off-hand. In some other game you would see him killing the opponent team from the low post or the mid-range distance, but this wasn't the occasion. There were no low post situations for him to play one on one, and barely any shooting from range. He only once went for an off-the-dribble mid range jumper--in a very complicated move that didn't work, but looked pretty decent-- as the shot clock was running out.

The overall activity he displayed was obvious in the rebounding department, managing to grab 13 captures (to go along with 15 points), 5 of them off the opponent glass. Vitor worried more than usual about boxing out his opponents, and was always ready to pursue the ball on the offensive end, eventually being pretty effective just by tipping the ball to a teammate. Also looking more solid on defense, he still overreacts in some situations, such as fakes or defensive helps. Indeed, he was fouled out after 16 minutes of playing time according to the official stats, although it looked more like 20 minutes at least. Anyway, he particularly shined in the three times that the opposing players challenged his lateral quickness from the perimeter. And one of the highlights of the game was a terrific dunk he had on Henk Norel.

Anyway, if we have learned anything about Faverani, it is not to get carried away by his good performances. Chances are he will struggle soon, and a lot. However, whenever (and if) he figures out how to stay consistent, the guy is going to be really good.

[Read Full Article]

---
Looking ahead: Spanish U-20 Circuit
August 3, 2007
After a troubled tenure loaned in Cai Zaragoza at the LEB league, Faverani had the chance to go back to Unicaja and join the U-20 squad late into the season and deliver some extremely intriguing performances in the Circuit. He's an impressive prospect, combining both a great physical/athletic profile and an excellent skill set. Still immature in some areas of the game, the real drawback about him is his mentality as a basketball player. There are serious concerns about his work ethic, commitment and behavior. His ceiling is as high as his floor is low.

The Brazilian big stands close to seven feet, enjoys a good wingspan, nice strength, an excellent frame, and he's certainly athletic for a guy of his size. The real intrigue starts whenever you check that, along with those physical gifts, he actually can play the game. He's a very solid guy both in the low post and from the mid range area. Faverani has the strength to operate down low, enjoys nice footwork and an excellent touch with both hands on his hook shoot. Needless to say, that a superb combination that makes him very effective there. If he's not banging in the paint, he can shoot the ball from the mid-range, even out to the three-point line, with very nice mechanics and accuracy. Eventually, he can also release his jumper off the dribble with decent results. Although able to put the ball on the floor, he rarely attacks his match-ups off the dribble. He's not a bad player without the ball, particularly if he feels motivated (when he shows more activity on court). He's an able pick and roll player and nicely fills the lane looking for post-entry passes.

With this array of skills and abilities, it would be logical to expect very regular offensive production. Actually he often looks completely effortless delivering some of his stuff. However, it's not rare at all to see Faverani disinterested, passive on the court, not focused on the game. He badly needs to mature on the mental side. Maturity and knowledge of the game is what he also needs on the defensive end. Despite enjoying superb tools, such as excellent mobility, athleticism, length or strength, Faverani is often clueless about how to stop his opponents. His positioning on court is poor, his timing for defensive rotations pretty bad, he's very foul prone as he falls for most fakes looking for the block. Experience, defensive discipline, concentration and hard-work are what he lacks most.

To summarize and try to picture the kind of player we're dealing with here, Faverani could be easily make some noise in the ACB League next season and end up as a lottery pick in a year or two from now, but he just as well could virtually fall off the map due his work ethic and troubled behavior.

[Read Full Article]

---
Roundup: Serbian Bomber Uros Tripkovic in a Massacring Performance
March 19, 2007
The troubled relationship between Vitor Faverani and Cai Zaragoza reached its end last Saturday when the team announced his departure, taking advantage of a clause in the loan agreement with Unicaja Málaga (the team that owns his rights) that allowed Cai to cut the player free of expenses before March the 23rd.

It was a crazy season for Faverani in Zaragoza, full of ups and downs, with impressive performances to dream about a NBA future, and forgettable showings that were unacceptable from a foreign player in a LEB team. That was part of the problem, as LEB teams can only have two players from outside the European Union, and Vitor was filling one of those two spots. For some games, he looked completely worthy of taking that foreign spot; in others, you would only want to scream at him to wake up and play with some aggressiveness. At least he was honest enough to recognize his eventual lack of effort, but this is pro basketball and a team like Zaragoza, looking for promotion to the ACB League, can only demand full effort every single game. The other part of the problem was his behavior off court.

His last week on the team was pretty representative of his tenure in Zaragoza. After weeks, even months, of gossip concerning a possible departure for Faverani, even being left at home for a few games, the Brazilian player rebounded well for an excellent performance against Alerta Cantabria, with 17 points and 10 boards. His coach Curro Segura stated then that the player had showed a good reaction and therefore they weren't considering the possibility of cutting him, so he was staying with the team. A few days later, Faverani missed a practice (which apparently wasn't the first one he didn't attend this season) and the coach and the team just thought they had enough dealing with the Brazilian, so they decided to cut the player.

In the official press release published by Cai Zaragoza, they thanked Unicaja Málaga, but saved any words about the player.

Faverani is a magnificent basketball talent, a big guy with the body, athleticism and skills to become a great player in the future. Actually only Batum and Gallinari are clear-cut better prospects than him from the 1988 pool. But unless he grows up, matures and starts acting like a professional player, he will have a hard time realizing that excellent potential.

[Read Full Article]

---
Roundup: Yi Jianlian Strong in the CBA Playoffs
February 27, 2007
Vitor Faverani's immediate future is up in the air again. Last month he was on the verge of being cut, but instead there was a coach switch, seeing Chus Mateo (the guy who bet on him to fill one of the two non-EU spots in Cai Zaragoza) leave and be replaced by Curro Segura. Segura brought Faverani back to the rotation, and has been trying to motivate him in order to recover a very useful piece for his team, but with poor results so far.

Let's remember that the Brazilian played at great level in November and early December, making his signing then (on a loan from Unicaja Málaga) like a very successful bet. Simply, there aren't many guys with his combination of post skills, size and athleticism in the Spanish second division, the Adecco LEB. But still this is a very competitive category, and the early accolades, all the NBA talk about him and Faverani's lazy attitude and lack of intensity came back to haunt him. With coach Segura commanding the boat in Zaragoza, there seemed to emerge a shade of hope, but it lasted just a few weeks. In the four games the Brazilian has played under his guidance, Vitor has averaged only 5 points and 4.2 rebounds in 15 minutes.

This weekend, Faverani didn't even travel with his team, instead staying in Zaragoza to, according to his team, follow a conditioning program to get in shape. Regardless of whether this is a smokescreen to hide a punishment for some disciplinary incident, or Faverani is actually out of shape after more than half a season played and no important injuries suffered, it does not look good at all.

[Read Full Article]

---
Roundup: New Year, Same Rudy
January 15, 2007
Vitor Faverani has gone from heaven to hell in less than a couple of months. He was a sensation early in the Adecco LEB league (Spanish second division) for Cai Zaragoza, collecting headlines thanks to his statistical production and intriguing potential. Here at DraftExpress you might have read about his excellent performances, but we already warned then about his problematic character. Faverani has impressive tools to play the game, but show little fire doing so. He lacks intensity and devotion. For a young player filling a foreign spot (only two allowed per squad) in a team like Cai Zaragoza that is desperately looking for promotion to the ACB League, it can be a recipe for disaster.

And it seems that disaster is close: Faverani hasn't played in the last two games and the word is Cai Zaragoza will cut him and search for a more experienced and reliable player on the market. Apparently, it wouldn't cost a cent for Cai to cut the Brazilian big, loaned from Unicaja Málaga. If it finally happens, we could even see Faverani getting some action with Unicaja in the ACB League as the team only has one non-European player in the roster (Daniel Santiago). Otherwise, expect Faverani to go back to Clínicas Rincón Axarquía in LEB-2 (third Spanish division), which is a kind of farm team related to Unicaja.

[Read Full Article]

---
Roundup: Rudy, Only 0.1 Seconds for the Glory
November 6, 2006
Vitor Faverani, the Brazilian big that Unicaja Málaga has loaned to Cai Zaragoza, played his best game of the season this week. Paying a visit to the court of the competitive León Caja España, Faverani emerged as the most effective offensive weapon for Cai, leading his team to a valuable victory. 20 points and 4 rebounds is what he had time to produce in 21 minutes before fouling out. Something similar happened over the weekend; this time, he only played 18 minutes before running out of fouls, but still managed to score 13 points and grab 6 rebounds. However, Cai lost to Melilla Baloncesto.

Anyway, this season is solidifying Faverani's status as one of the most intriguing bigs in the international scene draft-wise. He's a well-built, athletic and coordinated 6-11 low-post guy, which easily draws anyone's attention. He's rather effective near the basket, showing some solid moves in the low post and ability to finish with either hand in semihook fashion. He also enjoys a promising mid-range jumper to compliment his back-to-the-basket skills. Vitor moves quite well off the ball, looking for spaces as close as possible to the basket. Despite the strength of the league, size is not precisely a common good in LEB, so he usually enjoys a clear advantage here.

Obviously, one of the biggest issues at this point is the foul trouble. He has terrific defensive potential, showing excellent mobility and enjoying superb length to intimidate his rivals. However, he still hasn't figured out how to get the best of it, sometimes being beaten by quickness when he shouldn't, and especially having no measure when he goes for the block, often falling right over his rivals. Another question mark is his degree of character and intensity, as he sometimes has looked a bit passive on court for some stretches.

Another pearl of the apparently very productive 1988 pool, we're talking about top-3 potential for this class if Faverani confirms what he has been showing lately.

[Read Full Article]

---