Will Barton
Recent Tweets
All Tweets
DraftExpress: Will Barton just went 40th to Portland. Someone wasted a lot of text messages blowing up my phone needlessly the past three weeks.
2012-06-28 11:00:58
DraftExpress: Highest slated players on our mock still available, going into the 2nd round: Draymond Green (#26), Jeff Taylor (#28), Will Barton (#29)
2012-06-28 09:29:04
DraftExpress: RT @GaryParrishCBS: Memphis guard Will Barton will formally announce he's entering the NBA Draft today, a source told http://t.co/XoG8cLcv.
2012-03-22 04:32:29
DraftExpress: RT @GaryParrishCBS: Pastner told @CBSSports he'd be "a little surprised" if Will Barton returns. Adonis Thomas' decision seems up in the ...
2012-03-20 08:15:10
DraftExpress: Mason Plumlee, Austin Rivers, Will Barton, Mike Moser, Trey Burke, Adonis Thomas - all needed good March showings. Now have tough decisions.
2012-03-17 12:50:27
Team: Nuggets
Physicals
Positions
Rankings
Salary
Misc
H: 6' 6"
W: 174 lbs
Bday: 01/06/1991
(24 Years Old)

Current: SF
NBA: SG/SF
Possible: SG/SF

RSCI: 9

Agent: Brian Elfus
Current Salary:$915,243

High School: Brewster Academy
Hometown: Baltimore, MD
Drafted: Pick 40 in 2012 by Trailblazers
Best Case: Manny Harris
Worst Case: Rawle Marshall

Predraft Measurements
| Year | Source | Height w/o Shoes | Height w/shoes | Weight | Wingspan | Standing Reach | Body Fat | No Step Vert | Max Vert |
| --- | --- | --- | --- | --- | --- | --- | --- | --- | --- |
| 2012 | NBA Draft Combine | 6' 5" | 6' 6" | 174 | 6' 9.75" | 8' 6.5" | 4.1 | 30.0 | 34.0 |
| 2009 | LeBron James Camp | NA | 6' 6" | 161 | 6' 9.5" | NA | NA | NA | NA |
| 2009 | Paul Pierce Camp | NA | 6' 6" | 161 | 6' 9.5" | NA | NA | NA | NA |



Basic Per Game Statistics

- Comprehensive Stats - Statistical Top 25s
| Year | League | Name | GP | Min | Pts | FG | FGA | FG% | 2Pt | 2PtA | 2P% | 3Pt | 3PtA | 3P% | FTM | FTA | FT% | Off | Def | TOT | Asts | Stls | Blks | TOs | PFs |
| --- | --- | --- | --- | --- | --- | --- | --- | --- | --- | --- | --- | --- | --- | --- | --- | --- | --- | --- | --- | --- | --- | --- | --- | --- | --- |
| 2015/16 | NBA | Will Barton | 17 | 26.6 | 13.5 | 4.9 | 10.5 | 46.6 | 3.6 | 7.3 | 49.2 | 1.3 | 3.2 | 40.7 | 2.4 | 2.8 | 87.2 | 0.8 | 4.5 | 5.3 | 2.0 | 1.2 | 0.6 | 1.3 | 1.2 |

Player Page&nbsp&nbsp| Player Stats | Mock Draft History | Related Articles&nbsp&nbsp| Add to My Draft Express&nbsp
&nbsp
Will Barton: "That's My Biggest Objective, Winning"
June 18, 2012
Kyle Nelson: Thanks again for talking to us, Will. How's everything going?

Will Barton: Everything's going well, man. I'm just enjoying the process.

KN: You're out in Chicago, right?

Will Barton: Yeah, I'm in Chicago right now.

KN: Who have you been training with?

Will Barton: John Lucas in Houston.

KN: What have you been working on? What's your average day of training look like?

Will Barton: Just, everything, really just getting after it. Working on shooting and my shot, ball handling, defense, passing, I mean every aspect of my game.

KN: So, how long do you train for?

Will Barton: Every morning we work out at eight. Eight to 10. Eight to 11, sometimes.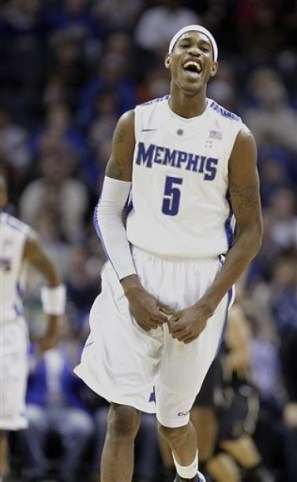 AP Photo



KN: A lot of the questions that scouts have are about your weight. You were 160 pounds in high school and you were listed this year at 175. How much have you been working on your frame?

Will Barton: I do what coach has. I go to the weight room and we lift. With me, I'm never going to be a big pound guy, but I'm putting on strength. It might not show body-wise, but it will show when I'm attacking the rim and I'm finishing with bumps and I'm still playing physically. So, that's what we're concerned with.

KN: Where are you right now weight-wise?

Will Barton: 175, around that area. 177. [Editor's note: Will measured at 6'6 in shoes and 174 pounds at the NBA Combine in Chicago]

KN: So, how important do you think it is going to be for you to continue getting stronger as your career progresses?

Will Barton: It's going to be important for me to just keep gaining strength as I've been doing in all of the stages in my career. I've always been skinny, but I've just added strength. I've always been skinny, but I've always produced. So, I'm going to just keep working on it and really just let my game speak for itself.

KN: There was some talk when you entered the draft that one of the reasons you decided to leave Memphis was that you did not exactly see eye to eye with coach Josh Pastner. How much truth is there to that, and is that something that's come up in interviews with NBA teams thus far?

Will Barton: There's no truth in that at all. That's 100% false and it never came up in any of my interviews. I've given a dozen interviews and no one has ever said that they heard that, so I don't even know where that came from.

KN: Thank you for addressing that. So, what were some of the things that you learned from Coach Pastner?

Will Barton: I learned that doing things the right way will pay off for you in the long run. I learned how to stay positive throughout anything and just to work hard and how to be a professional.

KN: How else did Coach Pastner and the coaching staff at Memphis help you to prepare for the NBA?

Will Barton: They helped me with my game and told me things that I needed to work on, told me things that I did good and to stick to. After I declared, you know, calling around trying to see where I was predicted to go and fighting for me, being there for me and anything I needed.

KN: Many people considered it a foregone conclusion already mid-way through the season that you will be leaving Memphis. Was does indeed the case? What were you thinking this year?

Will Barton: I think people thought that just because I was producing. It didn't have anything to do with coach; it's just that I had a phenomenal year. The whole year, I wasn't concerned about the NBA. All I was worried about was my team winning and me producing and being a leader and just showing it. That's really all I was hoping to do.

KN: You improved a lot between your freshman and sophomore seasons. What did you work on during the off-season and how do you think you got better?

Will Barton: I really just worked on everything. I stayed in Memphis. I didn't go home. I was just really focused on working out and coming back better than ever. I worked a lot on my shooting and I worked on me having better decision making and competing, playing hard. I just got back to playing hard and attacking and being me on the court and having fun and going all out.

KN: You guys were maybe the hottest team in college basketball over the second half of the season. A lot of people picked you guys to make a deep NCAA Tournament run. What it was it like being inside the locker room right after you were knocked out in the first round against Saint Louis?

Will Barton: We were devastated. We were sad. We were upset and we were kind of stunned. That was probably one of the saddest days of my life if not first. We were hurt. We were hurt by it.

KN: Did that moment influence your decision to enter the NBA Draft?

Will Barton: I didn't decide at that moment. The only thing that I could think of was that game and wishing that I could have that game back. So, I didn't decide after that. It took me some time.

KN: What ultimately influenced your decision, then?

Will Barton: Going over it with [Coach Pastner] and my family. I felt it was the best decision for me. It was always my dream to play in the NBA and I felt like it was time. I had a great season at Memphis and I thought it was time for me to take on a new challenge.

KN: What was it like paying alongside of your brother [Memphis reserve guard Antonio Barton] and what kinds of advice has he had for you throughout this process?

Will Barton: It was just great, man. Playing with him was the best thing in my life. Having him right there on one of the biggest stages besides the NBA, to me, and getting to play with my family is something that I'll never forget and always cherish. It was great having him there and I can always count on him for advice. He keeps me level headed. Through the process, he was the one who told me that I was ready. He said that he felt like I should go and that I did all I could as a college basketball player besides, you know, winning a national championship. He felt like I was ready.

KN: You mentioned your shooting earlier. You shot 27% from beyond the arc as a freshman and 35% last year. Was your improvement simply due to more getting up more reps or did you change your mechanics at all?

Will Barton: Just getting up more reps and staying more disciplined on my shot.

KN: How important do you think developing your jump shot is to your long-term success at the next level?

Will Barton: I think it's really important. With my driving ability and playmaking skills, I think that if I can consistently knock down the jump shot I'll be even more dangerous on the offensive end.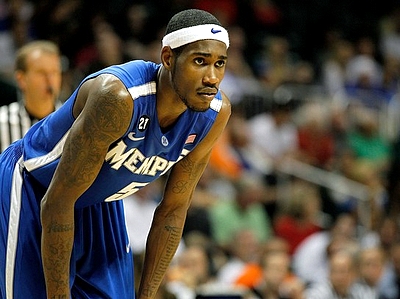 AP



KN: Unlike some prospects, you've already conducted a decent amount of NBA workouts thus far. What can you tell us about the teams you've visited and how have those workouts gone?

Will Barton: The workouts have gone really well. They're really organized. They're really based on the team's concept and how they are run. I've been doing really well in all of my workouts, so I feel good about it.

KN: What teams have you worked out for so far?

Will Barton: Boston, Miami, Chicago, Cleveland, Houston, and Golden State.

KN: What kinds of feedback have you gotten so far?

Will Barton: That I'm doing really well and competing hard, making a lot of plays, defending well and that I can be a first round pick.

KN: What are your thoughts on the workout setting as a place for you to show off your strengths as a basketball player? Is it an ideal setting, or would you prefer five-on-five competition?

Will Barton: I'm cool with either one. I like five-on-five and I like how the workouts are set up. I think the workouts are for you to come in here and to show how hard you can compete, what kind of person you are, and I think they want to see you work hard. They pretty much know your game. They've been watching you the whole season and your numbers and your stats speak for themselves. They already know what you can do, as far as your skill set and talent-wise. I just think they want to know how you compete against other guys and what kind of person you are and what kind of personality that you have.

KN: What do you think your biggest strengths are as a player? How do you sell yourself to an NBA GM?

Will Barton: I think one of my biggest strengths is my versatility, playing guard from one to the two to the three. I can play the [point guard, shooting guard, and small forward positions] and a lot of scouts like that and they see that and it makes me more appealing, being a 6'6 guy with a lot of length and athleticism who can do a lot of things on the court.

KN: Looking at the NBA, is there a player who you model your game after and who you compare well with stylistically?

Will Barton: Kobe [Bryant] is my favorite player, but I don't try to compare myself to him obviously. I would say that I probably compare to a young Larry Hughes in his prime, MarShon Brooks, and maybe Marquis Daniels, with his size and the defensive things he does. I really think that I have my own unique style, though. I really don't try to compare myself to anyone. I just try to be me.

KN: You mentioned that you played PG, SG, and SF positions in college and that you can play three positions in the NBA. What do you see yourself playing at the next level and what have teams told you about your position in the NBA?

Will Barton: Teams think I'm a pure [shooting guard] and when I'm hitting my shot I'm really dangerous. I'll play whatever my coach wants me to. Like I said, my versatility is what's making me really appealing. At any time, you can put me at one of those three positions and I'll be effective. So, [shooting guard] is my position but I'll play whatever the coach needs me or wants me to do.

KN: Are there any things that you think people don't know about you as a person or as a basketball player?

Will Barton: I don't know if people know how passionate I am about the game and how serious I am about it, how I just love winning. That's my biggest objective: winning. I love winning and, just playing hard. I really care about the game and I'm really passionate about it.

KN: Well, thank you again, Will, and best of luck preparing for the draft.

Will Barton: Thanks for having me. I've been keeping up with the site this year and last year. Keep up the good work, man.

KN: Thank you. You too, Will.


---




NBA Combine Interview



We got the chance to sit down with Barton at the NBA Combine in Chicago during the media availability at that event as well.





Video filming and production courtesy of Tad Hathaway of 312 Media.

[Read Full Article]

---
Trending Prospects (12/23/2011)
December 23, 2011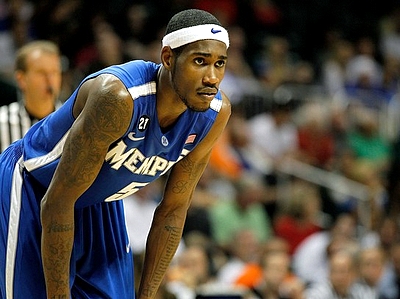 AP



Walker Beeken

Although the Memphis Tigers are off to a disappointing 6-5 start, Will Barton looks to have made some very nice strides from his freshman to sophomore season. When we last wrote about Barton back in March, he was struggling with his decision-making and shot selection and seemingly having trouble adjusting to collegiate defenses. He's playing much more efficiently through eleven games this season, however, with improvements in his production across the board.

As we mentioned before, Barton has the size, length, and athleticism of a prototypical NBA wing, but at some point, he'll need to add some strength to his lanky frame if he's going to be able to compete against stronger, bulkier players at the NBA level.

Memphis has been playing at a very past face so far this season, and much of Barton's early success has been in transition, accounting for about a third of his used possessions. As we noted before, Barton excels in the open court thanks to his great speed with the ball is his hands or filling the lanes, and his very good body control, which he utilizes to find ways to finish at the rim.

Perhaps Barton's biggest improvement, though, has been with his shot selection, which we noted was very poor at times during his freshman season. About 60% of his shot attempts last season were jumpers, and he converted only 28% of them, as many of those shots were clearly ill-advised. So far this year, though, Barton has made much more of an effort to attack the basket and not settle, as only 31% of his shot attempts have come on jumpers. Not surprisingly, this has made him far more efficient, as his true shooting percentage has increased from 50% to a very solid 62%.

Barton's focus on attacking the basket has also led to him getting to the free throw line at a much higher rate. His handle could still use some tightening up, but he's utilizing his quick first step and rangy strides to get to the rim and is also more active on the offensive glass and with cuts in the basket area. His nine free throw attempts per-40 ranks him second amongst all wing prospects in our database. Despite this increased emphasis on getting to the basket, he's nearly cut his turnover rate in half from last season, which is quite impressive.

Defensively, Barton's athleticism, length, and lateral quickness bode well for his defensive transition to the NBA level, but scouts will likely be concerned with his slight frame and if he'll be able to matchup against some of the more physically imposing wings he'd face regularly. His activity level is plus, though, as he's really seemed to focus on this as a sophomore, as evidenced by his increases in his block, steal, and rebounding numbers. His rebounding improvement has been especially impressive for a player his size, as his 9.7 rebounds per forty minutes ranks him #1 among all wing prospects, an area where he was just average as a freshman.

Overall, the former top-10 recruit has gotten off to a very good start to his sophomore season, and seems to be learning how to better utilize his talents and play more efficient basketball. His game is very well suited to the up-tempo style at Memphis, but scouts may very well still have questions for how his game fits into an NBA offense in the half-court.

His decision making can still be shaky at times, his skinny frame may limit his ability as a finisher, and although he's shooting a respectable 35% from 3-point range early on this season, he still needs to prove he's capable of being a reliable perimeter shooter with his feet set. So while there are definitely signs of encouragement, it's still early in the season, and he still some question marks as well.

Scouts will surely be keeping an eye on Barton and his Memphis teammates throughout the Conference USA season, and if the Tigers can turn things around and play up to their potential, Barton will have the opportunity to showcase himself on the big stage in the NCAA tournament.

[Read Full Article]

---
Trending Prospects (3/3/2011)
March 3, 2011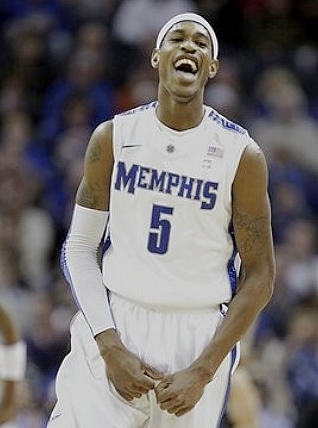 AP



Walker Beeken

As the ninth rated player in the Class of 2010 RSCI rankings, Will Barton came into his freshman year at Memphis as the leader of a highly touted recruited class for Coach Josh Pastner. So far this season, Barton has displayed the physical gifts and talent that make him an intriguing prospect, but he's also shown that he still has a ways to go in terms of refining his skill set and learning how to play efficient basketball.

It doesn't take long to notice Barton on the basketball court, as he looks the part of an NBA shooting guard prospect. Standing at 6'6" with long arms and a thin frame that should continue to fill out as he gets older and puts in time in the weight room, he also has the prototypical athleticism that scouts like to see with great speed, quickness, and elevation.

Much of what we've seen from Barton in his first season at Memphis is similar what we last wrote about him while at prep school. While he makes some spectacular plays on the offensive end and shows good shot-creating ability, he also has a tendency to force the issue, which makes him far less efficient than he's capable of being if he can learn to pick his spots.

At this stage, Barton shows flashes of becoming a decent shooter from the perimeter, but his shot selection can be absolutely terrible, as it seems he doesn't have any ability to differentiate between a good shot and a bad one.

He's scoring over a point per shot on catch-and-shoot jumpers so far this season, but his efficiency drops significantly to .56 points per shot off the dribble, which unfortunately make up over 40% of his jump-shot attempts. Barton is only making 28% on his 3-pointers, which illustrates how far he still is at this point from reaching his full potential as a shooter. His form looks fine with his feet set, so if he can tighten up his shot selection and put in the work to become more consistent, he projects to be at least a respectable perimeter shooter at some point down the road.

Barton is clearly most comfortable in a faster paced game when he can get out in transition. He has great speed with the ball in his hands or filling the lanes, and he's able to get to the basket and elevate to finish or dish off to a teammate on the break. He still struggles with his decision-making at times and throws sloppy passes and pulls up for unnecessary jumpers, but his talent is evident when he's in the open court.

In the halfcourt, Barton has the ability to get into the paint regularly off the dribble, utilizing his explosive first step and rangy strides, but his slashing game still lacks quite a bit of polish. He frequently has tunnel vision as he's driving to the basket, his handle is loose, and he too often bails out his defender by settling for jumpers. And while his underdeveloped frame prevents him from finishing around the basket at times, he does have good elevation, body control, and an array of shots at the rim that project well for him going forward.

Defensively, Barton shows quite a bit of promise, thanks to his excellent physical tools. He still needs to get stronger, but his combination of length and athleticism should enable him to be the type of player who could defend multiple positions, depending on the matchups. He puts a solid effort in, but isn't the smartest defender at this stage, often reaching and getting caught out of position, leading to him getting beat by his man. Increasing his focusing on this end of the floor on a consistent basis would really enhance his effectiveness.

When looking at Barton's NBA draft prospects, it's clear that his physical attributes and natural talent make him an intriguing prospect for teams to evaluate. Being that he was a fifth year prep player and is older than most freshman (he turned 20 in January), he may be tempted to leave school early based on preliminary rumblings.

The 2011 draft looks to be weak at this stage and could be especially thin at the shooting guard position, but at this point, Barton would still likely be looked at as quite a risk by most teams. He hasn't produced at a very high level this season, and he lacks the polish and feel for the game necessary to make any team believe that he could contribute anytime in the near future. Simply put, teams might not have the patience and playing time needed to develop him, and there's a good chance that he could slip between the cracks if he isn't careful.

Should Barton decide to remain in school at Memphis, he's certainly a player that we'll be watching closely, as he has the potential to really boost his draft stock if he puts in the work. He'll have more time to improve his decision-making, refine his skill set, work on his body, and show teams that he's capable of fitting into a winning system, which could ultimately earn him quite a few fans amongst NBA scouts down the road.

[Read Full Article]

---
2009 National Prep Showcase: Elite Prospects
November 24, 2009
Jonathan Givony

Mixed emotions is what we came away with watching extremely highly regarded recruit Will Barton (#8 Scout, #11 Rivals, #5 ESPN) compete twice at the National Prep Showcase in New Haven, at least from the standpoint of evaluating an elite prospect.

On one hand, the tools he displays are undeniable, with his excellent size, outstanding wingspan, and very nice athleticism. Barton is a scorer through and through, showing great instincts in this area, a real hunger to put the ball in the basket, and the type of swagger and competitiveness that most great players do. He has solid court vision, making some very intelligent passes in drive and dish situations in both the half-court and in transition, as well as a jump-shot that he should be able to develop into a terrific weapon down the road.

Barton displayed the ability to create his own shot and make pull-up and spot-up jumpers from beyond the arc as well as from mid-range, showing supreme confidence in his ability, probably to the point that he was forcing the issue somewhat.

Defensively, Barton has both the tools (size, length, lateral quickness) and the willingness to make his presence felt on this end of the court. He gets down in a stance and will play tough, intense, in-your-face pressure defense looking to shut-down his matchup, showing that same competitiveness that has made many a recruiting analyst fall in love with him on the AAU circuit.

On the downside, Barton has a ways to go before he can be considered the type of teammate others would like to play with, and has a few noticeable holes in his game which could very well become more of an issue against higher level competition.

His ball-handling skills first and foremost need plenty of work, as he shows very little ability to operate with his left hand and struggles in general to create his own shot in the half-court and get all the way to the basket. His decision making and shot-selection were very questionable throughout the course of the weekend, particularly when his team started falling behind and they needed him to make good decisions. He did not look like a particularly efficient scorer in the games we saw, being quite turnover prone as well.

Barton's body language was probably the biggest turnoff from watching him play, as he seems far more concerned with getting his own shots than he is helping his team win games. He would visibly pout and even proceed (on multiple occasions) to chase after his teammates following plays and yell at them for not passing him the ball, even on possessions that his team scored regardless.

Barton is obviously a much better player than he was able to show here in New Haven—he didn't look like he had much to prove here--but he's clearly not a finished product either. He needs to make sure not to let all the accolades he's getting go to his head, because the NBA is still a long ways away at this point. We'll surely see Barton again over the course of the year on the Prep School or All-Star game circuit, and are anxious to see him play up to his true potential.

[Read Full Article]

---