Top NBA Draft Prospects in the Big Ten, Part 6 (#6-10)
September 21, 2013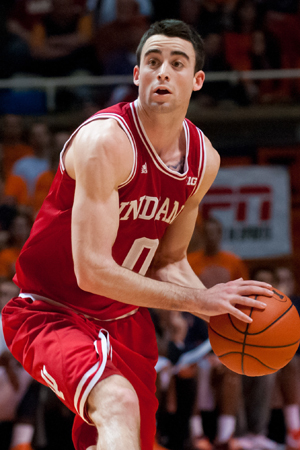 US Presswire
Joe Treutlein
When we profiled Will Sheehey prior to his junior season one year ago, we said it would be difficult for him to take his game to the next level given the surplus of talent returning for Indiana. Sheehey's junior year bore that out to a tee, as he posted nearly identical statistics across the board, playing the same number of minutes and not doing much to further distinguish himself on tape either.
The one noticeable difference for Sheehey between his sophomore and junior seasons is a slight tick up in three-point attempts (3.9 per 40 minutes pace adjusted compared to 2.7), which is an encouraging sign given what he likely needs to do to improve his chances of playing at the next level. However, his efficiency slightly dropped from 38.3% to 34.6% from behind the arc, indicating he probably hasn't become a better shooter yet despite putting in the effort.
In profiling Sheehey's game, his strengths and weaknesses remain the same as those we profiled last time, with him being a very smart, high intensity player who does the little things well on both ends of the floor. Sheehey still sees most of his scoring attempts on cuts to the basket, where he's capable of finishing with power and finesse, but he doesn't really stand out with either. He's prone to missing on dunks due to not getting quite enough lift and his touch is good but not great.
Sheehey still lacks much in terms of advanced shot creation or ball-handling abilities, and it's probably something that won't ever be in the cards for him and shouldn't. Developing into a deadeye three-point shooter is his most clear path to finding a niche in the pros, as he's close to maximized his abilities in all other areas as a very smart and aggressive player, solid finisher, and excellent fundamental defender.
The defensive end is probably Sheehey's strongest area overall, as despite just average lateral quickness, he makes up for it by using his solid size and strength in combination with excellent awareness and anticipation to be a very effective man and team defender. There are obviously concerns projecting him to the next level as he doesn't project to be nearly as effective a defender against bigger, more athletic small forwards.
Looking forward, Sheehey is an excellent college player and basketball player in general, one coaches surely love to have on their team , but his underwhelming physical traits combined with the lack of any standout skills leave him facing long odds in carving out a permanent niche in the NBA. He'll have plenty of opportunities to show he's taken steps forward throughout the course of this season, and should get looks in pre-draft camps and summer leagues, where a coach may fall in love with his intangibles, but if that doesn't work out there's little doubt he'll have a long and successful career in Europe if he chooses to go that route.
[
Read Full Article
]
Top NBA Draft Prospects in the Big Ten, Part Four (#11-15)
September 13, 2012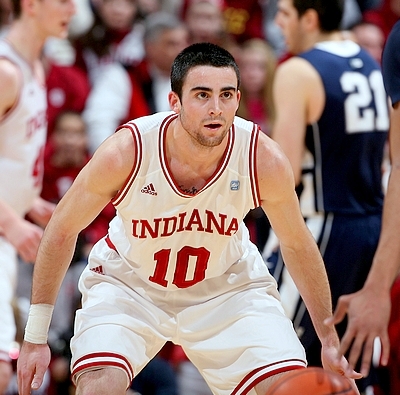 US Presswire
Joe Treutlein
Will Sheehey
has steadily improved his game in his two years at Indiana, establishing himself as a reliable and important role player for the Hoosiers last season. Heading into his junior season, however, Sheehey will have his work cut out for him to take his game to the next level, as Indiana returns all of its top five scorers from last year in addition to a trio of top-100 recruits stepping foot on campus.
Standing 6-6 with a solidly built frame and average length, Sheehey is a good but not great athlete, showing nice explosive ability in open space or when he builds a head of steam, but just showing adequate quickness and speed in more closely contested situations. Sheehey's intangible profile is more clearly positive, as he's an efficient offensive player who brings a good feel for the game and a very high motor to the table, playing with high effort and focus on both ends of the floor.
On the offensive end, Sheehey spends most of his time working as a high-energy, off-the-ball role player, specializing primarily on cuts to the basket and straight-line drives. He does a good job elevating and finishing with power when he finds himself with an open route to the rim, though also shows solid touch when having to finish with finesse.
In addition to his slashing game, Sheehey brings a decent jump shot to the table, shooting a respectable 38.3% from three-point range on the season, albeit on a paltry 1.5 attempts per game. His mechanics are solid and he shows no issues with his range, but taking his spot shooting game to the next level by hitting a higher clip of his shots will likely be critical to his long-term potential given his overall profile.
Sheehey's shot creation skills are not a major selling point for him, as he doesn't consistently show the ball-handling, speed with the ball, or change of direction abilities to be a major isolation threat. He does have a solid array of jab-steps and up-fakes, which he uses to create separation for one or two-dribble pull-ups and straight-line drives, but is mostly just a situational threat here.
On the defensive end, Sheehey has excellent fundamentals, instincts, and focus, consistently playing up on his opponent both on and off the ball and doing a very good job staying in front of his man and contesting shots in isolation. His lateral quickness appears to be just average, but his instincts and effort compensate for that at this level, though it may become more of a concern projecting forward. Sheehey's average physical tools become more apparent defending pick-and-rolls and coming around screens, where he often doesn't have the quickness to keep up.
Looking forward, Sheehey has carved out a solid niche for himself as a role-playing wing at the college level, playing a key role for the Hoosiers throughout his sophomore season, but likely will need to make strides in a few areas of his game to find himself a similar role at the next level. Taking his spot-up three-point shooting to the next level is the most obvious thing he can do to improve his stock, but further improving his ball-handling, shot creation abilities, and defense certainly wouldn't hurt either.
After struggling with injuries at points last season, it's possible that we didn't get to see the best that Sheehey has to offer, as he suggested with a very strong showing at the competitive adidas Nations pickup games this summer. This season will teach us a lot more about his ability to solidify himself on the NBA radar screen, but he'll likely need to find a way to expand his role this year in spite of few minutes for the taking to have a fighting chance.
[
Read Full Article
]