William Howard
Recent Tweets
All Tweets
DraftExpress: My understanding is William Howard was placed at New Hope Academy by the coaching staff at Washington in order to get eligible. #nps
2011-11-19 12:42:41
DraftExpress: Interesting to watch 6-8 French small forward William Howard here at the #nps after seeing him extensively at the #NIJT the past few years.
2011-11-19 12:38:49
DraftExpress: For anyone interested, here's our scouting report on William Howard (now 6-8) from the past 2 years: http://t.co/xGPyz12o #nps
2011-11-19 01:05:57
DraftExpress: INSEP 41 - Olimpija 37 at half. We're seeing the good side of William Howard. 13 pts. Very smooth, versatile 6-7 SF w/a nice stroke. #NIJT
2011-02-19 06:46:26
William Howard being far more aggressive in 1st half after doing nothing all week long. 24-24 w/5 min to go in 2nd qrtr. Pretty good game.
2010-05-09 07:01:02
Team: Hyeres-Toulon
Physicals
Positions
Salary
Misc
H: 6' 8"
W: 207 lbs
Bday: 10/25/1993
(22 Years Old)

Current: SF
NBA: SF
Possible: SF

Agent: Mike Kneisley

High School:
Hometown: Montbrisson, France




Basic Per Game Statistics

- Comprehensive Stats - Statistical Top 25s

Player Page&nbsp&nbsp| Player Stats | Related Articles&nbsp&nbsp| Add to My Draft Express&nbsp
&nbsp
2011 National Prep Showcase: Best of the Rest
November 27, 2011
Jonathan Givony

A player we've covered in a good amount of detail over the past two years in our excursions through Europe, it was interesting to be able to evaluate William Howard (Unranked ESPN, Scout, Rivals) in a completely new setting.

Having grown at least an inch since we last saw him, now standing a legitimate 6-8, Howard has excellent size for the small forward position, even if he sees most of his time at the 4 on the prep school team he plays for. His frame is filling out nicely and he made a couple of very nice plays with his above average athleticism, indicating he should have no problem whatsoever fitting in at the highest levels of college basketball from a physical standpoint.

Howard also showed flashes of a well-rounded skill-level, rarely forcing the issue but making a very nice impact in different facets of the game. He made a number of jumpers from beyond the arc, showing good range and the ability to make shots with both his feet set and off the dribble. He also made his presence felt as a rebounder, crashing the glass intently on either end of the floor. He has the ball skills to start the break on his own, and can beat his man off the dribble in a straight line if the opportunity calls for it. Very mature for a player his age, he does not turn the ball over very often, usually letting the game come to him, sometimes to a fault.

With his size, long arms and solid frame, Howard is capable of defending either forward position at the NCAA level. He lacks a degree of lateral quickness on the wing and some strength/toughness to contain more physically developed post players, but should be able to hold his own against the large majority of players he matches up against.

Howard may not have the explosive athleticism scouts look for in top shelf NBA prospects, but with his versatility there is no reason he shouldn't be able to play an immediate role at virtually any level of college basketball. Washington is reportedly in the lead at this point, and it's not difficult to see him fitting into style of basketball Lorenzo Romar likes to play.

[Read Full Article]

---
NIJT Belgrade Scouting Reports: Top Prospects
February 25, 2011
A player we wrote about already last year after his strong showing at this same NIJT event in Belgrade, William Howard came into this tournament looking to take on added responsibilities for his INSEP squad.

An intriguing prospect due to his outstanding size at 6-7 for a true wing, Howard is a very smooth, although not terribly explosive player with a good frame and nice versatility for a player his age.

Howard's main virtues at the moment lie in his perimeter shooting ability. He converted 43% of his 3-pointers in the tournament on over 4 attempts per game. He has an excellent shooting stroke with his feet set, but can also make pull-up jumpers off the dribble if his defender closes out on him too anxiously.

Also capable of attacking the basket, mostly in a straight line, Howard is just a decent ball-handler at this stage, not looking very comfortable changing directions with the ball. He seems to lack assertiveness on top of that, looking overly unselfish at times and downright passive in others. Nevertheless, his feel for the game is clearly above average, and he can make some very creative passes at times that hint at good things still to come down the road.

Defensively, Howard has very good tools with his nice size, good frame and long wingspan, although he lacks a degree of toughness and isn't the quickness player you'll find laterally. If he applies himself on this end there's no question that he could be extremely effective, though, as he seems to have very good instincts.

Howard is one of the more intriguing long-term prospects seen at this event, and there's no question that he has the ability to play professionally at a very high level, possibly even the NBA if he continues to develop. The biggest question mark around him revolves around his mental approach (focus, drive, toughness, assertiveness), which could just be a matter of age.

[Read Full Article]

---
Belgrade Euroleague Junior Tournament: Top Prospects
February 20, 2010
Possibly the most complete guard seen in Belgrade, William Howard did a great job of showing his excellent all-around game and helping his team make the finals, drawing some comparisons to Thabo Sefolosha in the process.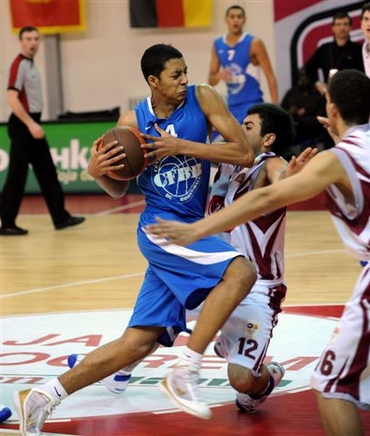 FMP Belgrade Junior Tournament



A skinny 6-4 shooting guard with average athleticism, Howard is an extremely smooth guard who plays the game with great elegance. He can create his own shot going in either direction, even if his ball-handling skills still need work, and needs to get stronger and tougher finishing around the basket to compensate for his just-average physical tools.

The most impressive thing about Howard might be the basketball IQ he shows, always respecting his team's spacing in the half-court, moving off the ball intelligently, and being extremely unselfish looking for the open man, while never forcing a thing. He has a very nice pull-up jumper that he loves to get off from mid-range, not showing great elevation creating separation from his defender, but nonetheless being very effective with it. He also has outstanding range on his jump-shot, connecting on some long-range bombs from well outside the 3-point line.

Defensively, Howard is excellent, showing great timing coming up with blocks and steals, and putting a very good effort in as well. He needs to get stronger as mentioned, but shows very nice potential in this area, especially if he grows a bit more.

Howard seemed to disappear completely in the championship game, which was a bit disappointing. He's a very young player, though, so it's obviously not the end of the world. According to the reports we received, Howard is supposedly very interested in playing college basketball, as his father is American. He would probably be considered a very good high school prospect if he played on this side of the ocean, similar to Illinois' D.J. Richardson.

[Read Full Article]

---