European Roundup: Rabaseda Rolling for Fuenlabrada
December 10, 2010
Jonathan Givony

After biding his time the past few years playing for Barcelona's affiliate teams in various Spanish secondary divisions, Xavi Rabaseda has finally received his chance to shine with a full-time gig on ACB squad Fuenlabrada. A veteran of the U-16, U-18 and U-20 Spanish junior national teams, the native Catalan is coming off a strong season playing for Cornella in LEB Gold and had a good showing at the adidas EuroCamp in Treviso this past June.


ACB.com
With Barcelona stacked at his position between the likes of
Juan Carlos Navarro
,
Roger Grimau
and
Gianluca Basile
, it made sense for the defending Euroleague champions (an organization Rabaseda has been a part of since age 13) to loan him to a smaller first division team (for two seasons, with an option at the end of this season) to allow him to show what he can do in an expanded role at the highest level of European basketball.
All Rabaseda has done since then is blossom into one of the best wing players in the league. He currently
ranks in the top 15 in PER
, averaging 11 points in 23 minutes per game. He's one of the most efficient scorers you'll find in the ACB, shooting 56% inside the arc and 44% from 3, and ranking
in the top 5
in free throw attempts per minute. His team is also enjoying success. Fuenlabrada holds a solid 6-4 record in league play.
Rabaseda stands out amongst this year's crop of European prospects first and foremost because of his intriguing physical profile. Standing 6-5 without shoes, with an excellent frame, he looks the part of an NBA wing, and plays like one too. Fluid and mobile, Rabaseda has a nice first step and shows the ability to play above the rim, taking the ball strong to the basket and often finishing with an emphatic dunk. Fuenlabrada has a couple of lob plays they like to run for him and, although he won't be competing in a dunk contest any time soon, he's definitely a lot more explosive than your typical European shooting guard.
From a skills standpoint, Rabaseda does most of his damage playing off the ball, where he's able to hurt opponents with his ability to spread the floor and make shots from the perimeter. He's blossomed into a pretty high level shooter this season, converting an excellent 44% of his 3-pointers on a good amount of attempts. He has a quick release and nice mechanics and looks extremely confident in his jumper this season. He's become exceptionally reliable when able to set his feet and get a clean look. That's not something that could be said of him in the past. He can still improve on his ability to make shots off the dribble though.
Rabaseda is much more than just a one-dimensional spot-up shooter. He is also able to create shots for himself effectively, showing a quick first step, good body control and a fair amount of creativity putting the ball on the floor. Highly aggressive in the way he attacks rim, he's not afraid to drive right down the middle of the lane and finish strong in traffic, drawing quite a few free throws in turn.
He's an excellent ball-handler for his size, and he can create and finish shots with either hand, showing great flair, particularly in transition, where he truly excels. He has good vision finding teammates off the dribble, resulting in some excellent drive-and-dish plays this season. Offensively, he has all the tools needed to play shooting guard in the NBA.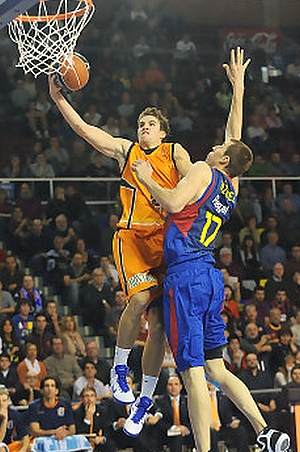 ACB.com
Rabaseda's creativity manifests itself in some truly spectacular sequences, but it can also get him into trouble sometimes. He's liable to make questionable decisions on occasion – trying to force a bullet pass through the teeth of the defense for example. All things considered, though, Rabaseda's turnover rate has been extremely low this season relative to his usage, as he's committed just 7 total turnovers in 231 minutes. Earlier in his career, he was known as being somewhat of an inconsistent player from game to game and possession to possession. It's clear that he's made big strides in this area, even if there's still room to continue to grow in the next few years.
Defense is where Rabaseda needs to improve the most to be able to earn significant minutes at the NBA level. His physical tools are just average. Despite showing good size and a nice frame, he doesn't have a very long wingspan and isn't exceptionally quick laterally. He'll struggle to stay in front of some of the ultra-athletic guards he'll run into in the NBA, which could make him better suited for defending small forwards, a position he's slightly undersized for.
It's tough to say whether we'll ever actually see Rabaseda in an NBA uniform. He has the necessary skills to excel at this level, but getting him out of his home country might be easier said than done. His value to ACB teams will probably always be higher considering the premium the league puts on local players. The frustrating experiences of
Juan Carlos Navarro
,
Sergio Rodriguez
and
Rudy Fernandez
could mean that the next promising Spanish guard will not be so quick to cross the ocean.
Regardless, Rabaseda is an interesting player for NBA teams to follow this season as a low risk, "draft and stash" candidate in the second round. There's a good chance he'll develop into a promising asset down the road. If a European-basketball friendly organization is able to build a good relationship with him over the coming years, he could emerge as a solid addition to its roster a couple of years down the line.
[
Read Full Article
]
2009 U-20 European Championship Review: Guards
September 17, 2009
Spain's Xavi Rabaseda started off the championship with a boom, scoring 36 points on 75% shooting in his team's opener. The following games were a lot less impressive, but he did manage several other solid games towards the end of the tournament.

Rabasea shows an athletic and strong body with good legs. He likes to run the fastbreak and does that with good speed. He has very good size for his position, standing 6-7, but does not have great lateral quickness, doing an average job staying in front of most players at his position defensively. He also tends to gamble excessively in the passing lanes. He does show a decent defensive effort and general intensity, for example trying to recover and block a layup after getting beat off the dribble.

On offense his shooting is very streaky. Although he's got good range, he doesn't possess a quick release. Creating his own shots facing the basket isn't quite his thing either, even if he has improved it during the past years. He seems to be a bit more comfortable with turn-around jumpers posting up against often smaller match-ups. He is a pretty decent slasher if he can go to his stronger right hand, and is able to finish with good percentages near the basket. This tournament registered 33% from 3 point distance and almost 60% for his 2-point field goals. He also averaged almost 6 fouls shots per game, a demonstration of his initiative and aggressiveness going towards the rim.

Rabaesa's ball-handling and passing skills are average, as he lacks great decision-making skills It would be nice to see him step up his game more consistently, as at this point he's certainly not a guy who leads on the court and takes over a game scoring wise when needed. As a rebounder he doesn't do a bad job either, particularly when he doesn't leak out trying to ignite the fast break.

Rabaseda should be able to compete for minutes on a lower to mid-level ACB team sometime in the not too distant future.
[
Read Full Article
]