Yannick Bokolo
Recent Tweets
All Tweets
Chauncey Billups in takeover mode. Making Yannick Bokolo look silly. Tough matchup at the 2. He might be the key to Team USA this summer.
2010-08-15 13:14:11
Top 25s - Full List
Team: Pau-Orthez
Physicals
Positions
Salary
Misc
H: 6' 4"
W: 180 lbs
Bday: 06/19/1985
(30 Years Old)

Current: SG
NBA: PG
Possible: PG/SG

Agent: Bouna Ndiaye

High School:
Hometown: Kinshasa, Democratic Republic of the Congo




Basic Per Game Statistics

- Comprehensive Stats - Statistical Top 25s
| Year | League | Name | GP | Min | Pts | FG | FGA | FG% | 2Pt | 2PtA | 2P% | 3Pt | 3PtA | 3P% | FTM | FTA | FT% | Off | Def | TOT | Asts | Stls | Blks | TOs | PFs |
| --- | --- | --- | --- | --- | --- | --- | --- | --- | --- | --- | --- | --- | --- | --- | --- | --- | --- | --- | --- | --- | --- | --- | --- | --- | --- |
| 2015/16 | French | Yannick Bokolo | 9 | 21.4 | 2.7 | 1.0 | 3.9 | 25.7 | 0.9 | 2.8 | 32.0 | 0.1 | 1.1 | 10.0 | 0.6 | 1.1 | 50.0 | 0.9 | 1.7 | 2.6 | 1.4 | 1.1 | 0.3 | 1.0 | 1.2 |

Player Page&nbsp&nbsp| Player Stats | Mock Draft History | Related Articles&nbsp&nbsp| Add to My Draft Express&nbsp
&nbsp
Roundup: Balkan Intrigue
February 6, 2007
Yannick Bokolo hasnít been able to complete his point guard impersonation. At some point during last year it looked like he could become a decent playmaker, which would have boosted his stock pairing that ability with his terrific athleticism. But it hasnít happened. Last summer he was selected to compete with the French National Team as a reserve point guard at the Worlds, and begun the current season as the starting point guard in Le Mans, but the horrible results forced the team to sign a veteran playmaker, Tyson Wheeler. Bokolo hasnít been distributing the ball effective, is struggling controling the tempo of the game, has played way too out of control and too often hasnít made good decisions. He averages 3.1 assists in the Euroleague, but it doesnít really reflect the quality of his game creation; most of them coming off drive and dish situations where he took advantage of his quickness. In general, Yannick doesnít seem to be a particularly gifted player in terms of basketball IQ. Besides, heís not a remarkable scorer (4.6 points per game in the Euroleague), basically due to his great inconsistency shooting the ball. Unless he shows some improvement over the remainder of the season, he could easily go undrafted.

[Read Full Article]

---
Euroleague Preview: NBA Draft Prospects (The
October 27, 2006
Bokolo is playing in the Euroleague for the first this year. He will be automatically eligible for next yearís draft, so this is his last time to shine at the top European level for the NBA scouts. Bokolo was heading into the season as the starting point guard of LeMans, but a bad start in the French league for his entire team showed the need for a more experienced playmaker. LeMans signed Tyson Wheeler and gave him starting duties for now.

Bokolo spent his summer with the French national team, getting a much bigger role than initially planned once Tony Parker broke his finger and left the team. He showed that he can get past almost any defender at the International level this summer, but also that he still has a hard time finishing near the rim, especially after contact.

Bokolo has only one year of playing full time point guard underneath his belt. He is not yet your typical point guard who is able to set the tempo every time down the court, but he is getting better in this aspect game after game. Offensively, he is mostly a slasher at this point in his career, struggling badly with his outside shot. Defensively, Bokolo uses his great length and lateral quickness to play solid defense every time he steps out on the floor.

He has been inconsistent early on in the season, and it will be interesting to see how much playing time heís able to get.

[Read Full Article]

---
Batum And Bokolo Impressive in French Opener
September 26, 2006
Batumís teammate Yannick Bokolo is not quite the ďcanít missĒ prospect that his young counterpart is, but he is still an interesting one to say the least. Bokolo used his great length and lateral quickness to play solid defense in his 25 minutes on the floor. He was able to consistently stay in front of his man, and there was a clear let down defensively once Pape Philippe-Amagou came in to relieve him at point guard.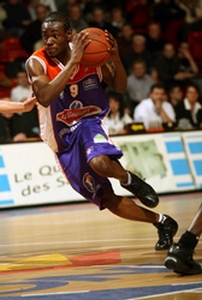 Yannick Bokolo, Le Mans



Speaking of playing point guard, it was interesting to see Yannick playing strictly as a playmaker, rather then the combo guard that he was considered earlier in his career. He did a great job of setting up his teammates and distributing the ball, almost to a fault however, only taking three shots the entire game. This is a far cry from the Bokolo we saw of last year, who displayed very poor shot selection at times, barely shooting 40% from the field. Either way, Yannick showed he is making the right steps in his transition to full time point guard based on his play in this opening game.

[Read Full Article]

---
FIBA World Championship Preview: Group A, Part One
August 8, 2006
Bokolo is a very athletic and active guard who has been a pro for three years now, playing for French powerhouse LeMans. He has excellent lateral quickness, stays in front of his man nicely, and can defend both guard positions, with pressuring the opposite point guard being his best asset. His height still limits him when guarding bigger swingmen. His great leaping ability enables him to be an important factor when it comes to rebounding on both sides of the court.

On the offensive end, he has been a full time PG only for one year now, but his learning curve is pretty high here and heís showcasing nice playmaking abilities so far. The drive and dish play is what he excels at the most so far. While his handle is not perfect, it does not result in too many turnovers. Another weakness is that heís not consistent from the three point line and that he is a 60 % free throw shooter.

Bokolo was a starter with LeMans this year and he has done very well during many important games. First he had a great showing at ďLa Semaine des AsĒ, the French counter part of the Spanish Kingís Cup. He led his team to the victory with an awesome control of the game and passing display. He was also instrumental in the French League Finals, especially in the second half, giving boosts to LeMansís offense that helped them go on and winning the championship to secure a spot in the Euroleague for next year.

During exhibition games, Bokolo has typically been very active on both ends of the court even though he hasnít gotten much playing time. He can be the defensive specialist for opposing small guards, but his role with the French team will probably be minimal in these Championships. Playing behind Tony Parker isnít the easiest thing in the world, but this experience is huge for Bokolo, especially since he will discover the Euroleague next year as the primary point guard of his team.

After putting his name in the NBA draft this year to test the waters, Bokolo will be automatically eligible next year and will surely draw the attention of the scouts both in Japan and in the Euroleague next year.

[Read Full Article]

---