Yi Jianlian
Recent Tweets
All Tweets
DraftExpress: Question for you guys. Which chair did a better job on defense? Perry Jones or Yi Jianlian's? #dxchat
2012-05-26 09:58:48
Top 25s - Full List
| Rank | Category | Total |
| --- | --- | --- |
| 10 | PF/g | 3.3 |
Team: NON-NBA College Team: Guangdong
Physicals
Positions
Salary
Misc
H: 7' 0"
W: 246 lbs
Bday: 10/28/1984
(31 Years Old)

Current: PF/C
NBA: PF/C
Possible: PF/C

Agent: Dan Fegan

High School:
Hometown: Shenzhen, China
Drafted: Pick 6 in 2007 by Bucks
Best Case: Pau Gasol
Worst Case: Channing Frye

Predraft Measurements
| Year | Source | Height w/o Shoes | Height w/shoes | Weight | Wingspan | Standing Reach | Body Fat | No Step Vert | Max Vert |
| --- | --- | --- | --- | --- | --- | --- | --- | --- | --- |
| 2007 | NBA Pre-Draft Camp | 6' 11" | 7' 0.25" | 246 | 7' 3.5" | NA | 3.4 | NA | 38.0 |



Basic Per Game Statistics

- Comprehensive Stats - Statistical Top 25s

Player Page&nbsp&nbsp| Player Stats | Mock Draft History | Related Articles&nbsp&nbsp| Add to My Draft Express&nbsp
&nbsp
2007 International Draft Overview
July 2, 2007
Itís debatable whether this draft featured any single international super-prospect Ėin the line of Bargnani, Yao or Gasol-, but if we had to give out that consideration to anyone, it could only possibly rest on the shoulders of the lone lottery pick coming from overseas this year, Yi Jianlian. Nobody else shared the kind of potential he brings to the table, and still he raises way too many doubts about his game to be considered at this point on the top class of all-time international draftees.

Our personal guess is that the Chinese sensation wonít become a go-to guy in the NBA, a franchise player. He enjoys some certain potential in that regard, but doesnít seem to have the makings to transcend a complimentary role, as crucial as this role might become. Heís not a player you see taking over games, he suffers against physical competition, heís not always focused, and his skill repertoire is probably overrated at this point. Indeed, in his first years in the NBA you wonít likely see much more than mid-range jumpers out of him on the offensive end. Besides, there are serious concerns about Yiís defensive ability and competitiveness, which ultimately might jeopardize even his success as a contributor on an NBA team, although chances are he will likely be able to iron those issues to become a useful player.

The Bucks made a risky pick, thatís for sure. Forget about Yiís preferences for certain NBA markets and a possible trade demand (I donít see him pulling a Steve Francis); the main point here is whether Yi will be able to fulfill his potential. If we talk about money, just remember that as much marketability potential as a player might enjoy, itís useless without a certain amount of success in the League.

[Read Full Article]

---
Filling in the Blanks: Yi Jianlian
June 26, 2007
Yi Jianlian is a player who draft fans have been aware of for the last 4 year or so, ever since he burst on the scene as a basketball prodigy in the CBA (Chinese Basketball Association). He has put up outstanding numbers for Guangdong over the years, but there has constantly been an impeding issue following him around at all times. First issues of his age arose, with many debating if he was born in 1984 or 1987, since it is common policy for Chinese Government officials to falsify documents in order for their young players to compete in youth competitions for added yearsó something they now readily admit and have pledged to reform .


Sina.com



Then, the problem at hand was if the Chinese Government would actually allow him to come over and the control that they wanted to have over the situation that Yi would enter in the NBA. With the Olympics being hosted in China in 2008 and the goal having publicly been set already to medal in the tournament, the CBA did not want to see Yi drafted by a team where he would sit the bench, and desired to see him as a global marketing icon similar to his NBA predecessor Yao Ming. In fact, most NBA insiders believe that half of Jianlianís earnings will have to be sent back to his team, Guangdong. The last, and most recent issue is the desire to control where he lands in this yearís NBA draft. Jianlian is only working out for select teams, and is making them come to L.A. to watch him, something that is unheard of for a player of any stature, much less one who might not even be drafted in the top five picks of this yearís draft.

Yiís age has been in question for quite some time now, although the CBA claims they have verified that he truly is 1987 born, despite an ďerrorĒ in the roster that they submitted to FIBA listing him as 1984 born a few years back. While it would be nice to believe that Yi truly is only 19 years old, even his own teammates have came out and questioned his age publicly. Guangdong center Jason Dixon, who started for the Tigers alongside Yi, told Chad Ford of Espn.com that he felt Yi was ď21 or 22 years oldĒ. You know that something fishy is going on when one of Yiís own teammates is coming out and questioning how old he truly is. Documents have surfaced that lead DraftExpress to believe that Yi is 22 years old, while sources from his camp have told us that ďwe go by what is on his passportówhich is 1987.Ē Either way, this has not been as big of an issue as one might think with the NBA teams that we have spoken to, as they all feel that Yi has a considerable amount of upside no matter how old he may be.

The CBAís reluctance to let Yi go over the years has been an issue that many felt would force him to enter the draft when he was automatically eligible at age 22, whenever that would have been given his actual age issues. Surprisingly, they announced in late 2006 that they would let their prized big man enter the 2007 NBA Draft. Since then however, they (along with Yiís agent, Dan Fegan) have attempted to manipulate the draft process as much as possible so they can control where Jianlian eventually lands on draft night.

The workout process that Yi has went through has been puzzling, to say the least. It has been clear, but not vocally stated, that Yiís camp wants him to land in a city that has a sizable Chinese population. He has worked out for Boston, Atlanta, Chicago, Philadelphia, Sacramento, both Los Angeles teams, and Golden State. The Phoenix Suns reportedly flew into Southern California on the 25th of June as well, just as trade talks linking them with a top 10 pick started really heating up.

The aforementioned nine teams that were able to see Yi work out were forced to travel to see him go at it in Los Angeles, as opposed to the prospect coming to the city of the prospective team that will be drafting him. Yiís forcing teams to go watch him in L.A. is unheard of, as even Greg Oden and Kevin Durant both traveled to Portland and Seattle to meet with team officials. Just as interesting was Yiís decision to skip the physical portion of the NBA Pre-Draft Camp, something that no other prospect has done in recent memory.



Scouting Report



Now that we have tackled all of the off the court issues surrounding the Yi Jianlian situation, it is time to finally break down his game. Synergy Sports Technology has allowed DraftExpress to take in 28 of Yiís games from this past season with Guangdong, along with numerous games from the 2006 FIBA World Championships, in which Yi was playing with the Chinese National Team. Thatís 610 offensive possessions from this past season, spliced into all the relative skill-sets an NBA General Manager would want to evaluate: offensive rebounds, cuts, pick & roll plays, isolations, spot-up jumpers, post-up moves and more. With the click of one button, and just 25 minutes of your time, you can watch every spot-up jumper Yi took in the Chinese league this year, or even evaluate the way he hedged screens defensively on the other side of the ball.


Synergy Sports Technology



To start, the sheer physical traits that Yi offers are just as appealing as any power forward prospect that the 2007 NBA Draft has to offer. Standing 7í0 or more and nearly 250 lbs., he owns ideal size for a center prospect, let alone a power forward. Yi has a frame that could surely add more weight to it as well, as his massive lower body is combined with a relatively underdeveloped upper body. Length is not a problem for the Chinese big man, as he possesses a massive wingspan. He runs the floor like a gazelle and has an explosive vertical leap, often getting his head near rim level on his fantastic dunks.

Consistently throughout the past 3 years, Yi has proven to be a reliable scorer, no matter who the competition may be against. Even in International competition in which Yao Ming is receiving the vast majority of touches, he always seems to find a way to put at least 10 points on the board in one way or another. Yiís offensive game certainly has its limitations, but the things he does well on the offensive end allow him to be the player that he is today.

Jianlian scores the large majority of his points through drop-offs, offensive rebounds, spot-up jump shots, and turn-around jumpers out of the post. His great hands and explosive leaping ability have enabled him to be a very good finisher inside, dunking the ball at every available opportunity. Yi converts basically everything he touches inside of five feet from the rim, even initiating the contact at times and making his way to the foul line.

Despite Yiís solid frame however, he does not absorb contact very well on the offensive end. It is a common occurrence to see him crumble with the slightest contact, an anomaly for a player weighing nearly 250 lbs. It is very rare that you will see Yi converting a basket on which he has been fouled, as the contact the he receives usually is enough to throw his shot off, and he lacks the toughness to fight through it.



In the post, Yi has two moves that he goes to virtually every time he touches the ball: A turnaround jumper and a right handed jump hook. You will very rarely see him go with anything else than these two moves, looking awfully awkward when trying to do so. Yi is able to turn to either shoulder with his turnaround jumper, with range out to about 14 feet from the basket. The right-handed jump hook that he possesses is not on display as much, but when he does go to it, he exhibits great extension and converts at a very high rate.

Facing the basket is where Jianlian ultimately seems to be most comfortable, however. He has already proven to be completely adapted to playing in a ďpick and popĒ type system, honing his jumpshot to the point that he is pretty much automatic from 19 feet and in. Although there seems to be this notion going around that Yi is an outstanding three point shooter, the Chinese big man shot just under 20% from the International three point line this past season, disproving that idea. He looks much more comfortable and is much more accurate when shooting the ball one step in from the three point line, around the 18 foot mark.

When Yi looks to put the ball on the floor, he dazzles scouts with his blinding first step for a seven footer. He has shown that he can blow past virtually any other player his size, both in International competition and in the CBA. Jianlianís ball-handling skills are not great by any stretch of the imagination, though, as he primarily puts the ball on the floor one or two times to get to the rim, and relies more so on his athleticism then on his actual ability to handle the ball.

Decision making is an area that Yi certainly must improve upon, given the fact that he is incredibly turnover prone at the moment. He does not do a very good job reading the defense out of double teams, often forcing passes with little to no room at all. Yi just does not look too comfortable with the ball in his hands when pressured, something he must surely improve upon if he hopes to reach anywhere near his full potential in the NBA.

On the defensive end, Yi has all of the tools to eventually become an outstanding defender, but has yet to fully realize them. He has the length, athleticism, lateral quickness, and frame that many of the top defensive power forwards offer. Despite all of these tools, Yi remains an average defender at best in the low post, a marginal shot blocker, and a relatively poor rebounder.

Yi struggles quite a bit defensively on the low block, often giving up position far too deep to opposing post players. In a game that we recently observed versus former Xavier 6-9 big man Anthony Myles, he was abused guarding him both facing the basket and in the low post. Myles was able to get past Yi on the perimeter, while also using his strength and crafty play to score on him on the blocks through a series of up and under moves, fully utilizing his body to get shots up against his taller, more athletic counterpart.

While Jianlian exerts excellent leaping ability, his timing and inability to utilize his strength hurt him mightily as far as his shot blocking is concerned. When pegged against Myles (and also 6-7 former Auburn power forward Chris Porter for that matter), he was muscled under the basket to the point that he was unable to even contest the undersized post playersí shots. The blocks that Yi was able to get were only because he is so much longer and more athletic than the other players on the floor, a testament to how much of a freak show he truly is physically.

Rebounding is one area that Yi drastically needs improvement upon, on both ends of the floor. His effort crashing the offensive glass lapses quite frequently, as many times he just stands around the perimeter instead of attacking the rim. Defensively, Yi relies completely upon his athleticism to corral rebounds. He does a very poor job boxing out and often finds himself pushed underneath the basket, unable to even contest for rebounds. Yet again, not what you would expect out of a freak athlete standing seven feet tall and weighing nearly 250 lbs.

While we have went over many of the strengths and weaknesses present in Yi right now, the potential that he has is just as good, if not better than anyone in this draft not named Greg Oden or Kevin Durant. His offensive repertoire is very limited at the moment, and if Yiís back to the basket game expands, he has the potential to truly become a special player down the road. Even though it has been evident that Yi did not exert maximum effort during stretches of games during the CBA season, there is some hope that he will find the motivation to give a better effort once he reaches the NBA.

It is up in the air as to where Yi will land on draft night, as he could seemingly go as high as number 3 or as low as number 12. It is certainly clear that Yiís camp wants to control his destination as far as the NBA is concerned, but we find it awfully hard to believe that Sacramento will pass up on Yi once they are on the clock with the 10th pick of the 2007 NBA Draft given their dire need for a young, athletic big man.

[Read Full Article]

---
Roundup: Teodosic Takes the Relay
April 4, 2007
The season, and perhaps his CBA career, is over for Yi Jianlian. Despite the loss against Bayi, he had a nice farewell game. Yi gifted us with a very good sample of his jumper repertoire: off the dribble, off the low post, in turnaround fashion, fading away, even a clutch three-pointer. It wasnít the most accurate day for him, but he always looked balanced, under control and able to knock them down. He was also very active, and effective, in transition, while he delivered increased effort on defense. He had 22 points, 10 rebounds, 2 assists, 2 steals and 2 blocks. Still, his overall performance in the CBA Finals was a bit disappointing.

Yi has received now the call for the Chinese National Team. This year the CBA has finished sooner than usual in order to allow the National Team to have an extended period of time to practice and play games against quality opponents, all pointing towards next yearís Olympic Games to be held in Beijing, which is a top priority for the Chinese Federation.

At this point, Yiís draft agenda is still unknown. Anyway, itís always important to remember that heís yet to mature as a player and needs to improve on several areas of his game. Nobody should expect an immediate impact in the NBA coming from him, and heís certainly a risky pick.

[Read Full Article]

---
Roundup: Omri Casspi in a Heroic Victory over Maccabi
March 28, 2007
ÖYi Jianlian, who might be playing his last games in the Chinese CBA, facing Bayi in the Finals. He could leave his country with a bitter feeling, though, as the series donít look good for Guangdong; they currently trail 1-3 in a seven-game format.

Despite arguably being a more talented team, Guangdong is not getting the job done. They have always started ahead in the score, but suffering from poor playmaking (Bayiís point Wang Zhongguang has literally killed his opponents in the last two games), the more veteran team Bayi has successfully slowed down the games to execute its half court offense, using the low post very well to generate spaces and good shots, while showing more poise with the games on the line. Actually, the only victory for Guangdong came in the second game, when they just outran their rival with a frenzied transition game, which ultimately resulted in a blowout win.

Yi Jianlian in particular is having some troubles against Bayiís excellent frontcourt (for Chinese standards). He has been battling mainly against Wang Zhizhi and Mo Ke, both members of the Chinese National Team and both long, mobile and skilled guys. Yi is especially suffering scoring near the basket when he isnít able to use his right-handed jump-hook from short distances (which is by the way looking pretty nice, with an excellent high release). Heís finding less space in the lane and more intimidation than usual, so he canít operate as comfortably and his teammates donít find him as easily. Simply put, he canít just score over his rivals at will.




Still, Yi has delivered a bit of everything regarding his offensive game. He has again shown his solid mid-range stroke, useful out to 20 feet, but still very inconsistent from the three-point line (1/6 in this series). He has also attacked his match-ups off the dribble with both hands and decent handles, also exposing severe limitations to finish with his left, just as it happens when he plays from the post. Indeed, we havenít seen much of his turnaround shot off the post, actually missing the very few times he put it on display. Anyway, he never found the rhythm to heat up from the field, and couldnít lead his team with the games on the line; he couldnít become a real go-to player.

On defense it was a bit of the same story. Itís not that Wang Zhizhi has exaggeratedly dominated him, but Yi has suffered trying to stop him. Still far from being a really physical defender (as we have stated before, he needs to use his body better and be more aggressive), Wang has been able to rely on his pure skills to outscore him. Besides, this time his frontcourt teammate Jason Dixon has not been as effective as in the semifinals, as his limited size doesnít match well with Wangís height and wingspan.

Yi has averaged 20.4 points and 9.5 rebounds in these four games, which might look good at first sight, but is a bit disappointing when we consider that he has needed almost 43 minutes per game to achieve these numbers. Where he gets picked on draft night will greatly depend on who falls in love with his potential. He will need a big adjustment in his defensive game from what heís displaying in the CBA to what will be required in the NBA. Still, he seems a smart kid, and if he puts enough effort, he shouldnít have troubles in the long run. Offensively, he will start as a pure role player, which should make things easier for him.

[Read Full Article]

---
Roundup: Yi Jianlian Leads Guangdong to the CBA Finals
March 12, 2007
It wasnít supposed to be so easy. The bracket had determined that Guangdong would face Jiangsu Dragons in the semifinals, the only team capable of beating the Tigers in both games of the regular season. It was an excellent opportunity to watch Yi playing extensively against a very strong guy such as Tang Zhendong. In the end, it was all reduced to three comfortable victories for Guangdong.

However, Yi struggled again on defense matching-up against Tang in the first game. Heís just too big and strong for him. Yi canít contain Tang when he bangs in the low post, and neither can he move him if he has position on him. He can only rely on his athleticism and quickness to eventually block his shots. It was a big relief for him when Jason Dixon entered on court in the second quarter to take care of Tang, and it was right when Guangdong started to build a solid scoring lead.




On the offensive end, Yi did a bit of everything. He scored from the low post (once with the jump-hook, while also netting a fade-away turnaround jumper), but not directly against Tang; he hit a couple of excellent mid-rangers from 19 feet; he scored in transition taking advantage of his athleticism; he delivered a couple of superb put-back dunks (particularly impressive was the one-handed one). He wasnít very active in the second half, especially with Terrence Greene handling the ball. Still he managed to score 23 points, also pulling down 14 rebounds, despite not always properly boxing out his opponents.

The second game was a bit of the same story, with Guangdong deciding in the second half (also helped by Tangís foul trouble) to end up with another easy victory. Yi increased his production to 35 points, 13 rebounds, 2 steals and 2 blocks. He combined perimeter (he even netted a three-pointer) and inside scoring, particularly forcing many fouls. His accuracy both from the field (9/13) and the free-throw line (14/15) were remarkable. Its worth mentioning Yiís sturdiness from the line, crediting over 80% of his attempts this season, which perfectly reflects his great mid-range stroke.




The third game started in spectacular fashion. The first five possessions were a pure showdown between Yi and Tang. As weíve seen all series long, Yi proved to be incapable of stopping Tang in one-on-one situations in the low post as Jiansuís center scored two easy layups. Yi was so focused on preventing his opponent from banging him that he couldnít react to his post moves. But on the other hand, he made Tang pay for his glaring lack of defensive mobility, with three consecutive mid-range shots. With better defensive rotations (sometimes Guangdongís defense virtually collapsed on Tang) and again greatly helped by the entrance of Jason Dixon on the court in the second quarter, the Tigers easily found the way for the victory. Yi showed some nice moves in the low post this time, but wasnít successful netting the ball. Still he finished the game with 26 points, 13 rebounds and 2 blocks.

Bayi waits Guangdong in the CBA Finals, and therefore another very interesting match-up for Yi Jianlian: the former NBA player Wang Zhizhi.

[Read Full Article]

---
Roundup: Splitter Returning to Form
March 6, 2007
Yi Jianlian completed the CBA quarterfinal series with another superb stat-line: 32 points, 17 rebounds and 3 blocks. Indeed Guangdong has swept Shangai (3-0) following Yiís impressive production, with averages of 30 points (67% from the field), 14 rebounds and 2.7 blocks. Truly Yao Ming-esque numbers. Itís interesting to note that, while Yi built his scoring effort with mid-range jumpers in the first game, he stuck to dunks and layups in this third act, finally taking full advantage of Shangaiís weak inside game. Actually, he only shot one jump-shot, and it went in. Instead, he looked for his points in the low post (where his unpolished footwork was exposed once again), cleaning the offensive glass (he grabbed 5 offensive boards), in transition plays or moving without the ball to find open looks under the hoop. On defense, he didnít put in much effort, lacking focus and intensity.

[Read Full Article]

---
Roundup: Yi Jianlian Strong in the CBA Playoffs
February 27, 2007
The CBA playoffs started last week and only Guangdong remains undefeated in the quarterfinal series (2-0 over Shangai). Yi Jianlian has been the anchor for his team on the court, with two excellent performances to feed the buzz about his draft stock.

Yi particularly shined in the opener, netting 38 points and capturing 10 rebounds. He was deadly with his mid-range jumper, knocking it down with terrific consistency. He made an excellent turnaround shot and also a couple of jumpers off the dribble. Heís not a Nowitzki-type of shooter, of course; he just tries to get closer to the basket if he enjoys the space to advance: just one or two dribbles and he gets up for the jumper. Actually, he already struggles from the international three-point line, so he likes to step into the arc to feel more confident about his stroke (in this game he eventually netted a trey, as a natural consequence of the incredible shooting rhythm he was enjoying). Actually, itís not usual to see Yi putting the ball on the floor to create space between him and his defender, even if he can certainly use a fade-away move for this regard.

Despite his physical dominance compared to his Shangai counterparts, Yi barely played in the low post given the accuracy of his mid-range game, but still was pretty effective finishing his slashing moves and fast-breaks around the basket, delivering a couple of powerful dunks or a nice left-handed layup (it was almost a semi-hook). Donít ask him to make direction changes while driving, but Yi can decently attack his match-up with both hands. Also, he shows terrific coordination receiving the ball in transition, virtually backing the basket and, in a successive move, dribbling with his two hands while he turns around and attacks the basket, usually for a dunk.




On defense, it was the same old story, as he made some questionable defensive rotations, and even wasnít always intense on his own match-up. He needs to learn to defend with his body, and not rely on his ability to intimidate.

In the second game, Yi was less prolific on the offensive end, also being better guarded even with double-team defenses, but with a strong scoring run in the last quarter, finally finding the rhythm with his jumper, and a high activity under the boards, he finished with 20 points, 15 rebounds, 2 assists, 4 steals and 3 blocks.

Playing at this level, and despite continually showing some flaws in his game, Yi will only keep solidifying his lottery chances for Juneís draft, and emerges as the most likely first international pick in this edition.

[Read Full Article]

---
Chinese CBA Update: Yi Jianlian and Co.
February 22, 2007

Last year we stated that Yi Jianlian wouldnít likely become the next international superstar in the NBA. We still feel the same about him, although heís a very intriguing guy who should emerge into a valuable player in the worldís strongest league. As always, his terrific combination of size and athleticism sets him apart from your common prospect. But he probably misses enough go-to firepower to get that far, although despite the lack of competitiveness he faces day in and day out in the CBA, he has managed to keep improving, not spectacularly, but still at a solid rate.

Itís not easy to picture the areas in which Yi has developed his game. Actually, thereís not any dramatic change in any of his strengths or flaws. His averages, for example, have evolved pretty steadily from the past season, going from 20.5 to 24.8 points and 9.7 to 11.4 rebounds.





Perhaps his shooting stroke has emerged as his best weapon when thinking about a NBA future. It could become both a way to take advantage of the open looks generated by his teammates, as well as the easiest resource to create his own shot. Yi shows growing consistency knocking down jumpers from the mid-range area. He enjoys nice mechanics and elevation releasing his shot, which makes it quite difficult to stop, and even you can eventually see him stepping back and shooting off the dribble while creating separation from his defender. Still the foundation of his ability to create his own shot mainly rests in his turnaround jumper and with an occasional fade-away move. He becomes almost unstoppable in this fashion, particularly when you consider his size and athleticism. Actually, this is a rather usual way of finishing low post situations for him. His free-throw percentages reflect his increased accuracy pretty well, as heís hitting close to the 80% mark, which is pretty remarkable for a 7-footer. This shooting stroke will likely be translated easily to the NBA and could become quite helpful in order to play the power forward position there.

If we talk about the center position, Yi enjoys a nice frame and heís relatively strong for his age, but still suffers noticeably against more physical rivals. Indeed, perhaps the main reason why Guangdong lost both games versus Jiangsu was Yiís inability to properly challenge Tang Zhendongís dominance in the paint-- even if he made Tang pay for his lack of quickness with perimeter shots and some slashing moves-- as he was regularly outmuscled by the strong center on both ends of the court. In the low post on the offensive end, Yi offers little else than the aforementioned turnaround jumper whenever he faces serious competition. His low-post moves are very simple and his semi-hook shots still a work in progress. When he faces inferior competition, he usually just turns around, easily gets off his feet, and puts the ball in the net over his rival. Meanwhile, he often fails to get a high enough arch on his hook shots when he needs to, particularly if the rival is being physical with him, so it becomes a difficult task to release the ball over bigger defenders. However, he displays a decent soft touch with his right hand, although he struggles quite a bit with his left.

Still in the low post, Yi can put the ball on the floor trying to take the baseline and look for a reverse layup, although he often gets out of control in the process. To be more productive off the dribble, Yi needs to take his matchup further from the basket and enjoy spaces to attack him without drawing defensive rotations, as his ball-handling skills are not anything more than average at this point. On defense, itís all a matter of strength. He has the physical-athletic gifts to dominate most of the CBA competition, but he can be pushed around by guys like Zhendong. Besides, we still donít see a proper team-oriented defense, as he persists in going after blocks instead of focusing on stopping his rival, which he would easily be able to do on a regular basis thanks to his mobility and lateral quickness. On the other hand, he looks a bit more physical than last season in his match-ups.





Whenever Yi makes it to the NBA, we will likely see him much more active playing without the ball than he looks now. As the centerpiece of the Tigers, heís often the first offensive option, asking for the ball to start the offense through him. Actually, his most usual move is to gain position in the low post. But Yi enjoys terrific potential as a pick-and-roll finisher. With his length and athleticism, he would be really difficult to stop once he received in motion after setting the pick and heading towards the basket.

With the CBA allowing Yi to enter the NBA draft and the Chinese big showing improvement Ėeven reaching the 40-point mark twice in January-- he will have a legit chance of making the lottery in June. The CBA playoffs, and especially the hypothetical Finals against Tangís Jiangsu, will help to clarify his stock. Even more important could be the private workout process, but weíre yet to know which strategy him and his American agent Dan Fegan will take, although letís remember that a different caliber of player, Yao Ming, settled for a lone workout shared by all NBA teams. Anyway, weighing Yiís characteristics, it wonít be easy to see him falling out of the top half of the first round. After all, itís not every day you find big guys with his athleticism and skills. At this point, chances are some NBA team will indeed play the Chinese lottery.

[Read Full Article]

---
Roundup: Belinelli Looking for Redemption
December 19, 2006
With Yao out of the picture, Wang Zhizhi and Yi Jianlian shared the leadership on court. Yi averaged a double-double with 16.6 points and 10.2 rebounds. However, we have to put in perspective those stats, as for the most part he didnít face strong enough opposition.

In some games, particularly early in the tournament (vs. Kazakhstan or Uzbekistan), Yi focused his efforts looking for easy points under the rim using his superior length, and many times even superior strength. With nice positioning and battling against inferior opponents, he was able to easily receive the ball and, after a simple move, dunk comfortably. As the tournament advanced, his game became more perimeter oriented, relying on his nice mid-range stroke and his transition game; Yi runs extremely well the court, and itís a beauty to see him finishing the fast-break using his athleticism up to its potential. He didnít show much post game beyond a few turnaround jumpers, and actually his poor back-to-the-basket skills were exposed in the game against South Korea, matching up Ha-Seung Jin: he tried a few times, but he rarely could produce from down low, showing unpolished footwork and little-to-no ability to release high-enough-arched semi-hooks. On defense, he wasnít impressive considering the terrific gifts he enjoys. Particularly, he had some troubles trying to keep good defensive positions in the low post. Nothing comes as a real surprise, and still Yi is a legit lottery candidate for the next draft.

[Read Full Article]

---
Marquee Matchup: Yi Jianlian vs. Anton Ponomarev
December 4, 2006
Yi basically reassured whatís been consistently said about him so far - though he has plenty of talent, he is not ready for the NBA. Great spin moves, high arching shots and a powerful first step are seen as gold for a big man. However, Yi found himself lacking in terms of finishing easy baskets underneath the rim. Yi also showed he needs more work on his defense, adding a quick 4 personal fouls before he was subbed out towards the end of the 3rd quarter. Other than the norms of a growing young player, his future looks bright.

[Read Full Article]

---
Team China vs Albuquerque: Game One
November 29, 2006
It was a tale of two Yiís, in reference to Chinese draft prospect Yi Jianlian. In the first half, he was a virtual non-factor, gong scoreless and contributing very little to the team on either end of the floor. He seemed to play with a lack of passion, as he played defense only when he chose to, and had a similar mentality in terms of crashing the offensive glass. It was a truly uninspired performance in half one by a player who many feel has a good shot of being a lottery pick in the upcoming draft.

The second half however was a completely different story. Yi came out with a fire in him, completely changing the game on the defensive end, while making his presence felt on the offensive end as well. While he did not score until approximately 6 minutes remaining in the third quarter, he then scored 13 points in the following seven minutes, before he was taken out of the game due to his teamís blowout status. Jianlian had one spectacular alley-oop dunk, made a left handed jump hook, and buried two pretty 18 foot jump shots to account for his field goals. The rest of his points came from the charity stripe.

Scouts didnít see anything new out of Jianlian, as he showed no resemblance of an even somewhat developing back to the basket game. He looked incredibly uncomfortable on the low blocks, and his instincts implied that he is much more at ease going to work facing the basket 15-20 feet away. Yi didnít utilize his athleticism in the first half, but completely used it to itís fullest capabilities in half two. It was clear to anyone watching the game that we were looking at a player who has the potential to truly be a special player if he continues to develop his game as a whole, who should surely find himself selected in the lottery this year if he is able to continue his dominance in the CBA. Granted of course if he checks out as expected when he makes it to the States for private NBA workouts.

[Read Full Article]

---
NBA Draft Intrigue at the 2006 World Championship
September 6, 2006
Speaking of NBA potential, Yi Jianlian comes to mind in a heartbeat. Fighting for a place in the big man rotation with much more established players such as Yao Ming or Wang Zhizhi, Yi had time to show some of his best stuff. Mid-range shooting, turnaround jumpers in low post situations, dunks after attacking his matchup or in transition, solid rebounding and intimidation, he looked like a significantly more mature and productive player than in previous summers, although he has never managed to transcend from a complimentary role for the Chinese team. Arguably his best game came against the US Team, with 13 points, 7 rebounds and 2 blocks, while showing that he enjoys the physical and athletic foundations to eventually join the strongest league in the world. His final averages were 6.2 points and 5.7 rebounds.

[Read Full Article]

---
Yi Jianlian, China Still Have a Long Way to Go
December 26, 2005
A few months before Yao Ming landed the top spot in the 2002 NBA draft, a 14 year-old standing 6 feet 11 inches tall enjoyed his coming-out party at the Albert Schweitzer Tournament in Mannheim, Germany. In this biannual unofficial junior world championship, he held his own against kids three years older than him while impressing everyone with his amazing potential.

To battle against older players on the court has been a regular occurrence for Yi Jianlian. Or has it not?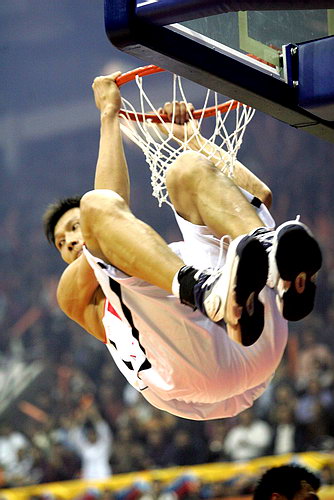 Sina.com



Weíll deal with that later. Meanwhile, Yi again continued to show his intriguing package of skills in the real World Junior Championships in 2003 in Greece. Of course, with the NBA world so in love with trends, from the early going he was already labeled as the ďnext great thing coming from China,Ē after Yao Ming.

The hype machine began to grind into motion: shoe deals, commercials, 360 dunks, and an article in Time magazine titled ďthe Next Yao Ming.Ē A star was clearly born. Yiís athleticism and attractive appearance made him an easily marketable player, who just so happened to come from the next great global market, China.

But is this hype legit? The only certainty is that Yi has been carrying this heavy load of pressure from a very young age.

It hasnít died down, though; the Chinese pool is considered to enjoy immense potential on the verge to explode. Seven footers seem to grow on trees and the country is in love with basketball. Almost a paradise. Right?

Well, thereís certainly some truth in all of this, but the short-term and even mid-term potential of the Chinese basketball is vastly overrated. China still has a long way to go to be able to compete consistently at the international level both as a team and for its players on an individual level. This will require a significant improvement of the domestic league and/or the exportation of Chinese players to other stronger international competitions. Yao Ming is the exception, not the rule. For the majority of elite prospects, there needs to be a challenging environment to motivate and continue to help them improve. When these youngsters reach a certain stage of development, the CBA (Chinese Basketball Association) fails to provide them with the required amount of competition to take their game to the next level.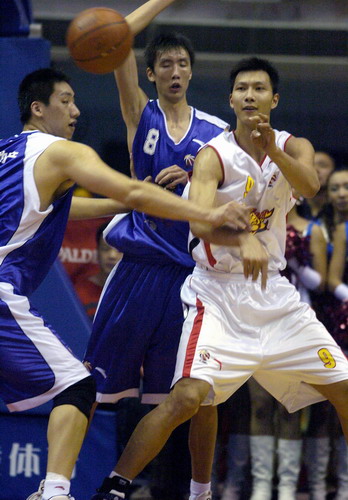 Sina.com



Letís remember that in a very narrow and short-sighted approach, the CBA protects its investment by barring its basketball players from leaving for the NBA before they turn 22 years old. We do need to keep in mind that power changes hands quickly in the Chinese Basketball Association, so this rule could change any day potentially, especially if pressure in the right places is applied. However, thatís pointless for this matter, as the next logical step for the Chinese prospects shouldnít be by any means the worldís toughest league. The jump is simply too dramatic to face with a fair chances of success, especially considering the radically different nature of both leagues, with the NBA putting a huge emphasis on physical attributes that the CBA severely lacks. So how will this affect their best prospect until he becomes ďeligibleĒ for the NBA draft in 2009?

DraftExpress was able to watch Yi Jianlian in action over the last summer with the Chinese National Team and this current season with the Guangdong Tigers in the CBA. What we learned is that Yi himself is already beginning to look like a victim of the CBAís weakness. His excellent combination of size and athleticism as a 7-footer, plus his decent strength, is enough for him to get regular production at this level, but without having to display much skill at all, going up mostly against weak and unathletic defenses. Heís currently averaging 22.1 points and 9.2 rebounds per game.

Yiís remarkable characteristics stand out, not as much in terms of his size and length--thatís far from being the main problem in the CBA-- but for his athleticism and excellent basketball frame. While he still has a long way to go to build his body, the foundations are certainly there. Itís a notorious contrast with the incredible lack of bulk that desolates this league. Itís so serious that a relatively strong big man with limited skills and virtually no athleticism such as Tang Zhengdong managed to earn MVP honors in a recent season. Basically, only the American imports and some domestic exceptions (for example, Mengke Bateer) evidence that Yiís physical work is not done by any means.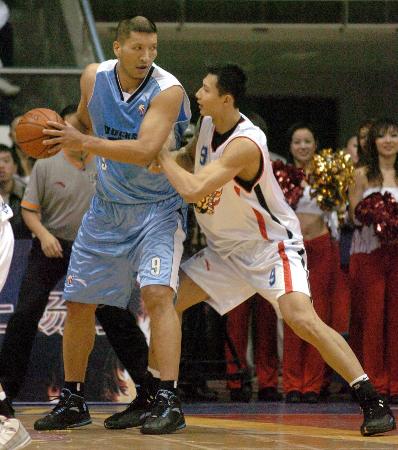 Sina.com



With these tools, Yi has little trouble to get points. He doesnít need to battle too much to get good positioning in the low post, and despite his limited post-up skills, he still manages to get some regular production there. One of the very few somehow-polished abilities he enjoys is his shot. Besides the decent mid-range jumper that he puts in practice from time to time, he often resorts to a turnaround jump-shot in the low post with nice results. Otherwise, he tries to beat his matchup with his quickness and athleticism. Not too much of a ball-handler, Yi still can put the ball on the floor, while he likes to play above the rim, dunking it every time he has a chance.

That summarizes his gifts near the basket. Whenever he tries to perform something more complicated, his flaws arise in the form of poor footwork and limited touch around the rim, particularly not any kind of hook shot to score over his rivals and barely any left hand to speak of. This wouldnít make the cut against stronger opposition, and indeed he gets exposed whenever he plays against quality teams in international competition, where he mostly limits his offensive display in the half-court offense to his mid-range game.

It becomes even more evident when we talk about dirty work. Yi enjoys perfect tools to develop into an excellent defender. He has the body (at least potentially, if we talk about the NBA), he displays very good lateral quickness even to contain perimeter rivals on certain mismatch situations, and heís long, reactive and athletic enough to intimidate on a regular basis. But he lacks toughness and aggressiveness in his effort, full-time concentration as well. He gets exposed on defensive rotations, where he goes for the help with his arms instead of using his body to stop the rivals. When it comes to rebounding, he rarely worries about boxing out his matchup, relying on his superior physical profile to clean the boards. It doesnít always work and his rebounding numbers suffer.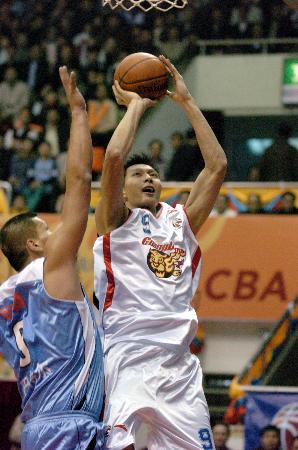 Sina.com



However, both his defense and rebounding are good enough for CBA standards to keep his team Guangdong (which happens to be back-to-back champions in the last two seasons) winning games. So, whereís the challenge?

Letís finish his game description with a sweet taste. Itís a pleasure to see Yi running the floor, but itís even more stimulating watching him finish in transition, where he can elevate gracefully and dunk spectacularly with the greatest of ease. He really has privileged legs, impressive considering his size. Heís also a very nice passer from the high post or the three-point line, being aware of his teammatesí cuts. All in all, he looks rather smart on the court.

Itís interesting to note that while his athleticism could land him at the power forward position, his skill set seems to lead him to the center spot. He certainly has enough size and he could gain enough strength to play there.

At some point, watching or writing about Yi Jianlian, you have to stop and think that heís just an 18 year-old kid, that you canít be that hard on him. Well, on one hand, despite his age, you get the feeling that he could do a little bit more on the court, that he or the CBA might be wasting some of his vast potential. On the other, and we get to the delicate point, itís not clear that Yi is actually 18 years old. Itís been rumored that he could be up to three years older. Itís hard to tell just by looking at him: contrary to what happens to other Chinese players, his face does look rather young. His body, though, is probably ahead of what we are used to seeing in athletes outside of the US or Africa at that age.

One way or another, Yi Jianlian likely wonít be the next international superstar in the NBA, although he has the tools and the potential to eventually play in the American League. Time will tell if he will be able to make it and succeed solely through the CBA.

[Read Full Article]

---