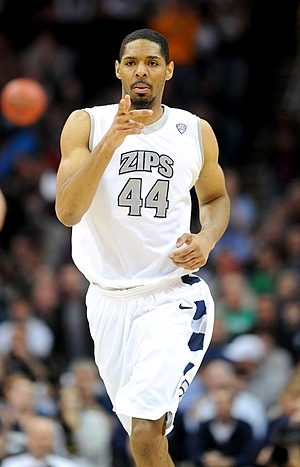 Joe Treutlein
Since the last time we profiled him following his sophomore season,
Zeke Marshall
has continued to make steady improvements with his body and game, and it appears he may have finally turned the corner in his senior season. Marshall has seen his pace-adjusted per-40 minute numbers go up across the board this season, most notably in points (+3.1), rebounds (+2), and blocks (+0.8), while he's getting to the free-throw line at a higher rate and shooting a sky-high 70% from the field (up from 54.2% last year).
Marshall's physical attributes, standing 7'0 with an impressive 7'5 wingspan, remain his most intriguing attributes as a prospect. He's made some progress over the past two years in adding strength to both his lower and upper body, not looking quite as frail as he used to, but still could improve more. What's more impressive than the minor physical changes he's made, however, is how he's putting it to use on the court, by establishing deeper position in the paint and finishing with far better efficiency when he gets the ball there and decides to make an aggressive move.
Marshall's biggest on-court improvement this season is his improved ability operating in the low post, as he's doing a much better job of using his size to establish position close to the basket. When he gets the ball, he's still pretty raw from a skills perspective, not showing much footwork and relying very heavily on a simple right-handed hook shot, though he mixes in turnaround jumpers off either shoulder on occasion as well. He also is very dependent on the vast physical advantages he has against the relatively mediocre competition he faces in the MAC conference, namely his height and length, and it's tough to envision his post-game translating effectively to the pros in its current state, unless he significantly improves his frame.
Marshall has also been doing a better job of finishing on simple attempts around the basket, namely on cuts and offensive rebounds. His motor this season is clearly the best it's ever been, and it shows up most in these areas, where he's putting in a more consistent effort to stay involved and get open for easy shot attempts where he can utilize his excellent size to finish easily at the rim. He isn't utilized in pick-and-rolls much, but shows potential in that area when he does, and that combined with his ability to finish on cuts and offensive rebounds would probably be his most likely offensive role should he find his way to the NBA, so these are definitely areas he should continue focusing on after the season ends.
Rebounding is another area Marshall has made some slight improvements, though it wasn't hard given how abysmal he was in this area coming into the season. His 10.0 pace adjusted rebounds per 40 minutes is the best he's posted in his career, and sharply up from 8.0 last season, but still is poor for a center, especially with his physical tools.
Marshall still doesn't show great toughness boxing out opponents and leaves something to be desired with the awareness and intensity level he displays going after loose balls. Smaller, stronger opponents are able to push him around with relative ease without having to worry about him putting up too much of a fight. He will certainly have to develop more of a mean streak in this area, even if after four years of college basketball this very well could be just who he is.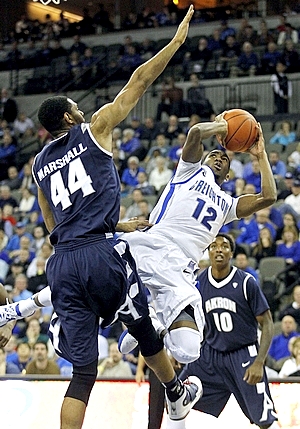 On the defensive end, Marshall's shot-blocking virtues remain just as impressive as we've previously profiled, and he's actually posting a career-high this season in blocks per-40 minutes pace adjusted at 5.0, which ranks 8th overall in our entire database. Marshall has made even more improvements in other areas on defense, where he's showing a better effort level both on the perimeter and in the post, while seeing more effective results as well. His post defense is not especially fundamentally sound, with his lack of lower body strength, but he does a good job utilizing his size and length to smother opponents, making it very tough to get off a shot against him. He's also doing better using his size and length to stay with his man on the perimeter, though still shows a lot of struggles in this area overall due to his very high center of gravity.
Looking forward, Marshall has definitely helped himself this season with his all-around improvements on the court, but teams may question if his improved production are a function of his age and maturity level, as well as the conference he plays in. He still shows a very relaxed, laid back demeanor, which raises concerns about whether he has the toughness, aggressiveness and desire needed to make an impact against NBA-level big men considering his offensive limitations.
Still, it's difficult to argue with the results we've seen this season, both in Marshall's stat-line and Akron's 11-0 conference record thus far. It's also worth noting that Marshall's lack of opportunities to play consistently against NBA-caliber big men and likely the lack of a top-end strength training program certainly haven't helped his development, and he could start seeing benefits from such once the season ends and the pre-draft process begins. While he's still a raw player with a lot of question marks, 7-footers with his length and shot-blocking instincts aren't easy to come by, and that will make many teams ponder if he's a player worth investing the time to develop considering the potential rewards.