Zeke Marshall
Recent Tweets
All Tweets
DraftExpress: More Undrafted Jack Cooley Zeke Marshall Anthony Marshall Christian Watford Amath M'Baye Travis Releford Elias Harris C.J. Aiken
2013-06-28 00:20:47
DraftExpress: Last report was a month ago. RT @webcommenter Noticed u haven't evaluated Zeke Marshall lately. Have to imagine he's worth a 2nd round pick
2013-03-21 21:58:29
DraftExpress: DX Trending Prospects Zeke Marshall http://t.co/ytXliAYS - Will a NBA team want to invest in this long mobile productive 7-foot senior?
2013-02-14 14:24:30
DraftExpress: Top Non-BCS NBA Prospects #21-#25 Matthew Dellavedova James Ennis Ronald Roberts Eric Ferguson Zeke Marshall http://t.co/t4q994x4
2012-11-27 13:04:21
DraftExpress: Top Non-BCS NBA Prospects #21-#25 Matthew Dellavedova James Ennis Ronald Roberts Eric Ferguson Zeke Marshall - http://t.co/t4q994x4
2012-11-26 19:44:10
Top 25s - Full List
Team: Limburg
Physicals
Positions
Rankings
Salary
Misc
H: 7' 0"
W: 235 lbs
Bday: 12/13/1990
(24 Years Old)

Current: C
NBA: C
Possible: C

RSCI: 57

Agent: Dino Pergola

High School: McKeesport
Hometown: McKeesport, PA




Basic Per Game Statistics

- Comprehensive Stats - Statistical Top 25s

Player Page&nbsp&nbsp| Player Stats | Mock Draft History | Related Articles&nbsp&nbsp| Add to My Draft Express&nbsp
&nbsp
Trending Prospects: Zeke Marshall
February 14, 2013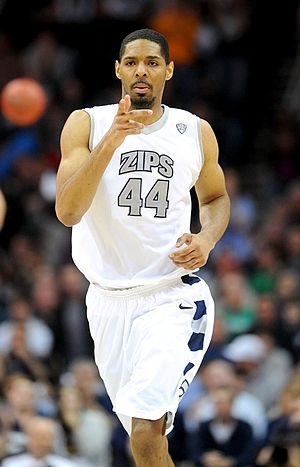 US Presswire



Joe Treutlein

Since the last time we profiled him following his sophomore season, Zeke Marshall has continued to make steady improvements with his body and game, and it appears he may have finally turned the corner in his senior season. Marshall has seen his pace-adjusted per-40 minute numbers go up across the board this season, most notably in points (+3.1), rebounds (+2), and blocks (+0.8), while he's getting to the free-throw line at a higher rate and shooting a sky-high 70% from the field (up from 54.2% last year).

Marshall's physical attributes, standing 7'0 with an impressive 7'5 wingspan, remain his most intriguing attributes as a prospect. He's made some progress over the past two years in adding strength to both his lower and upper body, not looking quite as frail as he used to, but still could improve more. What's more impressive than the minor physical changes he's made, however, is how he's putting it to use on the court, by establishing deeper position in the paint and finishing with far better efficiency when he gets the ball there and decides to make an aggressive move.

Marshall's biggest on-court improvement this season is his improved ability operating in the low post, as he's doing a much better job of using his size to establish position close to the basket. When he gets the ball, he's still pretty raw from a skills perspective, not showing much footwork and relying very heavily on a simple right-handed hook shot, though he mixes in turnaround jumpers off either shoulder on occasion as well. He also is very dependent on the vast physical advantages he has against the relatively mediocre competition he faces in the MAC conference, namely his height and length, and it's tough to envision his post-game translating effectively to the pros in its current state, unless he significantly improves his frame.

Marshall has also been doing a better job of finishing on simple attempts around the basket, namely on cuts and offensive rebounds. His motor this season is clearly the best it's ever been, and it shows up most in these areas, where he's putting in a more consistent effort to stay involved and get open for easy shot attempts where he can utilize his excellent size to finish easily at the rim. He isn't utilized in pick-and-rolls much, but shows potential in that area when he does, and that combined with his ability to finish on cuts and offensive rebounds would probably be his most likely offensive role should he find his way to the NBA, so these are definitely areas he should continue focusing on after the season ends.

Rebounding is another area Marshall has made some slight improvements, though it wasn't hard given how abysmal he was in this area coming into the season. His 10.0 pace adjusted rebounds per 40 minutes is the best he's posted in his career, and sharply up from 8.0 last season, but still is poor for a center, especially with his physical tools.

Marshall still doesn't show great toughness boxing out opponents and leaves something to be desired with the awareness and intensity level he displays going after loose balls. Smaller, stronger opponents are able to push him around with relative ease without having to worry about him putting up too much of a fight. He will certainly have to develop more of a mean streak in this area, even if after four years of college basketball this very well could be just who he is.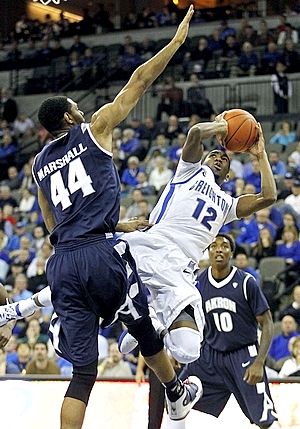 US Presswire



On the defensive end, Marshall's shot-blocking virtues remain just as impressive as we've previously profiled, and he's actually posting a career-high this season in blocks per-40 minutes pace adjusted at 5.0, which ranks 8th overall in our entire database. Marshall has made even more improvements in other areas on defense, where he's showing a better effort level both on the perimeter and in the post, while seeing more effective results as well. His post defense is not especially fundamentally sound, with his lack of lower body strength, but he does a good job utilizing his size and length to smother opponents, making it very tough to get off a shot against him. He's also doing better using his size and length to stay with his man on the perimeter, though still shows a lot of struggles in this area overall due to his very high center of gravity.

Looking forward, Marshall has definitely helped himself this season with his all-around improvements on the court, but teams may question if his improved production are a function of his age and maturity level, as well as the conference he plays in. He still shows a very relaxed, laid back demeanor, which raises concerns about whether he has the toughness, aggressiveness and desire needed to make an impact against NBA-level big men considering his offensive limitations.

Still, it's difficult to argue with the results we've seen this season, both in Marshall's stat-line and Akron's 11-0 conference record thus far. It's also worth noting that Marshall's lack of opportunities to play consistently against NBA-caliber big men and likely the lack of a top-end strength training program certainly haven't helped his development, and he could start seeing benefits from such once the season ends and the pre-draft process begins. While he's still a raw player with a lot of question marks, 7-footers with his length and shot-blocking instincts aren't easy to come by, and that will make many teams ponder if he's a player worth investing the time to develop considering the potential rewards.

[Read Full Article]

---
Top NBA Draft Prospects in the Non-BCS Conferences, Part 5 (#21-25)
November 9, 2011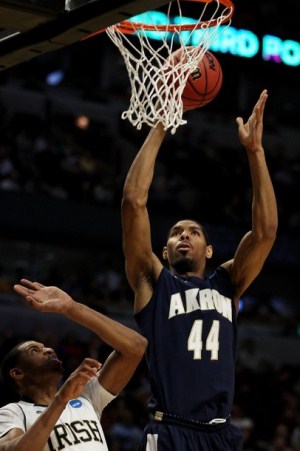 Jonathan Daniel/Getty Images



Jonathan Givony

The most highly regarded high school recruit in MAC conference history (ranked in the top-40 by both Scout and Rivals.com), Zeke Marshall has mostly struggled to live up to the expectations he created early on in his career thus far.

Having elected to attend Akron mostly on the strength of their computer information systems department, Marshall played two somewhat inconspicuous seasons thus far, but showed signs indicating he could be on the verge of a breakout junior campaign.

His team went just 9-7 in the MAC last year, but managed to steal the automatic NCAA bid by winning 4 conference tournament games in 5 days, with Marshall being named the MVP after posting 9 points, 9 blocks and 13 rebounds in the final.

The main intrigue surrounding Marshall continue to revolve around his phenomenal physical tools and shot-blocking instincts, standing around 7-feet with an incredible 7-5 wingspan. His frame remains very narrow, particularly in the lower body, but he's a very good athlete for his size, running the court well when motivated and getting off the floor with ease.

Neither a prolific or efficient scorer at the mid-major level, it's difficult to see Marshall ever emerging as anything more than a complimentary player at best on the offensive end of the floor. Akron tries to post him up quite a bit against the slew of undersized big men he faces in the MAC, but rarely sees much success in doing so.

Marshall struggles to establish deep post position due to his poor lower body strength, and doesn't appear to possess the toughness or desire to assert himself in the paint, typically avoiding contact at all costs. Not a particularly fluid player, he shows little in the ways of footwork or post moves, usually preferring to settle for very low percentage hook shots from 12-15 feet.

Thanks to his good hands, long arms and quick bounce, Marshall is a very good finisher when his guards are able to create easy scoring opportunities around the basket. He gets to the free throw line at an average rate (5.1 times per-40 minutes pace adjusted), but converts just 58% of his attempts once there.

Facing the basket, Marshall is somewhat of a mixed bag. He made just 5 of the 22 jumpers (23%) he attempted last season according to Synergy Sports Technology, but shows decent mechanics that indicate he could (and will likely need to) develop this part of his game down the road.

Defensively, Marshall has both extreme strengths and weaknesses. His terrific combination of size, length, timing and mobility make him one of the best shot-blockers in all of college basketball, ranking third amongst all prospects in that category last year.

On the other hand, Marshall also ranks as one of the worst defensive rebounders amongst center prospects, pulling down a mediocre 5.5 per-40 minutes pace adjusted. His lack of strength and aversion to contact is very evident in this area, as he's regularly backed down and pushed out of position and doesn't show much interest in fighting back.

He's also very foul prone, committing 5.9 fouls per-40 minutes pace adjusted, one of the reasons he played just 22 minutes per game last year.

When forced to step outside of the paint, Marshall is mostly a liability. He has a difficult time bending his knees and getting into a real defensive stance, struggling to move laterally and stay in front of anyone. He's not a terribly coordinated athlete at this stage, as it often looks like the game is moving very fast for him.

Marshall is a late bloomer who is just starting to tap into his upside as a basketball player. People around him describe him in various ways. A "different kid", "my 7-foot computer nerd", "he doesn't have a mean bone in his body," are some of the things his coach has been quoted saying about him.

Watching him on the court, it at times appears that he'd rather be somewhere else, as he gets down on himself very easily, and appears to struggle with self-confidence issues. There are major question marks about his physical and mental toughness, which he'll have to address if he's to convince scouts that he's serious about playing in the NBA. Thus far, his progress has been somewhat disappointing, as he hasn't shown a great deal of improvement in his skill-level or frame since arriving at Akron.

NBA teams have shown at times that they are willing to be patient with players in his mold—such as Ryan Hollins for example. Marshall has two more seasons at Akron to show that he's a project worth investing in, so it will be interesting to see how he responds.

[Read Full Article]

---
2008 King James Classic: Top Big Men
May 4, 2008
Marshall is a player who is quietly developing into one of the better center prospects the class of 2009 has to offer with his strong play this spring. Standing a legit 7'0 and owning a huge wingspan, he fits the mold in terms of length for a center prospect. Physically, though, there is still a ways to go with Marshall, who weighs only 210 pounds and does not have a massive frame by any means. Despite his lack of physical strength, the Pittsburgh big man is still an explosive leaper and does a fairly adequate job of not getting pushed around defensively.

Like Riley, Marshall's biggest asset lies on the defensive end at the moment. He is more of a true eraser then Riley, doing all of his damage in front of the rim while Riley is able to step out and guard players farther away from the basket. Zeke's timing and length allow him to alter far more shots then he blocks, truly making guards think twice before going into the rim. He really tries to use his body to the best of his ability on the glass as well, boxing out at every available opportunity and attacking potential rebounds with a passion on both ends of the court.

Offensively, there is still a ways to go with Marshall, but he has shown some signs of promise. He has shown flashes of a developing right handed jump hook, has good hands, and has a soft touch around the rim. It is clear that Zeke has had decent coaching throughout the years because his fundamentals are very strong and his footwork isn't that bad either. That is about where his offensive repertoire ends, though.

While he does a very good job of demanding the ball in the post, he still doesn't have the post moves of a high major prospect yet. Aside from his right handed jump hook, Zeke doesn't offer a whole lot when he has the ball in the pivot. Strength and post development will prove crucial in college for Marshall with his desire to attempt to seal and establish position in the post. Added strength would allow him to go right to a drop step and finish at the rim, something he is unable to do right now.

Potentially, Marshall is a name to remember for the class of 2009. He has reportedly came a long ways in development over the last two years and has a good work ethic, leaving optimism for his growth as a player in the future. Expect Zeke's recruitment to really pick up again once July rolls around and college coaches are able to evaluate players again, especially considering this class' lack of true center prospects.

[Read Full Article]

---