Hasheem Thabeet
STRENGTHS:
- Ability to get to free throw line
- Defensive potential
- Shot-blocking skills
- Confidence
- Potential
- Work ethic
- Only playing basketball for few years
- Ability to run the floor
- Explosiveness
- Frail frame
- Mobility
- Size for position
- Wingspan
- Fantastic shooting percentages
- Solid free throw shooter
WEAKNESSES:
- Lacks significant offensive polish
- Footwork/Post-moves
- Questionable hands
- Activity level
- Gets backed down in post
- Lateral quickness
- Man to man defense
- Basketball IQ
- Doesn't always play hard
- Question marks about true age
- Track record of African players
- Passing out of post
- Passing skills
- Core strength
- Poor rebounder
Recent Tweets
All Tweets
DraftExpress: At the I-95 Battle of Bridgeport in CT. In attendance, Tyreke Evans, Hasheem Thabeet, Nolan Smith, Iman Shumpert, Wesley Matthews (cnt'd)
2011-11-18 08:11:39
@RUBasketball Hasheem Thabeet to D-League? That's going to go over well. Curious to see what he can do offensively against John Bryant & co.
2010-02-25 15:26:13
You sure that's the right guy for that? RT @nbadleague: Wanna learn some post moves?Watch a lesson from Hasheem Thabeet http://bit.ly/c1eLHH
2010-02-13 13:06:37
Top 25s - Full List
Team: Thunder College Team: Grand Rapids
Physicals
Positions
Rankings
Salary
Misc
H: 7' 2"
W: 275 lbs
Bday: 02/16/1987
(28 Years Old)

Current: C
NBA: C
Possible: C

RSCI: 64

Agent: Ugo Udezue

High School: Cypress Community Christian
Hometown: Dar Es Salaam, Tanzania
Drafted: Pick 2 in 2009 by Grizzlies
Best Case: Samuel Dalembert
Worst Case: Desagana Diop

Predraft Measurements
| Year | Source | Height w/o Shoes | Height w/shoes | Weight | Wingspan | Standing Reach | Body Fat | No Step Vert | Max Vert |
| --- | --- | --- | --- | --- | --- | --- | --- | --- | --- |
| 2015 | D-League Elite Camp | 7' 1" | 7' 2.5" | 275 | 7' 6" | 9' 6" | NA | 24.5 | 34.0 |
| 2009 | NBA Draft Combine | 7' 1.25" | 7' 2.5" | 267 | 7' 6.25" | 9' 5" | 6.7 | NA | NA |



Basic Per Game Statistics

- Comprehensive Stats - Statistical Top 25s
| Year | League | Name | GP | Min | Pts | FG | FGA | FG% | 2Pt | 2PtA | 2P% | 3Pt | 3PtA | 3P% | FTM | FTA | FT% | Off | Def | TOT | Asts | Stls | Blks | TOs | PFs |
| --- | --- | --- | --- | --- | --- | --- | --- | --- | --- | --- | --- | --- | --- | --- | --- | --- | --- | --- | --- | --- | --- | --- | --- | --- | --- |
| 2014/15 | DLEAGUE | Hasheem Thabeet | 49 | 21.9 | 8.6 | 3.4 | 5.7 | 59.1 | 3.4 | 5.7 | 59.1 | 0.0 | 0.0 | &nbsp | 1.9 | 2.9 | 65.7 | 1.7 | 4.5 | 6.2 | 0.3 | 0.4 | 2.4 | 1.8 | 3.7 |

Player Page&nbsp&nbsp| Player Stats | Mock Draft History | Related Articles&nbsp&nbsp| Add to My Draft Express&nbsp
&nbsp
NBA Draft Media Day Video Interviews
June 25, 2009
[/center]

[Read Full Article]

---
NBA Combine Media Availability Interviews
May 29, 2009
[Read Full Article]

---
Situational Statistics: This Year's Center Crop
April 26, 2009

ē Hasheem Thabeet's value comes from his defensive ability, but the development of his offensive game will be integral to his success in the long-term and determine how he is viewed as a player.

Thabeet is going to block shots next year, pull down some rebounds, and face an uphill battle to become a bigger offensive threat than he already is.

Before we look at the difficulties he may face, we first need to take a step back and observe how Thabeet's role has grown over time on paper. In his first season under Jim Calhoun, he got only 1.3 possessions per game in post up situations (25% of his total offense), and almost one-third of his touches off of basket cuts. This past season, he got nearly 35.1% of his touches on the block, a dramatic improvement from his first season. After almost exclusively earning his touches on hustle plays as a freshman, Thabeet put up 1.08 PPP in 4.1 post up touches per game as a junior, ranking him first on our list in PPP and showing how significantly he improved from his sophomore year (.76 PPP). Obviously, Thabeet grew as a player during his time at Conneticut to the point that he was a viable offensive option this season, but that doesn't necessarily mean that he's going to do much scoring in the NBA.

There are a number of reasons to be skeptical about Thabeet's ability to score on the NBA level. First, he got only 11.8 possessions per-game on the offensive end this season, 5.4 of which came on catch and finish opportunities off of offensive rebounds, cuts, or otherwise. His total touches would rank him second to last amongst our power forward group and in the middle of the pack amongst our centers. He shot 73% on his finishing opportunities, using his size effectively and dunking anything he could, and also shows some ability to get up the floor and make some small contributions in transition. Nearly all of Thabeet's touches came within 5 feet of the rim, as evidenced by the fact that he only took 14 jumpers all season. His 1.08 PPP on the block was better than any player we looked at with the exception of DaJuan Blair, but his 4.1 touches was below average for a center. Obviously Thabeet did a solid job getting more touches as time went on, but he's still didn't generate many scoring chances as a senior in comparison to the players he's competing with for draft position.

Its more than a bit concerning that Thabeet was already having trouble making his presence felt on the offensive end on the NCAA, however efficient he may have been. He was after all, essentially a giant in a land of midgets. He won't have anywhere near as big a physical advantage in the NBA as he did in college, which will make things even more difficult on him moving forward.

Thabeet struggles badly trying to create opportunities for himself, being incredibly reliant on the talent and generosity of his teammates to generate offense for him. When he was able to get the ball in scoring position, though, he was a major force. Thabeet scored a point on 62.7% of his half court offensive touches, ranking him first amongst all players we looked at. The problem is that he received such few touches, his 11.8 possessions would place him 25th amongst the power forwards we previously examined.

Considering how obvious his presence is on the court, you have to think that if his coaching staff and teammates saw him as a viable offensive option, he would have received far more touches this past season than he actually didósince obviously everyone involved was looking to win as many games as possible. Subjectively speaking, it wasn't rare to see Thabeet become very passive on the court and only half-heartedly look for the ball. On top of that, his passing rate was very poor, the lowest in this group, and many potential possessions never even materialized due to his inability to make clean catches, leading to turnovers for others. It's not a stretch to say that his teammates did not have enough confidence in his offensive skill-level to get him the ball in the half-court.

Players drafted a high as Thabeet are usually expected to offer more than that offensively. At this juncture, Thabeet is still very early in his offensive development. He could continue along his current path, using his post possessions to slowly improve his usage rate, or he could continue to rely on his teammates and remain an efficient, but underdeveloped role-player

[Read Full Article]

---
Blogging through the Final Four (Part One)
April 4, 2009
Hasheem Thabeet really had a very enlightening game from a scouting perspective, illuminating very clearly what his strengths and weaknesses are as a prospect for the next level. He finished with 17 points, 6 rebounds and 2 blocks in 36 minutes, hitting 6-13 shots from the field.

Offensively, Thabeet managed to be far more effective than heís been in any tournament game thus far, with the exception of the Chattanooga contest in the first round. A major target for UConn inside thanks to his far superior size, his 17 points came almost exclusively off layups right at the rim and free throws, except for a small stretch in the second half where he managed to convert two very nice jump-hook shots, one with either hand. He also showed good agility in transition on one possession, converting an and one opportunity. Other than that, Thabeet showed his very obvious limitations on this end, missing the rim completely on two of his attempts, and showing very little touch on many others, often from just a few feet away. He really seemed to be forcing the issue at times, heaving up a couple of bad-looking bricks.

The most evident thing to come out of this game was how much Thabeet dislikes contact around the basket. He was knocked to the floor a good 12-15 times by the much more physical (yet extremely undersized) Spartans, and looked extremely frustrated in turn. His extreme lack of balance has never looked more obvious, as he looked about as clumsy as he has since his freshman year with the amount of time he spent laying on the ground.

A huge key to this game for Michigan State was the way they were able crash the offensive glass (to the tune of 16 offensive rebounds) despite their lack of size and athleticism, and Thabeet was clearly a big factor in this. He was easily boxed out by the likes of Delvon Roe, Goran Suton and Raymar Morgan all night long, being constantly bumped out of position, and only coming up with 3 defensive rebounds in 36 minutes in turn. His inability to go outside his area and come away with loose balls really hurt his team tonight, and it really seemed like he lacked some focus here, even being hit in the face by a potential defensive rebound on one occasion.

Defensively, Thabeetís shot-blocking ability was for the most part neutralized tonight, as Tom Izzo knew how to pull him just far away from the basket to make him a non-factor. He only came up with two blocks, and didnít change anywhere near as many shots as he normally does thanks to his incredible size and length.

There seem to be enough NBA teams in love with Thabeet to not make this one game that much of an issue considering his overall resume. After all, these are all well-known and well-scouted problems that have been on display for the past few years, and the fact that he did manage to score 17 points is clearly a positive development. You canít help but ignore how much he seems to struggle against good teams, though, and itís pretty obvious that there is going to be a huge transition heíll have to make to the size, physicality and athleticism of NBA big men before heís able to be anywhere near as effective a pro as he was a college player. Whoever drafts him will obviously have to be very patient, despite how high he is projected to be picked.

[Read Full Article]

---
NCAA Tournament Performers, 3/31/09- Part One
March 31, 2009
Last time we checked in on Hasheem Thabeet in late December, he was coming off of a very weak showing against Georgetown in UConnís first Big East game. Since then, Thabeet has been having a fine season, helping his team achieve a 31-4 record and a Final Four berth. Outside of a couple of losses to Pittsburgh and the marathon that was UConnís Big East tournament contest against Syracuse, Thabeet has had no trouble helping his team win. However, heís had his fair share of ups and downs as an individual, and while heís had some very tough outings, he remains very much in the running to hear his name called near the top of the lottery this summer.

Thabeetís production has remained somewhat inconsistent throughout the last three months, but his impact on the game has not. Though heís failed to record more than a handful of points against a number of lower-level teams, Thabeet continues to terrorize opposing offenses. His presence on the floor changes the complexion of the game on the defensive end and often requires opposing coaches to change their game-plans altogether.

His ability to protect the rim has been covered in length on this site, and while Thabeetís numbers havenít improved very significant on a per-40 minute basis since his freshman season, heís made some subtle strides that have allowed him to become even more intimidating. Heís done a slightly better job sliding his feet when heís forced to defend the perimeter. Watching him step out and draw a charge against Leo Lyons in their match up this past weekend is a testament to how far heís come. Earlier in his career, he would often get too antsy when his man jabbed, failing to keep his distance and utilize the huge advantage his length can allow him to use in one-on-one situations. With that said, he still tends to look like somewhat of a fish out of water when guarding the pick and roll or forced to guard a quick perimeter oriented big man, as his lack of balance and poor lateral quickness can quickly get exposed.

His reaction time when defending the weak side has also improved quite a bit. As a freshman, Thabeet got a large of his blocks when playing on the ball, which is still the case, but heís become significantly more adept at recognizing when offensive players are looking to turn the corner and then sliding over to meet them. His blocks are coming on longer rotations that often have him sliding across the lane to send away a would-be scorer.

Those two improvements, coupled with his improved frame and hands have turned Thabeet into an even more capable defender. Though he doesnít always make the crispest rotations, and still looks like the same awkward freshman he once was on occasion, heís come a long way. The distance heís covered in terms of development is much more pronounced in his offensive game, and the role he plays offensively. He still tends to go through spurts of ineffectiveness, though, particularly when faced with foul trouble. It often seems like once he picks up a few early fouls, he wonít even try to make his presence felt on this end of the floor, not even raising his arms in the air at times.

The biggest question-marks about Hasheem Thabeet are concerned with his offensive game, and rightfully so. Though heís made marked improvements in his scoring ability and shooting percentages, his role in Connecticutís offense has increased since he arrived on campus three years ago. That subtle change should give NBA decision-makers reason for optimism moving forwards.

When Thabeet arrived in Storrs, he was nothing more than a hustle player, getting all of his looks by sitting under the rim and pulling down rebounds for easy catch and finish opportunities. While he still gets a lot of his offense by being active down low, his opportunities to score with his back to the basket have grown significantly in recent seasons. Heís a relatively capable finisher over his left shoulder, especially when he can get deep position, but needs to work on his hook shot moving forward. He started to show some ability spinning in the other direction and finishing with his left hand, but still needs a lot of polish to finish consistently. He appears to be heading in the right direction, although he obviously has a long ways to go. There have been many games this season in which heís made absolutely no impact at all on the offensive end, not looking to establish position in the post, and looking extremely limited with his unreliable hands and balance when he did. It also seems like quite a bit of his offensive production has come against teams with mediocre frontcourts, which is not a great sign considering how much the level of competition will increase with the big men heíll face in the NBA.

Thabeetís an incredibly efficient player at 65% from the field, as you can expect considering that around 90% of his made field goals are layups or dunks. His hands have looked better at times, as has his coordination at the rim. Unfortunately, he still shows a lack of fundamentals at times, brings the ball too low when he pulls down offensive rebounds and moving a little too fast when he could create an easier look by being patient. Heís continued to get to the line at a great rate, but probably wonít ever be more than a decent shooter from the charity stripe.

Moving forward, all indications point to Thabeet landing amongst the top picks in the draft. However, whichever team drafts him needs to recognize the growing pains that heís going to experience moving forward. His offensive role may have expanded on the college level, but itís highly unlikely heíll ever be much of a presence on this end of the floor in the NBA. With that said, heíll be able to make an impact as a shot blocker and position rebounder immediately, and if he can stay out of foul trouble and lands on a team willing to foster his skills, could become a serviceable center in the NBA for a long time.

[Read Full Article]

---
College Road Report: UConn Ė Georgetown
December 31, 2008
Hasheem Thabeet got off to an excellent start this season, as he's increased his production and efficiency across the board, but he's probably hoping his matchup with Georgetown and freshman Greg Monroe is not a sign of things to come for the rest of the Big East season.

In his worst offensive performance this season, Thabeet scored just 4 points on 4 field goal attempts, being completely neutralized by Georgetown's aggressive defense, which took both Thabeet and UConn's point guards out of their element. Nothing came easy for Thabeet in the game, as he was in a constant battle for positioning in the post, where Greg Monroe, Julian Vaughn, and Dajuan Summers used their leverage to body him away from the basket on many occasions, keeping him from getting comfortable in areas where he can catch and score. When the ball did come to Thabeet, Georgetown blanketed him, while he struggled to make quick decisions with the ball and looked extremely tentative, leading to a few awkward possessions.

With a very high center of gravity, along with below average balance and coordination (it's worth noting Thabeet has improved tremendously in these two areas over the past two seasons, and he's likely to continue improving there in the future), Thabeet doesn't have the easiest time getting leverage on post battles, and can be pushed off the block by shorter, thicker opponents who aren't afraid to get physical. Combine this with some weakside swiping by Georgetown's guards when Thabeet did receive the ball, and it put Thabeet in a situation where he wasn't able to do very much. It'll be interesting to see if the other Big East teams try and emulate this strategy (Arinze Onuaku and Samardo Samuels are capable of similar physicality in the post), and if so, how Thabeet will adjust to it.

Looking away from this specific game, which obviously is not an accurate indicator of Thabeet's progress alone, there is much to be impressed with in the early going this season. His points per 40 minutes pace adjusted are up from 13.0 to 18.4, while his TS% rose from 64% to 68%, and you can look to a few things for reasons why. The competition level in non-conference play of course has to be mentioned, especially with Thabeet scoring more than 9 points in only one of his four big matchups thus far (19 points vs Miami along with 9 vs Wisconsin, 9 vs Gonzaga, 4 vs Georgetown). That's definitely not the only reason, though, as watching his game, a few things stand out.

In the post, Thabeet is looking more comfortable with his back-to-the-basket, and while he still doesn't really have a go-to move, his mini right-handed hook off his left shoulder is getting there. He's also faking right shoulder at times, showing semblances of counter-moves, and in a recent matchup against Fairfield, he converted on a left-handed hook from 5 feet out, something to possibly look out for in the future. As was the case against Georgetown, however, Thabeet looks considerably less comfortable against physical defenders, especially ones with size and athleticism. In these matchups, his post-up moves look a little more rushed, and his effectiveness drops.

Thabeet's still at his best catching and finishing off cuts, getting open in the halfcourt and in transition. While he's done a pretty good job of it this year, Thabeet still has instances where he doesn't look instinctive on these plays, not being decisive to finish strong as soon as he gets the ball, which can lead to missed opportunities.

On the defensive end, despite his blocks per 40 minutes pace adjusted going down in each of his three seasons at UConn, it's hard to argue that he's improving on this end, as it's also important to mention how his fouls per 40 minutes pace adjusted have also gone down. Also, in actually analyzing the tape, Thabeet's awareness and hand-eye coordination definitely appear improved with his shot-blocking, both in man and help situations, however his reaction speed is still lacking at times, which isn't so much an issue against most college opponents, where his length and size allow him to recover.

In man-to-man defense, Thabeet still has some major problems, however, specifically on the perimeter, where his high center of gravity and lack of balance disallow him from getting into proper defensive stance and moving laterally, leaving him highly vulnerable to face-up players. His length allows him to recover from behind on drives at times, but this won't be as reliable of a bail out for him at the next level. In the post, Thabeet can get pushed back with his lack of leverage, however he usually plays fairly smart these days, relying on his length and size and forcing opponents to shoot over him. He struggles with quick lateral movements, though.

Looking forward, Thabeet is still a likely lottery pick if he decides to declare and continues with his strong production, however more games like this one against Georgetown are certainly not going to help him in the eyes of NBA scouts.

[Read Full Article]

---
Top NBA Draft Prospects in the Big East (Part One: #1-5)
October 22, 2008
Thabeet enters the season as the Big Eastís top draft prospect after showing outstanding improvement between his freshman and sophomore campaigns. The package of size, athleticism, and increased productivity that he showed in his second season established him as one of the top center prospects in the NCAA, despite his limited offensive game.

The biggest asset that Thabeet offers is a prospect is easily the sheer physical package that he offers. Looking every bit of 7í3, he possesses a huge wingspan and a frame that could easily add another 20 to 30 pounds if so desired. Although appearing quite awkward running the floor, he has shown the ability to beat opposing big men in the Big East up and down the floor on a consistent basis. Equally as impressive is his ability to explode off the ground from a static position, looking to dunk everything he can when he gets the ball around the cup.

The Tanzanian native is still far from a finished product on the offensive end, although he did make strides as the season went on. The problems that he had in terms of catching the ball and playing a bit too upright are still a concern, however there was a considerable amount of improvement in both of these areas last season. Attempting only 5.7 shots per game and not owning a vast repertoire of post moves, itís clear that he cannot be relied upon as a consistent scoring threat at this point in his career. Thabeetís raw footwork, inability to read double teams and lack of a consistent go to move hinder his development as a legit scoring threat. Likewise, he has proven to be a very poor passer out of the pivot, making him very vulnerable to being blitzed when he touches the ball down low. However, the big man did show flashes of improvement as the year went on.

Thabeetís confidence on the offensive end really seemed to skyrocket towards the conclusion of the season, where he showed the ability to finish around the rim with both hands while absorbing contact. He showed flashes of a developing jump hook with either hand, even with the limited touch he possesses on the offensive end. More importantly, he did a much better job of simply catching and finishing around the rim and even improved his free throw percentage by over 18% in between his freshman and sophomore seasons.

Defensively, Thabeet has already shown the ability to completely change the game with his shot blocking presence. He rotates quite well and is able to take up a ton of space in the paint with his mammoth size. Equally as impressive is his ability to swat shots away without committing a large number of fouls, averaging only 2.6 fouls per game as a sophomore. The potential impact that he can have on this end of the floor is unparalleled by any prospect entering the draft since Greg Oden came around in 2007.

While he is a game changing presence as a shot blocker, he is a relatively poor man to man defender. His lack of lower body strength and tendency to play completely upright severely hinder him in this area, where he has proven to be outmuscled by much smaller players. He struggles badly trying to step out and on the perimeter, showing extremely poor lateral quickness that was exposed most noticeably in the repeated pick and pop plays that San Diego ran en route to upsetting UConn in the first round of the NCAA tournament. Thabeetís lack of core strength also hurts him in terms of rebounding, where he is often pushed under the basket by hard working big men. It will be interesting to see how much work he was willing to put into these areas over the summer, as there were some question marks about his work ethic early on in his career.

Thabeet will have every opportunity to jump to the NBA this season if desires to do so. Improvement offensively and stepping up his man to man defense would only solidify his position as a mid lottery pick, potentially rising even higher depending upon who is slotted towards the top of the draft. The dismissal of Nate Miles will certainly open up more scoring opportunities for Thabeet, who practically controls his own destiny with how hard heís willing to work on the floor in this third season at the NCAA ranks.

[Read Full Article]

---
NCAA Weekly Performers, 1/31/08-- Part Two
February 1, 2008
Itís been an up and down season for UConn sophomore Hasheem Thabeet so far, with plenty of highs and lows individually, mixed in with a good amount of success his team has enjoyed lately.

Thabeet has noticeably improved on the offensive end, pushing his points per-40 minute pace adjusted averages from a dismal 9.8 to 14.2 currently. That still puts him just 77th amongst the 84 NCAA players ranked on our 2008 or 2009 mock drafts, but itís a clear improvement over last year, when he was second to last. Heís also shooting the ball at a better clip from the field, 63% compared to 55% last year. Unfortunately, Thabeetís rebounding, assists, and blocked-shots have all decreased per-40 minutes when taking his extra playing time into account so far, although he is turning the ball over less and committing fewer fouls. Very notable has been the significant improvement heís shown from the free throw line, from 51 to 70.5%. The points heís no longer leaving at the charity stripe in fact account for nearly half of his added scoring output this year.

Regardless of his statistical output, any intrigue around Thabeet as an NBA draft prospect starts and ends for the most part with his physical tools, which are nothing short of amazing considering how rare of a class heís in. Standing 7-3, with a phenomenal frame that should be able to carry significantly more weight, a terrific wingspan, huge hands, and excellent mobility relative to his size, Thabeet looks the part of future defensive stopper and then some on first glance. He gets up and down the floor awkwardly (almost with a strange limp), but clearly has solid mobility (especially getting out in transition), and is especially impressive getting off his feet to finish plays or challenge shots in the lane.

Offensively, Thabeet is for the most part limited to within five feet of the basket. He can really overpower smaller opponents by establishing deep position in the paint and using his size and length to make his presence felt from close range, sometimes with a ferocious dunk. His hands look better than they were last year, but heíll still fumble the occasional pass or just have balls deflect right off his palm after not being able to react in time. Heís getting out and running with his guards fairly impressive on fast-breaks on occasion, and has been on the receiving end of a couple of highlight reel caliber alleyoop plays.

Once taken out of his comfort zone offensively, (meaning catching and finishing for the most part), Thabeetís inexperience as a basketball player really comes out. His footwork is poor, and heís fairly slow and mechanical trying to create any type of offense for himself if he needs to make a real move. He also lacks a left hand or any type of counter moves, often just throwing the ball up on the rim with poor touch, hoping it drops. He clearly lacks core strength and especially balance here, falling over on the floor quite easily and looking somewhat fragile in general if forced to react to something unexpected out on the court. Heís also an extremely poor passer, currently tied for having the second worst assist rate in the country amongst all players in our database, and also ranking near the bottom in assist to turnover ratio. Considering the lack of polish he shows on the offensive end, itís not a stretch to say that heís probably never going to be much of an option here in the NBA.

Defensively, though, Thabeetís potential as a game-changer inside the paint is hard to ignore. He has excellent timing for blocked shots, and has started get better at keeping the ball in-bounds after a block. His mere presence in the paint is a huge deterrence for opposing teams at this level, as heís not only 7-3, but also exceptionally long, and capable of getting off his feet. He makes a big impact in the paint as far as team defense goes, ranking 7th in the country in blocks per-40 minutes pace adjusted.

As a man to man defender, Thabeet leaves something to be desired still. Skilled back to the basket centers (a rare commodity in the NCAA) have proven to be very effective against him, as he gets pushed around and posted up quite easily, not looking to fight back that much, standing too upright, giving up excessive space, and not moving his feet very well to stay with them. He does a very poor job in particular of stepping out onto the perimeter to hedge a screen or defend a big man who is capable of facing the basket, showing poor awareness in space and looking fairly lost in the process. Nowhere was that more evident than in the Georgetown game a few weeks ago, where Thabeet lost his man Roy Hibbert completely and thus gave him a great deal of time to set his feet and knock down the game winning 3-pointer from behind the arc. Big matchups in general have been a problem for Thabeet over the last two years, as every time he faces a team with anything even resembling an NBA caliber big man, he struggles badly.

Rebounding-wise, youíd probably expect Thabeet to make more of an impact than he currently does considering his awesome physical tools. He in fact ranks just 47th of the 56 NCAA centers that are in our database in this category per 40 minutes pace adjusted, despite standing 7-3. His poor hands are most evident in this part of his game, as are his lack of fundamentals--boxing out his man lackadaisically, and going after rebounds with just one hand. Heíll often take himself out of position for rebounds by chasing blocked shots excessively, which further hurts him in this category.

Another problem here is that Thabeet doesnít seem to be the most active player in the world, rarely going out of his area for rebounds, and not really showing the type of fire and passion you see out of players who just want the ball more than their opponents. At times you get the feeling that Thabeet is not going 100%, as heíll look sleepy, distant, and not involved in whatís going on on the floor. There have been question marks raised constantly regarding his motor, work ethic and love for the game, which is a huge concern considering how far off he is at the moment from reaching his full potential, and how much individual work heíll have to put in to get there.

With that said, Thabeet seems to be making some clear strides as a player this year, and obviously has a lot more room to grow. Heíll be tempted to enter the draft this year already and possibly cash in on being selected somewhere in the first round, but would clearly benefit long-term from being patient and spending another year in college under Coach Calhoun, who has a sparkling reputation for developing NBA big men.

[Read Full Article]

---
Top NBA Draft Prospects in the Big East (Part One: #1-#5)
October 20, 2007
Imported from Tanzania, Thabeet gained attention on the AAU scene after his senior year in high school, and choose to play for Jim Calhoun at UConn. Though there was much buzz about his draft potential entering his freshman season, but he proved to be even rawer than advertised, though he did manage to make a considerable impact on the defensive end of the court. After flirting with the decision to enter the NBA Draft, Thabeet opted to polish his game with another season at Connecticut.

His physical tools alone will keep NBA scouts in the gym at every single game to watch Thabeet. He looks like he was built to play basketball, standing at 7í3Ē with a massive wingspan and huge hands. Combine this with a chiseled body, and outstanding mobility for a player his size, and it becomes obvious that few prospects in the college game compare to Thabeet physically.

Defensively, the center from Tanzania made a big impact his freshman season, swatting 3 shots per game in just over 24 minutes of playing timeóranking him second in the country in this category per 40 minutes. Thabeet improved his understanding of proper help defense as the season progressed, and opposing players began to challenge him less in the paint. Foul trouble plagued the inexperienced center early in the conference season until he became comfortable with the idea that he could block shots with his wingspan and vertical leap alone.

Though effective as a shot-blocker, most other areas of Thabeetís game need serious work based on his play last season. Offensively, he scored the majority of his points by just finding the open spot behind the defense, and dunking the ball-- if he managed to catch the pass. With his back to the basket, Thabeet found himself sometimes shying away from contact rather than going to the hoop aggressively. The timid mindset seems to stem from his lack of experience, and it is possible that we see a more aggressive player as he learns the game. Two areas must improve for Thabeet before he becomes a potent offensively threat based on size alone. First of all, he needs to work on his touch inside 10 feet, and secondly he must be stronger and more aggressive with the ball. On numerous occasions, the defense stripped the ball from him on plays that should have resulted in an easy dunk.

Thabeet shows good natural instincts on the glass, possessing all the tools to become an excellent rebounder down the road. Better hands will again be more important in this area, but he has both the timing and positioning down.

Projecting Hasheem Thabeetís draft position remains a difficult task, though he clearly has his mind on making the jump to the next level. With his natural athleticism and shot-blocking ability, he has all the tools to become a top 10 pick some day. On the other hand, the raw offensive game and lack of experience really hurt his game as of now. Couple that with the fact that questions about his true age are starting to pop up, and the picture gets even muddier. Choosing to return to school was obviously a smart choice for Thabeet basketball wise, and Jim Calhoun has a great deal of experience in turning raw big men into NBA-caliber players. Thabeet will have to go the extra mile himself, though, as he doesnít stand a chance unless he truly develops an outstanding work ethic and love for the game.

[Read Full Article]

---
LeBron James Skills Academy Day Three
July 10, 2007
The Tanzanian big man looked just as raw in Akron as he did throughout his freshman season at UCONN on the offensive end, looking puzzled as to what to do the ball each and every time he touched it. Surprisingly, his hands were noticeably worse then they were at UCONN, with Thabeet bobbling just about every single pass he received. It should be noted that his left hand was heavily taped earlier in the day, suggesting some sort of possible injury. Either way, it was clear that Hasheem was quite a ways behind both of the Lopez twins in terms of productivity on both ends of the floor, and has a lot of work to do before he should consider entering the NBA Draft.

[Read Full Article]

---
Striking While the Iron is Cold? Hasheem Thabeet
February 9, 2007
One of the more disturbing cases considering the magnitude of his decision as far as his long-term development goes, weíre receiving strong indications from numerous sources that UConn's freshman Hasheem Thabeet is seriously considering entering the draft. This has all the makings of a potential disaster, eerily reminiscent to another highly regarded Big East prospect a few years ago--Chris Taft.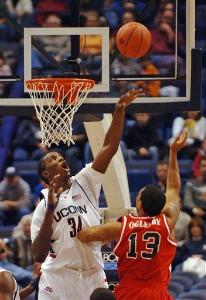 AP



Compared to Tyrus Thomas, and billed as "an athletic Mutombo" by a preseason article written by Andy Katz, Thabeet has been blocking shots at a nice rate, but everything else about him so far has been a massive disappointment. He's cracked double-digits in the scoring column just five times this season thus far--against Fairfield, Albany, Pepperdine, Coppin State and St. John's--and has used his massive 7-3 frame to pull down 10 rebounds just four times, again against the weakest competition UConn has faced. Defensively, beyond his shot-blocking, Thabeet has been lit up by every (even marginal) NBA prospect he's gone up against, whether itís giving up 13 points and 10 rebounds to an equally raw freshman in Omar Samham (St. Mary's); 19 points, 11 rebounds to Herbert Hill (Providence); 19 points, 11 rebounds to David Padgett (Louisville); 21 points to DJ White (Indiana); or 22 points, 19 rebounds to Aaron Gray (Pitt).

Offensively, we've seen little to no progress since the beginning of the season. Thabeet still shoots the ball from the back of his hand, still doesn't understand how to properly bend his knees and go up for a simple dunk, is not able to palm the ball despite having very big hands, and is almost incapable of catching a post-entry pass due to his poor hands and non-existent reaction time. At this point, considering the way he looks, it's safe to say that heís light years away from being able to contribute anything on this end of the floor.

Most people would tell you that's fine, because Thabeet is 7-3, has a very good frame, and moves better than 98% of the 7-footers we've evaluated...meaning he has a very good upside. ďSaer Sene was drafted 10th!Ē they say, not realizing the difference between last yearís draft class and this one, while also failing to take into consideration the stark differences between the two players as far as their work ethic and attitudes are concerned.

The fact that he has a huge upside is probably true, but at the same time, we have to consider just what the likelihood is of Thabeet ever actually reaching his ceiling and achieving that upside, which is just as important a part of the equation, particularly if heís to rot on an NBA bench for the next four years. That probability of reaching said upside takes a significant nose dive when you actually watch him play, look at the way he carries himself on the floor, and talk to people who have spent time watching him practice.

Thabeet seems to have little to no interest in using his size and strength to help his team as a rebounder, not playing with much energy, refusing to get dirty and go after loose balls, and displaying a very low basketball IQ in everything to do with his anticipation skills. In practice, people who have watched him have come away with the impression that Thabeet is not a hard worker at all. He makes faces when asked to do extra work, and generally acts like he's being punished by being required to do crucial drills for his development that other players don't participate in. This lack of a high-energy motor and work ethic is usually the kiss of death for a player who is as raw as he is. He will need years of individual work before anything can be expected from him at the NBA level. Once teams find out what we're learning, if they haven't already, it can be more than enough to drop a player like him into the second round. Contrary to popular opinion, the NBA is not nearly as interested in developing raw talent from scratch as many would lead you to believe, as the coaching staff just doesnít have time to teach the fundamentals of the game during a grueling 82 game season.

Usually we would not go out of our way to blast a freshman who clearly came into college with the billing of a project, having only played basketball for a few years. The thing is: we feel that considering the unaccountable hype around him--currently projected as the #6 pick in the 2007 draft by nbadraft.net and the 16th best prospect by ESPN's Chad Fordóthere needs to be another side out there to put things in proper perspective. Players, families, AAU coaches and agents process all this information and often act on it without being able to find anyone thatís able to give them a second opinion (NBA people are generally not interested in taking part in this process), but when disaster strikes, the player will have to pick the pieces up by himself while outlets like ours move onto the next batch of prospects. Chris Taft was rated similarly by the same exact people at this point in the season two years ago (ourselves included). He ended up going in the mid-second round and is currently out of the NBA.

Whatís sad is that Thabeet is actually contemplating making a selfless decision that has just as much to do with his family situation as it does with himself. His mother and siblings are still in Tanzania, and his father passed away just a few years ago. Itís a difficult decision indeed for a teenager to make, especially with the lure of so much money looking so close. The question is: how much in long-term earnings will he be losing by leaving so early? No one can say that for sure, and plenty depends on Thabeetís internal motivation.

We don't doubt the fact that Thabeet could very well end up figuring things out and reach his massive potential in a couple of years, but his chances of doing so while sitting on an NBA bench significantly lessen in our opinion, as compared with opting to stay in college and learning from his very well respected coach, Jim Calhoun. UConn has developed players like Emeka Okafor and Hilton Armstrong into lottery picks despite starting off with much less to work with in terms of pure physical attributes, but it took them three and four years in college respectively. For the final word on this topic, we'll defer to Louisville Head Coach and former NBA head coach and General Manger Rick Pitino, who has sent quite a few players to the league in his own right:

"A guy like Thabeet, who we recruited, three years from now will be one of the best players in college basketballÖOr, if people put the notion in his head because he's 7-foot-3, he'll sit [on] the bench [in the NBA], he'll never make a second contract, and never make any money in his life. So, hopefully, the right people get hold of him and be intelligent."

[Read Full Article]

---
Weekly Top Performers: Holiday Edition
December 20, 2006
Thabeet generally showed how far off he is, but the flashes of potential he displays are still downright staggering. He is already running the floor much better than he did early in the season, and is improving his mental awareness slowly but surely. The one area where he is furthest along is on the glass, where he does a solid job of sealing his man and corrals just about anything in sight with ease. When he reacts naturally on the defensive end, the results are scary. However, he still doesn't use his length to its full potential - oftentimes opponents can get the ball over his arms by shooting it quickly, due to that slow reaction time. Offensively, Thabeet is well behind the curve. If it isn't a layup or dunk, Thabeet probably shouldn't be shooting it at this point.

Nonetheless, it is hard not to get caught up in what Thabeet could become if he continues to develop as a player. At the same time, Samhan is a youngster worth keeping an eye on. Players this young and this big are rarely this far along skill-wise.

[Read Full Article]

---