Nikola Mirotic
Recent Tweets
All Tweets
DraftExpress2: RT @DraftExpress Real Madrid's Nikola Mirotic is finally joining the Bulls. Here's a scouting video we made him on earlier this year httpu2026
2014-07-14 15:46:38
DraftExpress: Real Madrid's Nikola Mirotic is finally joining the Bulls. Here's a scouting video we made him on earlier this year http://t.co/4yMdXlt4lC
2014-07-13 19:05:08
DraftExpress: If they are drafted in the first round (like Igor Crespo's client Nikola Mirotic was) they'd be bound by the NBA rookie scale for 3 years.
2013-06-17 12:41:30
DraftExpress: I thinking becoming a Ryan Anderson type could be realistic for him. RT @apjrlmcd Any player in the NBA that Nikola Mirotic reminds you of?
2012-12-21 02:34:16
DraftExpress: Nikola Mirotic w\/9 points 4 rebounds in 7 minutes. Real Madrid has so many weapons its ridiculous. Hopefully he plays more in the 2nd half.
2012-12-20 16:38:40
Team: Bulls College Team: Bulls
Physicals
Positions
Salary
Misc
H: 6' 10"
W: 210 lbs
Bday: 02/11/1991
(24 Years Old)

Current: PF
NBA: PF
Possible: PF

Agent: Igor Crespo
Current Salary:$5,305,000

High School:
Hometown: Podgorica, Montenegro
Drafted: Pick 23 in 2011 by Magic




Basic Per Game Statistics

- Comprehensive Stats - Statistical Top 25s
| Year | League | Name | GP | Min | Pts | FG | FGA | FG% | 2Pt | 2PtA | 2P% | 3Pt | 3PtA | 3P% | FTM | FTA | FT% | Off | Def | TOT | Asts | Stls | Blks | TOs | PFs |
| --- | --- | --- | --- | --- | --- | --- | --- | --- | --- | --- | --- | --- | --- | --- | --- | --- | --- | --- | --- | --- | --- | --- | --- | --- | --- |
| 2015/16 | NBA | Nikola Mirotic | 15 | 25.7 | 12.6 | 3.9 | 10.1 | 39.1 | 2.1 | 4.9 | 43.2 | 1.8 | 5.1 | 35.1 | 2.9 | 3.5 | 83.0 | 1.2 | 5.3 | 6.5 | 1.6 | 0.8 | 0.3 | 2.2 | 2.5 |

Player Page&nbsp&nbsp| Player Stats | Mock Draft History | Related Articles&nbsp&nbsp| Add to My Draft Express&nbsp
&nbsp
Revisiting Nikola Mirotic (Scouting Video)
December 4, 2013
Nikola Mirotic has established himself as the best player in European basketball since being drafted by the Chicago Bulls in 2011. How has he evolved from the last time we evaluated him, and what type of NBA player could he become if he decides to leave Real Madrid and sign with the Bulls?

Mike Schmitz takes a detailed look at his strengths and weaknesses in the following scouting video:



[Read Full Article]

---
Top European Performers of the 2011 NBA Draft Class
December 19, 2011
Drafted in the latter part of the first round due in large part to the 5-year contract extension he signed with Real Madrid after winning the Euroleague Rising Star award last season, Nikola Mirotic has been nothing short of terrific in recent months. Garnering MVP honors while guiding Spain to the U20 European Championship this summer, Mirotic led the competition in scoring at 27 points per-game and finished second in rebounding at 10 boards per-contest.

Returning to Madrid for the 2011-2012 season, Mirotic has gone from being a sparkplug scorer off the bench for Real to one of the best power forwards in European basketball.

Last season, Mirotic wasn't expected to be much more than garbage-time performer for the iconic club considering the depth and experience ahead of him. He surprised many by carving out of a role as arguably Etorre Messina's most consistent big man, averaging a combined 7.3 points and 3.4 rebounds in the super-competitive ACB and Euroleague.

Thus far this season, Mirotic is playing 7 more minutes per-game than he did last season, but his per-40 minute numbers are nearly identical to those that he posted in his breakout season last year –quite an impressive feat.

Still seeing his touches come first on the perimeter, second with his savvy movement and hustle off the ball, and third in the post, Mirotic's versatile, but highly efficient offensive game has been a big reason why his club is in first place in the most difficult group of the Euroleague and tied for first in the ACB.

Mirotic is not an elite athlete and may lack a degree of NBA upside because of it, but he's playing great basketball for one of Europe's best teams and couldn't be showing too much more in the way of role-player potential for the NBA.

With the departure of Rudy Fernandez, Mirotic will be called upon to step up his scoring even more on the perimeter. He's clearly a rising star in Europe who could be a significant piece for the Bulls down the road, if he's able to make it over the ocean someday.

[Read Full Article]

---
Situational Statistics: the 2011 Big Men Crop
June 21, 2011
Nikola Mirotic faced the highest level of competition of any player in this draft in 56 EuroLeague and ACB games, and managed to emerge as a consistent and efficient contributor as the season wore on.

Scoring 1.093 PPP overall (4th), Mirotic's situational breakdown lends itself to perceptions of his potential as a stretch-four. With 35% of his touches coming in spot-up situations (1st) and 47% of shots being jumpers (1st), Mirotic's job for Real was to spread the floor, knock down his open looks, and make savvy plays inside the arc. Knocking down a very respectable 41% (1.1 PPP, 4th) of his jumpers, Mirotic was able to do just that.

Inside the arc, Mirotic only finished at a 60% rate (5th last), but ranked highly in a few notable categories. He was 4th in roll man PPP (1.371), 4th in transition PPP (1.44), and 5th in cut PPP (1.296). Mirotic was notably average in isolation and post-up situations, making his efficiency as a role-player that much more significant. He isn't a prolific one-on-one threat, but amongst prospects on this list, Mirotic's situational efficiency paints him as a tremendously safe bet to be able to compete at a high level in the NBA.

That is, if he'll ever come over.

[Read Full Article]

---
European Roundup: Nikola Mirotic - Breakout Player of the Year?
March 2, 2011
When the European basketball season started on Sept. 30, Nikola Mirotic was no more than an afterthought on the roster of Real Madrid. Buried behind two former Spanish national team starting power forwards in Jorge Garbajosa and Felipe Reyes, as well as Serbia's starting power forward at the World Championships in Turkey, Novica Velickovic, Mirotic's role this season appeared to be competing hard in practice and cheering enthusiastically from the bench.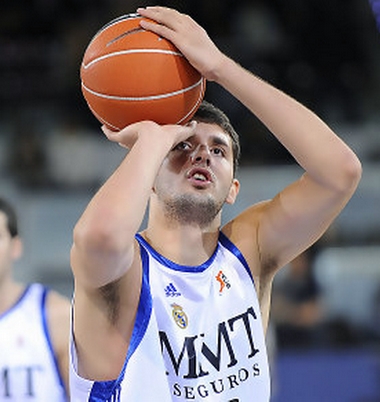 ACB.com



Apparently, he didn't receive the memo. Despite playing just 91 minutes in the first 21 games of Real Madrid's season, Mirotic (a player who struggled to get off the bench at times last year on a bad team in the Spanish second division) has been the most productive player on arguably the best team in Europe

Well, since he started getting some burn that is. Real Madrid has steam-rolled its way through the Euroleague Top 16, with six wins and no losses, and Mirotic continues to excel in the playing time he's earned -- roughly 19 minutes per game since the New Year.

He now ranks third in the ACB and sixth in the Euroleague in PER, thanks to his prolific scoring (21 points per 40 minutes), solid work on the glass (9.4 rebounds per 40), defensive playmaking (1.4 blocks, 1.6 steals per 40) and terrific efficiency (61% 2P, 43% 3P, 86% FT).

When you're 6-10, with a great frame, a 7-1 wingspan and good mobility, and you just turned 20 years old, scouts tend to take notice; especially when you're putting those numbers up against the best competition in the world outside the NBA.

Mirotic, for his part, doesn't look particularly surprised by his success. He plays with unbelievable confidence and poise for a player his age, always looking to make things happen. He's not afraid to take big shots in clutch situations (as he proved at Siena, in the Copa del Rey) and is clearly earning the respect of his veteran teammates with his stellar play.

Offensively, Mirotic acts mostly as a floor spacer for Real Madrid. He sees most of his possessions spotting up on the wing, cutting to the basket and finishing off of pick and rolls. He's converted 42% (22-of-53) of his jumpers on the season and is extremely reliable with his feet set. He has also shown consistent range out to the 3-point line.

With his excellent size and quick release, Mirotic is a tough matchup for most big men, especially since he's very adept at using shot-fakes and taking the ball to the basket. He has a nice first step and solid ball-handling skills. He's generally a very fundamentally sound player. He has an excellent feel for the game and plays relatively mistake-free (compared to his usage).

Mirotic is not a prolific threat with his back to the basket, but he can finish in a variety of ways around the hoop – be it a jump hook, a pretty floater or an elegant scoop-shot off the glass. He's a very skilled big man with terrific touch, which makes him a dangerous weapon to have considering the many different ways he can score in the half-court.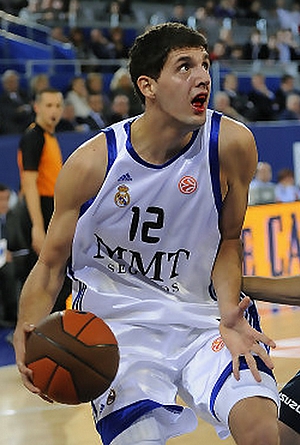 ACB.com



Tougher and more versatile than your typical European big man, Mirotic plays with an aggressiveness that bodes well for his future. He runs the court with purpose and is not ashamed to call for the ball forcefully and take a big shot.

While, offensively, it's not difficult to see why Mirotic has earned minutes, it's actually on the defensive end where he's surprisingly emerged as Real Madrid's most consistent big man.

Mirotic is very fundamentally sound -- never off-balance, always staying solid in his stance and rarely gambling for the sake of making a spectacular play. Nevertheless, he's been fairly productive statistically, showing excellent timing as a shot-blocker and even getting in the passing lanes on occasion, likely aided greatly by his excellent length. He still needs to add strength (as most 20-year-olds do), but Mirotic has a good frame and should be able to see minutes at either big man position in the NBA, depending on who he's playing next to.

This versatility is what makes Mirotic so intriguing from an NBA standpoint—he can play alongside many different types of frontcourt players as either a power forward or center and thus would be able to fit onto almost any team. Every good team these days needs at least one skilled big man in their rotation who can space the floor and attack opposing players in mismatch situations, and Mirotic seems to fit the bill to a T based on what we're seeing.

He's not a player without weaknesses, though.

For one, he's just an average defensive rebounder, ranking in the middle of the pack in this category amongst ACB and Euroleague power forwards. He has been improving as the year has progressed but is somewhat limited by his average athleticism (by NBA standards) in this area. He also doesn't appear to be a great passer, handing out just 16 assists in 470 minutes this season (or one every 29 minutes he's on the floor).

The biggest drawback from an NBA standpoint is in the likelihood a team will actually be able to bring him over. Mirotic was brought to Spain (from Montenegro, by a Real Madrid scout) when he was just 15 years old and signed a nine-year contract (which has since been redone) with unfavorable terms, as many young players in Europe often are. He still has two more seasons (after this) on his current deal, with a buyout clause that exceeds $2 million, which could be prohibitive for a NBA team.

Further complicating the situation is the fact that Mirotic was the recipient of an incredibly valuable Spanish passport last summer, making his value in Spain infinitely higher with the restrictions the ACB places on signing import players. With the way Mirotic is playing at the moment, it's likely that his contract will be restructured to allow him to earn closer to market value. That will likely involve making his exit clause even more prohibitive, not less, though.

From speaking to members of Mirotic's camp, it doesn't appear that he has a burning desire to leave Spain anytime soon, and it's not even a sure bet that he will be entering this year's draft. He reportedly is more focused on winning championships, becoming a top-level player in Europe and securing his family financially before leaving for the NBA.

This situation will surely play out over the course of the next few months, something that we'll be keeping close track of.

[Read Full Article]

---
European Roundup: Rabaseda Rolling for Fuenlabrada
December 10, 2010
Last time we glanced over the ACB, we noted that Nikola Mirotic had not been seeing consistent action for Real Madrid. While he's still battling for minutes, the Montenegrin forward had his best game of the season against Unicaja, scoring 11 points in 19 minutes and providing a major spark off the bench for Ettore Messina. He scored nine consecutive points as soon as he was substituted into the game, including a catch and shoot three to beat the first quarter buzz and a pair of layups resulting from excellent recognition and timing with his cuts. Though Mirotic won't see big minutes for Real this season with their depth, if he can continue playing well and crack their rotation, the minutes he does see will go a long way towards improving his draft stock.

[Read Full Article]

---
Nike Hoop Summit Scouting Reports
April 24, 2010
A player we've written about pretty extensively in the past after his showing at the Nike International Junior Tournament, Mirotic was a player we had high expectations for coming in, and he didn't disappoint. At 6'10 with a big (7'1) wingspan, Mirotic has nice size player and a budding perimeter arsenal. Probably the second best European prospect on the World Select Team behind Enes Kanter, Mirotic was a consistent and productive player all week long.

It was clear all week that Mirotic's time playing with Faymasa Palencia of the very competitive LEB-Gold league in Spain has served him extremely well. He showed the savvy of a veteran operating in half court sets, doing a good job finding the soft spots in the zone the World Select Team worked on each practice, made some nice touch passes in the paint, and showed great timing when cutting to the basket. On the whole, the level of polish Mirotic showed in his game was impressive, especially considering his age.

Still capable of doing damage around the basket as he did at the junior level, Mirotic no longer enjoys the size advantage and skill advantage that allowed him to dominate the NIJT, but has compensated by making some notable strides in his game. He's clearly improved his jump shot, showing the ability to step out and knock down shots from near NBA-range. He still struggles to put the ball on the floor to score, especially with his left hand, but he doesn't force much either. If Mirotic can shore up his ball-handling ability, he could have excellent potential offensively as face-up power forward.

Lacking a degree of explosiveness, Mirotic is a smart defender and uses his size and length well in the passing lanes and on the glass, but lacks the tools to be too effective in one-on-one situations. He plays well within a team concept and doesn't take many risks, but will need to continue developing his frame to ready himself for the more athletic players he's likely to run into the ACB and possibly the NBA in the next few years.

Mirotic's size and budding perimeter skills make him an intriguing draft prospect. While his athleticism will certainly be considered a limitation to some degree, his skill level continues to improve, and by the time he decides to declare, could put him in position to garner a selection. If and when he'll be selected will have a lot to do with what kind of opportunities he'll have to improve. Mirotic may not get a shot to play with Real Madrid next season, but his recently acquired Spanish passport and the possibility that he could be loaned to another team in the ACB both bode well for his future development.

[Read Full Article]

---
Nike Hoop Summit Practices: Day One
April 8, 2010
Nikola Mirotic (height with shoes: 6'10, weight: 226, wingspan: 7'1) had a solid day of practice as well. Despite his terrific size, the Montenegrin prospect spent most of the day running the three in his team's zone offense. Showing good timing and an understanding of spacing running the baseline, Mirotic's professional experience was apparent. Playing for Faymasa Palencia of the LEB-Gold this season, on loan from Real Madrid, he is one of the more seasoned players here.

Showing range, albeit inconsistently, out past the NCAA three point line, Mirotic won't blow you away with athleticism, but is a capable scorer with good touch. He's improved his ability to finish with his left hand around the rim and is obviously working on his perimeter repertoire.

[Read Full Article]

---
L'Hospitalet 2009: Mirotic Makes History
January 8, 2009
In case he wasn't impressive enough in last year's edition, Mirotic made history in the tournament, becoming the first player ever to win back-to-back MVP awards and setting an all-time record 84 efficiency points in a single game.

You've read correctly, 84 points of evaluation, distributed in 35 points, 23 rebounds, 2 assists, 9 steals and 6 blocked shots. It happened during the final day against FMP Zeleznik. Unfortunately, it was a consolation game played in another facility while the main arena was hosting a semifinal, so there are virtually no witnesses besides his agent, officials and the crew from both teams.

However, there are doubts about the reality of his stats, and indeed the organization itself distributed a press release voicing them. For starters, while the box-score shows a perfect field-goal line, the player himself remembers to have missed a few shots or to have been blocked once. The steals figure is also extremely doubtful, since he gets credit for the team's whole amount (almost an unheard of fact) while his agent admits that Nikola might have been awarded with some steals where he just tipped the ball but didn't secure it.

Still, it's an unbelievable statistical effort, perhaps possible given the fact that Mirotic played mostly near the basket, using his impressive footwork, feel for the game and ability to finish around the basket (noticeably improved when we talk about his left hand), to score with high-percentage shots.

Indeed we missed some more perimeter and face-up game. We didn't witness any shots after a pump fake and a dribble, which was a very common feature in his repertoire. He wasn't also particularly prodigal putting the ball on the floor, especially compared to last year. Mirotic is not what you would call an athletic or explosive player, and often struggles taking his man off the dribble, but it would be wise to keep working on his entire game, because he's not that tall in order to focus only (or mainly) on his post skills.

While his weakest spot was again his defense (he just doesn't put that much effort there), Mirotic impressed with his terrific hands and nose for rebounds. Also notable was his passing game or his ability to block shots, especially given the fact that he's not a leaper. It's just about positioning, length and timing.

All in all, even if he's not a top NBA prospect given his lack of athleticism, he's an incredibly skilled guy with a superb feel for the game and intelligence to get the job done.

[Read Full Article]

---
Euroleague Final Four: Nike International Junior Tournament
May 11, 2008
Mirotic came to the Nike IJT bearing some very high expectations after his outstanding showing last January in the prestigious L'Hospitalet Tournament. And while he wasn't quite able to live up to them, he wasn't a disappointment either.

Mirotic again showed his excellent ability to operate facing the basket, mostly to put the ball on the floor with his dominant left hand, knock down 3-pointers, and shoot turn-around jumpers. He has an excellent feel for the game, a high skill level, and is extremely aggressive trying to make things happen for his team.

He struggled a little bit trying to adjust to the presence of brand-new teammate Ryan Richards (which forced him outside even more), and looked a little predictable at times using strictly his left hand. He has good length and a decent frame, but doesn't enjoy the upside of some of the other big men here due to his limited athletic ability. He had trouble defending the pick and roll, showing poor lateral quickness, and seemed to lack some quickness and explosiveness to get himself high-percentage looks at the basket on a regular basis. This probably wasn't the best weekend he's had, but some scouts we talked to who were very familiar with him said it will take a lot more than this to erase the excellent impression he left at L'Hospitalet a few months back.

[Read Full Article]

---
L'Hospitalet 2008: Balkan Dominance
January 13, 2008
A well-deserved tournament MVP, Mirotic delivered a clinic of skills for a big guy. It's impressive the outstanding array of moves he can display on the offensive end. Sometimes it seemed like he had an endless bag of tricks under his sleeve to get the job done. However, he also suffered for some stretches against the physical defense of Zeleznik.

Mirotic is a finesse player, obviously extremely skilled, and very versatile. Pretty long, he stands around 6-10 right now, but doctors have reportedly projected him to grow up to seven feet. His frame, even if not the best around, is decent, but he's still pretty much a skinny guy. He neither stands out by possessing outstanding athleticism, but he shows very nice mobility on the floor, actually displaying more than enough for a guy of his characteristics. He is very coordinated and is blessed with terrific hands, which makes everything easier for him.

It's hard to think about any single skill he should feature on the offensive end and doesn't; perhaps a better use of his left hand finishing around the basket. Anyway, in the junior category, he's as much of a face-up guy as a back-to-the-basket player. He can effectively shoot the ball with range out to the three-point line, and can even fire off the dribble. If necessary, he uses pump fakes to unbalance his opponents (or double pump fakes) and puts the ball on the floor with both hands with impressive ease to attack players even smaller and quicker than him. He also showcases excellent footwork in the low post, and has solid footspeed and a soft touch to put the ball in the net. Mirotic is an able passer either with kick-outs off penetrations or from the low or high post. He also runs the floor very well, and is a guy who almost always stays under control.

Real Madrid is wisely encouraging his versatility by allowing him to do virtually anything on the court. And he does, filling the whole entire floor, so he's as soon working in the lane he just as easily be in the high post or behind the arc. Actually, he took the ball up-court himself several times, but he still doesn't force the issue and never crosses the line of an individualistic player.

The biggest hole in Mirotic's game is his defense, and it's not even that serious. He could eventually intimidate smaller opponents thanks to his length, also coming up with some steals, but he's not the most intense guy in this regard. However, he's a solid rebounder that takes advantage of his hands, length and positioning.

Anyway, Mirotic has emerged as one of the very top prospects born in 1991 and beyond, certainly for the international game, but likely with NBA potential as well.

[Read Full Article]

---