Thaddeus Young
Recent Tweets
All Tweets
DraftExpress: Interesting comparison. Young is a mismatch nightmare at the 4 in the NBA right now RT @JFuller_903: Poythress seems like Thaddeus Young 2.0
2012-03-28 10:31:22
DraftExpress: Is Joakim Noah that much of an offensive liability that you won't even consider throwing him the ball while being guarded by Thaddeus Young?
2011-03-28 09:46:13
Top 25s - Full List
Team: Nets
Physicals
Positions
Rankings
Salary
Misc
H: 6' 7"
W: 210 lbs
Bday: 06/21/1988
(27 Years Old)

Current: SF
NBA: SF
Possible: SF/PF

RSCI: 6

Agent: Jim Tanner

High School: Mitchell
Hometown: Memphis, TN
Drafted: Pick 12 in 2007 by 76ers
Best Case: Antawn Jamison
Worst Case: Donyell Marshall

Predraft Measurements
| Year | Source | Height w/o Shoes | Height w/shoes | Weight | Wingspan | Standing Reach | Body Fat | No Step Vert | Max Vert |
| --- | --- | --- | --- | --- | --- | --- | --- | --- | --- |
| 2007 | NBA Pre-Draft Camp | 6' 5.75" | 6' 7.5" | 210 | 6' 11.5" | 8' 10" | 4.9 | 34.5 | 37.0 |
| 2006 | Hoop Summit | 6' 7" | NA | NA | 7' 0.75" | 8' 8" | NA | NA | NA |



Basic Per Game Statistics

- Comprehensive Stats - Statistical Top 25s
| Year | League | Name | GP | Min | Pts | FG | FGA | FG% | 2Pt | 2PtA | 2P% | 3Pt | 3PtA | 3P% | FTM | FTA | FT% | Off | Def | TOT | Asts | Stls | Blks | TOs | PFs |
| --- | --- | --- | --- | --- | --- | --- | --- | --- | --- | --- | --- | --- | --- | --- | --- | --- | --- | --- | --- | --- | --- | --- | --- | --- | --- |
| 2015/16 | NBA | Thaddeus Young | 17 | 31.4 | 15.7 | 7.2 | 13.5 | 53.7 | 7.2 | 12.9 | 55.7 | 0.1 | 0.6 | 10.0 | 1.2 | 1.9 | 60.6 | 2.5 | 6.3 | 8.8 | 1.5 | 1.5 | 0.5 | 1.6 | 2.6 |

Player Page&nbsp&nbsp| Player Stats | Mock Draft History | Related Articles&nbsp&nbsp| Add to My Draft Express&nbsp
&nbsp
NBA Scouting Reports, Atlantic Division (Part Five)
August 18, 2009
Overview:Talented young lefty combo forward with excellent physical attributes. Undersized for the power forward slot, where he has seen most of his playing time thus far, but has the length and athleticism to compensate defensively and still emerge as a bigtime mismatch on the offensive end. Extremely fluid, explosive player who out-quicks opponents on a regular basis with his terrific activity level. Has a knack for making plays, even if his skill-level is still a work in progress. Very effective on the defensive end as well. One and done out of Georgia Tech, drafted at the end of the lottery and looked like a very nice find for Philadelphia in their up-tempo offense. Quickly became a 15 point per game scorer in his second NBA season, and is still just scratching the surface on his potential at age 21. Work ethic, intangibles are reportedly outstanding.

Offense: Versatile offensive player who is extremely efficient, yet still lacks polish on his all-around game. Knows his limitations and for the most part sticks to what he does best. Shoots a high percentage inside the arc, and makes a respectable amount of his outside attempts as well. Excellent in transition, regularly beats opponents down the floor. Very effective facing up from the perimeter and blowing by his opponent thanks to his terrific first step. Has all kinds of nifty spin-moves and pivots in his arsenal, as well as the touch to convert tough shots around the basket. Can post-up a bit, mostly by using his quickness to get around defenders, has a very nice jump-hook he likes to mix in with a variety of scoop shots and floaters, which he again can convert impressively. Not the most advanced ball-handler in the world, struggles changing directions with the ball and possesses very little ability to drive or finish with his right hand. Doesn't get to the free throw line much. Makes a respectable percentage of his 3-pointers, albeit on just a few attempts each game. Has somewhat of an ugly, flat-footed stroke with a fairly slow release, not all that different from many left-handed players. Still expanding the range on his shot, but has made serious strides in that area. Not bad at all with his feet set, and capable of making some shots off the dribble. Seems to have the touch to develop into a solid perimeter shooter in time, which will only augment the rest of his fairly versatile game. Does not turn the ball over much, but is also an exceptionally poor passer.

Defense: Has prototypical tools for a small forward with his terrific size, length and lateral quickness, but has mostly been asked to defend the power forward position, which he lacks a bit of size for. Gets posted up a fair amount, and has some issues at times, especially against bigger, stronger power forwards. Puts a solid effort in, but lacks experience and fundamentals guarding the post. Seems to have many of the same issues on the perimeter, tends to lose his focus and get beaten off the dribble fairly easily. Too upright at times, out of position or flat-footed in others, Young can make plays thanks to his tremendous natural gifts, but he still has a ways to go before reaching his full potential on this end of the floor. He's also nowhere near as good of a rebounder as you might hope considering his length and athleticism combined with the amount of minutes he spends at the power forward position.

[Read Full Article]

---
Las Vegas Summer League Day Two
July 13, 2008
Young built on a 27 point debut with another very strong outing today. He's arguably the most physically gifted player in attendance, sporting great strength, speed, and leaping ability. His footwork is improving quickly, and he's learning how to change vary his drives to the rim to keep defenders guessing. He changes direction well for a player his size, helping him avoid potential defenders on the fast break. Young had a handful of dunks today where he would evade a defender with a lateral step s the recovered from behind before exploding to the rim. Unfortunately, Young didn't show much development in his jumper today, looking tentative and largely unrefined from the perimeter. A year's worth of experience has done him a lot of good, but he's still a work in progress offensively. On the defensive end, he's made a lot of strides, and knows how to use his length and athleticism to create turnovers and easy scoring opportunities.

[Read Full Article]

---
Mid-West Workout Swing: Day 7 (Julian Wright, Thaddeus Young, etc)
May 28, 2007
Another player who seems to be working just as hard here is Georgia Tech freshman Thaddeus Young. He also passes the "eye test" even more than Wright does probably, with an unbelievable frame and wingspan, huge shoulders, and solid athletic ability. He also reportedly has a similar attitude, although I did not get the chance to speak with him myself.

Young's shooting mechanics are coming along very nicely, showing a high release point, good elevation on his jumper, solid arc, and very nice touch. It is a fundamentally sound shot, although a bit on the deliberate side. When pulling up off the dribble, he's not nearly as fluid as Wright is for example. His shot at times fell very consistently for him, and at times didn't. If he keeps working on it, it should steady out for him.

Young has been working on his ball-handling skills extremely hard in his time here—that much is not hard to tell. He's polished up his technique considerably, to the point that he looks very smooth in the drills. There is a big difference between a "workout handle" and a "game situation handle," when it comes to reacting to unexpected movements and being fluid changing directions and such, but this is something we really weren't able to evaluate due to the non-competitive structure of the workout (like Wright, he did not play in the 5 on 5). Regardless, Young realizes what his biggest weakness is and is working very hard to improve on it. Procopio and Grover say they are most concerned with getting Young to maximize his excellent physical attributes near the basket more than he did in college, and from what they say, he is responding extremely well to their challenges. (Procopio: "I'm wearing a UNLV jersey Thad…show me what you got!"). They both mentioned on more than one occasion how much they enjoy working with him.

Young's uncle, Kenneth Carter, is the one who is handling the NBA draft process for him. He does not seem to be rushing into things at all from what we can tell, saying that Thaddeus "needs to be a top 15 pick for him to stay in." He understands the arguments for and against him staying in, and when we spoke, it seemed like he was still weighing both sides of the argument equally.

[Read Full Article]

---
NCAA Tournament: Stock Watch (round of 64, Friday games)--Down/Neutral
March 16, 2007
A disappointing freshman season came to an even more disappointing end in the first round of the tournament, where Young's Georgia Tech team was knocked off behind a poor game by their small forward. He started off the game slow, traveling in the post and missing a mid-range jumper, and then showed those who were watching him for the first time just how underdeveloped his ball-handling skills are by driving with the ball out of control and throwing up a wild shot.

Momentarily, mid-way through the first half, we thought that the light bulb may have finally come on for Young in realizing what his strengths and weaknesses are. He was defended by players who are 3-4 inches shorter than him all day long, and finally decided to take them into the post and utilize his size and athleticism to do more than just toss up outside shots. Young showed terrific quickness and a beautiful left-handed jump-hook off a pretty spin move, and then received the ball again in the post the next time down the floor and was immediately fouled.

That was the extent of him playing up the strengths for the day, though, as he immediately faded back onto the perimeter and did a whole lot of nothing for the rest of the game, going back to his mid-range game. He settled for a long-range jumper off the dribble that he missed badly, and then had his next attempt blocked after curiously trying to get fancy with the ball for no particular reason.

Defensively, Young looked clueless in Georgia Tech's zone like his entire team, not showing great awareness on rotations and getting burned by smaller and quicker players off the dribble repeatedly. Towards the end of the game, Coach Hewitt decided to keep his two least trustworthy defenders, Anthony Morrow and Young, on the bench when he could play offense/defense between possessions, which is quite telling in itself. He did a particularly poor job helping out on the glass against a team that Tech clearly should have dominated in the rebounding department, finishing with only 4 easy rebounds and not doing a good job at all of keeping UNLV off the offensive glass, particularly down the stretch where they essentially lost the game.

All in all, Young needed a much better game than this to show that his lofty high school rankings weren't for naught. He didn't have that, and clearly needs to return to school to polish up his perimeter game if he doesn't want to get exposed once his game and season really gets dissected on tape by decision makers.

[Read Full Article]

---
NBA Draft Stock Watch: Conference Tournament Week (Part One)
March 12, 2007
In his lone appearance in the ACC tournament, an exhausting double overtime thriller that we had the pleasure of taking in personally, Thaddeus Young broke the ACC freshman tournament record by pouring in 30 points in 42 minutes of action. It was a career high for Young, and certainly the best game we've seen him play as a collegiate. 22 of his points came after the first half, and many of them were extremely timely baskets that kept Georgia Tech in the game against a pesky Wake Forest team that almost no one thought had a chance at winning.

Young's jumper was the story of this game, hitting 3 of his 6 3-pointers and connecting on a number of attempts from mid-range, both coming off curls and pulling up. He did not create much offense off the dribble due to his poor ball-handling skills, but did a nice job staying active moving off the ball and running the floor in transition. On one occasion he showed his upside by taking two massive strides from the baseline towards the basket and finishing with a gorgeous scoop shot on the reverse. He looked extremely confident throughout the game and played with a real swagger, something we've missed from him in the past, getting into a groove and looking to take on plenty of responsibility as the focal point of his team's offense. It would have been nice to see him use his length, size and athleticism better in the post and around the hoop, but all in all this was a terrific performance from Georgia Tech's highly touted freshman, although it was in a losing cause being upset by the worst team in the ACC.

[Read Full Article]

---
Striking While the Iron is Cold? Thaddeus Young
February 25, 2007
Thaddeus Young, as unique a prospect as any in the 2007 NBA draft, in all likelihood would have been a lottery pick last year had he been allowed to put his name in the draft. Rumored to be strongly considering entering the draft this year, although that could still go either way according to people with knowledge of the situation, in DraftExpress's opinion, Thaddeus Young should strongly consider returning for his sophomore year.

An extremely well regarded prospect coming out of high school, Young is, in many respects, meeting the expectations that were set for him. Statistically speaking, he is performing well, averaging 13.7 points per game for Georgia Tech. But this is due more to outstanding natural talent than anything else.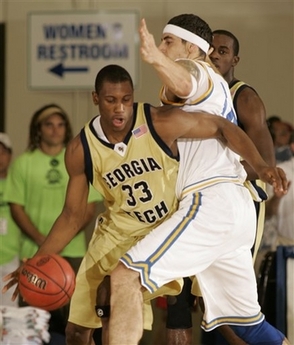 AP



What's odd about Young's situation at Georgia Tech is that he couldn't be doing a better job exposing his weaknesses if he tried. Young entered college with the mindset that, barring the age limit, he would have entered the draft already, and therefore decided in advance to spend this year polishing up his perimeter game before claiming his spot in the NBA.

With that in mind, Young decided to go to Georgia Tech, largely on the premise/promise that Paul Hewitt would play him exclusively at the small forward position. That promise has been 100% fulfilled, even though it is clearly not in the Yellow Jackets' best interest. The problem is scouts and opponents found out almost immediately that there isn't much of a perimeter game to polish right now, and Young hasn't left any doubt about that throughout his freshman season, with his insistence on camping out on the perimeter.

For the most part, Young's desire to play on the perimeter, and abandoning his biggest strengths his size, length, raw strength, hands, touch, and explosive leaping ability, has exposed every deficiency in his game in terms of the next level. Georgia Tech's fairly slow tempo doesn't help him out much either, as he is clearly a guy that would thrive playing power forward on an up-tempo team like Arizona.

Advanced statistics taken from breaking down almost all of Georgia Tech's games show that only 7.8% of Young's offense comes from the post, compared with over 35% from spot-up shots and over 17% on isolation situations. All too often, Young is uninvolved in Georgia Tech's offense, as he's caught hanging out on the perimeter, waiting for others to create spot-up shots for him. This contributes to making the Yellow Jackets' half-court sets look painfully stagnant and unimaginative. Of course, Javaris Crittenton's insistence on dribbling the ball for 25 seconds or more on any given offensive possession certainly doesn't help matters either.

Young is, however, a solid shooter with his feet set, as evidenced by the 39% he is averaging from behind the arc so far this season. He needs time to get his shot off though, due to his fairly slow, deliberate release, which includes too much wasted motion. When forced to shoot the ball quicker than he'd usually prefer, his percentages drop. This is particularly noticeable when shooting on the move or off the dribble, as Young has a tendency to let his body flail out as he's setting himself up for a quick shot, which stops him from maintaining a consistent release point. This, combined with his poor ball-handling skills, is the main reason why Young does not have any real mid-range, pull-up game to speak of.

Another reason Young hasn't been able to capitalize on much of his talent lies in his poor ball-handling skills. A natural lefty, Young is an average ball-handler with his left hand, but with his right, he's downright mediocre. The ball slows him down considerably-- in both half-court sets and in transition-- and nullifies any chance he has of exploding to the basket off his already underwhelming first step.

Breaking down tape on his entire season so far, poor ball handling has also been the main source of many of Young's turnovers on the year, whether through traveling, dribbling the ball off his foot, offensive fouls, palming violations, or just exposing the ball to his defender and seeing it swiped away.

Young's lack of a right hand also hinders his finishing ability. Young avoids going to his weaker hand virtually at all costs, and when presented with an opportunity to finish cleanly with his right hand at the basket, he'll instead make things more difficult by switching to his left hand in mid-air.

The lack of a right hand has made it easier for teams to defend Young, as they position their defenders to his left, daring him to go to his weaker hand. This, combined with his absolute refusal to go into the post and utilize his excellent natural tools to his advantage, is the main reason why he's averaging just two free throw attempts per game, a stat that puts him at the absolute bottom of this draft class in that category.

Young also appears to lack a certain amount of toughness. It is not unusual to see him avoid contact in the post, where he already struggles due to his unrefined footwork.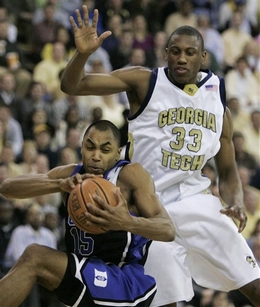 AP


Defensively, Young doesn't look much closer to being a full-time wing player either at this point. At times, he'll get down in a fundamental stance and use his outstanding length to really bother his matchup. All too often though, he gets caught flatfooted on the perimeter as a 6'4" or 6'5" college small forward drives right by him. His defensive effort needs to improve, as does his awareness of where he is on the floor in relation to his matchup, particularly when defending the pick and roll. Young has shown excellent hands getting in the passing lanes on occasion, but like all of Georgia Tech's young squad, has generally been very inconsistent defensively.

The Upside:

Despite what this report might lead you to believe, not all is gloom and doom when looking at Young's overall NBA potential. He has quite a few things working in his favor, which are mostly the things that can't really be taught. For one, his physical attributes are very good, starting with nice size at 6-8, an excellent wingspan (7-1), an NBA caliber frame that will surely fill out, and solid, but not freakish athleticism.

His hands are absolutely terrific, he has a gorgeous floater and jump-hook shot he can hit with his left hand out to about 12 feet, and combining this with his physical attributes and very soft touch around the rim leads us to believe that he has much better potential as an inside scorer than shown so far. Young is also a terrific offensive rebounder, as his combination of hands, an extremely quick 2nd bounce and a real nose for a ball allow him to grab nearly as many offensive rebounds as defensive.

When focused on playing up to his strengths, for example cutting to the basket and finding open spaces in the defense to pick up easy points, he's at his best.

If you're looking for an NBA comparison, think Antawn Jamison. Physically, Young is similar to Jamison, particularly in the way he hits the offensive glass. Jamison needed time and experience to develop his all-around game, particularly his perimeter skills, since he was always considered a tweener for the NBA. Had Jamison left North Carolina following his freshman season (where he averaged 15 points per game), he probably would have been a first round pick, but it's very hard to say whether he would have developed into the player he is now. Young can get there too, but he'll have to be patient about it.

Right now, Young is extremely far away from being a complete basketball player, and it's hard to fathom what a few years of rotting on an NBA bench will do for his overall development curve. For whatever reason--maybe his somewhat deceiving stats, or his lofty ranking coming out of high school -- he's still ranked very highly on most other NBA mock drafts. Chad Ford of ESPN Insider for example has him ranked as the 11th best NBA prospect in this draft, while nbadraft.net has him slotted 13th.

It's impossible to say who is in the right on this one, because there certainly are some things to like about Young's game and NBA teams tend to draft on potential more than anything else. However, every NBA scout we have talked to has come away disappointed with one thing or another from watching Young play and/or practice this year. This is probably the single biggest reason why the sentiment seems to have moved from "he's definitely one and done," to "we hear he might stay another year".

Conclusion:

It's fairly clear Young has a high basketball IQ, and that if he commits himself to playing up to his strengths and not being something he isn't, he will reach his potential down the road. In our view, given that what Young lacks, basketball fundamentals rather than physical gifts, DraftExpress feel that Young would best be served with another year or Two at Georgia Tech, where he can focus on improving his shooting, ball handling and weak hand before entering the NBA

If just "making" the NBA is Young's goal, then he probably would be drafted this year and, more than likely (but not certainly), in the first round. If it's a long-term NBA career he's after, though, staying in school at least another year, developing his skill-set and learning the nuances of the game would, in our estimation, be the safer route to take.

[Read Full Article]

---
NCAA Weekly Performers, 1/24/07-- Part Two
January 25, 2007
In a much-hyped primetime matchup against North Carolina, fans and scouts alike were able to see both faces of talented freshman Thaddeus Young. For the first 27 minutes of the game, we saw the somewhat disappointing prospect who has failed to live up to the lofty expectations set out for him so many. In the final 13 minutes however, we witnessed the player whom we saw in high school and had pegged as a future top 5 pick, scoring 18 points in this limited time. In the end of the game, we finally got a glimpse of the talented combo forward expected by many to fall behind only Greg Oden and Kevin Durant in this freshman class, even if most of his damage came in what was essentially garbage time.

As the game started, Young looked like a player with little confidence who was seemingly unsure of himself on the floor, where he fit in, or how talented he is. He stood around on offense, didn't crash the glass on either end, and exerted very little effort on the defensive end. Young was beat countless times off of the dribble by both Wayne Ellington and Reyshawn Terry, not utilizing his excellent athleticism or 7'1 wingspan at all. It appeared as we were looking at a talented prospect who had lost all of his confidence, and was just going through the motions on the floor waiting for the game to end so he could head back to Atlanta.

Then in the final 13 minutes, something turned on in Thaddeus Young's mind. He realized that he could take over the game, and that he did, scoring 18 points. The Memphis native showed vastly improved ball-handling skills, a smooth looking three point shot, and the ability to post smaller defenders. He actually utilized his athleticism to its fullest capabilities, blowing by unsuspecting defenders to the rim on the offensive end and giving opposing offensive players fits with his length. He showed just about everything you could ask for out of a small forward prospect offensively besides his ability to pass the ball, as he displayed the ability to shoot the ball (from a standstill, on the move, or off the dribble), post smaller players, and break down wings and finish at the rim.

Of course it is hard to come to any definitive conclusions on Young based on his inconsistent play this year, but the North Carolina game showed both the incredible upside and potential mediocrity that he offers as a prospect. Ball-handling, passing, and perimeter defense still remain question marks on him as a prospect, as he has yet to show the ability to do any of the three on a consistent basis. Paul Hewitt's allowance of the McDonald's All American to start at small forward as of late should do nothing but give him more of an opportunity to develop in these areas, however.

This was just another page in the puzzling story that has been Thaddeus Young's freshman season. On one hand, we see the potential high lottery pick that has scouts drooling all over him as a legitimate combo forward prospect. On the other hand, we saw flashes of the player who has struggled to live up to the lofty expectations placed on him all season long. It was made clear by Young and his family when choosing a college that he intended on staying only one season, but his erratic play this year should bring him back to Georgia Tech for a sophomore campaign, where he would have the opportunity to re-solidify himself as a high lottery prospect. Even if Thaddeus does decide to come out this year though, it is hard to imagine him slipping out of the first round, as teams are probably aware of the tremendous upside that he has at the next level, even if he has yet to fully show it at the collegiate level. There's no question that he's very far from reaching that upside at this point, though, and therefore will be considered a long-term project until he gives reason to believe otherwise.

[Read Full Article]

---
Stock Watch-- Tournament Week (Part Three, Stock Down)
November 29, 2006
Thaddeus Young had a bit of a disappointing first national showing at the college level participating in the Maui Invitational. He made a solid contribution to the Georgia Tech effort, but didn't look like quite the same athlete we saw explode in the Jordan All-American Classic this summer. He's not showing nearly the same explosiveness with his first step off the dribble, and after he was temporarily pulled out of the first game against Purdue with knee troubles, it was reported that he is struggling with tendonitis.

Young looked like he was having some troubles adapting to the college game, looking as if he's yet to find his niche on his new team. He clearly has not stepped into the go-to role yet as many expected him to, but things could change as he becomes more comfortable. Young was getting his shot attempts in a variety of ways; he was posting up, getting offensive rebounds, taking defenders off the dribble, and shooting outside jumpers. He looked most comfortable posting up and attacking the boards, mainly because his outside shot wasn't falling and his dribble-drive game was not very effective due to his lack of explosiveness. Young's build definitely projects him as a swingman at the next level, and he himself has said that's what he's building his game to be, but he may continue to do most of his scoring inside until he adjusts the rest of his game.

Young had some turnovers troubles and made some bad decisions over the course of the tournament, occasionally pulling up for contested outside jumpers he had trouble consistently knocking down. He has good form on his shot, but he needs to pick his spots better, focusing more on keeping his feet underneath him, not shooting with a hand in his face, and maintaining proper balance during his shot. On his dribble-drive game, Young has a tendency to not protect the ball well, leaving him prone to getting the ball poked away, which further magnified some of his struggles creating high-percentage shots taking defenders off the dribble.

For all of Young's troubles, he still had a pretty good showing, and definitely did some good things. He did have some good scores in the lane, got to the free-throw line, attacked the glass, and did a good job using various combinations of fakes and spins to score in the post. He also did a good job running the floor and scoring in transition.

As Young becomes more acclimated to the college game and his teammates get a better feel for where he's most comfortable with the ball, he should start having more consistent performances and hopefully coming into the role of go-to scorer. One just has to hope that his explosiveness and athleticism return to the levels they were at in the summer, as much of his game is predicated around those abilities. It will be interesting to see how Young continues to adapt to the college game, and if his explosiveness returns.

[Read Full Article]

---
What If? 2006 High School Class Boasts Several One and Done Candidates
June 21, 2006
Georgia Tech's biggest recruit since Chris Bosh, Young is the prototype NBA small forward prospect. Smooth and shifty, he does a little bit of everything. He can break people down off the dribble, defend the perimeter, hit the outside jumper, and effortlessly runs the floor. Young is left-handed, and the way he creates for himself and finishes around the rim may remind some of Lamar Odom. "He puts the ball on the floor very well as a slasher, and defends well on the perimeter," said Meyer. He has an impressive frame for his age, and recently played very well at an international tournament in Douai, France. Even at this early stage Young has no glaring holes to his game, but must simply continue to polish his perimeter skillset. His jumper can become more consistent, and his ball-handling probably needs to improve a bit. Nonetheless, Young's all-around game is already there; if he asserts himself as Georgia Tech's top option and leads the Yellow Jackets back to NCAA Tournament, a spot in the lottery likely awaits him at season's end.

[Read Full Article]

---
High School Allstar Games Recap: Player Interviews
April 25, 2006
DraftExpress: What did you think of your performance in today's scrimmage?

Thaddeus Young: I think I played ok. I didn't do very well on the offensive side, but I played good defense, got a couple of steals, played the passing lanes, and pretty much contained my man.

DX: What do you think you need to work on the most heading into the NCAA?

TY: Everything. You've got to work hard at everything, in every aspect of your game, just take your hard work in there.

DX: What position do you project yourself at?

TY: Small forward, shooting guard.

DX: I've been told you were planning to head to the NBA this year if not for the new draft rules, is that true?

TY: If I was gonna be a top 10 pick, I was gonna go.

DX: So you would've tested the waters, basically?

TY: Yeah. If I would've known I was a top 10 pick, yeah.

DX: Do you plan to leave after your freshman year at Georgia Tech?

TY: It all depends, you know. If I have a good first year and I'm projected as a top 10 pick and I know I'm going to go in the top 10 in the draft, I'm going, but it's not really a big deal right now.

DX: What were your reasons for choosing Georgia Tech?

TY: Basically because of the coach there, the players, the city, the school, most of all the great academics, and it's in the ACC.

DX: Many people think you could come in and help turn the team around quickly. How much of an impact do you think you will have your first year?

TY: If I come in and work hard, and get used to how the ACC players play and how the college stuff goes, I think I'll be a big impact to the team and conference. We have a good class coming in, though, so it's not just me.

[Read Full Article]

---
At the Jordan Classic: Main Event and Regional Game Recaps
April 24, 2006
Thaddeus Young had a very impressive performance, making some mistakes along the way, but also showing off the total package of his game, to go along with his ideal attributes for an NBA swingman. Young has an excellent combination of strength, length, quickness, and athleticism, to go along with a versatile skillset including dribbling, outside shooting, and slashing. Young may not be able to finish a lot of his drives, or hit all of his shots, but he often creates high-percentage shots in the lane and has good form on his shot. With some work, the rest will just come in time, at which time you'll have a tremendous player on your hands.

In the game, Young attacked the rim relentlessly both with and without the ball, getting to the free-throw line frequently, scoring plenty around the basket, and pulling down 10 offensive rebounds. Young's most effective move is a crossover on the baseline, which he uses to get his man off balance before driving past him, then either going up strong or using his length and hangtime to put up a reverse off the glass. Young knows how to use the glass on his lay-ups, doing so a fair share of times in this game. He also showed off a nice spin move and showed a good understanding of protecting the ball on his drives, showing the ability to switch hands in mid air and use his body to shield out defenders. Young missed a noticeable amount of lay-ups in the game, but was always relentless in going back up for the tip-in, getting plenty of putbacks in the process, some of which were emphatic dunks. Young finished well in transition, too, getting ahead of the break and catching an alley-oop that he threw down or just going in himself for a thunderous dunk.

Young occasionally tries to force the issue with the ball, sometimes getting himself into trouble when driving, so this is something he should probably work on. He's only shown his outside shot a handful of times here, so maybe that's something he needs to develop more confidence in. Young did hit one three-pointer in this game.

Regardless, Young is a tremendous prospect, and if he just continues to work on all areas of his game, he has the potential to develop into a very versatile swingman in the NBA. He definitely has some star factor to his game, and we'll likely see him in the NBA sooner rather than later. Many suspected he would've declared for the draft this year if not for the new age limit rules. In talking with him, he said he'll likely declare following his freshman season at Georgia Tech if he would go in the top 10. Even with next year's strong draft class, that's definitely a possibility.

[Read Full Article]

---
At the Jordan Classic: Friday Scrimmage
April 22, 2006
Thaddeus Young had an on-and-off game on the offensive end, making some things happen taking it to the basket but also committing a few turnovers in the process. Young's nicest move in the scrimmage was a baseline drive in which he used a crossover dribble to get his man off balance, then his quick first step to get past him, and then finishing it with a reverse lay-up off the glass. Young had some other occasions where he got the step on his man but couldn't finish at the rim, to go along with two plays where he turned it over driving either by traveling or losing the ball. Young missed his only jump shot attempted, a pull-up mid-range shot. Young also had some finishes in transition, to go along with a missed dunk attempt following a steal he had mad on the other side of the court. Defensively, Young was playing hard, almost drawing a charge on Kevin Durant on one play when they were matched up.

[Read Full Article]

---
2006 Nike Hoop Summit Game Recap
April 10, 2006
Young had a quiet game for the most part, but showcased some of his skills that make him as good of an NBA prospect as anybody from the Hoop Summit. Young made a 7 foot shot early in the game, followed by a nice turnaround jumper. He played outstanding defense when matched up against Luigi Datome of the International squad, who was probably the most experienced player in the game. Young displayed everything from his three point range to his outstanding athleticism on a dunk in the second half. At times in the game, it seemed like Young tried to do too much going to the hoop in traffic, which lead to some turnovers, but he made up for it by making a few unselfish passes in transition. He was playing in his home town, and may have felt some added pressure to produce. Young has a great combination of athleticism, shooting touch, mid-range game, and slashing ability that make him a very good long term prospect. He will get to play at the small forward at Georgia Tech, and possesses great size and length for a prospect playing the 3. During his freshman season, Young will need to work on his consistency with his outside shot, as well as putting on some weight. If he can continue to improve, there is no reason to think Thaddeus Young won't be a lottery pick some day.

[Read Full Article]

---
2006 McDonald's All-American Game, individual player breakdown
March 30, 2006
The Georgia Tech recruit showed why most have him ranked as the third best player in the country (behind Oden and Durant), as he showed off his full package of skills in San Diego Wednesday night. The 6'8 wing put the ball on the floor well, posted smaller defenders, and forced Kevin Durant into some extremely tough shots. With his size and skill package, Young has the ability to play both forward positions, although he made it clear that he will be playing small forward primarily at Georgia Tech. He will surely be an immediate impact player next year at Tech if he is able to bring the silky smooth game that he showed tonight with him.

In Young's case, the NBA age limit hurt him dearly. He stated at his press conference when he picked GT that had the NBA's age limit not had been put in place, he would have definitely entered the NBA Draft out of high school. Thaddeus and his father also mentioned that they were looking for schools that would take their son under the condition that he would very likely only play one year, so obviously Young is a player that we must keep our eyes on closely next season, as there is a strong possibility of him declaring for the draft if he has a strong year for Georgia Tech.

[Read Full Article]

---