Day Two of the Reebok Eurocamp in Treviso featured a full morning of drills followed by an evening session with three games. The last and most interesting one pitted some of the top young prospects at the camp against a group of American high schoolers (including
William Buford
and
Malcolm Lee
) as well as the surprise of the day,
Bill Walker
.
Rudy Mbemba, 6-0, Point Guard, 1987, Frankfurt Skyliners, Sweden
2 games Total: 15 points, 7 rebounds, 13 assists, 5 turnovers, 4 steals, 53 minutes, 4/6 2P, 2/7 3P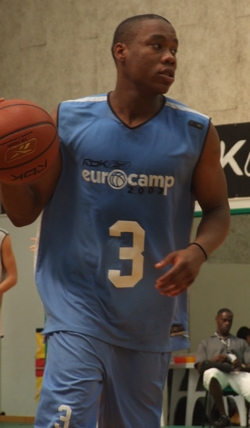 Jonathan Givony
This was an up and down day for the Swedish waterbug, playing two games—one with his RBK Eurocamp team, and one as part of a contingency of all-stars matched up against an American team highlighted by
Bill Walker
,
William Buford
and
Malcolm Lee
.
On one hand Mbemba made some excellent passes igniting the fast break with terrific homerun style outlets or setting up his big man nicely with bounce passes off the pick and roll, also picking up some assists on the drive and dish. On the other hand, he also had a quite few pointless turnovers, dribbling into brick walls with little purpose or forcing tough passes that just weren't there. His decision making is still way behind his terrific athletic ability, which allows him to beat his matchup almost whenever he pleases.
Those here who are calling him an undersized shooting guard are sorely mistaken, though…this guy is definitely a point guard through and through, although he is still a ways to go in terms of his polish and overall experience. He only knows how to play at one speed—and that is 100 miles an hour. He does have an incredible extra gear he can go to when needed to get himself into the lane, and will rise up and attempt to throw down a thunderous jam if given the opportunity to do so. Comparing him with American college point guards his age, he doesn't seem to be quite that far off from a player like
Ty Lawson
for example.
Mbemba also played very strong defense thanks to his excellent combination of strength and lateral quickness, even though he gambles quite a bit for steals. He also scored on occasion with a strong drive or a smooth looking pull-up jumper, either from mid-range or from behind the arc. So far, he's easily one of the most intriguing guys found here.
---
Rodrigue Beaubois, 6-0, Point Guard, 1988, Cholet, France
2 points, 3 rebounds, 1 assist, 0 turnovers, 1/1 2P, 0/3 3P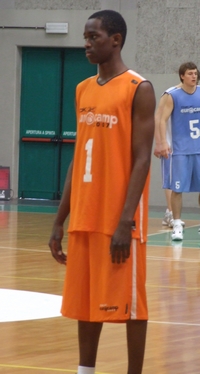 Continuing with the intrigue that he showed yesterday,
Rodrigue Beaubois
played just 10 total minutes today (besides the drills), but persisted in showing off the many tools that keeps scouts around us very interested. He used his phenomenal wingspan to wrap up whoever he was guarding, particularly the very athletic
Rudy Mbemba
who got very passive once Beaubois' arms were draped around him. He also showed nice instincts being in the right place at the right time to come up with an offensive rebound or loose ball, finishing with a floater at one point or making a very nice drive and dish play on another. His ball-handling could still stand to improve it seems, as could his perimeter shot which looks fairly streaky from the little we've seen. Beaubois was on the camp all-star game roster tonight, but did not dress for some odd reason.
---
Marco Belinelli, 6-5, Shooting Guard, 1986, Climamio Bologna, Italy
17 points, 1 rebound, 2 assists, 5 turnovers, 2 steals, 3/5 2P, 1/3 3P, 8/8 FT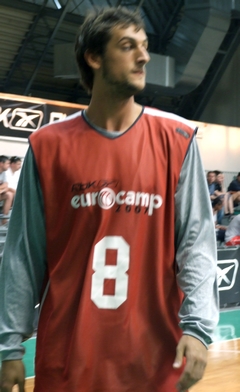 Jonathan Givony
Considering that this was his last day here before flying out to workout for the Washington Wizards on the 12th, we made sure to pay extra attention to the exploits of the highest rated 2007 draft prospect at the camp. The end conclusion was that he certainly seemed to play better than he had the day before, even if it still didn't seem like he really wanted to be here from his body language.

Belinelli made much more of an effort to attack the basket by putting the ball on the floor, drawing eight fouls for his effort as well as picking up 5 turnovers in the process. He showed a very nice first step and decent ball-handling skills, dunking the ball emphatically in transition (reminding us of his excellent athleticism), and also causing some foolish turnovers.

He mixed in his shooting touch quite a bit on the way, shaking his man violently and executing some very complex off the dribble fade away moves, contorting his body exaggeratively to make things probably more complicated than he needed them to be. His stroke is a thing of beauty when he decides to set his feet and follow through on the simple catch and shoot, as he did quite nicely on one opportunity when left wide open. In the NBA 3-point shooting drills Belinelli wasn't quite as good as you may have thought, going 3/10 on the first series and then 7/10 on the next.

All in all, this probably wasn't the kind of camp Belinelli needed to really push his stock higher than it was coming in here. He's a solid player, but pulling out of the draft and working on having a much better year next season (both individually and team-wise) doesn't sound like that bad of an idea anymore.
---
Miroslav Raduljica, 7-0, Center, 1988, FMP Zeleznik, Serbia
2 game total: 9 points, 2/6 FG, 5/6 FT, 9 rebounds, 2 turnovers, 28 minutes
Luis Fernandez
This was a tale of two games for 19-year old
Miroslav Raduljica
, one of the stars of the U-18 European Championship this past summer. The first game saw a very passive and hesitant big man who struggled to make any kind of impact on the game, while the second saw a much more active version who openly looked to crash the glass and hit a few nice mid-range jumpers. Raduljica's hook shot isn't looking quite as good as it did this past summer, as he struggles to get it off against big men who have similar size and bulk as him. Raduljica is a big boy despite his age, showing a very nice frame and pretty good mobility getting up and down the court, but he hasn't quite stood out in any one area yet. He clearly has a lot of potential, but still is a ways from showing that there is a good reason why his name is currently in this year's draft.
---
Joao Gomes, 6-7, SG/SF, 1985, Barriense, Portugal
10 points, 3 rebounds, 2/4 2P, 1/3 3P, 3/6 FT
Jonathan Givony
This was a decent first game for
Joao Gomes
, although nothing quite to write home about at this point. He made some athletic moves to the basket, showing average ball-handling skills but plenty of aggressiveness to make his presence felt, and also showed nice touch on his jump-shot .His defense was very solid, mostly thanks to his quickness and solid upper body strength, but also due to his excellent activity level. This writer's first impression from seeing him outside of the film we evaluated was that he's a solid prospect with good potential, but just an average feel for the game. We'll see how he bounces back tomorrow.
---
Marko Keselj, 6-9, SF/PF, 1988, Akasvayu Girona, Serbia
2 Game Totals: 7 points, 4 rebounds, 1 assist, 8 turnovers, 2/2 2P, ¼ 3P, 30 minutes
Jonathan Givony
The biggest disappointment of Day Two could very well have been the play of highly touted prospect
Marko Keselj
. The young Serbian forward has been rotting on the bench of extremely rich ACB league club Girona all season long, and looked completely out of sorts against the level of competition he faced in two games today. His ball-handling skills showed the most reason for concern, not being able to create his own shot without barreling into a defender or losing the ball out of bounds. He was way off on most of the 3-pointers he took as well, and didn't do much in other parts of the game to make up for his poor offensive display. Hopefully Keselj can bounce back tomorrow, because he surely didn't do much for his draft stock today.
---
Bill Walker, 6-6, Small Forward, 1987, Kansas State, USA
10 points, 3 rebounds, 2 steals, 3-7 2P, 1-4 3P, ¼ FT, 17 minutes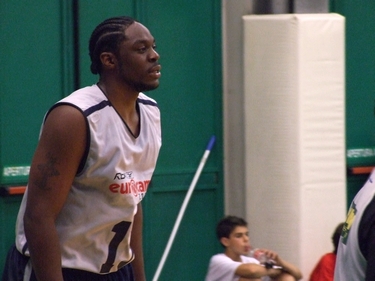 One of the more bizarre spectacles of Day Two of the Treviso Eurocamp was the sudden appearance of Kansas State freshman Bilk Walker, seemingly out of nowhere. Walker tore his ACL six months ago or so, and obviously was not expected to be a part of this prestigious international tournament. Here he is, though, 15-20 pounds or so overweight and looking like a complete shadow of himself, missing point blank dunks and being unable to create much off the dribble of his very slow first step. He actually started off the game with a flurry, knocking down one pull-up jumper from mid-range, another from 3-point range, and then an easy cut and finish—all in the span of 90 seconds or so. From that point on it all went south…looking like he really should be back in Kansas doing physiotherapy rather than promotional appearances for a sneaker company, cause this obviously isn't doing anything for his draft stock. We're just hoping he doesn't reinjure himself.
---
Malcolm Lee, 6-4, PG/SG, 1990, Committed to UCLA, USA
12 points, 5 rebounds, 1 steal, 2 assists, 4 turnovers, 3-6 2P, 2/4 3P
Jonathan Givony
Regardless of what the stats might indicate,
Malcolm Lee
was flat-out the most impressive player seen in Treviso in day two of action, bar-none. He looked so far ahead of the players 2-5 years older than him that it wasn't even funny, making it quite scary to imagine how good he'll be in a few years when his body starts to fill out and he finds a true position for himself. What's certain is that UCLA seems to have a future stud committed to them.
Lee is a freakishly quick combo guard with a knack for getting into the paint. He can go left or right equally well, and possesses an outstanding first step and even better body control finishing in the lane. He showed nice instincts finding the open man on the drive and dish, even if he looks to be more of a shooting guard at the moment than the point guard he is listed at on the roster. That might have had to do with the limited minutes he played at that position, though, as the extremely short Isaiah Thomas played 26 minutes and wasn't going to be anywhere else except on the ball.
Lee also has a really nice jump-shot he can go to, either from a static position or pulling up off the dribble. He's also a fantastic defender, putting great pressure on the ball and showing excellent commitment to keeping his man in front of him. He came up with quite a few tips in the passing lanes thanks to his excellent instincts and hands for his efforts.
In terms of weaknesses, the first would obviously be his body. Lee looks very far right now from being anywhere close to physically mature, which isn't a huge surprise considering he just turned 17. He has a very thin frame that will need some bulk before he's able to maximize himself at the college level playing for UCLA. Lee could also stand to improve his ball-handling skills, which is a little bit tougher than for most because of how long his arms are. Lee has a tendency to dribble the ball with his head down, so becoming more aware of his surroundings, particularly if he's indeed going to play the point at the next level, will be a big priority.