The 2008 King James Classic has come and gone, with many of the nation's top prospects showing off their stuff in Akron, Ohio. We take a closer look at three 2010 studs, a UCONN commit who led his team to the championship, and a small playmaker who is bursting onto the national recruiting scene.
Jereme Richmond, 6'6, SG/SF, 2010, Rising Stars
Committed to Illinois
Richmond led his Rising Stars Gold team to the championship game of the King James Classic before falling to Boston based B.A.B.C. Despite the relatively modest numbers posted throughout the tournament (averaged around 12 points per game in the 3 games we took in), it was easy to see why recruiting analysts consider him a top 10 player in his class.
Standing a legit 6'6 and blessed with long arms, he already owns a physical package that not many college seniors can offer. Throw in a frame that could easily add another 20 pounds and a very strong lower body, and it's easy to see why he stands apart from the bulk of other wings in the class of 2010. The Illini commit was forced to play out of position for a large part of the tournament, playing power forward for much of the time that we observed him in Akron due to his squad's lack of size. However, there were spurts of time where he played on the wing and we were able to get a glimpse of the special player he has the potential to become.
The first thing that immediately stood out about Jereme is his outstanding athleticism, especially his ability to finish around the rim. His undeveloped upper body is compensated by his strong legs and explosive leaping ability from a static position, a rarity from a player so young. This power enabled him to finish nearly everything around the rim, whether it be from his own drives to the cup or putbacks from crashing the offensive glass. Not only one to score in the paint, he also showed off a silky smooth jumper out to the three point line and an explosive first step when attacking the rim. The tools boasted by the lanky wing backed up the herald he has received thus far at such a young age.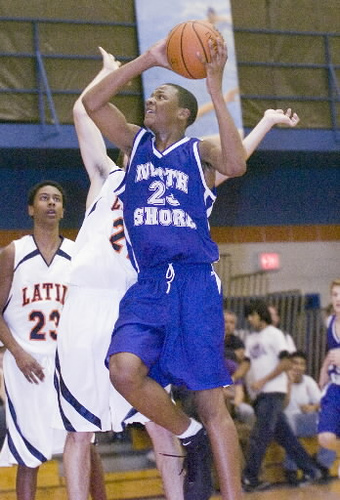 Like many young players, Richmond's ball handling could use a bit of work. He didn't put the ball on the floor more than a few times in a straight line and looked a bit uncomfortable when pressured with the ball in his hands. Consistency issues have also plagued Jereme in the past, especially on the defensive side of the court. While all of the natural tools are there for him to be a very nice defender, he often looks disinterested on this end and relies completely on his athleticism.
More concerning then his weaknesses on the court are those unrelated to the game of basketball. Richmond was thrown off his high school team in February after having a heated argument with his head coach, which was reportedly one of many incidents involving this talented youngster. These issues will ultimately prove to be more crucial then Jereme's game on court game, but
Michael Beasley
has shown that talented players with consistency and character issues can turn things around when placed in the right situations. Having just turned 16 years old, time is certainly on Richmond's side but he will definitely need to resolve these problems if he hopes to live up to the star billing that has preceded him thus far.
Reggie Bullock, 6'5, SG/SF, 2010, CP3 All Stars
Committed to North Carolina
Bullock continued his outstanding play that transcended him from a player outside of the top 100 to being in contention for the top small forward slot in the class of 2010. Playing against peers a year older in the 17-U division had no effect on Bullock, who used his heady game to score in a number of ways. He showed his full repertoire of skills, taking bigger defenders off of the bounce to finish in the paint through a variety of sweet floaters and short jumpers, in addition to his usual slashing dribble drives to the rim. Playing the game with a sense of a player far beyond his age, the North Carolina native tends to make you forget that he is only 16 years old. He seemed to look forward to the challenge of playing against two of New York City's finest in Durant Scott and
Doron Lamb
, volunteering to guard whichever elite guard was in the game and doing an awfully good job of doing so.
The future Tar Heel's ball handling skills looked a little shaky at times, especially when pressured. He is definitely more of a small forward at the moment, and a growth spurt will be needed if he hopes to play that position at the next level. If the North Carolina prep star decides that the shooting guard position is where he will be in college, he will need to improve his consistency beyond the arc and creativity off of the dribble. All of the tools appear to be in place for Bullock to be a nice prospect down the road though, and he will certainly whose progress will be interesting to follow over the remainder of his high school career.
Doron Lamb, 6'4, SG/PG, 2010, New York Gauchos
High major (Connecticut, Louisville, Syracuse, Florida, Georgetown)
The silky smooth Lamb is known as one of the better pure scorers in the class of 2010, and while he didn't have a huge tournament at King James, it's quite easy to see why there has been so much praise surrounding him. Playing strictly on the wing, he is incredibly creative in terms of the ways he can put the ball in the basket. Lamb has a smooth handle that allows him to create space against defenders, whether it be for his gorgeous pull-up or one of his acrobatic drives to the rim. The long guard is able to keep opposing players honest with a respectable three point shot, but the strength of his arsenal is easily his game off of the dribble.

Doron will definitely have to bulk up over the next few years, given his slender 170 pound frame. Considering his lack of size, he will likely have to either grow or transition into being more of a combo guard eventually in order to maximize his potential. While he did show off flashes of playmaking skills at King James, it was tough to evaluate him as a point guard because he was playing off of the ball his entire time on the hardwood. Any way you look at it, Lamb is one of the elite guards that the class of 2010 has to offer, and has a very promising future ahead of him.
Jamaal Coombs, 6'5, SF, 2009, B.A.B.C.
Committed to Connecticut
Coombs led his B.A.B.C. team to the 17-U crown at the King James Classic, knocking off
Jereme Richmond
's Rising Stars squad in the finals. Not standing out in any one facet of the game, he did a nice job of playing within the flow of the offense and scoring points from whatever position his team needed. The Connecticut recruit showed off a strong post game and a nice jumper from the perimeter, whether it be from beyond the arc or from midrange. His strength inside allowed him to score against many of the smaller wings he was pegged against.
On the down side, there wasn't a whole lot of improvement in his ball handling or athleticism since we last saw Jamaal in November. He struggled to get by athletic defenders in the half court situations, given his average first step and lack of creativity off of the dribble. There were mumblings amongst a few insiders in attendance that other schools may want to consider recruiting Coombs, questioning whether or not he will be able to play in the Big East by the time he is set to go to Storrs in 09.
Carl Jones, 5'11, PG, 2009, Ohio Basketball Club
High major (Ohio State, Michigan, Minnesota)
The diminutive guard has been one of the fastest rising players in the country this spring, going from mid-major prospect to having powerhouses such as Ohio State and Kentucky inquire about his services. His ability to put points on the board at King James was unparalleled by any other guard in the field, as shown by his 39 and 34 point performances with Thad Matta on hand in the "Sweet 16" and "Elite 8" rounds of competition. Despite only weighing 155 pounds, Jones aggressively took the ball at athletic seven footer
Dashonte Riley
, finishing near the basket through a series of cradle moves and scoop shots over his more physically blessed opponents. What was even more impressive was his efficient play and ability to score his points within the flow of the offense, rarely taking any questionable shots in the games we took in over the weekend.
Obviously his physical deficiencies will hold him back in the long run from being an elite prospect, at only 5'11 and not exceptionally long. Jones will definitely need to improve on his defense by the time he reaches the collegiate level because he struggles containing the penetration of guards currently at the high school level. Regardless of his weaknesses though, this slender point guard helped himself just as much as anyone at King James with his performance and has solidified himself as a legitimate high major playmaker.