All four teams played on the final day of the 2014 EuroCamp, as well as the adidas USA Select Team, Carleton Universty, and the U20 French National Team.
Adidas Announces 2015 EuroCamp Location
With rumors that the EuroCamp may have been held elsewhere in Europe next year, adidas announced today that the event will once again be held in Treviso, Italy in 2015. Given the proximity to other relevant basketball events taking place at this time of year, NBA teams seemed pleased with the decision.
2014 adidas EuroCamp Measurements and Analysis
2013 adidas EuroCamp Day Two Recap
2013 adidas EuroCamp Day One Recap
2014 adidas EuroCamp Preview and Roster Breakdown
Comments from EuroCamp Director Maurizio Gherardini
EuroCamp director Maurizio Gherardini, who was recently named the general manager of Turkish power Fenerbahce Ulker, took some time to give us his perspective on this year's event.
"Overall it was a good camp. Too bad a few projected high level players could not attend. It is never easy to match the schedules of different countries perfectly with the NBA teams' schedules. It is something we're constantly working on trying to perfect.
I thought it was very interesting to see the younger teams here; the Next Generation group which competed at a very high level and then the US team which showed some very intriguing talent for the future. These were some very high quality players when we're looking at what comes next. Players at the camp here will certainly be considered for this year's draft, as well as beyond. I was really happy with the quality of the coaching staff. Our speakers. Our guests. All very special people. All in all this was a very good camp.
Looking forward it is very important for people to understand that this setting is the ideal place and moment to be showcased for all 30 NBA teams. This is the best way to showcase your talent. It would be nice if more players realized this for next year and beyond."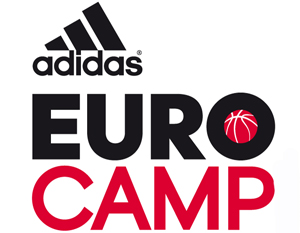 Team Game Notes
-Scoring 18 points while dishing out 7 assists,
Philip Scrubb
keyed Carleton University to a blowout 90-56 win over a much younger adidas USA Select Team. Bouncing back from a poor shooting performance yesterday, Carleton went 14/36 from downtown with Scrubb leading the charge going 3/6.
-
Dennis Smith led the Americans with 14 points. A consensus top-20 recruit in the high school class of 2016, Smith got off to a slow start over the first two days, appearing a bit apathetic, making some poor decisions when attacking the rim, and struggling to handle pressure, but settled in nicely today. Competing with the sense of urgency he seemed to lack early on, Smith showed the ability to create space and probe the paint by changing speeds and being aggressive.

The North Carolina native has a nice frame for a lead guard standing 6'2 with a 6'3 wingspan to go along with solid athleticism. He needs to continue getting stronger, but has some nice tools to work with physically. A capable shooter with nice mechanics who can create for others when he's dialed in, it was nice to see Smith turn things around on day three. His decision-making still leaved something to be desired at times, but Smith consistently utilized the quickness and passing ability that have made him such a highly touted recruit. One of the youngest players on this team, Smith showed some flashes today, and has been one of the most productive players in the inaugural season of adidas's AAU circuit, the Gauntlet averaging 18.5 points and 5.7 assist per-game for Team Loaded NC.
-
Thon Maker
had a nice showing this week offensively, but also showed just how raw he is defensively at this point in his career. As much as his lack of strength limits him on the glass and in the post, he does not appear to have great instincts pursuing the ball either, compounding his struggles on that end of the floor against the more mature competition he encountered here.
Our friends over at
Basketball Insiders
had a chance to speak with Maker here in Treviso.
-Considered a top-10 recruit in the class of 2015,
Carlton Bragg
struggled here. A well-built forward with good size and athleticism to go along with a mature frame, Bragg wasn't able to make use of his physical tools consistently and struggled to score, lacking refined post moves and not shooting the ball particularly well from the perimeter. Averaging 6.7 points and 2.7 rebounds per-game, this was a disappointing showing from the Cleveland native on the whole, as he didn't seem intent on impressing the scouts in attendance.
-
De'Ron Davis
, on the other hand, was solid the past few days. While his skill level is still a work in progress, his length and explosiveness make him a tremendous finisher and offensive rebounder. His frame is already impressive and has terrific potential, which coupled with the energy he brings as a rebounder, give him obvious value moving forward depending on how his skill level develops before he heads to the NCAA ranks in a couple years.
-6'5 scoring guard
Kobi Simmons
struggled to make shots here, limiting his impact offensively, but showed the ability to make plays in transition and apply pressure defensively. Spending time playing both on and off the ball, Simmons didn't show much in the way of shot selection or playmaking ability, but was able to make an impact with his first step and lateral quickness.
-Class of 2016 Pittsburgh commit
Maverick Rowan
was the least highly touted recruit here outside of Danta Hales, but held his own. A 6'7 shooter who can also put the ball on the floor and create his own shot a bit, Rowan has a picturesque shooting stroke and nice size for a wing. He may not be a great athlete, but he plays within himself and should give Jamie Dixon's Panthers an efficient scoring option on the wing down the road.
-
Brandon Ingram
, a long, smooth perimeter scorer from North Carolina finished as the third best scorer on the adidas USA Select Team. A top-15 recruit in the class of 2015, the 6'8 forward has a
Jeremy Lamb
-esque perimeter game. Able to get his shot off from the midrange thank to his size and length, Ingram is a bit streaky at the moment, but seems to have nice potential as a scorer. He'll need to get stronger and improve his left hand, but he is a player to keep an eye on as he matures.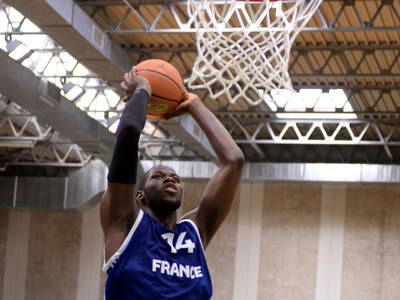 -
One of the more highly touted players here among international prospects,
Mouhammadou Jaiteh
had a nice day today pulling down 13 rebounds and scoring 10 points against the camp All-Star team. When he's dialed in, his sheer size allows him to be a factor around the rim as a finisher and rebounder, but his limited fluidity and explosiveness make it difficult for him to impact the game defensively. His post game appears to have improved some, as has his footwork and ability to make decisions and put the ball on the floor from the midrange. His shooting form remains on the rigid side even though he managed to sink a midrange jumper today, and his overall feel for making his presence felt consistently is still a work in progress.
Though Jaiteh struggled at times at the Hoop Summit last year and looked less than focused for some stretches the past few days, overall, he showed improvement here. His lack of great athleticism will give scouts pause, but there's little doubt he'd have been drafted in the second round this year had he declared. Averaging 6.7 points and 4.3 rebounds per-game for Nanterre in the French League, Jaiteh's ability to gain high-level experience and continue to improve his skill level should help him improve his standing among scouts in the coming years, as he won't become automatically eligible for the draft until 2016 should he not enter the draft next year.
-
A late bloomer competing at the junior level for France internationally for the first time,Timothy Luwanu had a nice showing here. A 6'6, 220-pound wing who spent most of this season playing for Antibes at the junior level, Luwanu has a nice frame, good athleticism, and the ability to make shots from the perimeter. He isn't an overly consistent shooter, and needs to continue improving as a ball-handler, but the 1995-born swingman has a nice framework of skills that could help him emerge as a solid player sooner rather than later.
-
Kevin Harley
played in the French 2nd division this season unlike many of his teammates who spent the year in Espoirs, but found a comfort zone here, capping the week with a 13-point, 3-assist performance. A 6'5 wing with pretty good athleticism, Harley is a competitive player who can do a little bit of everything. His lack of shooting ability is his main weakness at the moment, and the 15% he shot from beyond the arc during the regular season is reflective of the room he has to improve.
Player Notes
-
Dmitry Kulagin was the top performer today as he went for 18 points, 5 assists and 4 rebounds against the French U20 national team. Kulagin has struggled at times over the last two years with and has been maligned for his attitude, but there's little questioning his skill level and scoring ability. When he's dialed in as he was today, he's an extremely creative scorer and passer who can make plays for himself and others off the bounce. One of the more highly touted players in the 1992-born age group that is automatically eligible for the 2014 NBA Draft, Kulagin's stock has feel in recent years, but games like this serve as a reminder of just how talented he is.
-
German big man
Johannes Voigtmann
capped off a nice week with a 10 point, 6 rebound performance today. Voigtmann lacks athleticism, but standing a shade under 7 feet tall in shoes with a 253-pound frame to go along with nice touch, a good feel for the game, and an understanding of how to score in the post and on the pick and roll, he's a solid pro. If he can improve his body and the consistency of his midrange game, it seems probable that we'll be seeing him with the German Senior National Team down the road.
-
One of the most productive players over the course of the EuroCamp game action on a per-minute basis,
Cristiano Felicio
had a strong showing here. Standing 6'9 with a 7-foot wingspan, Felicio is a bruising power forward with good athleticism. Committed to Oregon while attending prep school in the United States a little over a year ago, he returned to his native Brazil to start his professional career after being ruled ineligible over concerns that he had signed a professional contract in his late teens.
During his three days here, Felicio rebounded the ball effectively and used his strength and athleticism to finish inside. On top of that, he flashed a promising shooting stroke, a significant development given concerns that he's a bit stuck between the four and five spots. He needs to continue developing his midrange game and overall skill level, but his marked improvement is a big step in the right direction. His impressive play here, combined with his solid physical tools, certainly put him in conversations to be selected in the back half of the second round.
-
Axel Toupane
came down to earth a bit after a strong start in Treviso. He struggled to make jump shots today, going 2/8 in game action. Lacking great strength, he struggled to finish at times as well. Despite his performance this afternoon, Toupane is a player scouts will keep an eye on whether he's drafted this year or not as he still appears to have some upside given his physical tools.
-
The most imposing physical presence here,
Moustapha Fall
had a nice week. A smart, intelligent player, Fall lacks athleticism, but at 7'2 with a 7'6.75 wingspan, is a factor anyway. Averaging 5.6 points and 1.2 blocks per-game in the French 2nd division, Fall understands his role. Flashing some back to the basket scoring ability, the Paris native won't wow you with his game, but he won some fans this week with his size and effort level. Automatically eligible for the 2014 NBA Draft, Fall may be on the outside looking in as far as hearing his name called is concerned, but he helped his cause in a big way this week.
The Future
-This week was a challenge for 1996-born guard
Ludde Hakanson
, who is just a few weeks removed from averaging 25.5 points and 6 assists per-game and the 2014 Albert Schweitzer Tournament. One of the camp's youngest full participants, the 6'3 guard struggled against the older players. An average athlete, he struggled to create space. Unable to make use of his tremendous shooting ability and feel for the game because of that, it is obvious the Hakanson will need to gain experience to begin to translate his skills to the senior level. Averaging 10 points per-game for Barcelona's 2nd team in the Spanish 2nd division this season, it will be interesting to see if Hakanson remains in the LEB until he's prepared to play in the ACB like
Mario Hezonja
or if he'll be loaned out for stretches like fellow Swede and camp attendee
Marcus Eriksson
. This was no doubt a good learning experience for the 18 year old.
-The youngest camper here,
Dragan Bender
, looked nervous at times and struggled. Lacking physical strength in a major way, he didn't impress scouts significantly, though he's certainly a player to keep an eye on down the road given his youth relative to the rest of the players here.