An analysis of the Balkan prospects eligible for the 2007 NBA draft. In the first part of the article we look at the players who entered their name in the draft for early consideration, while the second part will feature 1985 born prospects who are automatically eligible. Some major prospects such as Partizan's trio of
Uros Tripkovic
,
Milenko Tepic
and
Nikola Pekovic
decided to work on their game for one more year. The most important name on the list is Croatian
Ante Tomic
who should get strong consideration in the first round, with rumors swirling that he already got received kind of guarantee and will stay in.
Ante Tomic, 7-2, PF/C, KK Zagreb, 1987
24.7mpg 12.3ppg 5.3rpg 0.8apg 60.4%FG
(Adriatic league, 2nd tier-competition)
Projection: Mid-Late first round
Ante Tomic put his name in and will likely remain in the draft, or at least that's what him and his agent have told DraftExpress lately. Ante also said recently in an interview for a Croatian newspaper that he will not be heading for the NBA next season even if he gets picked 1st or last in the draft, because he doesn't feel he is ready for the NBA competition.

With that being said, there is a legitimate question why he decided to apply for the draft this year, especially with the very strong class for big men and opportunity to improve his stock in the upcoming season. One possible reason could be the possibility of securing himself a spot in a friendly situation (like New Jersey or Utah for example) for when he does decide to come over, while there are also a couple of teams with multiple picks in the first round who could afford to wait on him.

Speaking of the current season, Tomic has been solid, but unspectacular, delivering some magnificent games, but generally not showing much progress in the two biggest areas of concern - body strength and defensive rebounding. His offensive game is coming along pretty nicely since he became a focal point of Zagreb's offense this season, already showing impressive versatility and an intriguing skill-set.

Tomic can play equally well facing the basket or in the post, which has become a rarity this days. Despite his modest assist average, Tomic possesses terrific court vision and passing ability, being able to direct the offense from the high post finding cutters or making deft interior passes. He doesn't pass out to the perimeter a lot, since he is still not a big enough threat to command double teams yet. He has ability to hit static jumpers at a solid clip from 16-18 feet, but considering the excellent touch he has, you might expect a bit more consistency in this area.

In the low post, Ante shows plenty of moves he can go to, but sometimes struggles to execute them when guarded by physical defender. Thanks to his phenomenal hands his finishing around the basket is very good, which shows in his high field goal percentage, but you would expect a player of his size to dunk the ball more often instead of just laying it in off the glass.

The defensive end is where Ante still struggles considerably, mainly because of his fragile frame. Tomic gets pushed around and has plenty of trouble holding his position on the low block. His defensive awareness and fundamentals are pretty good and he doesn't shy away from contact, but most of the time he simply cannot keep up with the strength of his opponents. His man-to-man defense is actually very solid, but he is a poor help defender, not showing any willingness to close out on the man with the ball or block shots from the weak-side. Speaking of shot-blocking, Tomic is extremely poor in this area for a player his size, being credited with just 10 blocked shots on the entire season, which translates to 0.8 blocks per 48 minutes. His lack of vertical explosiveness and lift shows also in his rebounding as well, as Tomic struggles to clean the glass and establish himself the way a 7-foot-2 player should.

Tomic is a work in progress and at least a couple of years away from contributing at the NBA level. As he pointed out to the Croatian media, the team that selects him would be wise to leave him in Europe and let him develop. The main issue remains his slight build, even if you can see that he is lifting weights, Tomic struggled to gain any significant bulk this past season and is far from having the type of body needed to compete at the NBA level.

He is a classic high risk/high reward pick since he has great potential thanks to his size, skill-set, feel for the game and quick feet. On the downside, there is a chance that he might never have the kind of body needed to hold his own at the NBA level. When it's all said and done, Tomic will most likely get selected somewhere in the 2nd half of the first round.
---
Miroslav Raduljica, 7-0, Center, 1988, (Serbia), Borac Cacak
15.0mpg 5.9ppg 3.0rpg 0.3bpg
(Serbian league, 3rd tier)
Projection: Withdraws
It was a little surprising to see Raduljica's name on the Early-Entry list considering his age and the fact that he just finished his first season at the senior level playing for FMP's farm team Borac. Raduljica was one of the most impressive performers at the European U-18 Championship last summer, but he is most likely just testing the waters to get some name recognition and familiarize himself with the draft process rather than seriously considering staying in. He has 3 more years before becoming automatically eligible to work on his game and turn himself into a legit first round pick. Before he gets in a position to be selected in the first round, Raduljica should prove himself on the European level since he is not the type of prospects that is oozing with potential.

Raduljica has the physical attributes needed to warrant looks from NBA scouts. He seems to be a legit 7-footer with a nicely developed body for his age. Miroslav is a fluid, but not an explosive athlete, running the court well and showing solid footwork in the painted area. When you combine his physical gifts with the notion that he seems to be a pretty smart kid with excellent hands, Raduljica certainly has enough potential to develop into a first round pick. However at the moment he is far from it, not being able to establish himself in the Serbian league playing for a very average squad.

Skill-wise, he's a very solid player, actually pretty well-rounded for what you ask from a center. He can evolve in the low post with simple, but effective moves, he can finish with both hands around the rim, he can use the jump-hook, he enjoys a mid-range stroke to menace from the high post, he's a nice distributor from either the high or low posts, even he can eventually put the ball on the floor to attack his match-up in a favorable situation, while he shows good positioning on the defensive end, with nice intensity and good enough mobility for a center. Perhaps he isn't a master of any of these skills, but he's decently effective in every department. With that said, his lack of fundamental polish and in-game experience is obvious. It is tough to judge where his stock is at the moment, but unless he impresses mightily in workouts, it is hard to picture him getting into the first round.
---
Manuchar Markoishvili, 6-6, SG/SF, 1986, (Georgia), Union Olimpija
30.6mpg 10.6ppg 2.9rpg 1.4apg
(Adriatic league, 2nd tier-competition)
Projection: Late 2nd round-undrafted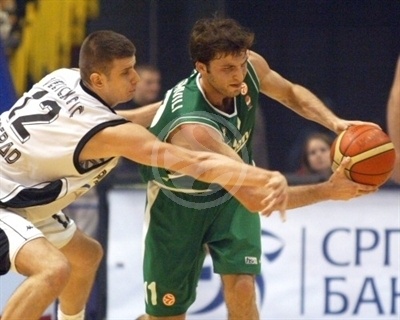 Manuchar Markoishvili
's numbers don't reflect the progress he made over the past season, which can be considered surprising due to the question marks about his true age, and therefore his potential. Manuchar has really stepped up his game in the last twelve months and has emerged as one of the most coveted young swingmen in Europe thanks to his blue-collar game. Still, his NBA potential is questionable to say the least since he doesn't have the size and athleticism of a typica NBA swingmen. What he lacks in terms of creativity, technique and flair, Markoishvili makes up with the intangibles he brings to the floor. The Georgian is one of the hardest workers in this draft, who delivers exceptional effort on the defensive side and is very team-oriented.
Markoishvili has been the steadiest player for struggling Olimpija Ljubljana this year, helping them in the role of defensive stopper, while occasionally being their first option on the offensive end. Defensively, he has solid tools to work with, being 6-foot-6 with an appropriate wingspan and great build for a guard. Markoishvili already has what can be called an NBA body, presenting reasonable strength in both his upper and lower body. He shows great toughness taking charges, crashing the glass and diving for loose balls. He is also a smart player, which enables him to anticipate the moves of his opponent and adjust accordingly. However, what prevents him from being a lockdown defender is his lateral quickness, which is pretty average. More athletic players can take him off the dribble with success at the Europe level, and the real question is how much success would Markoishvili have defending NBA caliber athletes.
Offensively, he shows a solid skill-set, but is more of a complementary player than someone you would like to put the ball in the hands of. Manuchar has improved his shooting this year, to the point that he is pretty reliable from mid-range. He has one of highest arching jumpers you'll find, but his release takes some time and there is definitely room for improvement in his consistency. Markoishvili shows a little off the dribble game, being able to put the ball on the floor when he sees an opportunity. He can take it strong to the basket or make one to two short dribbles to create separation, but more advanced crossovers, hesitation moves and change of directions are not part of his repertoire. His decision making skills and passing ability are very good, Markoishvili picks his spots nicely and has good vision of the court.
Manuchar has done a good thing by putting his name in after the good season he had, and considering that his stock should be on the rise. Markoishvili is definitely not a prototypical NBA prospect, but as a semi-proven Euroleague player who brings great attitude and intensity, he should draw some looks in the late 2nd round. Another year of Euroleague experience might help him polish his offensive game and improve his stock a bit, but the situation with his team is uncertain considering Olimpija is on a verge of bankruptcy.
---
Stanko Barac, 7-2, Center, 1986, (Croatia), Siroki Brijeg
27.5mpg, 13ppg, 7.1rpg, 1.8bpg, 35.6% 3FG (1.5 attempts per game),
(Adriatic league, 2nd tier)
Projection: 2nd round pick
Barac can be considered one of the biggest sleepers in this draft if he opts to stay in, given the great size and promising skill-set he possesses. He had quite an impressive season playing for Siroki in the Adriatic league, ranking 2nd and 3rd in rebounds and blocked shots per game respectively.
What made him a serious prospect is the growth spurt he hit in the last couple of years. Stanko was first noticed playing in the Reebok Eurocamp back in 2004, where he was overshadowed by the likes of
Pavel Podkolzine
and
Martynas Andriuskevicius
. While being praised for his shooting ability and fundamentals, Barac was considered too slow and weak for NBA competition. Since then he grew 4 inches and gained some weight, even if he is still a heavy footed Center who lacks some fluidity in his motions, it is a lot easier to deal with his lack of footspeed and vertical explosiveness at 7-foot-2.
Barac is still by no means an outstanding prospect, especially when considering the direction the NBA is heading these days, with the emphasis being on quickness and versatility, but he did a good job turning himself into a someone the majority of teams will consider in the 2nd round.
Despite being high one of the top players in the Adriatic League as far as his defensive stats go, Barac still has a lot of learn on that end of the floor, even if there are definitely some positives besides his sheer size. Barac shows solid toughness, not being shy about physical contact and taking pride in protecting the rim close to the basket. Sometimes he struggles making timely rotations and gives up deep position on the block too easily, while his perimeter defense is almost non-existent.
Teams often try to lure him away from the basket, which promptly puts him in foul trouble being due to his inability to stop dribble penetrations. Stanko will surely have to work on his foot-speed, but his presence around the basket often intimidates shooters and forces them to take low percentage shots.
Offensively, Barac doesn't have great polish and is a bit mechanical in his movements, but he can do a little bit of everything and put up points on the board. At this point his most consistent weapon is his perimeter jump-shot, but unlike some other European big men, Barac doesn't overdo it and spends most of the time in the paint, where his size is a great asset on offensive glass.
Back to his shooting capabilities, Barac is an above average static shooter with range out to the international three-point line. He doesn't have the fast release of a
Zydrunas Ilgauskas
, but his mechanics are solid enough to get his shot off when given some space. If the defender plays him closely, Barac can take the ball to the basket thanks to the surprisingly good ball-handling skills he possesses as well as the long strides he makes.
In the low post he is not most skilled guy, but he can finish around the basket with both hands and shows good accuracy shooting the hook shot with his right hand. Barac has above average passing ability for a player his size, recognizing cuts and openings in the defense well.
Barac will be participating in the Reebok Eurocamp, and that could go a long way in determining where his stock lies, with an impressive showing there it is not out of question that Barac could get some looks in the late 1st round, even if the 2nd round is probably his most likely destination should he decide to stay in. If he decides to withdraw his name from the draft, Barac would give himself another year to work his way into the first round, which he certainly seems capable of doing.
---
Vladimir Golubovic, 7-0, Center, 1986, (Serbia), Vojvodina
15.4mpg 6.4ppg 4.2rpg
(Serbian league, 3rd tier)
Projection: Undrafted
Golubovic is a relative unknown, even to basketball fans in his country, considering that most of the time he wasn't able to crack Serbia's youth national teams. On the rare occasion when he got a roster spot, it was strictly as a bench warmer outside of the regular rotation. He played only in the Serbian league this season, which is a secondary competition to the regional Adriatic league. He is still a backup Center like he was a year ago while playing in the Adriatic league, and the lack of improvement in his statistics could probably be insightful about his long term potential.

Golubovic lacks the kind of fundamentals and basketball IQ that usually correlate with the Serbian basketball school. He is a pretty raw physical specimen who possesses great size and strength for a youngster, but his athleticism is not up to par. Golubovic shows concerning footspeed, and he doesn't have much lift getting of the ground. That combined with his modest skill-set will probably not be enough to warrant him a 2nd round selection. He is a good space-eater for Vojvodina in the middle and shows some nice fundamentals rebounding the ball or finishing well in the paint. He can get some offense through his ability to release a hook shot, but he usually doesn't touch the ball that much on offense. With his combination of athletic ability and skill-set, Golubovic hardly looks primed to become anything more than a role-player at the highest level in Europe, unless dramatic improvement is made. Right now, his chances of getting drafted seem slim to none.
---
Ivan Maras, 6-9, Power Forward, 1986, (Montenegro), Buducnost
21.6mpg 6.4ppg 3.1rpg
(Adriatic league, 2nd tier)
Projection: Undrafted
Maras is another player who is on the outside looking in when discussing the draft. The Montenegrin has received substantial playing time with Buducnost in the Adriatic league this past season, but his averages of 6.4 points and 3.1 rebounds can be considered pretty mediocre when playing almost 22 minutes per contest. While he is considered a good prospect for European competition thanks to his intriguing skill-set, Maras has very little if any NBA potential as a 6-9 Power Forward with underwhelming athletic ability.

Maras doesn't great size or the wingspan to make up for it, and he is not explosive neither vertically or horizontally, looking to be on the slow side as far as his feet are concerned too. He skill-set is quite promising, showing the ability to score in the post as well as on the perimeter, while he also seems to be a pretty intelligent guy. Maras has a good looking jump-shot, but his accuracy this season has been disappointing, converting on only 19.6% of his 3-point attempts and 35.6% from the field overall. He struggles to put the ball on the floor because of his slow first step, but he has good footwork in the paint, where he exhibits solid moves around the basket.

Defensively, Maras does a poor job on the glass and in the shot-blocking department, but he does a rather solid job staying with his man on both the perimeter and in the post. His upside doesn't seem all that great to make up for his shortcomings either unfortunately. While it's not far-fetched to project him having a good career in Europe, Maras just doesn't have the physical gifts to survive on an NBA court.