We take a look at seven of the best guard and wing prospects to emerge at the 2017 Basketball Without Borders Global Camp held in New Orleans during All-Star Weekend.
R.J. Barrett, 6'8, SG/SF, Montverde Academy, Canada, 2000
Jonathan Givony
Strengths:
-Has an ideal frame for a NBA wing prospect. High, narrow hips. Will continue to get bigger/stronger as he matures physically
-Seems to be growing still. Measured 6'6 ½ without shoes, with a 6'10 wingspan. Up to 190 pounds now. Fairly big hands
-Has natural athleticism with tremendous quickness, flexibility and an ability to change speeds and contort his body that can't be taught. Glides all over the floor smoothly.
-Will wow you at times with his explosiveness. Can throw down from impressive vantage points
-Instinctive with his ability to create shots off the bounce. Has tremendous body control, footwork and shake operating off the dribble.
-Not afraid to attack the paint aggressively and draw fouls. Embraces contact and wants to finish everything emphatically. Draws tons of free throws in the process
-Very polished with his spin moves and ability to rise up for pull-up jumpers in the mid-range. Can elevate coming off a screen or dribble hand-off
-Has a feel for creating for teammates as well. Not selfish. Good court vision finding guys off the dribble
-Can make a 3-pointer, albeit inconsistently. Jump-shot isn't broke.
-Competitive player who has a bit of a chip on his shoulder. Plays with a distinctly high energy level. Shows some toughness defensively when called upon. Will get in a stance and move his feet. Will talk some trash at times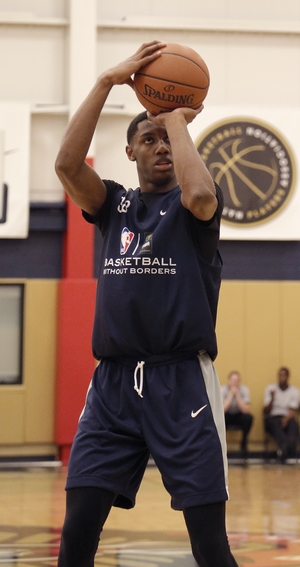 Weaknesses:
-Legs are on the thin side. Still has work to do on his frame, but at age 16 he has plenty of time
-Jump-shot is a work in progress. Mostly a 2-point shooter at this point. Low release point and locked elbow on release are things he needs to clean up to reach his full potential as a shooter
-Takes a lot of tough pull-ups in the mid-range
-Can get a little too cute with his finishes around the basket at times, can't always finish everything he creates
-Defensive intensity fluctuates
-Knows how good he is and will rub people the wrong way at times with his demeanor.
Outlook:
Barrett was far and away the best prospect here, and has to be considered one of the top prospects in all of high school basketball. His combination of physical tools, shot-creation talent, court vision, feel for the game and flashes of defense and shooting potential give him an incredibly high ceiling. Something surprising would have to happen for him not to emerge as the #1 player in his high school class. He's old enough to be part of the 2018 class (and potentially the 2019 NBA Draft) but for now is on track to graduate high school in 2019.
Isaac Bonga, 6'10, PG/SF, Frankfurt, Germany, 1999
Jonathan Givony
Strengths:
-Measured 6'8 ½ without shoes with a 7'0 wingspan. Has the size of a power forward but the skill-set of a guard
-Frame continues to fill out. Legs on skinny side but should get stronger in time
-Jumper looks good in drills, mechanics certainly not broken. Will throw in an occasional 3-pointer that leaves room for optimism
-Legitimately plays PG at 6'10. Has a tremendous feel for seeing over the top of the defense and finding open man.
-Operates at a unique pace, with fancy footwork and change of speeds and directions. Intelligent about drawing fouls
-Loves making overhead skip passes. Sees both sides of the floor and uses the weakside intuitively. Makes skip passes right into teammates' shooting pocket
-Picks up plays quickly. Very intelligent and absorbent. Directs teammates and likes to run the show
-Plays with an impressive motor defensively. Flies all over the place and shows multi-positional potential
-Playmaker who gets in the passing lanes, blocks shots and has great instincts getting on the glass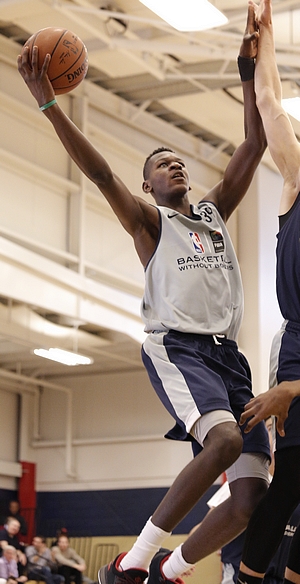 Weaknesses:
-Really struggles to make shots in games. Splays his legs apart on the catch. Has a slow release. Demonstrates questionable touch
-Career 14/58 for 3 (24%) and 68% FT% in 50 DX database games. Will struggle to reach his full potential without a consistent jumper
-Just an average athlete in a traditional run/jump. Not overly quick or explosive. Ranked poorly in many of the athletic testing measures conducted at the Camp.
-Had trouble at times at this camp when being matched up with longer and more athletic players who can stay in front of him and take advantage of his high dribble
-Not always able to finish in traffic over length
-Fairly turnover prone in almost every setting he's played in. Career 30% turnover percentage in DX database games.
-Tries to thread the needle with impossible passes. Drives looking strictly for assists
Outlook:
An extremely unique prospect, Bonga has a very rare combination of size, creativity, instincts, feel for the game and defensive intensity. Similar to what
Kyle Anderson
has encountered in the NBA, there are question marks about his quickness, shooting and position, and how his game will translate to the highest levels of competition. He certainly is not the type of guy who will work for every coach and roster, but has such a high basketball IQ it's difficult not to be enamored with his versatility at this age group.
Interview:
Emmanuel Akot, 6'8, Wasatch Academy, Canada, 1999
Jonathan Givony
Strengths:
-Good size for the wing at 6'6 ½ without shoes.
-Strong 195 pound frame that should continue to fill out significantly in time
-Measured the biggest hands at the camp
-Very good athlete. Good combination of quickness and power, although not incredibly explosive
-Showed nice versatility offensively, bringing the ball up the court regularly and getting his team into their offense.
-Shows potential as a shot-creator in the half-court. Impressive changing gears powerfully in pick and roll situations
-Finds teammates off the dribble unselfishly
-Bulldozer in transition who loves to drive straight into opponents' bodies to clear space or draw fouls
-Strong first step attacking closeouts. Shows some creativity with his finishes
-Makes more spot-up jump-shots than you'd think considering how unconventional his mechanics are. Appears to have good touch
-Unlimited energy. Plays with a very high intensity level on both ends of the floor. Tough, no-nonsense demeanor that coaches will love.
-Multi-positional defender that showed the ability to guard anywhere from 1-4 at this camp. Relishes the challenge of stopping the opposing team's best player
-Playmaker who crashes the glass, gets in the passing lanes and even blocks some shots on occasion. Boxes out opponents, goes out of area and pursues loose balls with a purpose.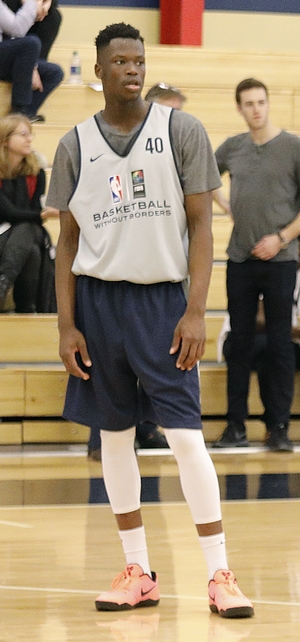 Weaknesses:
-Year old for his class. Turning 18 next month but over a year and a half away from entering college still.
-Measured a 6'9 wingspan, which is not ideal for someone you'd like to see spend time at the stretch-4 position.
-Lacks some shake/polish as a half-court ball-handler, especially in one on one situations.
-Shooting mechanics are inconsistent/unconventional. Brings the ball around the world, jumps forward, and shoots a push shot that he snaps from in front of his face. Elevates high off the ground and doesn't always shoot it with the same release point.
-Struggles to make shots off the dribble consistently.
Outlook:
Akot has taken his game to another level in the last year, adding 20 pounds to his frame and apparently even growing an inch according to our measurements. His athleticism has evolved and the new-found strength is allowing him to punish opponents on both ends of the floor when combined with his motor and toughness. Akot had a very impressive showing at this camp and it's easy to see why he is such a highly sought after recruit for college coaches. If he continues to polish his scoring arsenal, he'll be considered a top-shelf prospect for NBA teams in time as well.
Noah Kirkwood, 6'7, Ashbury College, Canada, 1999
Jonathan Givony
Strengths:
-Good size for the wing, measured 6'6 without shoes.
-Chiseled 219 pound frame. Strong and well proportioned
-Smooth and fluid athlete
-Polished offensive player. Can create his own shot using advanced footwork, ball-handling, timing and body control. Knows how to use his frame to create space
-Strong takes to the rim to draw fouls. Finishes creatively around the rim
-Passes ahead in transition unselfishly. Likes to drive and dish
-Competitive defensively
Weaknesses:
-More smooth than explosive
-6'7 wingspan is poor relative to his height
-Not a great shooter at this stage. Stroke isn't very fluid, especially off the dribble. Awkward knee bend Looks more comfortable operating inside the arc.
-Lacks a degree of fluidity from the waist down. Doesn't get into a deep stance defensively
Outlook:
Intelligent and versatile wing player with a high basketball IQ. Lacks a degree of explosiveness, length and shooting prowess to be considered a top-shelf prospect, but ticks a couple of boxes with his size and feel for the game. Needs to improve his shooting and defense to reach his full potential.
Cheick Faye, 6'7, NBA Academy Africa, Senegal, 1998
Jonathan Givony
Strengths:
-Good size for the wing at 6'6 without shoes
-Has an exceptionally long 7-foot wingspan
-Showed impressive potential defensively, using his quick feet and long arms to close out from great vantage points and wreak havoc on the perimeter
-Has a nice framework of skills offensively to build off
-Aggressive offensive player who wants to make things happen in his minutes on the court
-Can handle it in the open floor, even using some combo moves. Shows good footwork and a strong first step attacking off the dribble.
-Solid jump-shooter in drills. Workable mechanics. Rises up with good balance and shoots at apex. Has some touch. Even shows some ability to knock down pull-ups.
Weaknesses:
-Oldest player at the camp, already 19 years old.
-Frame is very narrow and may struggle to put on a great deal of weight, especially in the lower body. Only 175 pounds
-Can't always finish what he creates around the basket. Fluid, but not overly explosive, which hampers him in traffic due to his lack of strength
-Shoots a moon-ball jumper with very little rotation. Had some bad misses, especially when he was forcing the issue
-Decision making is questionable at times. Will go into iso mode and and run into brick walls
-Lacks experience and polish and in five on five settings
Outlook:
Faye is one of the first players invited to the NBA Academy Africa in his home country of Senegal, and seems to have benefited from the coaching he's received thus far. He more than held his own at the Camp and had some strong moments at times, especially early on. His rapid improvement leaves a lot of room for optimism about what perimeter players from Africa in the future can accomplish at the NBA Academy with the coaching and development structure they'll find.
Luguentz Dort, 6'5, The Conrad Academy, Canada, 1999
Jonathan Givony
Strengths:
-Solid measurements for a shooting guard, at 6'4 without shoes, with a big 6'8 ½ wingspan
-Chiseled 223 pound frame. Built like a fullback
-Aggressive player on both ends of the floor
-Powerful straight-line driver. Handful in transition, but will get to the rim in a straight line in the half-court as well
-Finishes through contact and draws tons of fouls
-Can play above the rim off two feet
-Can drive and dish a bit creating in a straight line
-Puts great pressure on the ball defensively.
-Crashes the glass aggressively
-Shows impressive toughness and intensity
Weaknesses:
-Lacks a degree of quickness and explosiveness. More powerful than freakishly athletic
-Gets out of control at times with his drives. Somewhat turnover prone
-Doesn't have a lot of wiggle with the ball
-Shooting consistency leaves a lot to be desired. Side spin rotation on his spot-up jumper with average touch. Pull-up stroke is slow and mechanical. Shoots a hard ball
Outlook:
Dort had a strong showing at this camp, using his unique combination of power and aggressiveness to assert his will on the competition. More of a wing than a combo guard at this stage, Dort shows flashes as a ball-handler, shooter and passer but still has a ways to go in those areas. As a college prospect, there's quite a bit to like about Dort as he plays extremely hard and is a mismatch threat who can play anywhere from 2-4, but he'll have to continue to improve his skill-level, especially as a shooter, to draw looks from the NBA.
Patrick Mwamba Kazumba, 6'6, NBA Academy Africa, Democratic Republic of Congo, 1999
Jonathan Givony
Strengths:
-Good size for a wing at 6'5 without shoes, with a 6'8 wingspan
-Frame is on the lighter side right now at 179 pounds, but looks to be at an early stage of development physically and should continue to fill out
-Has a very projectable shooting stroke. Good footwork and mechanics. Made spot-ups and even pull-ups at a good rate during the camp
-Unselfish player who can find the open man
-Quick and aggressive in transition, can score off straight-line takes in the half-court
-Competitor who plays with a distinct edge. Likes to get after it defensively. Shows a great motor
Weaknesses:
-Unpolished scorer who doesn't know how to finish everything he creates at the moment
-Ball-handling skills are a work in progress in the half-court
-Decision making is unpolished. Out of control driving down the lane wildly for charges
-Smooth, but not incredibly explosive athletically
-Has a 2-guard's frame, but the game of a small forward.
Outlook:
Kazumba showed impressive sparks of talent as the camp moved on, as he has good fundamentals and a nice framework of skills to grow into. He found a comfort level in the second and especially the last day of the camp, and showed nice versatility in a few different areas. Like Faye, he seems to be making significant progress at the NBA Academy in Africa, and it will be interesting to see how he continues to develop over the next year plus in Senegal. He's got plenty of work to do on his all-around polish, but looks to be at an early stage of development still and seems to have plenty of upside to continue to improve.