We summarize the Euroleague Junior Tournament Qualifier in Belgrade, graciously hosted by FMP Zeleznik, with a look at the top prospects seen at the event.
Philipp Neumann, 6-10, Power Forward, Brose Bamberg, 1992
Arguably the top prospect seen in Belgrade when combining physical attributes, production and skill-level, Philipp Neumann is yet another intriguing player to emerge from the ever-improving basketball country of Germany.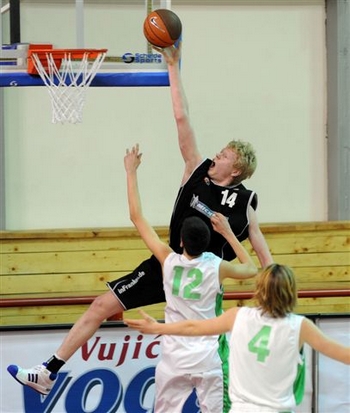 6-10, with a decent frame, nice length and good, but not great athleticism, Neumann has solid physical tools for an NBA prospect, but is far more intriguing due the terrific skill-set he displays.
Showing an uncanny knack for creating his own shot from the mid or high post, Neumann is an excellent ball-handler for his size. He dribbles the ball low to the ground and has amazing body control weaving his way around defenders, being able to drive going either left or right. His long strides made it nearly impossible for anyone at this tournament to stay in front of him, allowing him to get to the free throw line at a very nice rate.
With his nice shooting mechanics, Nowitzki-esqe high release point and good touch, it's not difficult to envision Neumann becoming a terrific threat from beyond the arc fairly soon. He knocked down 50% of the 14 3-pointers he attempted in Belgrade, which is intriguing from a 6-10 guy to say the least.
He also showed the ability to operate with his back to the basket, displaying great extension on his jump-hook shot and very nice touch, lacking some strength at times to get the job done, and not being overly explosive jumping off two feet, but nevertheless showing the willing to playing inside the paint, which is a very good sign for the future.
The amount of offensive responsibility he was forced to shoulder (the rest of Bamberg's squad was extremely weak) made him a bit more turnover prone than you may have liked, even if you never really got the feeling like he was playing out of control.
On the contrary, he appeared to be quite an unselfish player, showing good body language and doing a nice job of keeping his poise when things weren't going his way. He's a talkative guy who seems to communicate well with his teammates and looked willing to take responsibilities, which is always a good thing from a young big man.
Defensively, Neumann puts a good effort in, but may be somewhat stuck in between the power forward and center positions. In terms of his ability to guard the 4, his lateral quickness might not be quite up to par, and he seemed to get lost off the ball at times, although his intensity level and length really shined through with the way he was able to crash the defensive glass and get his hands on plenty of loose balls. He has nice timing as a shot-blocker as well, coming up with 6 blocks in one game we saw in particular. His activity level, smarts and willingness to fight will clearly work in his favor, although it will be a whole different ball game on this end of the floor when forced to compete against players at the senior level.
Neumann is a player who displays many of the characteristics NBA teams look for in a modern day power forward with his ability to space the floor and create his own shot. At the same time, he probably is big enough to see some minutes at the center position considering his solid size and length. Filling out his frame the right way will be important down the road, but that shouldn't be that much of an issue since he just turned 18 years old (yesterday in fact). We'll have to see how Neumann can translate his skill-level to playing against grown men in Europe, but there is a lot to like about him thus far. It wouldn't be surprising to see him on Bamberg's senior roster already next season.
Nenad Miljenovic, 6-5, Point Guard, 1993, FMP Zeleznik
The golden child of Serbian basketball,
Nenad Miljenovic
had a somewhat up and down tournament that clearly magnified his strengths and weaknesses as a prospect at the moment.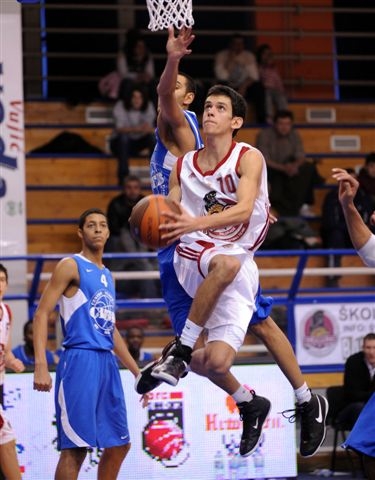 Still sporting a narrow frame that he's clearly been working on in the weight room, Miljenovic remains an above average athlete at the European level. He's not incredibly explosive, but has terrific ability to change speeds and directions on the fly, showing terrific hesitation moves and the ability to operate at his own unique pace.
Equally effective with either hand, Miljenovic is a wonderful ball-handler who can create shots with ease thanks to his fluidity and the outstanding creativity he displays. He has a natural flair for the game that simply can't be taught, showing a quick mind and a great feel that has many in this country extremely excited to see his progression. While he's particularly impressive in transition, he's also quite effective in the half-court, knowing how to keep his team organized, but also being able to go out and improvise on the fly if needed.
A pure point guard at 6-5, Miljenovic is a true facilitator who reads the floor well and whips quick passes all over the court. He's especially effective on pick and roll and drive and dish plays, leading the entire tournament in assists.
On the downside, Miljenovic is far from being considered an efficient scorer at this point in time, as he's an extremely streaky shooter both from beyond the arc and in the mid-range area, showing nice mechanics, but seeing very poor results at this stage. His percentages were poor throughout the tournament and he often suffered from turnover problems, showing decision making skills that haven't quite caught up with his talent just yet.
He was actually not having a great week at all until things got really important later on, increasing his focus and intensity considerably and stepping up in a major way while taking his team on his back. This ability to operate in the clutch is a great sign for the future, and something we've seen in the past, but Miljenovic is far too young to already be picking and choosing his spots the way he seemed to be doing.
Defensively, Miljenovic is just average at this stage, as he lacks length, strength and a degree of lateral quickness. He sports terrific anticipation skills in the passing lanes, though, and is a very good rebounder for a guard for this same reason. This might be the biggest point of contention in regards to this NBA future and how highly coveted a draft prospect he ends up becoming down the road.
Still extremely young at just 16 years old, but already sporting a thick resume and being quite well on the European scene, we'll likely be talking about Miljenovic ad-nauseam over the next few years.
Nemanja Bezbradica, 6-8, Power Forward, 1993, FMP Zeleznik
Not looking anything like your typical 16-year old with his incredibly chiseled frame, power forward Nemanja Bezbradica slowly but surely emerged as one of the most intriguing big men at this tournament as the week progressed.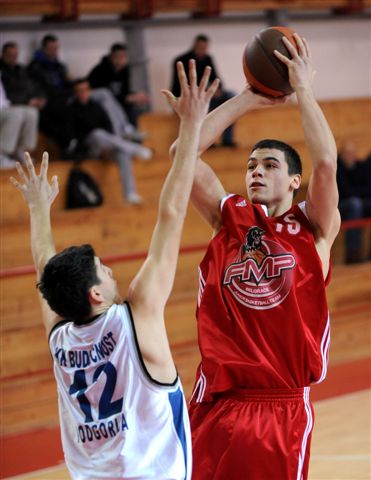 Tough and pretty athletic, Bezbradica does most of his damage inside the paint, where he shows raw footwork. He can establish deep position inside the paint thanks to his excellent body and will make a nice spin from time to time, finishing pretty well around the rim.
Facing the basket, he will attempt the occasional 3-pointer but still has a long ways to go before he can considered a serious threat from the perimeter, although the terrific touch he shows from the free throw line leaves plenty of room for optimism down the road. He can put the ball on the floor a bit and shows nice potential with this part of his game as well.
Bezbradica is an excellent offensive rebounder and does a good job in general fighting inside the paint for position, primarily on the defensive end. He had a number of nice blocks in transition as well, showing his athleticism.
He needs to become more consistent in his approach to the game and do a better job of staying out of foul trouble, but has really nice potential considering his physical tools and age. We'll have to see how his offense progresses as his counterparts in his age group catch up to him from a physical standpoint, but there is a lot to like here early on.
Nikola Siladi, 6-9, Power Forward, 1992, FMP Zeleznik
The MVP of the tournament and slam-dunk contest champion, this was needless to say a very good week for Nikola Siladi, a Serbian of Hungarian descent.

Fairly athletic with his nice explosiveness, but lacking a degree of agility and reactivity that will hopefully come down the line, Siladi is a good looking prospect with his long arms and nice frame.

He can operate both facing and with his back to the basket, showing inconsistent 3-point range and ball-handling skills that can get him to the rim in a straight line, but needs to continue to work on this part of his game to emerge as a real shot-creating threat. His shooting mechanics are sound and he knocks down his free throws at a good rate, a place he spends a good amount of time.

Nothing about Siladi's game is particularly consistent, but he finds a way to be productive by running the floor in transition, making spot-up jumpers, crashing the offense glass and finishing well around the basket. His feel for the game is average, as he'll make some poor decisions from time to time, but his energy level is high for the most part, so he finds a way to get the job done at this level. He's an excellent rebounder and will come up with a nice block on occasion.

Siladi is clearly a guy to keep an eye on for the future, although he has much to prove at this point before we can start discussing him as a legit NBA prospect.
William Howard, 6-4, Shooting Guard, INSEP, 1993
Possibly the most complete guard seen in Belgrade, William Howard did a great job of showing his excellent all-around game and helping his team make the finals, drawing some comparisons to
Thabo Sefolosha
in the process.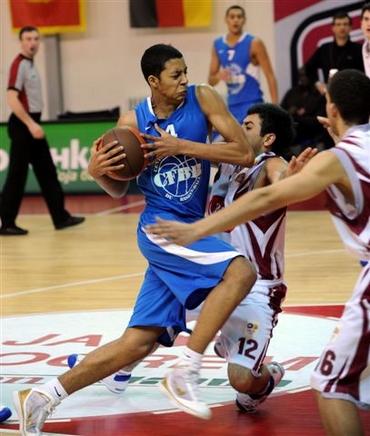 A skinny 6-4 shooting guard with average athleticism, Howard is an extremely smooth guard who plays the game with great elegance. He can create his own shot going in either direction, even if his ball-handling skills still need work, and needs to get stronger and tougher finishing around the basket to compensate for his just-average physical tools.
The most impressive thing about Howard might be the basketball IQ he shows, always respecting his team's spacing in the half-court, moving off the ball intelligently, and being extremely unselfish looking for the open man, while never forcing a thing. He has a very nice pull-up jumper that he loves to get off from mid-range, not showing great elevation creating separation from his defender, but nonetheless being very effective with it. He also has outstanding range on his jump-shot, connecting on some long-range bombs from well outside the 3-point line.
Defensively, Howard is excellent, showing great timing coming up with blocks and steals, and putting a very good effort in as well. He needs to get stronger as mentioned, but shows very nice potential in this area, especially if he grows a bit more.
Howard seemed to disappear completely in the championship game, which was a bit disappointing. He's a very young player, though, so it's obviously not the end of the world. According to the reports we received, Howard is supposedly very interested in playing college basketball, as his father is American. He would probably be considered a very good high school prospect if he played on this side of the ocean, similar to Illinois'
D.J. Richardson
.
Nikola Pavlovic, 6-5, Shooting Guard, FMP Zeleznik, 1993
One of the most efficient and fundamentally sound players seen in Belgrade, Serbian Nikola Pavlovic may not be oozing with unlimited potential, but was nevertheless one of our favorite players at the tournament.

6-5, with a nice frame but just average athleticism, Pavlovic impresses primarily with his slashing ability, finishing the tournament shooting an incredible 78% from inside the arc. He's extremely aggressive looking to create his own shot and sports excellent timing for a player his age, showing terrific body control and footwork and using his body nicely at the rim.

He has a very strong basketball IQ and rarely forces the issue, playing the game with a very nice pace and looking quite unselfish with the passes he made.

Probably not a great shooter at this point in time, Pavlovic made the spot-up jumpers (and sometimes pull-up) that were presented to him, but needs to improve on this part of his game. Showing just average lateral quickness, Pavlovic is a hustler nevertheless, not being afraid to get a bit dirty on top of that to get the job done, which is a nice sign.

Only 16 years old, Pavlovic still has a long road ahead of him, but he's off to a nice start so far.
Mathis Keita, 6-3, PG/SG, INSEP, 1992
A smooth French combo guard with a good frame, wingspan and athleticism, Mathis Keita often served as INSEP's main offensive facilitator, playing both on and off the ball. A limited perimeter shooter due to his poor mechanics and elevation, Keita nonetheless made the occasional jumper in catch and shoot situations.

He can create his own shot effectively and change directions nicely on the fly, being very limited with his left hand but being able to get to the rim fairly well regardless. He's not a great finisher due to his average toughness and explosiveness, but emerged as a very good decision maker in the half-court, willingly making the extra pass, particularly on the drive and dish.

Defensively, he is quite effective thanks to his physical tools and intensity level. Not exactly overflowing with long-term upside, unless he can substantially improve his playmaking ability and perimeter shooting, we'll have to see how he continues to develop down the road.
Gide Noel, 6-6, SF/PF, ASVEL Villeurbanne, 1993
Although unlikely to emerge as a true NBA prospect anytime soon, Gide Noel still deserves a mention in this space thanks to his unique performance, profile and all-around game.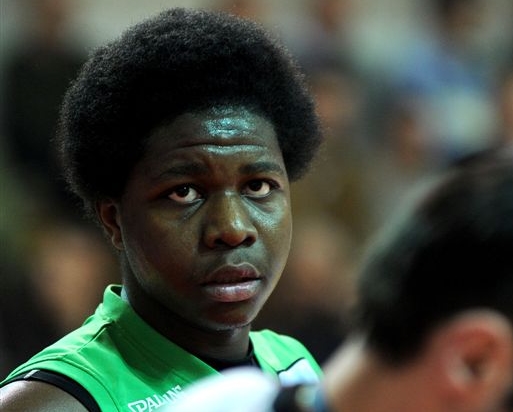 A native of Haiti and only a member of ASVEL's team for about a year now, Noel nevertheless was the most important cog on his team's squad, acting as their go-to scorer and main offensive facilitator--filling up the stat-sheet with points, rebounds and assists.
Somewhere around 6-6, with an body that reminds of a different era of basketball and could easily stand to shed 20 pounds, Noel is a lefty with a big frame who shows little to no athleticism at this point. He lacks quickness, can't really elevate off the floor, struggles to move laterally, but nonetheless finds a way to get the job done at this level, in a way that made it difficult not to end up liking him.
He likes to operate with his back to the basket, where he shows the ability to move guys around effectively and use his body to his advantage, displaying a couple of sweet post-moves that he often finishes with a pretty lefty jump-hook. When faced with a double team, Noel shows amazing ability to find the open man with amazing creativity, showing court vision that hints at terrific things that could be in store for him down the road. His feel for the game is simply outstanding, and immediately allowed him to stand out from the pack in this tournament.
Facing the basket, Noel can make a 3-pointer, but is incredibly streaky, something he must work on (along with his free throw shooting) to emerge as a true small forward down the road. He doesn't have much of a right hand, and isn't really quick enough to get by anyone, although he's smart enough at this level to know how to overcome that right now.
Defensively, Noel struggles badly with his poor lateral quickness, being hampered by foul trouble and lacking the height to guard some of the more talented big men he faced. He must continue to shed weight and work on becoming more agile and explosive, as his excellent basketball IQ won't be enough as he progresses to the senior level. How good of a pro Noel becomes is anyone's guess at this point, but that doesn't take anything away from how much fun he is to watch at the moment.
Sergej Vujetic, 6-11, Power Forward/Center, FMP Zeleznik, 1992
Clearly one of the more raw players on FMP's roster, and seeing very little playing time in turn, we should nonetheless note the intrigue that Sergej Vujetic provided in small doses, mainly in FMP's warmups. Freakishly long, with a narrow frame and intriguing athleticism Vujetic is a sort of left-handed Serbian version of
Alexis Ajinca
. He's too soft and skinny to do much of anything in the post, and gets pretty much destroyed anytime he needs to guard anyone inside, but has interesting potential regardless due to his rare physical tools. Not turning 17 until December, Vujetic is a big guy that we can afford to be patient with.
Nikola Radicevic, 6-5, PG/SG, Partizan Belgrade, 1994
The most interesting player to emerge from an otherwise average Partizan squad, Nikola Radicevic is intriguing primarily due to the size he displays at the point guard position, combined with his extreme youth.

6-5, with solid athleticism, Radicevic is a nice shot creator thanks to his strong first step and his ability to change directions effectively with the ball. He pushes the ball up the court in transition well, showing good speed in the open floor and nice creativity. He's a bit of a wild guy at times who can string together some great plays with some awful ones, which is somewhat to be expected considering that he's just 15 years old.

While he seems to have a pretty good feel for the game, he'll need to learn to value the ball more as he gets older and continue to develop his court vision and passing skills if his future really is at the point. His shooting stroke looked like nothing to write home about, and he was absolutely lit up at times on the defensive end, particularly in the semifinals when he just could not stay in front of FMP's guards.