Clearly having worn out my welcome in Russia, it was time to work my way back home, with a quick four day stop through Barcelona. Initially the plan was to just take in the DKV Joventut-Lottomatica Roma game, but having realized how many draft prospects are hanging around in the immediate area, I decided to take advantage of the opportunity and go see some of them play and practice. Therefore, this blog will be split into two, with the first entry about Barcelona focusing strictly on their suburban team from Badalona, Joventut, while the next will cover all the other draft prospects I was able to observe while here.
Joventut is a special team in European basketball. Conveniently based about 20 minutes outside of Barcelona on the metro, the team manages to maintain a very small and local feel to it, something that immediately became evident as soon as I walked into their facilities to watch one of their practices.
Not having anywhere near the budget of most of the top clubs in Spain (for example Real Madrid, Barcelona, Tau Vitoria, Unicaja Malaga, or even Pamesa Valencia), the team has regardless managed to enjoy considerable success both domestically and in European competition over the last 40 years—ranking third behind Real Madrid and Barcelona with four Spanish league championships. Last year the team enjoyed a very special season, winning the Copa del Rey and ULEB Cup Championship, before parting ways with their superstar,
Rudy Fernandez
.
Despite losing Rudy to the Trailblazers, as well as their head coach Aito Reneses to Unicaja Malaga, and with injuries forcing arguably their top two players (
Ricky Rubio
and
Pops Mensah-Bonsu
) to miss almost the entire season thus far—the team has surprisingly stayed extremely competitive in both the Euroleague and domestic ACB (with a collective 11-7 record thus far). This is not a small feat considering that they are going up against the cream of the crop of European basketball every single night and already had nowhere near the same resources as their counterparts, even before their most recent setbacks.
In this day and age of European basketball—where cash is king and Cinderella-type upsets are becoming increasingly rare, I felt the need to do a little investigating on my own to try and find the secret behind Joventut's overachieving ways.
The best place to start would probably be with their youth teams. Along with FMP Zeleznik, Joventut is considered to have the top developmental basketball program in all of Europe. Besides
Ricky Rubio
and
Rudy Fernandez
(possibly the two biggest talents to ever come out of Spain), the team has also developed national team players such as
Raul Lopez
, Alex Mumbru, Roger Grimau, Jose Antonio Montero, the Jofresa brothers, and the legendary Jordi Villacampa (currently the team president), amongst others.
The reason that is possible begins with the city they are located in. As assistant coach Pep Claros told us "Badalona is a city where children grow up thinking that basketball is first, the most important thing."
Not only does the team develop young players, they also give them significant playing time from a pretty early age. It's no surprise that
Rudy Fernandez
got his first taste of high-level European basketball at age 17, already becoming an important player at age 18, while
Ricky Rubio
made his debut at age 15 and was a regular part of the rotation the following season.
It doesn't just happen with the super-talents, though, a significant part of their current roster was bred in-house, which further distinguishes them from almost any other team that plays in the Euroleague. Youngsters
Henk Norel
and
Pau Ribas
see a great deal of playing time, which almost surely wouldn't happen in almost any other team in the ACB. 1989 prospect Pere Tomas, 1991 born
Josep Franch
, and 1992 product Joan Tomas (according to some, the next-great Joventut player possibly) are biding their time patiently here as well.
Another thing that makes Joventut unique is their style of play. Incredibly up-tempo and high scoring, the team shoots a ton of 3's, runs the floor extremely hard in transition, spaces the floor intelligently, and will occasionally even surpass the 100-point mark (a rarity in Europe). Also putting a big priority on wreaking havoc on the other end of the floor, they are as aggressive as they come defensively. They like to press for 40 minutes, trap in the corners, gamble in the passing lanes, and cause the opposition to adapt to the tempo that they want to dictate. They heat up quickly and cool off just as fast, building up big leads and sometimes blowing them over the next few possessions, as they did at one point in the game we saw against Rome.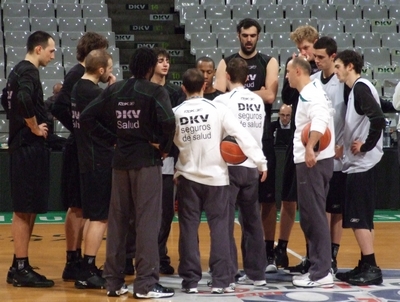 The practice we took in reflected their style quite well. To start things off, the players worked on a number of drills focused on simple, fundamental passing—not unlike what you might see in a high school practice. After that, they went through a series of very quick half-court/early offense sets—very simple actions that took no more than 3-5 seconds to execute, and featured a variety of options that the player could freely choose after reading the defense and deciding how to react. It seems they rely heavily on the element of surprise, and give their players quite a bit of leeway to operate.
Coach Sito Alonso (age 33) stopped the practice a few times to stress a couple of key points:
1) Always be ready to shoot. The team appears to encourage their players to operate quickly and not give the defense time to set-up. Players need to catch the ball looking to score, but if a good shot isn't there, they must quickly continue to move the ball around.
2) Passes must be executed at a high level—the ball-movement should be crisp, but the passes can be made in a variety of ways. We saw a variety of hand-offs, backward pitches, lateral actions, drop-offs to the weakside of the post, and all kinds of creative passes that might not have always been tolerated by other coaches. Regardless, the ball was constantly whizzing around the court. Rarely did you see it stop for a one on one play.
3) Players should constantly be changing speeds and directions. The team tries to be as hard to scout in advance as possible, and thus relies heavily on being unpredictable.
4) 3-point shooting looks to be very important. As evidence, they currently lead the ACB in 3-point attempts and rank 2nd in the Euroleague. Also of note is the fact that every player in their rotation shoots 3-pointers. Between
Jan Jagla
,
Luka Bogdanovic
and
Simas Jasaitis
, they seem to have cornered the market on perimeter oriented tweener white guys.
At the end of the practice, we had a chance to speak with assistant coach Pep Claros (who has coached all over the world, including in the NCAA and CBA) about Joventut's system, their philosophy, and a little bit about
Ricky Rubio
. Here is what he had to say:
DKV Joventut Prospects
Ricky Rubio
Having sat out the entire season thus far, besides a short 2-minute spurt last weekend in the ACB, this obviously wasn't the best time to evaluate
Ricky Rubio
's progress. Regardless, there were a couple of things to take away from watching him play (briefly) against Rome and in practice the following day.
-His impact extends far beyond his ability to score:
We always knew this, but watching him play with only one hand (in practice it was almost painful to watch him shoot two-handed layups, air-ball mid-range jumpers and brick free throws) only amplified this point. Rubio got his hands on every ball even remotely in his area in the game we saw the moment he stepped out on the court—causing deflections and turnovers on a couple of occasions. His knack for getting in the passing lanes is nothing short of amazing, and he's an absolute nuisance playing defense on the ball.
In addition, he was able to display his terrific court vision repeatedly, as he is simply unable to score with his right hand being in the shape it's currently in. He was able to beat
Brandon Jennings
off the dribble badly on two separate occasions, and repeatedly delivered incredibly creative passes to teammates that surprised even them based on the way they reacted. They apparently either didn't understand his brilliance or just aren't used to being fed that way. A play at the end of the first half did a great job demonstrating his outstanding instincts—as he corralled a rebound with about two seconds remaining, and immediately whipped a full-court outlet pass to a streaking teammate for an easy layup just as time expired.
-He's a natural born leader, and extremely likable on top of that
The moment Rubio came into the game, he immediately began directing traffic and instructing them where to go. In practice, he quietly demonstrates to players close to twice his age where they should be on the floor in a certain set or drill. During shoot-around, he jokes around in English with the foreigners, and in Spanish with the local players. As they are going through a certain drill—the team runs until Coach Alonso claps, at which point the players must begin to sprint—Rubio shows his playful side by clapping himself mid-stride, which the players must have seen before, as no one fell for it. He has a special quality about him, there is no doubt about it, and it's pretty obvious that he's extremely well-liked by his teammates. The fact that he's even playing right now is a testament to how much he wants to help his team win.
Even prior to his injury, it would have taken some pretty special circumstances to get Rubio out of his contract, which currently sports a seven million Euro buyout.
With that in mind, and considering everything we've heard during our time in Spain, we now expect Rubio to stay at Joventut for at least another season, if not two, which is when his contract expires.
It's possible that Joventut decides to up Rubio"s salary from the laughable sum of 80,000 Euro he's currently making-which probably makes him the most under-paid player in Europe- but it's unlikely they will shorten the contract or accept an NBA affordable buyout prior to 2011.
All things considered, why would they?
Rubio himself reportedly told Brandon Jennings (possibly in a photo shoot for Slam magazine?) that he expects to wait until the 2010 draft, at least according to Jennings himself.
Henk Norel
DKV Joventut has continued to draw a steady amount of NBA scouts this season, thanks to the play of their 21-year old Dutch big man
Henk Norel
. He's having a pretty successful rookie season in both the Euroleague and ACB, playing around 14 minutes per game, and being relatively productive in his time on the court.
Playing somewhat of a limited role offensively, Norel is getting his offensive production the way you would expect based on his profile—running the floor extremely hard (often being the first one down the court), crashing the offensive glass (showing a great knack for finding loose balls), and making some basic moves in the post. His length, activity level and touch come to good use here, and he's using his excellent extension around the rim to throw in some very elegant hook shots with both hands and really nice touch. Smart on the pick and roll, he rolls off the ball with purpose and is capable of catching and finishing above the rim in strong fashion once there, making him a very reliable target. He even hit a 3-pointer last week in the ACB, although he's only shooting 62% from the free throw line on a limited number of attempts.
Defensively, he is competing, as you would expect, but he suffers at times going up against stronger players who can back him down and take advantage of his lack of strength—making him a bit foul prone. He struggles with screens, looks inexperienced at times with his off-ball defense, and can get outmuscled going after defensive rebounds (his per-minute production here is poor).
Norel was knocked out of the Rome game on two separate occasions, once after taking an elbow to the nose, and once after hurting his knee following a vicious hip-check from
Andre Hutson
—while already wearing a mask. The crowd seems to love the energy he brings to the floor, and serenaded him with chants as he limped to the bench. Norel draws unanimous praise from coaches for his work ethic and team spirit.
Considering the way he looks, and what we know about him already, it wouldn't be shocking to see someone pull the trigger on drafting him in the late first round—he's automatically eligible as a 1987 born player. If an NBA GM thinks that his body will be able to put on 15-20 pounds over the next few years, he could be getting a very productive role-player to bring off the bench at the 4/5 position. One NBA scout we spoke with compared him with San Antonio Spurs big man
Fabricio Oberto
.
Pau Ribas
With
Ricky Rubio
out for most of the season thus far,
Pau Ribas
has been forced to shoulder a bigger role for DKV Joventut this season, seeing significant time as the team's primary ball-handler. The result has been a large drop in shooting efficiency alongside a large gain in assists produced, but all in all it's hard not to respect the level he's playing at his tender age.
Ribas is a player with very specific strengths and weaknesses. Incredibly smart, and highly opportunistic, he can really shoot the ball from the perimeter, despite his average percentages this season. He sees the floor well and does a great job getting everyone involved unselfishly, having somewhat of a calming influence on what otherwise becomes a somewhat chaotic team at times when things begin to break down. He also plays with a good deal of focus and intensity, which lends itself to the defensive end as well, although not always with the best results due to his average physical tools.
Ribas is a fairly poor athlete with a frame that is extremely underdeveloped at the moment. He often lacks the quickness needed to create his own shot, and thus is a bit limited when asked to shoulder the majority of his team's ball-handling duties in end of shot-clock situations, particularly asked to break the defense down off the dribble. His lack of strength makes it a bit difficult for him to finish strong at the basket, and the majority of his field goal attempts come from beyond the arc, which makes him a bit predictable. That same lack of strength and athleticism can be a hindrance in certain defensive matchups as well, as quicker, stronger guards can take advantage of him at times.
As far as the NBA is concerned, Ribas is unlikely to interest most NBA decision makers due to his limited upside. For Europe, though, he looks like a very high-level player and will likely be on the radar for quite some time, thanks to his high skill level and terrific feel for the game.