1:31 AM:
We've got a full slate of games all day long on the second day of action, featuring some of the top prospects in this year's upcoming draft.
Here are some of the games we'll try and follow throughout the day tomorrow:
all times EST
#11 Utah State vs #6 Marquette, Boise, 12:30 pm
#3 Kansas vs #14 North Dakota State, Minneapolis, 12:30 pm
#11 Temple vs #6 Arizona State, Miami, 2:45 pm
#11 Dayton vs #6 West Virginia, Minneapolis, 3:00 pm
#12 Arizona vs #5 Utah, Miami, 7:10 pm
#10 Southern California vs #7 Boston College, Minneapolis, 7:20 pm
#13 Cleveland State vs #4 Wake Forest, Miami, 9:40 pm
#12 Wisconsin vs #5 Florida State, Boise, 9:55 pm
As you can probably guess, a large amount of NBA teams have congregated in Miami, where not only are they enjoying 80 degree weather, but they can only watch the likes of
Jordan Hill
,
James Harden
,
Jeff Teague
,
Al-Farouq Aminu
,
James Johnson
,
Jonny Flynn
,
Chase Budinger
,
Dionte Christmas
,
Luke Nevill
and others.
1:30 PM
The first day of the NCAA tournament brought us our first marquee matchup between two stud NBA prospects.
Jrue Holiday
broke out of his shell to come up with a very strong outing for UCLA, while VCU's
Eric Maynor
was responsible for plenty of heroics but ultimately came up just a bit short on the final possession. It's safe to say that both players helped their stock with this performance.
Just a few days ago we talked about the disappointing recent play of freshman
Jrue Holiday
, who was "averaging just 5 points per game over his last 11 contests" and coming off a real stinker against USC, where he only mustered 1 point on 0-8 shooting in 31 minutes. What better time than the NCAA tournament to step up to the plate and show what all the fuss was about? With VCU electing to press/face-guard
Darren Collison
, a fair amount of the ball-handling duties were put on Holiday's shoulders. Once Collison got into foul trouble, we even got to see Holiday get some rare minutes at point guard, which produced some interesting results. Considering the circumstances and the fact that Holiday played a career-38 minutes, this game provided an especially interesting look at the freshman prospect.
Despite an early turnover and some occasional shaky ball-handling, Holiday was able to break through the middle of VCU's press on a couple of occasions, looking extremely aggressive in transition and getting to the rim far more than he'd shown the nerve to at any other point this season. He came up with one very impressive defensive play just a few minutes into the game, smothering Joey Rodriguez as he passed the half-court line with his terrific size and length before taking the subsequent steal coast to coast for an emphatic dunk. As often as Holiday got into the lane, he ended up eventually exposing one of his biggest weaknesses at the moment—his poor finishing ability. He blew a number of relatively good looks right around the basket, electing to throw some tough layups in high off the glass rather than going up strong to dunk the ball. It's not a stretch to say that he could have finished this game with over 20 points if he had done a better job around the rim.
Holiday came up huge for UCLA mid-way through the second half, as the Bruins were nursing a shaky lead with
Darren Collison
on the bench and VCU storming back. He first hit a beautiful 18-foot pull-up jumper with a hand in his face and the shot-clock running down, and then hit an awkward contested two handed floater from the free throw line about a minute after. A few possessions later, he broke VCU's press in impressive fashion and missed a fairly easy layup that would have put his team up by 13, but then made up for it by breaking the press again and finishing nicely with his left hand right around the four minute mark. UCLA also executed a couple of successful pick and roll plays going through Holiday, and got two very key free throws from
Alfred Aboya
with about a minute to go from that two-man game. Defensively, Holiday was his typical terrific self, and was a huge asset for UCLA to have in many key possessions guarding
Eric Maynor
.
It will be interesting to see how Holiday responds to this strong showing---he hasn't been able to find the consistency needed to string together many productive games. UCLA will need him at his best when they go up against a feisty guard-oriented Villanova squad playing on essentially their home floor at the Wachovia Center in Philadelphia. We've heard quite a bit of rumblings this season from NBA-types indicating that they don't think Holiday is anywhere near as good as his high school recruiting hype would suggest, but history says that his bandwagon could fill up quickly if he were to continue his impressive tournament play.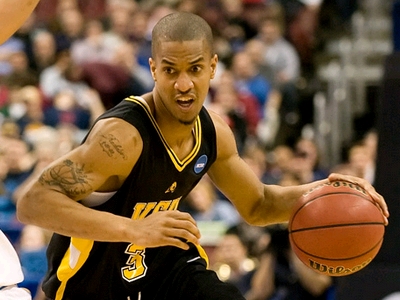 On the other end of the spectrum we find
Eric Maynor
, who went out with a real bang in what unfortunately turned out being the last game of his outstanding college career. As good of a senior season as Maynor has had, the conference he plays in made it important for him to have a strong showing against a team featuring excellent guard play and a couple of future pros in order to quell any doubts scouts might have. He did that and then some, proving that he can get his shot off even with an entire defense keyed in on him, and again displaying the type of clutch play that has become his trademark over the last few years.
Maynor was responsible for 32 offensive possessions, illustrating his incredible importance to VCU. With that said, he only turned the ball over twice (one of which was a very dubious palming violation), while dishing out 7 assists, showing a great understanding of when to force the issue and when not to. As he always does, Maynor looked to get his teammates going early by setting them up for easy looks, while being cognizant of situations (very early or especially late in the shot-clock) where he'd be able to help his team by going and hunting out his own shot. UCLA really did a great job preparing for him, always being ready to send plenty of help defense over in his direction once he got into the lane, and constantly mixing things up by sending a fresh defender at him.
Darren Collison
,
Jrue Holiday
,
Jerime Anderson
and a very hard pick and roll hedging
Alfred Aboya
all got a shot at him in a futile attempt to rattle his poise.
The most impressive aspect of Maynor's performance was probably the way he constantly kept UCLA's defense off-balance with the different speeds he played at. When it looked like he was walking the ball up the floor to get VCU into their half-court offense, he wouldn't hesitate to break off the play if he saw a gap in the lane that could potentially be exploited –shifting into his top gear instantaneously, and looking to draw contact in the paint to get to the line. When UCLA got too aggressive with their pressure on the ball, Maynor showed a phenomenal ability to spin off his defender from a stand-still position to break free and open up the floor –going left or right equally well and being highly unpredictable with his moves at all times. Maynor quickly caught onto UCLA's strategy of packing in the paint when he was looking to drive, and had no problem finding open teammates with clean looks on the perimeter, many of which they knocked down to keep the game within striking distance. Simply put, there isn't a point guard in college basketball who plays the game at a better pace than he does, and this is probably the biggest thing he brings to the table as a prospect.
In terms of shooting/scoring, this wasn't the most impressive performance we've seen from Maynor this year, as his floater wasn't falling consistently and he missed a few shots that he normally would make. We've talked about his lack of strength and explosiveness finishing around the basket on a couple of occasions in the past, and clearly he'll need to continue to hone his already solid mid-range game to be effective in the NBA. He did have a couple of very nice plays where he showed his potential as a scorer, utilizing strong hesitation moves to get into the lane, and knocking down some tough pull-up jumpers, particularly in the second half when his team really needed his offense. He probably would like to have another stab at the final possession in the game, where
Darren Collison
cut him off beautifully and forced him into a very difficult contested fade-away jumper from 18 feet, but in all fairness, that's a shot we've seen him make quite a bit.
Maynor struggled on the defensive end in this game, gambling excessively as he tends to do, which is something his future NBA coaches will need to work on. All in all, though, it was hard not to come away extremely impressed with his performance in this game, and there is no question that this will end up helping his draft stock when NBA decision makers review the way he competed against this tough UCLA team.
2:07
There is, as expected, a strong contingent of North Dakota State fans on hand to support the semi-local team. You know this is going to be a good game since we have our first
Gus Johnson
sighting.
The Kansas- North Dakota State game is off to a great start. Both teams are knocking down their shots—for Kansas
Sherron Collins
is fire the perimeter while
Ben Woodside
is running the show for NDSU, creating great looks for his teammates on the perimeter or himself inside the lane. He's turned the corner twice already for some soft kisses off the glass, showing a very quick first step and excellent touch—prompting
Gus Johnson
to call him a "
Steve Nash
-type point guard for college basketball."
Sherron Collins
has 13 early points for Kansas, up 21-19, at the under-12 media timeout. He's unloaded a barrage of tough 3-pointers, contested pull-up jumpers, an alley-oop to
Cole Aldrich
and some strong takes into the paint. What a first half performance…
2:28
Ben Woodside
is having absolutely no problems getting his shot off against Kansas' defense. He's knocked down a couple more 3-pointers, and is continuing to get into the lane and finish with his beautiful floaters. He's made 7 of 10 shots and has 16 points on the game so far.
Sherron Collins
has cooled off a bit as he tends to do, but still has 17 points on 8/12 shooting. North Dakota State is very much in this game thanks to their excellent 3-point shooting and the competitiveness they've shown on the glass thus far, especially Brett Winkleman with 6 rebounds. It's not quite clear why Kansas isn't doing a better job getting
Cole Aldrich
involved inside, as NDSU has nothing close to a matchup for him. Aldrich has 8 points on 4/5 shooting, mostly on dunks. At half-time the score is 43-34 Kansas.
2:42
Woodside is showing some real craftiness drawing contact in the paint and forcing the officials to make calls. Not only is he extremely quick, but he also changes speeds extremely well, being an outstanding ball-handler (going left or right) with great poise. Turnovers have been a bit of an issue today, but that's to be expected considering how heavy a load he's forced to shoulder for NDSU offensively. What really makes Woodside unique at the college level is that not only is he an excellent shooter/scorer who can create his own shot and get into the lane, but he's also very much a pure point guard with excellent court vision and a terrific ability to find teammates on the pick and roll. We've compared him in the past to
Jose Juan Barea
, and he's doing a good job backing us up with that. Being able to blow by Kansas' defenders as if they did not even exist all day has to be opening up some eyes about his future pro potential.
After falling behind by double-digits, North Dakota State has battled back by continuing to knock down shots and limit mistakes on both ends of the floor. This is not just the
Ben Woodside
show—they're getting steady contributions from everyone on the floor, especially Brett Winkleman. At the under-12 timeout, its 56-52 Kansas.
3:01
We hate to beat a dead horse, but
Ben Woodside
's crossover and first step is getting him to wherever he wants on the floor, and is allowing him to make a living inside the paint and at the free throw line. He doesn't even really need to use a screen, he's just turning on the jets and blowing past whoever is on him in pure one on one situations. He has 32 points on 11/18 shooting. On the other end we're watching a performance that is no less impressive from
Sherron Collins
, as he continues to make shots and run the pick and roll effectively with
Cole Aldrich
, who has now fouled out NDSU's starting center. Collins has 7 assists in addition to the 25+ points he's scored. At the under-4 timeout Kansas is up 69-62. What a great way to start off the second day…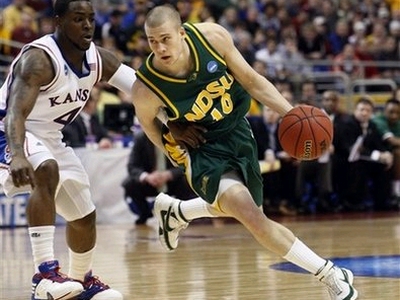 3:20
Despite the heroics of
Ben Woodside
, North Dakota State came up a bit short in the end, as Kansas' superior depth and athleticism was just too much for the Summit league team, who really put on an impressive performance.
Cole Aldrich
came up with some big offensive rebounds and put-backs, and
Sherron Collins
continued to make plays in the half-court and the free throw line to carry the defending national champions to victory.
Woodside finished the game with an amazing 37 points on 13-23 shooting and 8-10 from the free throw line, to go along with 2 assists and 6 turnovers, playing all 40 minutes.
Sherron Collins
countered with 32 points, 8 assists and just 2 turnovers on 12-26 shooting and 6-6 from the free throw line.
Cole Aldrich
had a strong showing as well with 23 points, 13 rebounds and 2 blocks on 9-12 shooting.
There were some good games going on while we were focusing on Kansas-North Dakota State. Marquette survived a serious scare from Utah State, winning 58-57, behind 26 points from
Lazar Hayward
. Draft prospects
Jerel McNeal
and
Wesley Matthews
combined to shoot 6-26 from the field for 25 points.
Tennessee and Oklahoma State went down to the wire as well.
Tyler Smith
had 21 and 10 rebounds in a losing effort (missing the potential game-winning 3-pointer) to counter
Byron Eaton
's 21 points and 6 assists for Oklahoma State.
James Anderson
had a quiet day it looks like, scoring 10 points on just 4-8 shooting.
We're moving on to the Temple-Arizona State game next.
3:41
James Harden
had a very rough first half, being absolutely smothered by Temple's defense, and failing to convert on a single shot. He is currently 0/5 from the field with 3 turnovers, while Derrick Glasser has unexpectedly exploded for 17 points to help pick up the slack.
Dionte Christmas
hit a bunch of shots (three 3-pointers, some really deep) and has 13 points at the half. This isn't really what you could call a great game, especially coming off the terrific Kansas-North Dakota State matchup.
4:45
While we wait for the Arizona State-Temple game to advance a bit so we can watch it commercial-free, we'll tie up some loose ends and answer some emails that came in.
First off, we had a few people wondering why we haven't fulfilled our promise from to talk about
Blake Griffin
's performance last night. The truth is, after watching the film, there isn't a great deal to say. It pretty much looked exactly the way you would expect if you put the most athletic big man in college basketball against a low-major, low-IQ team with absolutely no game plan for how to stop him. Griffin was able to establish deep position in the paint whenever he pleased, where he didn't have to do much work to put the ball in the basket. More interesting was the work he did facing the hoop, putting the ball on the floor and converting a tough fade-away off the glass, a lefty layup, and a 17-foot mid-range jumper. He ran the floor in transition like a gazelle and showed his terrific agility by catching and finishing a tough lob off the glass, one of a few alley-oop plays he was on the receiving end of. He finished the game with an easy 28 points and 13 rebounds on 11-12 shooting.
From a scouting perspective, the most interesting play of the game was probably the thuggish act by Morgan State freshman Ameer Ali, body-slamming the future #1 pick to the ground for no reason whatsoever after the two got tangled up going after a loose ball. Griffin, who calmly walked away after the incident, has been targeted all season long by opponents trying to get underneath his skin with cheap shots. He's always maintained his cool, never retaliating, which tells you quite a bit about his character. The NCAA needs to come down hard on players like Ali, who embarrassed his team, university and the city with that foolish play. Griffin has been criticized by sensationalist talking heads such as ESPN's Skip Bayless for being "soft" for refusing to defend himself, which goes to show how little basketball some "analysts" actually watch these days.
Speaking of mindless members of the media, a couple of people have emailed expressing frustration with the poor coverage the tournament has received, outside of the typical game reports. One reader asked about some good writers to follow over the next few days. There are quite a few, so let's dig right in.
1)
Luke Winn's NCAA tournament blog
, in particular his article after going behind the scenesfor two days with the Memphis Tigers.
2)
Basketball Prospectus
has been doing a great job all season long, and the tournament is no exception. We especially enjoyed Kevin Pelton's
breakdown of Tyler Hansbrough
, and his analytical look at the All-America teams.
3)
Gary Parrish
of CBS Sportsline for a great combination of excellent writing and analysis.
4) Andy Katz didn't become the top college basketball writer for ESPN for nothing, and his blog is generally must-read material considering how incredibly extensive his network of contacts is.
5) Speaking of well-connected college basketball writers, any list wouldn't be complete without mentioning the incredibly prolific Jeff Goodman who has been on top of pretty much every breaking story over the last year and a half.
We'll be back to wrap up the afternoon games and kick off the evening with Arizona-Utah at 7:10.
6:38
Dionte Christmas
had the better individual performance in the matchup of elite NCAA wing players with
James Harden
, but it was Arizona State that ended up advancing to the second round, where they will play Syracuse.
Christmas had 29 points on 8-16 shooting and 8-10 free throws, keeping Temple in the game on a day where they got virtually nothing out of the rest of their roster. He was absolutely automatic with his feet set, finding a number of small opportunities to catch and shoot against Arizona State's matchup zone, and converting on pretty much every attempt. His nice size, quick release and the separation he creates by elevating off the floor allowed him to get his shot off very effectively all game long, which helped him account for over half of Temple's points on the day. He also got in the passing lanes on a couple of occasions and converted in transition, either with a simple layup or by getting to the free throw line. Christmas struggled, as usual, when forced to create his own shot off the bounce, being unable to make any of his off the dribble attempts and never getting to the basket in half-court situations. Defensively, Christmas was mostly assigned the task of Arizona State's lesser wing player besides
James Harden
, which usually ended up being Ty Abott or Rihard Kuksiks, who aren't going to scare anyone. Christmas had a nice final game to his college career, but it's not quite clear if that's going to change anything in the grand scheme of things. For a player who relies so heavily on his outside shot (57% of his field goal attempts are 3's) as pretty much his lone calling card to the pros, you would have liked to see him shoot much better than the 35% he averaged from college range on the season. It's possible that in a smaller role Christmas' percentages would rise, but he really didn't have the type of senior year that would separate him from other shooting guards in this draft. He'll have to perform well at Portsmouth and in private workouts to increase his chances of being drafted.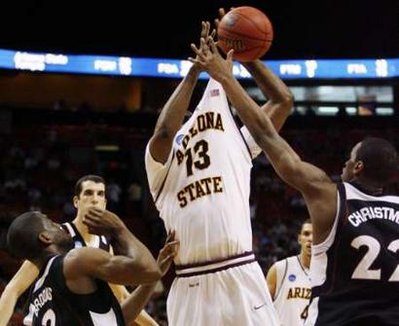 On the other hand
James Harden
had one of the worst games we've seen in quite some time—a 1-8 stinker with 3 assists and 4 turnovers. He looked very lethargic in this game, not really looking to initiate anything until the very end when Temple really started getting close, at which point he made a few big plays to help Arizona State seal the deal. Harden generally didn't look too interested in trying to create much offense, but when he did, Temple did a great job of crowding him with big help-defenders who came well equipped with the scouting report for how to slow him down. Ryan Brooks in particular deserves quite a bit of credit for the pesky man to man defense he played, being extremely physical and not giving him an inch to get his shot off. On the rare occasion that Harden got a moment to set his feet and release a 3-pointer, he was able to convert a huge basket that kept Temple at bay with four minutes to go.
On one hand you have to admire Harden's unwillingness to force the issue with the excessive amount of attention that the opposition threw his way—which clearly opened up opportunities for teammates Derek Glasser and
Jeff Pendergraph
to get easy looks. On the other hand, you have to wonder if his team will be able to get 44 points out of those two like they did today, and whether they can survive without Harden being a bit more selfish. He'll regardless have to show up with much more energy and aggressiveness than he came out with today—it was his first ever NCAA tournament game after all.
Arizona State will play Syracuse next and their spotty 2-3 zone, which Harden should be able to maneuver more successfully and even get some good looks from the perimeter against. It should be a very interesting matchup.
8:35
We're back for the evening games, with both the Arizona-Utah and BC-USC games we want to look at. We'll try and pull up the footage of
Chris Wright
's outstanding game against West Virginia as well to break down his 27 point outburst.
Early in the Arizona game,
Luke Nevill
was called for two early fouls, one on
Jordan Hill
and one on
Chase Budinger
, which is a huge development. We talked about foul trouble being a major factor to look at in the
extremely interesting Hill-Nevill matchup
, and Utah is already suffering, being down 9-4 six minutes in.
On a side-note, we don't think the NCAA tournament will be returning to Miami anytime soon. As a native South Floridian, it's absolutely not surprising to see the arena more than half empty, with a funeral like atmosphere that is very much the norm at sporting events that aren't of immediate interest to the locals.
Utah coach Jim Boylan decided to put
Luke Nevill
back on the floor with 13 minutes to go in the first, a very risky decision that could end up deciding how this game ends up being decided. He doesn't seem to have much choice, though, as he's getting absolutely nothing offensively out of anyone else. Arizona just looks so much more athletic than Utah early on, and since they decided to play defense today (they are very hit or miss in that regard) they are very difficult on both ends of the floor.
Jordan Hill
hasn't looked all that impressive early on in front of the many NBA decision makers that are in attendance. He looked very mechanical on a couple of post-up plays, blew an easy layup, committed an incredibly dumb foul 75 feet from the basket, and was called for traveling just now trying to go at Nevill.
At the under-12 timeout, it's Arizona 16- Utah 6. The Utes have 7 turnovers in 8 minutes.
8:50
Chase Budinger
is playing very well here in the first half, he already has 9 points and is looking very aggressive offensively, taking jumpers, getting in the passing lanes and driving to the basket.
Jordan Hill
continues to struggle, looking very awkward trying to create offense for himself, although his presence is certainly felt on the glass. Turnovers are still a major issue for Utah, they've racked up 12 of them already in the first 16 minutes. They're hanging around, though, in no small part due to Arizona's own dysfunctional offense, at the under-4 timeout the score is 29-23 Arizona.
9:00
At half-time its 34-29 Arizona, in a very forgettable game thus far. Budinger has 12 points and has been the lone bright spot for the Wildcats, besides how poorly their opponents are playing of course. Utah will need
Luke Nevill
to have a big second half, and
Jordan Hill
would be wise to wake up.
9:15
Luke Nevill
has picked up his fourth foul after a strong drive by
Chase Budinger
, so the Utes will have to make a comeback without the Mountain West Conference player of the year. The way they're looking so far, they have very little chance of doing so—as they've turned the ball over 18 times already.
Jordan Hill
picked up his third foul himself after managing to finally get some offense going in the post (he has 9 points) and also being involved with some nice passes with
Chase Budinger
. Budinger has clearly been the story here so far, he already has 18 points in this low-scoring game. It's nice to see how aggressive he's been, he just ran the floor wonderfully in transition and hammered home a fantastic alley-oop lob. The score is 54-43 Arizona, with 11:29 to go.
9:25
You never want to judge a player too much off one game, but Nevill's chances of being drafted may have taken a serious hit after this NCAA tournament. This was a chance for him to show that he can hang with NBA-caliber athletes, and he did the exact opposite, having a very poor all-around game. He looked extremely slow and awkward on the defensive end, being unable to move his feet to rotate and protect the paint or step up on the pick and roll, which will make things very difficult for him at the NBA level. His size and strength won't be anywhere as much an advantage against NBA big men as it is in the Mountain West conference, so offensively you have to question whether he'll be anything more than a 5th option. He's been a complete non-factor in this game. As a rebounder he's strictly limited to his immediate area, something that will only be exposed more as the level of competition rises. Nevill was fortunate not to draw his fifth foul when he sent Nic Wise to the floor with a nasty elbow while trying to protect the rim. That must have got him going, as he's really taken over here in the second half, and now has 23 points in the game.
Arizona is clinging to a six point lead, 63-57, with just under eight minutes to go, so this game is definitely not over yet.
9:41
This strange and terrible game has finally come to a close, as Arizona has knocked off Utah 84-71.
Chase Budinger
showed slightly better slashing skills than we've given him credit for, delivering a strong all-around performance with 20 points, 8 rebounds, 6 assists and 4 steals.
Jordan Hill
looked a lot more like an energy-guy role-player in this game than the top-5 pick most people have him slated as, although he rebounded to finish with a respectable stat-line of 17 points and 13 rebounds. We're very happy that we'll have another chance to see them, especially if it turns out being against Wake Forest (should they take care of business against Cleveland State).
We're going to go back and watch the USC-BC game now, to check in on how
DeMar DeRozan
looks in his first NCAA tournament appearance.
11:11
Just finished sifting through the USC-Boston College game. Tim Floyd really put together a defensive clinic in the second half, absolutely smothering
Tyrese Rice
with different defenses and multiple defenders, usually sporting all kinds of size and length. The whole team looked very good, and they are sure to be a very tough matchup for Kansas on Sunday.
Taj Gibson
was outstanding, going 10-10 from the field for 24 points, 6 rebounds and 5 assists, and
Dwight Lewis
looked quite good as well.
Our main point of interest,
DeMar DeRozan
, had a strong outing in his NCAA tournament debut, with 18 points and 9 rebounds, and interestingly will advance a round when his counterpart
O.J. Mayo
last season could not. He showed little of the jitters that have plagued many of the upperclassmen around the country today, looking extremely confident and aggressive right from the open tip, which has been one of his defining attributes over the past few weeks where he's really surged. He looked for the ball and did everything he could to make things happen, which is a great thing to see from a player with such great physical tools. DeRozan had a couple of sensational plays in transition first and foremost, getting ahead of the defense and showing his phenomenal athleticism with some outstanding finishes. He also managed to score on a couple of open jump-shots from mid-range with his feet set, as well as a pull-up jumper and one nice looking spinning drive. He also showed his limitations on this end, struggling to create his own shot in the half-court, and missing a couple of contested jumpers badly, including the only 3-pointer he attempted. He made a couple of nice passes (he's clearly an unselfish guy) and generally looked very focused and active, crashing the glass hard on both ends of the floor, and getting some production this way as well, thanks to his five offensive rebounds. Defensively he did a fairly solid job, at times being asked to guard the much smaller
Tyrese Rice
, but mostly being placed on BC's second best scorer Joe Trapani (who went 3-11), and generally putting a solid effort in. All in all, there was nothing to go insane about, but it's just another steady, confident performance in the biggest game he's played in thus far in his career, which is definitely noteworthy. DeRozan's upside is unquestionable, even if he still has a long ways to go before reaching his full potential. It's pretty safe bet to say that he would have a terrific sophomore season if he chose to return, but with every strong outing he puts together, he's inching closer up the draft.
We're going to take a quick look at the Wake Forest game, which was looking like a potential upset in the making last time we checked. We'll circle back here if we see anything very interesting.
1:35 AM
All we can say is wow…what a crazy night of college basketball. Not only was #4 seed Wake Forest thoroughly embarrassed by #13 seed Cleveland State, but #12 seed Wisconsin was able to knock off #5 seed Florida State in overtime and Ohio State lost to Siena in double overtime.
We'll start with the game we watched from start to finish, Wake Forest – Cleveland State. Cleveland State shockingly jumped all over Wake from the opening tip, knocking down shot after shot on their way to a 17-point lead, and managed to withstand a second half charge from to end up comfortably winning the game.
This loss was really a comedy of errors from Dino Gaudio and the Demon Deacons, pretty much committing every mistake possible. The first came with the almost comical decision to start
Tony Woods
for the first time in his career—when obviously he had no matchup defensively against the undersized Cleveland State team and was clearly not going to contribute anything offensively to compensate for the obvious mismatch. Wake's players lacked any kind of discipline, looking like a group with no identity and no idea about what their roles are, for example
Al-Farouq Aminu
(a 17% 3-point shooter), who repeatedly settled for terrible 3-point attempts,
David Weaver
who for one reason or another was aimlessly hanging out on the perimeter, or Ish Smith (a 26% 3-point shooter), who insisted on jacking up 3's and driving into brick wall after brick wall in situations where he clearly should have gotten his team into their offensive sets. Defensively, the players did not appear to know who they were supposed to guard—Smith for example was posted up by undersized power forward J'Nathan Bullock on multiple possessions.
Jeff Teague
committed 7 turnovers, looking about as bad as he has all season long, and will likely now face some heavy pressure from the coaching staff to return for his junior season. Despite all the criticism, make no mistake-- Cleveland State deserved to win this game, as they committed just 6 turnovers, made 40% of their 3's, forced 18 turnovers from Wake, and knocked down their free throws down the stretch.
Cleveland State now advances to play Arizona, a matchup of the #12 and #13 seeds, which Louisville will obviously like seeing if they can get past Siena on Sunday.
Speaking of Siena, they were responsible for possibly the best game of the tournament thus far, a double overtime victory over Ohio State. We're going to review the film tomorrow and take a closer look at the play of
Evan Turner
, who came up with a near triple-double, 25 points, 9 rebounds, 8 assists, 5 turnovers, 2 steals and 2 blocks in a whopping 50 minutes. We're curious to see how
B.J. Mullens
looked in the 22 minutes he played. It seemed like he came up with some big rebounds in the overtime periods, but the box-score only credits him with 3.