This is the weekend of National Cup competitions in most European countries. And while the focus of most NBA executives is on the Spanish Copa Del Rey where many NBA hopefuls are participating, in this article we turn our attention to 7-2 Croatian Center
Ante Tomic
, who is among the top NBA prospects in Europe at the moment. While Tomic was very solid, it was his teammate from the U-20 National Team and borderline prospect
Jure Lalic
who actually stole the show. More about Lalic's heroics, which helped Zadar win the Croatian Cup in front of their home crowd, can be found in our regular International roundup next week.
Focusing on Tomic, he put up two very solid performances. First, he helped Zagreb get past Euroleague team Cibona with 11 points, 8 rebounds, and 1 block in 26 minutes, and then posted 7 points, 9 rebounds and 2 assists in a very competitive Final against Zadar.
Here is his game log from the Final, to give you a better feel for the type of player he is right now.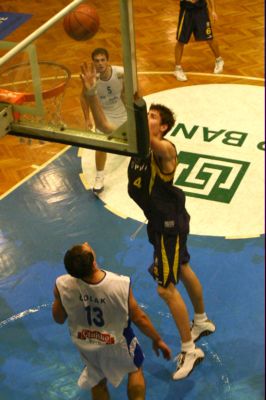 - Enters the game with 4:35 left in the 1st quarter, and Zagreb trailing by 10
- Immediately posts up Frane Colak and is fouled
- On the same possesion catches a difficult pass under the rim and draws another non-shooting foul
- Commits an intentional foul trying to stop fast-break
- Knocks down a 12 foot jumper from the left wing off the glass, showing excellent touch
- Gets a rebound in traffic far from the rim, despite being out of position. Thanks to his length, he ended up with the ball
- Fakes a shot from mid-range and passes the ball to open sharpshooter Nikola Garma, who nails the three-pointer
- Is late rotating on Frane Colak, who gets a clean look from three-point territory, but misses
- Shows up and under move against Colak, but Todor Gecevski comes from the weak-side and blocks his shot
- Gets his 2nd personal foul trying to stop Carl English on a drive to the basket, failed to control his body
- Misses a wide open jumper from the free-throw line
- Gets a lucky defensive rebound after being out of position on the glass
- Plays pick and roll with Dwayne Broyles and gets fouled on a left-handed half-hook attempt
- Makes 1 of 2 from the line
- A nice pass to an open man under the hoop gets deflected, but Zagreb holds possession
- Fails to secure a defensive board, but then puts his body on the opponent, taking contact and forcing a turnover
- Gets a defensive rebound in heavy traffic and is fouled
- Makes both Free Throws
- Fights to get an offensive rebound, but then misses the follow-up hook shot
- Substituted with 3:30 left in the 1st half, Zagreb down by 3
- Grey-haired Gordan Zadravec gets his 3rd personal, Tomic comes back in with 1 minute to go till halftime
- Is obviously fouled while trying to reach an offensive rebound. No call. His coach complaints and gets a technical
- Half time, Zadar 46:42 Zagreb
- Missed an open 10 foot jumper from the right wing
- Plays good help defense on playmaker Jakov Vladovic, forces him into a tough shot, which he misses
- Shows great hands corralling an extremely difficult rebound after a missed three-pointer
- Steals in-bounds pass and is immediately fouled
- Makes spin-move around Gecevski and finds open teammate with deft bounce pass
- Fails to convert another wide-open jumper from 18 feet
- Gets defensive rebound after missed free, by boxing-out properly
- Gecevski gets an offensive rebound right over him
- Pushes his opponent, who falls to the ground, and then makes good use of situation by dishing out a crisp pass to running Denis Vrsaljko for two easy points
- Corrals uncontested defensive rebound
- Misses half-hook after turnaround move
- Catches another easy defensive board
- Is called for flagrant foul after giving up offensive rebound to
Jure Lalic
- Gets benched with 2 minutes left in the 3rd quarter
- Comes back in the game with 8:35 remaining, Zagreb trailing by 6
- Grabs defensive rebound after missed Free Throw
- Helping guard Carl English, leaving his man
Jure Lalic
open who gets to the line
- Ties the game with jumper from Free-Throw line
- On the very next possession, misses from the same spot
- Is late on
Jure Lalic
who gets a clean look and converts a trey. 75:70 with 4:15 to go
- Steals the ball under the rim showing good reactivity and reflexes
- Guarding Carl English on a drive to the basket pretty well, but Canadian gets a very tough layup to go in
- Commits a hard foul on
Jure Lalic
with 55 seconds to go, sending him to the free throw line
- Is ejected with 25 seconds left, after picking up his 5th foul
OVERVIEW
This game showed us exactly why Tomic is considered such a high-profile prospect, but also why he is still some years away from contributing anything significant at the highest level. Starting with the negatives, Ante was unable to establish good position on either block, being outmuscled and outhustled regularly. He was able to come away with 9 rebounds, but his work on the glass was poor in the first half when Zadar was able to get many offensive boards. After the halftime break, Tomic played with better intensity and showed much more poise coming up with some difficult rebounds. Even more concerning was that he gave up good position down low to anyone he guarded. While Tomic shows some toughness and hardiness, his slim and weak body greatly limits his production at this current stage. Crucial for him is to gain at least 30 pounds, which he should be able to do, although his frame doesn`t look particularly good. His shot-blocking is almost non-existent, as Tomic lacks vertical explosivness and is fairly limited when trying to get off the ground, rarely playing above the rim regardless of his great size. This also limits him on the offensive side where he somewhat stuggles finishing in traffic and sees his shots swatted away at a higher clip than most 7-foot-2 players should.
Tomic ran the court extremely well today, on couple of sequences being the first Zagreb player to get back on the defensive side. He has quick feet and nice mobility as well as good footwork in the paint. Tomic moves much better horizontally than he does vertically. He didn't score much today, but was an important part of Zagreb's offense, because of his nifty passing and great understanding off the game. Tomic fed his teammates very well from the high post, recognizing openings in the defense and making good decisions - not commiting single turnover in 30 minutes. Ante's upside lies largely in his great hands and feel for the game. He can catch anything thrown his way and has great tehnique, whether speaking about passing, shooting or ball handling. He got plenty of good looks from the mid-range area, but was able to knock down just two of them. While he has good touch on his jumper, more fluidity in his shooting mechanics would probably make him a much prolific jumpshooter, although he is already above average for a Center. Unlike many youngsters, Ante is also pretty skilled in the low post, possessing a variety of moves with his back to the basket. He can release a hook shot with either hand, although not with equal consistency. He is very assertive, being patient and not forcing the shot if the opportunity doesn't present itself.
CONCLUSION
Ante Tomic
is making baby steps towards becoming the player many project him to be. As it usually goes with Centers, especially this tall, Tomic is progressing slowly, but notably. His averages in the Adriatic league are significantly better than they were last season, and he is now a much bigger factor when on the floor, being an important facilitator in Zagreb's offense from the high post. His coach Zdravko Radulovic is also pleased with his development, saying after the game: " In a great final, maybe even the best in quite some years, two young players were brilliant in Zadar's
Jure Lalic
and my Tomic. Two young diamonds...it's a win for Croatian basketball. I have a personal satisfaction, because Ante is a better player than he was last year."
While Tomic would likely be eaten alive at the NBA level right now with his frail stature, he is considered one of the most talented young players in Europe thanks to his combination of size, skill and terrific feel for the game. Considering the tender stage of his development as well as the extreme depth of the upcoming draft, it would be a surprise to see him declare for the draft this year. With expected improvement, Ante has a good shot at being a lottery pick in 2008 or 2009. In the best case scenario Tomic, could develop into a quicker version of Zydrunas Iglauskas, while if he rushes
into the NBA too soon, could end up just like Z's countryman
Martynas Andriuskevicius
.