A recap of the top prospects seen at the Nike International Junior Tournament played parallel to the Euroleague Final Four in Madrid last week. FMP Zeleznik, led by
Bojan Subotic
,
Dejan Musli
and
Andrija Milutinovic
continues to crush any competition they face at the junior level in Europe. Cibona Zagreb's
Tomislav Zubcic
and Zalgiris'
Donatas Motiejunas
were standouts.
Tomislav Zubcic, 6-11, SF/PF, Cibona Zagreb, 1990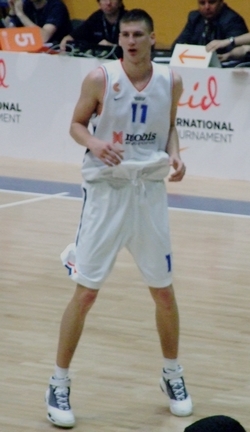 Arguably the most impressive performance of any prospect at the Nike International Junior Tournament might have come from 6-11 Croatian forward
Tomislav Zubcic
. It's not like this came by surprise—we've been talking about how talented this kid is
since he was 16 years old
, but he just hadn't quite put everything together in an international tournament yet like he did here in Madrid, at least not from a mental standpoint.
We've written about Zubcic's physical tools before—he's long, athletic, with great size (listed at 7-feet here), but with a game more reminiscent of a small forward. He did everything on the court for Cibona—breaking the press, moving the ball around unselfishly, knocking down 3-pointers and blowing past his man with a very nice first step—his versatility is pretty extraordinary for a player this age, particularly at his size. Zubcic can execute advanced moves that players much older than him struggle with until much later in their career—coming off screens and creating sharp separation off the floor with a fluid pull-up jumper for example, and banking the shot in from a tough angle off the glass for good measure.
Zubcic's feel for the game is what sets him apart at this point, along with his excellent skill-set, and he regularly showed that by making pinpoint passes from the perimeter into the post with absolutely no hesitation. He sees the floor extremely well at his height, and showed no problem moving the ball around the court fluidly, despite clearly being his team's most talented scorer. Zubcic likes to shoot the ball from the perimeter—he went 5/15 in three games from behind the arc—and also showed great touch from the free throw line knocking down all 16 of his attempts.
In the post, he doesn't have much footwork to speak of--mostly preferring to attempt turnaround jumpers, and looking too skinny and a bit too soft to use his size effectively enough here. He's an excellent ball-handler with either hand, particularly in the open floor, and is capable of creating his own shot from the perimeter with a nice first step and solid creativity. He does struggle finishing in traffic at times, partially due to his lack of strength, and partially due to his lack of toughness.
Zubcic's biggest issues have always been his rebounding and poor defensive play, along with the lack of intensity and assertiveness he shows to fully take advantage of his terrific talent. Rebounding definitely wasn't a problem here in Madrid—he averaged nearly 16 rebounds per game in this tournament—and we can attribute a lot of this to the improved intensity he brought to the floor. He made a conscious effort to crash the glass as much as he could despite his skinny frame, and showed really nice timing (and excellent hands) in the process to go along with his already promising quickness and length. Defensively he struggled at times, not doing a great job on the pick and roll and getting bodied up inside. He lacks the lateral quickness to effectively guard small forwards, but still isn't strong enough to function as a full-time power forward yet either. "Who is he going to guard exactly?" will be the operative question here, we can already predict.
NBA teams have seen European prospects in this mold (the perimeter oriented, but soft combo forward who does everything except defend) emerge over the past few years—
Toni Kukoc
comes to mind, but
Andrea Bargnani
's struggles are a lot fresher in people's minds. That's why people will be very skeptical about Zubcic moving forward, until he proves otherwise, which is why he'll probably have to have some real success in Europe first if he's to reach his full potential draft-wise. He could get drafted very high sometime down the road, but we'll have to wait and see how his frame and especially his all-around game develops first. It's a healthy thing to be carefully skeptical about players like this these days, and there is really no reason from his end also why he should be in any real rush.
Donatas Motiejunas, 7-0, PF/C, Zalgiris Kaunas, 1990
There was nothing surprising about Motiejunas' performance in the Nike International Junior Tournament, meaning that he delivered his usual stuff-- emerging as one of the very top performers, while looking like arguably the most promising junior seen in Madrid. Besides, his team Zalgiris was the only squad able to give a serious fight to the almighty FMP Zeleznik, following his leadership.

Motiejunas showcases a dreamed combination of length and skill set. Visibly standing in the seven-feet area, he also enjoys a nice wingspan and an excellent frame to build upon. If he's not a super bulky inside player, he's still a lengthy big with enough strength to operate in the paint and the athleticism to fuel his versatility.

In this tournament, Motiejunas operated mainly in the low post, exhibiting a superb ability to score around the rim. The Lithuanian shows very nice footwork and footspeed, the will to seek for physical contact, and a phenomenal ability to put the ball in the net with either hand. Indeed his touch with his off hand is a thing of beauty, which makes him virtually ambidextrous around the rim. The way the ball leaves his hands gives the expression 'soft touch' a whole new meaning, gently dropping it on the basket so if it hits the rim, there is a good chance it will still go in.

His jumper was another story. Usually a pretty reliable spot-up shooter, he suffered an awful tournament in this regard, even looking frustrated at times. The lefty also went for some off-the-dribble attempts, that he can also knock down with excellent mechanics, but obviously didn't work either. He did put the ball on the floor, not as often as in past occasions, but still showing his excellent quickness and coordination (he performed a few great reverse moves).

Motiejunas makes basketball look easy, not only when he goes for his points, but also finding his teammates within the flow of the game. He has no trouble delivering passes from a variety of situations, and even tries behind the back dishes and stuff like that. Defensively, he's not the most consistent player; but he showed nice activity. Obviously, he does have not any problem of mobility and length, he just needs to stay more focused and physical with his opponents (which will be easier for him as he fills out his frame.)

Anyway, the Lithuanian keeps showing a peculiar character. He gets way too easily frustrated with calls or game situations, which probably make him lose focus. Besides, he doesn't always stay equally intense, sometimes depending on the momentum of the game. Which looks pretty clear is that Motiejunas still needs to gain a degree of maturity on court.
Dejan Musli, 7-0, Center, FMP Zeleznik, 1991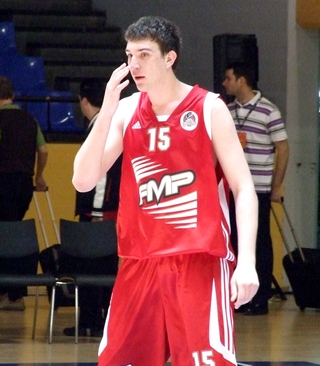 Really not a whole lot has changed with
Dejan Musli
since the last time we saw him, and despite his extremely tender age of 17, there are question marks regarding whether much will change in the near future as well from what we can tell. We're still talking about the same skyscraper of a teenager, with a body reminiscent of a 25-year old. He was able to produce effectively in this tournament in short stretches, before exploding in the final game for a 25 point, 14 rebound, 4 block outing that landed him MVP honors.
Fairly slow, not super fluid, and lacking some aggressiveness, Musli doesn't have much of a problem regardless dominating in a setting like this due to his terrific size, combined with his excellent hands and very solid finishing ability. He was a very reliable presence in the paint for his guards to drop the ball off to on drive and dish plays, and therefore was able to knock down 24 of his 43 shots in four games (56%). He also stepped outside from time to time to attempt a mid-range or long-range jump-shot, and saw mostly mixed results in the process. The fact that he almost took out a ball-boy by air-balling a free throw badly tells you that this part of his game is still being developed—he only hit 11 of his 24 attempts at the line.
Musli might not be the most active player you'll find (he looks a bit bored or apathetic at times running up and down the court), but he has solid reflexes and surprisingly good passing ability, as he showed from time to time with some Sabonis-esqe bounce passes. He also averaged 12 rebounds per game over four days, looking very solid going after everything in his area, but not being quite as dominant as you might think considering his huge size and strength advantage. Defensively, his extremely heavy feet limit his potential staying in front of quicker players or stepping outside to hedge a screen, and he also lacks the explosiveness to project as a great weak-side shot-blocker down the road—also he did his part and then some in this tournament, with nearly 4 blocks per game.
Clearly an outstanding prospect for Europe, Musli will surely play in the NBA if he so desires, but there are some question marks about how high his ceiling is. His physical maturity and ridiculous strength advantage make you wonder about his long-term upside, even if it's clear that at age 17, he still has quite a bit to improve upon.
Ryan Richards, 6-10, PF/C, Real Madrid, 1991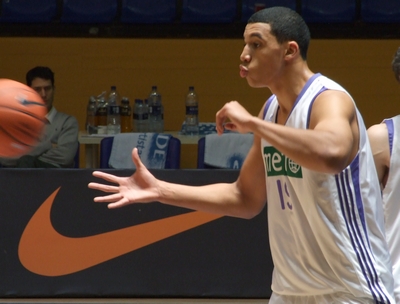 Considering that the other top prospects here were pretty well known,
Ryan Richards
was one of the most interesting features in advance of this Nike International Junior Tournament. And while he had some productive games, he didn't blow away people with his performances, leaving some mixed feelings about his talent and feel for the game.
First of all, we have to always take into consideration his youth, as Richards is a 1991-born player, but still he surprised with a pretty strong frame for his age, especially his upper body, despite being reportedly a rather skinny guy not long ago. He stands 6-10 and could be done growing (he looks physically rather mature); it's nice size, but not outstanding considering his array of skills and his average athleticism, although he does enjoy a mammoth wingspan.
Left-handed, Richards showed a decent perimeter stroke, displaying increasing consistency as the tournament advanced, from the mid-range area and out to the three-point line. However, he didn't look like a face-up player, and if he's not shooting the ball, chances are you will see him bruising in the low post. Not a finesse player, he relies on his strength, his length, some basic footwork and a certain ability to finish with his left hand, to get the job done. His footwork is pretty raw, and he really doesn't have much in the ways of moves at this point.
On defense he looked again pretty physical, and was probably the most successful player guarding the MVP
Dejan Musli
all tournament long. His length and size also makes him a very solid rebounder. In the team setting, his poor awareness stood out at times, though, particularly when forced to step out and hedge a screen or rotate in the post. He's not the most reactive player you'll find.
You can feel the game doesn't come easily to Richards. He doesn't look like the most naturally gifted player, and his decision making often looks underwhelming. He's not much of a passer, and generally speaking, his team Real Madrid had a pretty disappointing showing compared to what we had witnessed in L'Hospitalet. Despite his very solid production, Richards might be partially to blame.
Bojan Subotic, 6-8, Power Forward, FMP Zeleznik, 1990
From a pure production standpoint, there was no better player in this tournament that
Bojan Subotic
. Extremely mature despite being six months shy of his 18th birthday, incredibly smart and superbly versatile, there is absolutely no question that Subotic will find a way to become an outstanding basketball player one way or another down the road. He's an undersized power forward in the Eddie Najera mold, but with a developing perimeter game that might give him a chance to become a
Linas Kleiza
type power-wing in time.
Subotic does everything you can ask a player to do on the floor—he can take his man off the dribble, knock down 3-pointers, score inside seeking out contact and using his body superbly, pass the ball, rebound in traffic or play solid pick and roll defense. He is confident, extremely aggressive, and savvy enough at his age to already know the little tricks he needs to utilize to get by as an undersized 4-man. He's surely not a great athlete, but has the timing, toughness and feel for the game to get by at this level without a problem. His footwork is excellent, as is his body control, and he's constantly fighting to gain his team advantages on the floor.
Not particularly big, strong or explosive, Subotic doesn't project as a future NBA player on first glance, but he's also not the kind of guy you want to write off. He has four more years until he's automatically eligible for the draft, and he'll definitely have to become a lights out shooter (which he's not at this point) and an extremely productive high level European player to have a real chance. One way or another, you're definitely going to hear his name again.
Nikola Mirotic, 6-10, Power Forward, Real Madrid, 1991
Mirotic came to the Nike IJT bearing some very high expectations after his outstanding showing last January in the prestigious L'Hospitalet Tournament. And while he wasn't quite able to live up to them, he wasn't a disappointment either.
Mirotic again showed his excellent ability to operate facing the basket, mostly to put the ball on the floor with his dominant left hand, knock down 3-pointers, and shoot turn-around jumpers. He has an excellent feel for the game, a high skill level, and is extremely aggressive trying to make things happen for his team.
He struggled a little bit trying to adjust to the presence of brand-new teammate
Ryan Richards
(which forced him outside even more), and looked a little predictable at times using strictly his left hand. He has good length and a decent frame, but doesn't enjoy the upside of some of the other big men here due to his limited athletic ability. He had trouble defending the pick and roll, showing poor lateral quickness, and seemed to lack some quickness and explosiveness to get himself high-percentage looks at the basket on a regular basis. This probably wasn't the best weekend he's had, but some scouts we talked to who were very familiar with him said it will take a lot more than this to erase the excellent impression he left at L'Hospitalet a few months back.
Papa Abdoulaye, 6-10, PF/C, Axa Barcelona, 1990
Showing up in Madrid without his inside African buddy
Michel Diouff
,
Papa Abdoulaye
enjoyed more chances to showcase his abilities, but ended up exposing his extremely raw game.
Nobody will argue about his superb physical tools. Enjoying nice size, he possesses a terrific wingspan and a nicely built and already pretty strong frame, a lot better than your typical skinny African. On the other hand, his well-developed body only fuels the uncertainty about his real age.
Anyway, when it comes time to play basketball, Abdoulaye has little to offer. The most intriguing part about his game is probably his jumper, which he seems to be working hard on, having delivered pretty orthodox mechanics with a high release point while showing decent accuracy (actually solid if we talk about the charity stripe). He also tried to produce from the low post, but struggled here noticeably to get anything going, as he doesn't enjoy the footwork and the basketball IQ to take advantage of his body. At least, when he managed to release the ball, he did show a very raw jump hook that he could actually deliver with his left hand also.
On defense, he stands out with his intimidation skills, especially his ability to elevate really high for blocks on defensive rotations, showing nice timing in his leaping efforts. However, he's not a solid player here, easily being baited with pump-fakes, his positioning is not the best around, and he's neither particularly physical in the paint.
We'll see what the future is for Abdoulaye. History unfortunately tells us that African players in this mold struggle to develop and overcome their lack of knowledge of the game, especially those taking up basketball as late as Abdoulaye (he has reportedly been playing basketball for not much more than a year).
Andreja Milutinovic, 6-6, SG/SF, FMP Zeleznik, 1990
Steady, but not really dominant at any point in time, Andreja Milutinovic picked his spots efficiently while helping his team come away with the Nike IJT championship. He's a fairly mature wing player, with good size, a nice frame, and solid athletic ability, along with some pretty nice skills.

Milutinovic is an excellent shooter first and foremost, but he's also a very effective slasher when he puts his mind to it. His body control and ability to change directions with smooth hesitation moves is pretty unique amongst European wing prospects, and will surely help him overcome the fact that he's not the most fluid or explosive player you'll find. He's also crafty and pretty aggressive when he puts his mind to it, which makes him capable of making some impressive plays from time to time. He had an emphatic dunk in traffic in the championship game for example that seemingly came out of nowhere, and also made strong moves spinning into the paint and finishing or pulling up off the dribble from mid-range to continue and drop glimpses of potential.

The problem is that it didn't always seem like Milutinovic was playing all that hard. Whether he was deferring to his teammates or just coasting against weaker competition (no one could touch FMP at this tournament, or in all of European junior basketball for that matter) remains to be seen, but it would be nice to see him play aggressively for the entire time he's on the floor. His coaching staff wouldn't stand for anything less than 100% from him on the defensive end, though, and he seemed to put in a solid effort and always compete trying to stay in front of his man. He seems like a pretty tough kid all in all, and is definitely a name to keep in mind for the future.
Others:
Agustin Ambrosino is a 6-7 Argentinean power forward who will eventually make the transition over to playing the 3 we imagine, and he has some pretty nice tools to do it if he keeps working hard. He's long, fairly athletic, and has decent skills facing the basket, making him someone to at least keep an eye on for the future.
Nimrod Tishman
won't turn 17 until later this month, but he still managed to leave a pretty strong impression playing for Maccabi Tel Aviv in an almost impossible group. He has great size at 6-5 for a point guard, solid athletic ability, a decent stroke and a nice feel for the game. He created a lot of opportunities for his teammates while drawing some inevitable
Yotam Halperin
comparisons, but struggled on the defensive end and finishing around the basket due to his obvious lack of strength.
His teammate Daniel Rom has all kinds of talent—good size for a power forward, decent athleticism, and the ability to create his own shot from the perimeter or with nifty pivot moves in the lane. The problem is that he looks incredibly apathetic running up and down the floor, and like almost all Israeli players seemingly, doesn't play a lick of defense.
Carmel Bouchman
, also of Maccabi Tel Aviv, hit a late growth spurt supposedly and is now listed at a shade under 6-9. He's fairly athletic and likes to face the basket and hit 3-pointers. He's too skinny and soft at the moment to be anymore more than a defensive liability, but he will rotate over at times from the weak-side and come up with a blocked shot.
Nemanja Nedovic (6-3, 1991, Red Star) won't turn 17 for another month or so, but he has some tools that make him worthy of keeping on the radar for now. He can put the ball in the net getting to the rim or from long range, and looked pretty pesky getting in the passing lanes as well. He's not a bad athlete either.
15-year old Vytenis Cizauskas of Zalgiris was one of the youngest players at this tournament (born in September of 1992), but he had some very nice moments, particularly attacking the basket. He emerged as Zalgiris' most reliable scorer at times, and also showed all kinds of toughness sticking his nose in places they didn't belong. He plays a bit out of control at times (our impression from watching him last month at the Jordan Brand Classic practices and game in New York), but has decent tools to work with.