Zalgiris came away the winners of a somewhat average junior tournament by past years standards. The fairly mediocre 1989 age group hasn't helped matters much, as they were supposed to be the backbone of most of these teams considering their relative maturity.
Donatas Motiejunas, 7-0, PF/C, Zalgiris, 1990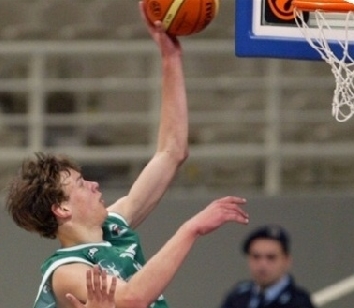 Jonathan Givony
The apple of most scouts' eyes here in Athens,
Donatas Motiejunas
dropped some serious glimpses of upside on his way to winning MVP honors for the tournament. It's not difficult on first glance to notice the appeal, as he has great size, excellent athletic ability, and plenty of skills both facing and with his back to the basket.
Motiejunas is a fairly narrow power forward with decent lower body strength but plenty of work to do on his upper body. He shows really nice quickness putting the ball on the floor and spinning towards the basket aggressively, and is terrific getting off his feet going after offensive rebounds and emphatic dunks. Offensively, his touch is very good on his jump-hook or turnaround jump-shot, and he has range on his shot that extends all the way to the 3-point line (although this is not his best strength yet). He can create for himself nicely from the perimeter thanks to some nice ball-handling skills for a player his size, and will dunk the ball with ease anytime he gets the opportunity to off a cut or in transition. Once very much left-hand dominant, he's beginning to show more and more skills with his right hand every time people see him.
If all these skills sound extremely impressive from a guy who will surely top out at over 7 feet by the time he's done growing—they surely are, even if they are only shown in spurts. The problem is that he also shows a certain disdain for taking contact at times, a somewhat questionable attitude around his teammates, and definite problems defensively and as a rebounder. Motiejunas already has a bit of a prima-donna attitude with the way he complains to the referees and hangs his head when things don't go his way, which is pretty worrisome coming from a kid who is that young. He must improve his body language and do a better job hitting the glass and taking his responsibilities as a defender more seriously. If he can get himself on track (everyone who saw him last year said his attitude was 180 degrees different), the sky is really the limit as far as his potential is concerned.
---
Zygimantas Janavicius, 6-3, Point Guard, Zalgiris, 1989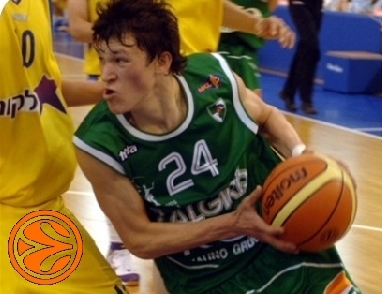 Jonathan Givony
While it was his teammate
Donatas Motiejunas
the one who stole most of the attention of the NBA scouts in attendance, it wouldn't shock if
Zygimantas Janavicius
ended up being the better player of the two, at least in the short-term.
A 6-3 guard with very nice physical attributes and a pretty complete all-around game at this stage, Janavicius is the kind of player that is hard not to fall in love with. He's tough as nails and a fiery competitor, showing outstanding leadership skills and a winning attitude.
Janavicius has good body control and a very nice first step that he loves to use to put pressure on the defense and get into the lane. He can change gears quickly and is extremely aggressive creating offense for himself and others, and shows nice vision off the dribble to find open teammates on the drive and dish. He could stand to improve his ball-handling skills to a certain degree and can get a little bit wild lowering his shoulder and bullying his way into the lane with a full head of steam, but you have to admire the toughness he shows taking responsibilities on himself.
Although there is nothing technically wrong with his shooting mechanics, Janavicius still has some work to do improving his range and accuracy, something that will likely come in time as long as he continues to put the time and effort in. And while he can certainly make plays for himself and others, he still has to learn the fine nuances of consistently running an effective half-court offense like a true playmaking point guard is expected to. He shows nice potential in this area, though, so it could just be a matter of time and experience.
Defensively, Janavicius puts a lot of pride into this part of his game. He does a great job getting into the passing lanes, and is capable of playing tough-nosed pressure defense when the situation calls for it. His size, quickness and instincts all serve him extremely well here.
Right now, Janavicius is way ahead of the curve compared with his peers. The key will be to continue to improve on his weaknesses and begin to carve out a niche for himself at the senior level. He has definite NBA potential as long as he keeps getting better.
---
Vaidas Cepukaitis, 6-10, Center, Zalgiris, 1989
Luis Fernandez
One of the centrepieces for Zalgiris' dominance in the tournament, his defensive presence and rebounding ability provided great presences for his team. Cepukaitis is a 6-10 inside player with some athleticism and an interesting body (although still skinny, he has a decent frame, and a great wingspan).

Cepukaitis shows a nose and desire for the rebounds. He always throws both arms up high in the air searching for the ball and enjoys good hands to grab it. On defense, his wingspan is pretty annoying for his rivals, while he displays accurate lateral quickness for a big man. Offensively, he's a very limited player that usually settles for mid-range jumpers. He looks soft and extremely unpolished in the low post, suffering from very poor footwork. Also, he doesn't show any ball-handling skills to speak of.

The most concerning part about his skill set is that he doesn't seem to have improved much in the last two years, as he displays similar strengths and weaknesses than he displayed in the 2005 U-16 European Championship. At this point, chances are he will evolve into a good complimentary player; he would need to make dramatic strides in his game to emerge as a serious offensive threat.
---
Milan Macvan, 6-9, Power Forward, FMP, 1989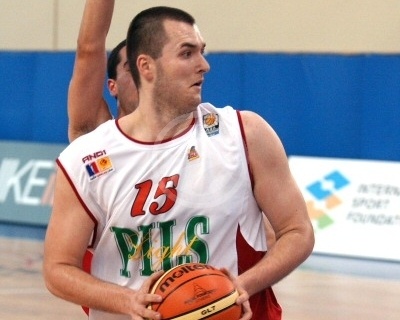 Luis Fernandez
Another pretty dominant performance by
Milan Macvan
in a junior tournament, despite being slowed the second day by a small ankle injury, confirming that he's currently one of the very top 1989-born players in Europe. He often looked like a man playing with boys, not only because of his great physical strength and 6-9 size, but also due to his excellent skill set and basketball IQ. Only his poor athleticism limits him from being ear-marked as a potential do-it-all player.
In Athens he again eventually played some point forward, taking the ball up the court and distributing it. Macvan is a terrific passer both from the high post or the low post. He easily finds his teammates regardless of whether they are under the basket, far on the weak side, or cutting in motion. His versatility is again exhibited in his shooting stroke. Although he's not a very consistent player, he does enjoy three-point range and a guard-esque ability to shoot off the dribble from the mid-range area. In the low post he simply outmuscles his rivals with his width and strength to easily score under the basket. If he's a bit further out, he often settles for turnaround jumpers, often high-arched and/or in fade-away fashion. Of course he can put the ball on the floor to attack his match-up, although he usually tries to take advantage if his opponent is unbalanced; otherwise, he doesn't enjoy the quickness to beat him on a regular basis.
On defense he's mostly about intelligence and positioning, as well as again his huge body, which means that he's usually very effective at the junior stage regardless of his relative lack of lateral quickness. Milan enjoys terrific hands, which paired with his size, make him an effective rebounder.
This won't be the last time we're raving about Macvan's performance in the youth categories, but as much as he dominates, it's hard to envision great NBA potential in him. Sure, he will be a fine European player, but his heavy feet and general lack of athleticism really hurt his upside.
---
Dejan Musli, 7-0, Center, FMP, 1991
Jonathan Givony
One of the youngest prospects at this tournament,
Dejan Musli
has been raising some eyebrows lately with his performances in the youth categories. And while he didn't see a ton of minutes in Athens, he certainly played enough to give us a good idea of where he stands as a prospect at the moment.
Featuring great height and a body that most 21 year old big men (European or not) would love to sport, Musli definitely stands out from the pack on first sight. He's got nice wide shoulders and excellent lower body strength to boot, meaning that adding strength to his frame will likely never be an issue. Unfortunately, his athleticism does not compliment his NBA ready body, showing fairly slow feet running the floor and not being very explosive getting off the ground to finish around the basket.
Musli's biggest strengths at the moment lie in his ability to change the game defensively with his terrific size and strength. He has excellent timing going after blocks, and knows how to position himself to utilize his physical attributes. On top of that he has very nice hands and an inclination to get after the ball, meaning he's also a very solid rebounder at this level. Even though he was two years younger than most of the players here, you got the feeling at times that Musli was a man amongst boys, being very reliable both on team defense and man to man.
Offensively Musli has a long ways to go at this stage, lacking any real post moves and not knowing how to use his body well enough in the post to capitalize on his strength advantage. He didn't finish very well around the basket, showing average touch, reacting slowly at times, and not being aggressive enough going up strong from close range. He did do a nice job passing out of double teams and igniting the fast break with an outlet.
All in all Musli has a decent package to build off of at such a young age, but can't be considered a phenomenal prospect due to his average athletic ability and lack of scoring ability. We'll have to track how he continues to progress over the next few years.
---
Filip Covic, 5-10, Point Guard, FMP, 1989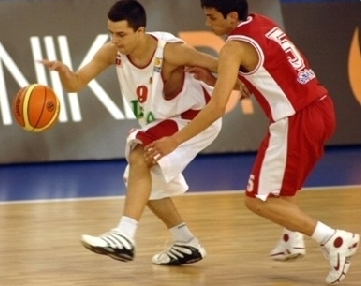 Luis Fernandez
In a team full of nice perimeter players, although none outstanding, point guard Filip Covic is the one who drew the most attention, at least performance-wise.

Very small, actually excessively so and also with a limited wingspan, Covic is a quick playmaker with a notable ability to rack up assists. He's very effective getting by his match-up in the set offense to attract defenses and feed the open man in the paint for an easy basket. He displays good ball-handling skills, a very nice first step, and the body control to slalom between rivals. He also shows nice court vision dishing the ball off in transition. However, he sometimes gets out of control, over-handles the ball and makes bad decisions. Covic has three-point range on his jumper and can shoot the ball off the dribble, but he's extremely inconsistent right now.

Very quick on defense, he gets away with a number of steals, especially thanks to his great timing attacking his opponents' dribble. Anyway, his poor size and shooting struggles basically means that he has little to no NBA potential at the moment, and it's still not clear at all that he will manage to establish himself in a strong European league either.
---
Filip Kruslin, 6-5, Shooting Guard, Cibona Zagreb, 1989
Selected for the all-tournament team, Kruslin led Cibona with his offensive punch. We're talking about a very skilled and fundamentally sound wing, with nice size, strength and limited quickness and explosiveness. Kruslin enjoys a nice and fluid shooting stroke, looking really smooth whenever he goes for the mid-range jumper. He also displays solid ball-handling skills to drive (even in traffic) and perform change of direction moves--like a reverse or cross-over for example-- nice passing skills and a good basketball IQ. You can tell he feels the game watching him evolving on court. Still, his athletic shortcomings limit his ability to beat his opponents off the dribble, as well as his long-term potential. The NBA seems out of reach for him at this point.
---
Semen Shashkov, 6-8, Small Forward, CSKA Moscow, 1989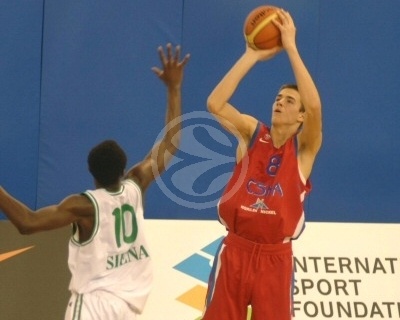 Luis Fernandez
It seems that Russia has specialized lately in producing big and athletic small forwards, and Shashkov is the last example. Easily in the 6-8 range, he enjoys superb physical attributes with an excellent wingspan and frame (although he's still on the skinny side), while he displays promising athleticism.

Still, his performance was just as inconsistent as some of his characteristics are intriguing. He was flat-out awful in the first two games, only to emerge in the third with a solid stat line and some spectacular plays. Shashkov has little experience in big tournaments (he's yet to play with the Russian National Teams and couldn't make it to the L'Hospitalet Junior Tournament due a small injury) and the pressure to perform well in this setting might have been too much for him to handle.

Shashkov is still learning the ropes of the game, but he shows solid fundamentals to work with. He was active enough to display promising mechanics with his jumper, which looked extremely inconsistent from behind the arc and a bit more effective from the mid-range area. He gets rather nice lift, and his release seems pretty fluid. Semen also appeared capable of dribbling with both hands and nicely passing the ball off the dribble, although he came away with mixed results whenever he decided to attack his match-ups, partially because he could really use an extra-degree of quickness while driving the ball.

He can also take advantage of his size to post-up his opponents and finish with a turnaround shot. Obviously it's easy for a guy with his length and athleticism to finish around the basket and play above the rim. Actually, in the last game against Olympiacos, Shashkov easily finished a couple of alley-oops in spectacular fashion well above the rim. He enjoys all the tools to emerge as a very good defender, and already is very productive rebounding at these youth stages, and even comes away with a few blocks. Anyway, he will need to become more aggressive, competitive and tough playing the game at both ends of the court. But he's easily one of the most intriguing players of his birth year, which is unfortunately not saying that much.
---
Maxim Zakharov, 6-5, Shooting Guard, CSKA, 1989
Jonathan Givony
The best player on an uncharacteristically weak CSKA squad, Maxim Zakharov did a good job keeping CSKA in the mix in most of their games but also showed the limitations of his upside as a pro prospect.

Zakharov did a good job shooting the ball here in Athens despite his average shooting mechanics, mainly thanks to his excellent touch that compensates for his inconsistent release point. When he gets into a rhythm and is able to step into his shot, he's usually money, but all too often he rushes things and ends up off balance.

Also a solid ball-handler, Zakharov was extremely aggressive creating offense for himself and others with some nice spin moves getting into the paint and finishing with contact. Like his teammate Denis Polokhin, he's a fiery guy with nice toughness and the inclination to take responsibilities on himself. Zakharov shared some minutes at the point guard position at times, although it's clear that his future as a pro is on the wing.

The main thing that is holding Zakharov back from being a super intriguing prospect is his lack of freakish size or athleticism at his position. European guards have to really stand out in some area or another to get noticed over their American counterparts, and at this point Zakharov doesn't.
---
Other names to keep under the radar…
Leon Radosevic-
a 6-8 Croatian big man, born in 1990, with great size and a nice frame who is very reactive and shows nice athletic ability and a decent mid-range jumper, but has very limited offensive skills and virtually no post game to speak of at this point.
Sarunas Vasiliauskas-
a 6-2 and quick 1989 born Lithuanian combo guard with nice ball-handling and passing skills who needs to improve his long-range jumper.
The 15 year old
Branislav Dekic
, a very raw and very young 1991 born 6-9 forward with a promising frame and some emerging skills, who saw limited playing time.