The starting point guard of the national champion Kentucky Wildcats,
Marquis Teague
helped his draft stock more than any prospect in March. How does he stack up with the other point guards in this draft?
-
Finding a Niche For: Michael Kidd-Gilchrist
-
Finding a Niche For: Harrison Barnes
Joe Treutlein
Marquis Teague
was one of the
most highly touted recruits
in his high school class, and went on to lead the national champion Kentucky Wildcats in minutes played this season, playing an important role on the team throughout the year.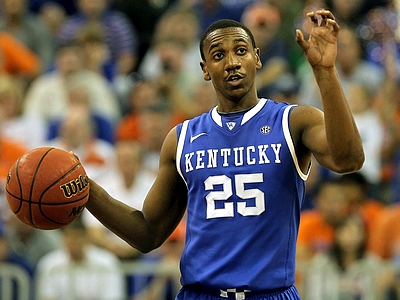 Kentucky had no backup behind him, and no other real ball-handlers alongside him besides
Doron Lamb
, meaning they had no choice but to get as much as they could out of him.
That paid off in a major way down the stretch in particular, as Teague had an outstanding NCAA tournament run that solidified his standing as a first round pick after a very uneven freshman season.
Despite his excellent showing in March, Teague's
12.3 points
per 40 minutes pace adjusted and 49% True Shooting Percentage both rank second to last among all players in our top-100 rankings, as he showed many problems with inconsistency and turnovers throughout the season, which makes him a player who could see his stock vary wildly throughout the pre-draft season.
As we discussed
in the past, Teague's physical attributes stand out immediately as among his most impressive attributes, as he has good size and excellent athleticism for the point guard position. Continuing to play with the very fast pace style he was known for prior to stepping foot in Lexington, Teague's blazing speed was on full display all year long, where he played as crucial a role as anyone in Kentucky's highly efficient fast break.
Teague's skill-set remains largely unchanged from high school, as the effectiveness of his game tends to wane the slower the pace is, with his role being much less pronounced in Kentucky's half-court attack. However, while Teague didn't necessarily thrive in the half court this season and certainly had some unimpressive areas of his game, he did do a good job assimilating into Kentucky's system and deferring to the talent around him, playing a very foreign role relative to what he played in high school, as he went from being a clear-cut go-to guy to the Wildcats' fifth-leading scorer.
Looking at Teague's game, his fast break prowess is certainly the first thing that stands out projecting to the next level, where he'd be very well served to be drafted by a team playing with an up-tempo pace. Teague has relentless attacking instincts pushing the ball forward whenever it gets into his hands, and he shows a tight and controlled handle at high speeds with the ball. His nose for getting to the rim is excellent and he shows a pretty good feel for the game overall in transition, doing a good job of weaving through defenders and finding his way to the basket.
Teague's passing game on the break is also impressive, though it's prone to taking a backseat at times, as he knows he has the step to get around anyone once he gets a full head of steam. Still, he shows good vision on the move finding players both spotting up for jumpers and on dump-offs around the rim, and he did a good share of dishing out to all his teammates on the break this year.
In the half court, Teague is much more of a question mark, and he will likely have some transitioning to do at the next level in most situations he could be drafted into. Teague's pick-and-roll game is the aspect of his offense most likely to immediately translate to the NBA, where he could actually benefit from the NBA's stylistic differences from college.
He shows a solid feel in this area of his game, capable of making good passes to his roll man and clearly having the speed to take the ball to the basket for his own offense, though he could use some work on his pull-up jumper.
The rest of Teague's point guard game in the half court is more problematic, as he often showed questionable decision-making and struggles to run a more traditional slow-down offense. He doesn't show the greatest feel for breaking the defense down and setting up teammates here, and often was asked to play off the ball and let other players create, as evidenced by the eight assists per game netted by the rest of his team.
When Teague does have his ball in his hands in the half court, he's prone to pounding the ball atop the key waiting for something to happen. He had issues with turning the ball over through forcing the action both on his drives and his passes, and will definitely need to improve in this area going forward.
As far as Teague's own offense goes in the half court, he clearly has some strong skills here, but hasn't been able to consistently put it all together just yet. Teague does a good job getting to the basket in isolations, where his speed and handling make him very difficult to stay in front of, and he also can take advantage of his ability to drive and finish with either hand.
At the rim, Teague shows enough wiry strength to finish through contact and some nice creativity maneuvering around the basket, but his 1.06 points per shot at the basket according to Synergy Sports Technology is pretty lackluster for a player with his tools. Teague runs into trouble dealing with weakside help in the lane, often settling for just throwing the ball up at the basket and not always showing the greatest effort to maximize his chance at a high percentage shot.
He's even more complacent with putting up his floaters and runners, as he hit an abysmal 5-for-32 of those this season according to Synergy, something he'll clearly need to improve on at the next level if he wants to continue utilizing that weapon.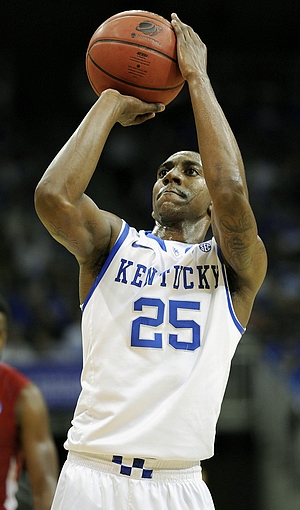 Teague's jump shot is another area he could stand to improve on, showing similar struggles as he did in high school. Boasting the same flat-footed form with a slight hitch we previously saw from him, Teague does a solid job shooting in space but shows problems effectively putting the ball in the basket when contested. On the bright side for Teague, relative to the rest of his shooting, he actually does a solid job pulling up in space, especially coming around screens, where he shows very nice balance and keeps his mechanics fairly consistent. While this isn't an efficient tool in his arsenal at this stage, if he improves the basics of his jumper overall, it's easy to see it quickly translating to his pull-up game, which would greatly enhance his already strong pick-and-roll skills.
On the defensive end, Teague shows outstanding tools with excellent lateral quickness, very good size and length, and flashes of strong aggressiveness getting up into his man. He's prone to letting up out of his stance at times, didn't always get his hand up to contest shots, and showed some complacency on this end of the court throughout the year, but clearly has the tools to be a very effective defender early in his career in the NBA. His combination of speed and wiry strength gives him a nice ability to quickly get through screens when he's putting in the effort as well, which bodes well for his potential defending pick-and-rolls at the next level.
Given Teague's myriad question marks on the other end of the court with how his game will initially translate to the pros, really buckling down and applying himself on the defensive end of the court is the quickest and simplest thing he could do to quickly find a niche in the pros, and is certainly something he should get in the mindset of doing during the pre-draft process.
Looking forward, Teague clearly brings some attractive things to the table with his physical tools, fast-break prowess, developing pick-and-roll game, and defensive potential, but the question marks surrounding his half-court offense, specifically with his point guard abilities, make him a player likely to have stock all over the board from different NBA teams. He'd definitely benefit initially from going to a team with an up-tempo, pick-and-roll oriented offense, while he'd help himself most to focus on improving his jump shot and defense, both of which could make for a much easier transition to the pros and may be necessary for him to secure a long-term niche.