One of the biggest surprises in the European game this season,
Mindaugas Kuzminskas
had a breakout season for Siauliai, putting up tremendous numbers for a player his age in the LKL, Baltic League, and EuroCup alike. Not considered all that interesting of a prospect up until this past season, Kuzminskas was recently named the MVP of the Lithuanian league after not being a major part of his country's various national teams growing up. On loan from Lithuanian power Zalgiris Kaunas, Kuzminskas caught the attention of a number of NBA teams with his strong play and decided to throw his name into this season's draft to gauge interest.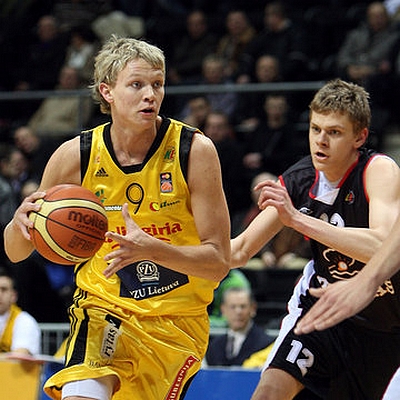 At this juncture, Kuzminskas's best asset is his spot up jump shot, which he can get off at a terrific rate thanks to his 6-9 size. A highly capable shooter with excellent range, a high release point, and tremendous touch, the young small forward is more than capable of stretching the floor on any level. He has an extremely smooth stroke, and seldom fades away or adjusts his stroke when he has a hand in his face, hitting 68/166 3-pointers (41%) in 47 games this season. What's interesting is that Kuzminskas wasn't considered much of a shooter earlier in his career—that part of his game only seems to have clicked lately.
Smooth and savvy beyond his years, Kuzminskas does a nice job using his consistency from beyond the arc to set up his dribble drives. Though can't be described as anything more than an average athlete at best by NBA standards, lacking both explosiveness and strength, he gets to the rim at a decent rate at this level thanks to his nice fluidity, long strides and an excellent basketball IQ.
While he doesn't get to the free throw line at a great rate, he's exceptionally good at moving without the ball and does a good job recognizing opportunities to get out on the break. All in all he's a very smart, efficient (60% 2P) player who understands his role and finds a way to maximize himself despite his obvious physical limitations. His coach runs quite a bit of Siauliai's (admittedly not a high-level team) offense through him, even using him in a point forward type role at times, and Kuzminskas rewards him with quite a few assists in turn.
Once in the paint, Kuzminskas does not prove to be a threat to consistent play above the rim, especially in traffic, as he lacks both the strength and explosiveness to deal with most weak-side defenders. He prefers to use his deft touch, able to connect on an array of floaters and touch-shots from short-range, but may not be able to do so at quite the same level as he progresses to a higher level of basketball. While he isn't afraid to take contact, he struggles mightily when he does, lacking the bulk to maintain his balance and power through players en route to the rim. This is already a problem in mid-level Europe, and will likely become even more of an issue at the Euroleague level or in the NBA.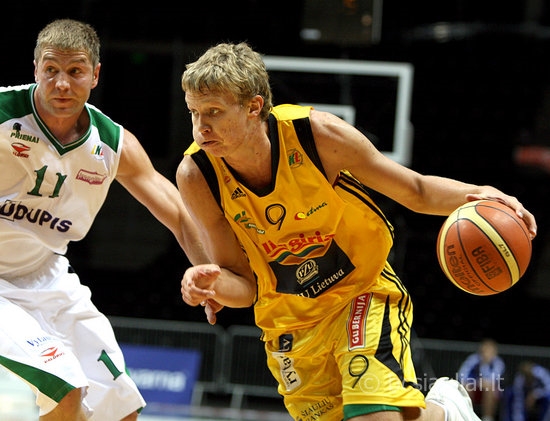 When he isn't able to drive all the way to the rim on his drives, Kuzminskas flashes a nice looking pull up jumper that doesn't yield the same efficiency as his catch and shoot stroke. Though it doesn't always fall for him, it certainly could become an asset to him down the road as his game matures, which it may need to if he's to make the transition to the NBA.
Kuzminskas's skill level and productivity are impressive for a player his age, and while he has good size and a nice wingspan, he doesn't have the physical tools that most NBA small forwards have at their disposal. While those tools don't limit him on the offensive end at the moment, they wouldn't afford him the same success in the NBA and are definitely a concern defensively.
Though he shows an adequate effort level and solid fundamentals, Kuzminskas's lack of lateral quickness and exceptionally narrow frame will make NBA decision-makers question who he'll be able to defend at the next level. He makes some heady plays in the passing lanes, showing good anticipation skills, but has a hard time denying dribble penetration and isn't able to keep up with players who can string moves together at full speed.
His length allows him to contest shots relatively well, but that may not be enough to compensate for his short-comings at the NBA level. Severely lacking bulk, Kuzminskas' biggest challenge will be adding weight to his narrow frame while trying to improve his lateral quickness in order to not be labeled as a defensive liability. Already you see him struggling with screens and getting posted up by stronger players, and would be a clear cut target to isolate against in today's NBA.
Despite those concerns, all signs point to Kuzminskas as an especially intelligent player not only on the court, but off it as well. He seems like a strong candidate to remain in Europe whether he's drafted or not, and his desire to play in the Euroleague could position him well to continue polishing his offensive arsenal and develop his body with Zalgiris.
At the end of the day, Kuzminskas may not have the physical tools or versatility to not be labeled as a
Steve Novak
-esqe one dimensional player for the NBA level, which makes him a candidate for the second round at best. With that said, his skill level and size give him immense potential in the European game, with a chance to crack the NBA down the road as a specialist nonetheless. Considering his status as a late bloomer, he's definitely a player to keep an eye on, particularly if his frame fills out, and a number of teams have taken a documented interest in his recent play.
The adidas EuroCamp in Treviso will be the perfect place for him to be seen by a large amount of NBA teams in one convenient setting from June 5th to 7th, and he has the opportunity to pull out of the draft on June 14th, and become automatically eligible for the 2011 draft, if he doesn't like the feedback he receives.