Eight games into his college career
Justin Harper
had a breakthrough.
Less than eight minutes into a home game against William & Mary the Richmond freshman buried the first of three three-pointers that night. The unheralded forward who grew up just a few miles from the Robins Center scored a season-high 13 points that night, shooting 50% from the floor in 24 minutes while helping lead the Spiders to a three-point win over the Tribe.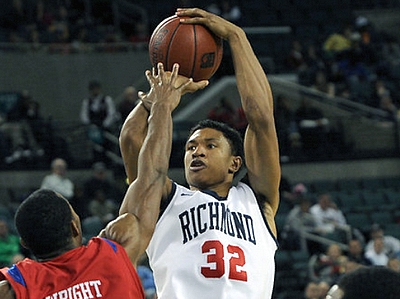 It wasn't a crystallization of the talent buried within the freshmen's frame. It wasn't a performance that suddenly set in motion what Harper would blossom into four years later. It was simply a moment, nothing more, nothing less.
But the funny thing about moments is, over time, if you compile enough of them, you suddenly have something. In Harper's case, the confidence necessary to flourish as a senior.
"I couldn't point to any one exact moment, but just the work I did this summer has really helped me gain a new mindset, I've learned to approach the game like a professional," Harper says. "I'm learning to utilize every single day to get better as a player."
The results have been staggering, as Harper can make a legitimate claim to not only being the most improved player in the nation this season, but arguably the best shooter. After averaging 10.6 points and 5 rebounds in 25 minutes as a junior, he is leading the Spiders with a line of 18 points and 7 rebounds in 31 minutes, and is fresh off helping his team win the Atlantic 10 tournament championship this weekend. Richmond will play Vanderbilt in the NCAA tournament on Thursday in Denver.
Harper's dramatic improvement goes far beyond standard production. The senior has developed into one of the most efficient scorers in the country, ranking in the 98th percentile in the NCAA in scoring efficiency according to Synergy Sports Technology. With over 46% of his field goal attempts being categorized as jumpers, the Richmond star has posted marks of 59% shooting from 2-point range and 47% from beyond the arc, percentages that rank him among the likes of
Jon Diebler
and
Derrick Williams
as one of
the most efficient players
in college basketball.
Those closest to the program – including head coach Chris Mooney – certainly consider the Richmond senior to be among the countries top marksmen, but he has managed to separate himself from the pack due to his physical advantages.
"The biggest difference with Justin is he's doing all of this at 6-10," Mooney says. "It's incredible that he has the kind of range and touch that he does at that size, in addition to all the other things he can do. He's clearly one of the best shooters in the country, and again, it's so unique given his size."
And that's where the tremendous intrigue of Harper's game comes into focus. While the practice of evaluating international prospects with size and skill is an annual practice among NBA scouts, rare is the American college player that presents this kind of package at the high level that the Richmond senior does. While he certainly isn't on the same level as
Kevin Durant
, it's easy to make the argument that no college player has so closely resembled the current NBA star since he left the University of Texas four years ago.
Harper has shown off an advanced skill set throughout the season, but may have only scratched the surface of what he is capable of from a skills perspective, meaning he could further impress when it comes time for individual workouts.
"When I get to those individual workouts people are going to see that I'm not just a spot-up shooter, but I can score pretty effectively with my back to the basket as well," Harper says.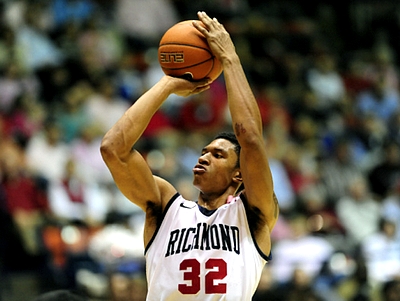 Not surprisingly, Mooney who has thought of his star as a pro player since his freshman year, sees the workout setting as the place where Harper will make a massive jump in the NBA draft picture.
"I think when teams get to see how fluid he is, how well he moves, how well he dribbles, just how effortless his shooting is, it's really going to impress people," he says. "There aren't many guys his size, it's not even close, that are that fluid. It's a very rare for a player to have all of those abilities."
It's even rarer for a player this talented to not even be the top college scorer in his own house.
Ollie Harper – Justin's father – was a star for Niagara University in the mid-70's, scoring over 1,300 career points and ultimately earning an induction into the school's athletic hall of fame. The presence of a strong father figure and a mentor who has gone through the ups and downs of stardom as a college player has played a major role in the newfound confidence that Harper has exuded this season.
"It really helps," Harper says. "Having that mentor always there, talking you through this stuff because he's been there, he's done so much for me. He had such an aggressive mindset when he was a player and he's instilled that in me and it's obviously helped me a lot on the court."
Now that Richmond has earned its second straight NCAA Tournament berth, the Spiders need to hope for their star's confidence to reach an all-time high if they want to advance beyond the first round for the first time in 13 years.
It will be another moment along the path of Harper's blossoming career, bigger this time than in the past, but another moment nonetheless. As it sparks the senior's confidence to continue growing, the NBA will be preparing for many more moments on the pro game's stage.