West Coast Workout Swing: Day 1
(
Dominic McGuire
Private Workout)
West Coast Workout Swing: Day 2
(
Joakim Noah
,
Corey Brewer
, etc)
West Coast Workout Swing: Day 3
(AIB Player Evaluations/
Josh McRoberts
Workout)
West Coast Workout Swing: Day 4
(
Nick Young
,
Bobby Brown
,
Danny Granger
)
West Coast Workout Swing: Day 5
(
Marcus Williams
,
Jared Dudley
, more)
West Coast Workout Swing: Day 6
(
Jermareo Davidson
,
Aaron Brooks
, etc)
Oden, Cook, Landry at Champions Academy
Metro New York Workouts: Day 1
(
Demetris Nichols
,
Jared Jordan
, more)
With our work on the West Coast finished for now, we boarded a flight to the Windy City for two days at Tim Grover's temporary gym near the Berto Center, as well as a quick look-in at
Trey Johnson
in downtown Chicago. Players we took in at Tim Grover's include
Julian Wright
(Kansas),
Thaddeus Young
(Georgia Tech),
Dominic James
(Marquette),
Alando Tucker
(Wisconsin),
Herbert Hill
(Providence),
Reyshawn Terry
(North Carolina),
Mustafa Shakur
(Arizona),
Jarrius Jackson
(Texas Tech), and
Shaun Pruitt
(Illinois). The workout sponsored by Mark Bartelstein's Priority Sports featured
Trey Johnson
(Jackson State),
Jannero Pargo
(New Orleans Hornets),
Darryl Watkins
(Syracuse) and
Sasa Cuic
(Oregon State).
The first thing you notice when walking into a Tim Grover workout is the level of discipline he demands from his players, with everything he does being run with the efficiency of a drill sergeant. His voice and physical presence are never far from the action. Him and his assistants Mike Procopio and Greg Ryan are very hands on and have no problem whatsoever getting in their players' faces to teach, correct, scold, encourage or offer very precise, technical, tailor-made advice built around specific NBA situations. Grover doesn't offer any apologies for the way he comes off, complete with a thick, no-nonsense Chicago accent: "I tell my guys all the time, no matter who they are—if you can't deal with criticism, the door is right over there."
The players started the workout with light stretching before going right into conditioning and short jumpers ("I need footwork!" Grover demands.) Since the players have multiple eyes on them at all times, no detail gets overlooked ("how the *bleep* is he going to make a shot if you can't pass the ball correctly?" Procopio asks with a growl.) The players shoot one after another coming off a simulated screen, pulling up from the elbow, using the glass, off a short dribble, from the baseline, and from everywhere in between. They put great emphasis on real game-time situations, knowing how to clear and create space with savvy to get shots off ("think
Sam Cassell
," Greg Ryan explains), utilizing their mid-range game, adding in jab-steps and other triple-threat moves, and plenty more minute technical details that most people just don't think about when watching an NBA game. Play often stops for a short, 2 minute learning session with the pupils huddling around the teacher as he diagrams and explains the relevance of a specific drill to a real NBA game, often with examples they can relate to.
The players then split up into position-specific stations, which they rotate amongst the trainers each day. Procopio gets
Julian Wright
and
Thaddeus Young
in day one, Grover works with the big men
Shaun Pruitt
and
Herbert Hill
, while the guards (
Dominic James
,
Mustafa Shakur
,
Jarrius Jackson
) do catch and shoot NBA 3's, ball-handling drills (the three players dribble and try to steal the basketball aggressively from each other while keeping their own handle alive) and then some one on one competition. The action is very fast-paced, and rest comprises of shooting free throws.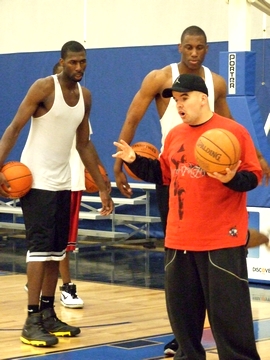 Procopio teaches Young and Wright the art of the pick and roll from the offensive end. What do you do when the defender hedges the screen aggressively? What if they go under? When to pull up from behind the arc? When to pull-up from mid-range? What foot should I explode off? And what is the best way to try and draw a foul (some good acting never hurts?). Footwork and timing are at a premium in this lesson. From there they move to the top of the key for a lesson in jab-steps and freeze fakes. Procopio shows them how Grover's most famous client,
Michael Jordan
, used to do it, and their eyes light up. "Freeze your defender, jab right, dribble left, then pull-up," Procopio instructs. Sloppy footwork is immediately reprimanded, while a nice shot draws praise ("
Julian Wright
…the black
Larry Bird
!").
On the adjacent court, Grover is going through the fundamentals of playing in the post—walking them through jump-hooks, up and unders, drop-steps, turnaround jumpers, pivot moves, using their core strength properly, face-up moves, and much much more.
Dominic James
is matching up with
Jarrius Jackson
in a competitive one on one battle, so that draws my attention momentarily.
Some of the players compete in a five on five pickup game later on (with strict instructions to work on what they are learning), while in-between sessions the players execute a tailor-made strength and conditioning program. The players seem like they are really being challenged, and as I flip through my scouting notes from games I watched of these same prospects earlier in the year, I definitely notice some improvement in areas previously marked as concerning weaknesses.
---
Player Evaluations
Julian Wright, 6-8, Sophomore, Small Forward, Kansas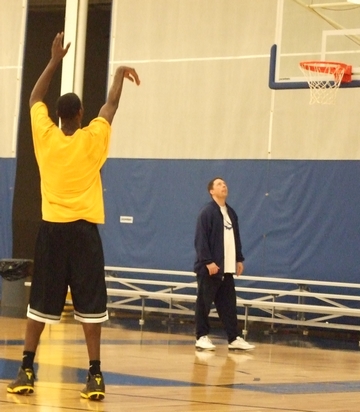 Wright obviously passes the eye test in person, with great size, an excellent wingspan, and plenty of room on his frame to continue to add weight. It wouldn't shock at all if he measured out slightly taller than the 6-8 Kansas listed him at.
While Wright is clearly a 5 on 5 player who shines with his versatility and basketball IQ more so than with an array of polished skills, there was some things to take away from the drill-work we saw him conduct over two days. His shooting mechanics aren't all that bad, and the 3-ball actually fell for him at a pretty solid rate with his feet set, even from NBA range. That's not saying he is going to be some kind of
Reggie Miller
at the next level, but it is good to know that his shot isn't broke and that with hard work he will likely become a credible threat from behind the NBA arc down the road. His shot flattens out at times and his elbow has a tendency to float, but Procopio and Grover are working extremely hard with him, and Wright seems to be soaking it up.
In the mid-range drills, Wright showed even more potential—tools that he should be able to use as early as this upcoming season. His footwork here is excellent, looking highly fluid with his jab-steps and step-drags and getting nice elevation on his jumper. It's here that he looks the part of a 3-man the most, particularly when he decides to utilize a quick spin move to bump his man off and clear some space to get his shot off.
His ball-handling is a part of his game that still looks a little rusty, as his long arms make it a little difficult to keep control of the ball at all times, and he probably doesn't have much practice, having played the 4-spot exclusively for the past two years.
Probably the most promising thing to come out of here is the way Wright conducts himself on the floor. He is an extremely smart, extremely coachable young man, always encouraging his teammates on during the drills and being very appreciative and responsive towards the coaching he's receiving here. As I was interviewing him in the hallway of the entrance to the gym, Wright made sure to hold the door for every person that came and left, smiling at the children who stared at him with gazing eyes, greeting everyone, and being extremely polite and respectful. When he wasn't playing doorman for the "Joy of the Game" gym, you could usually find him on the court, working on his jump-shot. It's not hard to tell why people see the upside they do in him.
---
Thaddeus Young, 6-7, Freshman, Small Forward, Georgia Tech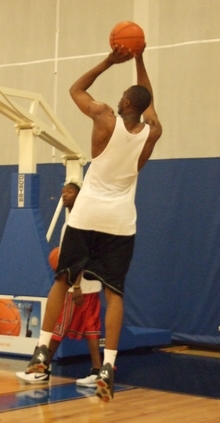 Another player who seems to be working just as hard here is Georgia Tech freshman
Thaddeus Young
. He also passes the "eye test" even more than Wright does probably, with an unbelievable frame and wingspan, huge shoulders, and solid athletic ability. He also reportedly has a similar attitude, although I did not get the chance to speak with him myself.
Young's shooting mechanics are coming along very nicely, showing a high release point, good elevation on his jumper, solid arc, and very nice touch. It is a fundamentally sound shot, although a bit on the deliberate side. When pulling up off the dribble, he's not nearly as fluid as Wright is for example. His shot at times fell very consistently for him, and at times didn't. If he keeps working on it, it should steady out for him.
Young has been working on his ball-handling skills extremely hard in his time here—that much is not hard to tell. He's polished up his technique considerably, to the point that he looks very smooth in the drills. There is a big difference between a "workout handle" and a "game situation handle," when it comes to reacting to unexpected movements and being fluid changing directions and such, but this is something we really weren't able to evaluate due to the non-competitive structure of the workout (like Wright, he did not play in the 5 on 5). Regardless, Young realizes what his biggest weakness is and is working very hard to improve on it. Procopio and Grover say they are most concerned with getting Young to maximize his excellent physical attributes near the basket more than he did in college, and from what they say, he is responding extremely well to their challenges. (Procopio: "I'm wearing a UNLV jersey Thad…show me what you got!"). They both mentioned on more than one occasion how much they enjoy working with him.
Young's uncle, Kenneth Carter, is the one who is handling the NBA draft process for him. He does not seem to be rushing into things at all from what we can tell, saying that Thaddeus "needs to be a top 15 pick for him to stay in." He understands the arguments for and against him staying in, and when we spoke, it seemed like he was still weighing both sides of the argument equally.
---
Herbert Hill, 6-9, Senior, Power Forward, Providence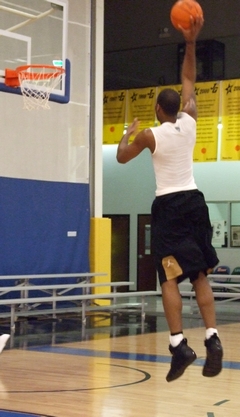 Hill looked like a natural in the post-drills that Grover ran him through on both days, showing a smooth jump-hook shot, text-book footwork, fantastic touch around the basket, and the wherewithal to find the net regardless of where he was around the paint. He's a very impressive guy to watch in this kind of setting, as his fundamentals are clearly excellent. Hill's shooting is still a bit of a question mark, as his mechanics are unorthodox—featuring a high, but inconsistent release point, although pretty nice touch. He was a bit streaky in the drills we saw.
In the five on five, Hill looked great on offense and just average on defense. He hit a couple of face-up jumpers from 15-16 feet out, but was at his best with his back to the basket in the post going into his phenomenal turnaround jumper. He's got a real old-school game, with great hands, timing and footwork and a superb feel for pivoting and scoring in the post.
Defensively, Hill blocked some shots (again showing great timing), but struggled a bit in terms of his lateral quickness. He gave up way too much space to
Shaun Pruitt
in the post, and didn't do a very good job rotating over when guards slashed their way into the paint. Providence played a lot of zone in college, so it was a little bit tough to evaluate this part of his game on tape, and there is clearly now an adjustment period for him. He would obviously benefit from bringing his intensity level up a notch in terms of the energy he shows, since NBA teams will want to see how he projects as a guy they bring off the bench in short spurts rather than the centerpiece role he played in college. Hill will be playing at the NBA pre-draft camp this upcoming week, so there is a lot he can show there to mitigate these kinds of concerns. He needs to be a beast there.
---
Dominic James, 5-11, Sophomore, Point Guard, Marquette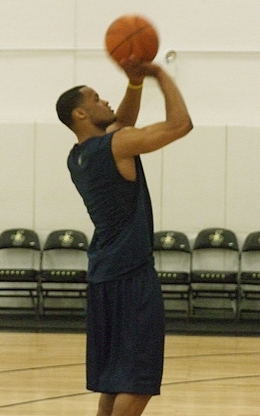 Our first day at Grover's was also James' first, so we had to take that into consideration when comparing him with his peers. Regardless, he looks like the kind of guy that can make a pretty strong impression in a private workout from what we saw, as he has all the tools to excel in almost everything except for the shooting drills.
James has off-the-charts quickness, excellent strength, and phenomenal leaping ability. When he sets his mind on getting to the basket, there are few players in this draft that can stay in front of him. Not only is he athletic with terrific ball-handling skills, but he also has all kinds of instinctive moves he can go to to create space for himself and get by his defender, particularly when operating out of the triple threat position. He can get all the way to the basket and finish strong with contact, or create separation sharply off the dribble and pull-up from mid-range. Most of his shot-creating ability seems to be more self-taught or instinctive rather than highly polished moves, though, meaning he still probably has even more upside to this part of his game once he really gets to work with a full-time development coach and improves his technique.
Once the shooting drills kick off, though, your enthusiasm begins to temper a bit. He gets phenomenal elevation on his jump-shot--time in and time out—but jumps very far forward (rather than straight up) and tends to shoot it on his way down at times instead of at the apex of his elevation. This means his release point is always going to be inconsistent. This is not the most difficult thing in the world to fix, though, so there is still some room for optimism down the road. His actual shooting motion is not that bad, particularly in terms of the rotation and arc he puts on the ball. Anyway you slice it, though; right now he's a poor shooter.
Once the five on five started, we began to recall why we were so high on James throughout most of this year. His stripes as a point guard really came out here, making outstanding plays unselfishly again and again with the ball in his hands, and looking fantastic on the drive and dish in particular. He got into the lane with ease thanks to his crossover, shot-fakes and array of hesitation moves, and covered a ton of ground getting into the paint from the perimeter off just one dribble. His perimeter shooting again emerged as a big concern here, as he was unable to punish his defender for going underneath screens on the pick and roll, but seemed to force the issue regardless by taking contested shots. Defensively, he struggled a bit getting through the screens that were set on him. His height is certainly going to be an issue here.
With all that said, we'll still be shocked if the committee somehow finds a way to leave him off the invite list for the pre-draft camp this week. Let it stand on the record that it's this writer's belief that
Dominic James
is going to end up being a solid NBA player, if not more than that.
---
Jarrius Jackson, 6-1, Senior, Shooting Guard, Texas Tech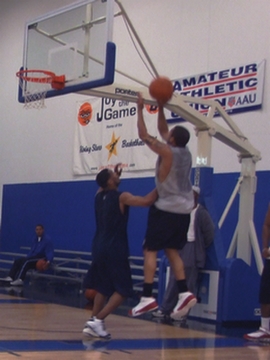 Jackson is a bit of a forgotten name these days despite having a stellar four year career at Texas Tech, mostly because of the poor showing he had at the Portsmouth Invitational Tournament. Watching him in this setting reminds you of the many things he does well when you aren't trying to evaluate him as a pure point guard.
Jackson looked fairly decent in the drills for the most part, particularly shooting the ball, but once the competitive things kicked off, he really shined. He was the best player in the one on one games, using his body extremely well and hitting some extremely difficult shots with a hand in his face. That probably isn't really a shock considering he shot 44% from behind the arc this season, despite the intense defenses he drew. He also used the threat of his shot to keep his man off balance and either punish him from mid-range with a pull-up jumper, or slash into the paint and finish with a tear drop.
In the five on five, Jackson played both on and off the ball, showing nice strength and toughness getting into the lane and even posting up on one occasion on the smaller
Dominic James
. Defensively, he had a tough time staying in front of the speedy Marquette sophomore, though.
If Jackson is going to make it, it's probably in a route and role similar to
Anthony Roberson
's stint with the Memphis Grizzlies and Golden State Warriors these past two seasons. Ironically enough, the Golden State Warriors were the first team asking to bring Jackson in, so maybe that is in the cards for him as an undrafted free agent. If he doesn't make it, though, a nice paycheck in Europe should await him virtually whenever he pleases.
---
Reyshawn Terry, 6-8, Senior, Small Forward, North Carolina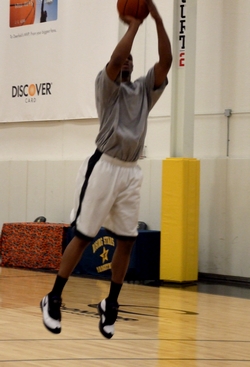 Terry only made it in for the 2nd day of workouts because of his graduation ceremony in Chapel Hill. What we did see in the short time we had to evaluate him left a great taste heading into the Orlando pre-draft camp, though.
 
Terry is basically the prototype for what an NBA caliber small forward should look like. He has excellent size, a great frame, nice strength, good quickness, and plenty of fluidity to his movements too. On top of that, the trainers here have helped clean up the footwork on his shooting mechanics considerably, to the point that he no longer flails his body around and instead sets his feet neatly with good balance and gets off a nice looking shot. It indeed fell with some solid consistency from what we saw. His ball-handling skills still need some polish, but it's not hard at all to envision him having some excellent workouts after the pre-draft camp, as we talked about yesterday. He can help himself in Orlando considerably by playing great perimeter defense and knocking down his shots when given the opportunity to do so. Everything else beyond that would be gravy as far as his future role in the NBA is concerned.
---
Alando Tucker, 6-5, Senior, SG/SF, Wisconsin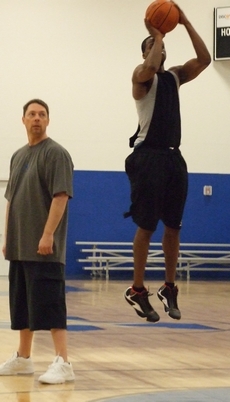 Like Terry, Tucker was only here for the 2nd day of workouts--and from what it looked like, he must have accumulated some serious rust in the 3-4 days he missed. Tucker's shot didn't fall for him at all today, hitting probably less than half of his shots with his feet set, and considerably less while on the move. He has a fairly slow release on his shot and plenty of wasted motion, putting a little hop in his jumper that does not allow him to get a consistent release point since he often shoots it while on the way down.

On the positive side, his ball-handling skills looked a lot better than we recall at Wisconsin, although like in Young's case, these are ball-handling drills we're evaluating him off of, not a competitive setting.

Tucker is very athletic, with a good physique and an average wingspan. His credentials in college speak for themselves, so It's not all that surprising that his agent decided not to let him play at the pre-draft camp in Orlando, since scouts should have seen everything they need to know already evaluating him over the past four years. He projects as a solid role-player in the pros, but it remains to be seen just how high he will get drafted at this point.
---
Shaun Pruitt, 6-10, Junior, Center, Illinois
Pruitt is basically here working on his skill-set for next year's campaign at Illinois, and from what we can tell, he's making some really nice progress that Bruce Weber and his team should benefit from tremendously.

Pruitt is a big burly big man who lumbers up and down the floor, but seems to get the job done in the post and on the glass. His jump-shot is pretty ugly, but it went in for him from time to time in the drills and especially in the five on five game, where he punished Herbert for not rotating out towards him in the mid-range area. He seems to be absorbing what Grover and company are teaching him here, at one point going to work with his back to the basket and then pivoting back for a very nice turnaround jumper right in Hill's face. He also showed solid hands on the pick and roll, setting the screen and being a reliable target catching the ball and finishing inside. He also boxed out and hit the glass reasonably well. Pruitt isn't going to knock anyone's socks off with his upside next year, but he does have a chance to parlay a solid senior year into potentially being selected in the draft.