Scouting Report by Jonathan Givony. Video Analysis by Mike Schmitz
Montrezel Harrell surprised many by electing to return for his junior season at Louisville after elevating his draft stock into firm first round territory in 2014, being ranked 20th on our Top-100 prospect rankings prior to his announcement. Twelve months later, Harrell's outlook doesn't look all that different, after coming off a very similar season, but now being a year older.
Harrell does not possess great height for an NBA big man, as he was measured at just a hair under 6-6 without shoes at the 2013 USA Basketball U19 tryouts. Louisville lists him at 6-8 in shoes, which is regardless undersized, even if his 7-3 wingspan certainly helps make up for that. He also possesses a strong, 240 pound, and excellent athletic ability, being extremely quick getting up and down the floor and highly explosive as a leaper.
(Video may not load with Internet Explorer. Use Chrome or Firefox)
Harrell is a relentless floor-runner, getting out regularly in transition beating opposing big men down the court. He's a constant target for lobs and alley-oop plays in both the half and full court, and is a terrific finisher around the basket in general, converting a terrific 65% of his attempts around the rim on the season. He seems to relish taking contact around the basket, drawing free throws at a solid rate in return.
Harrell expanded his offensive game somewhat as a junior, going from being able to score strictly off catch and finish plays as a freshman to someone who can do a little bit more than that as his college career progressed. His jump-shot is far from consistent, but has shown some improvement, as he hit nine 3-pointers on the season and saw his free throw percentage go from a dismal 46% as a sophomore to a more respectable 60% as a junior. He also shows nice quickness taking opposing big men off the dribble in a straight line, with a strong first step and the aggressiveness needed to draw some fouls off the bounce in small doses.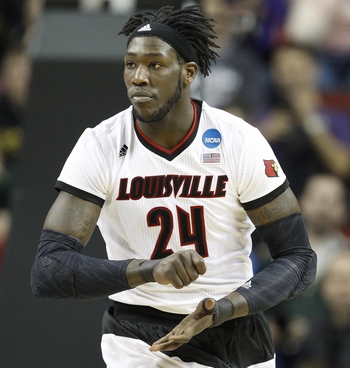 Harrell's relentless nature, combined with his quick second jump makes him a very solid presence on the offensive glass. He averaged 3.9 per-40 offensive rebounds for his career, despite his lack of height, as he often seems to simply want the ball more than his opponents, and will go well out of his area to pursue it.
Defensively is where Harrell figures to make his mark at the NBA level, as he has a relentless motor to go along with strong physical tools (length, strength, athleticism), and will often be seen sacrificing his body and diving on the floor for loose balls, not being afraid of anyone or trying anything to get the job done.
Harrell can hold his own against taller big men and rarely gets backed down inside the paint due to his tough and physical style of play. He's also versatile enough to do some things on the perimeter, hedging screens, trapping, and recovering effectively, while being quick enough to switch onto guards and not get beat off the bounce.
Harrell isn't the most disciplined defender, as he gets by more on effort and aggressiveness than great fundamentals, but is very much a playmaker out on the court, averaging 1.2 steals and 1.6 blocks per-40 minutes in his college career.
(Video may not load with Internet Explorer. Use Chrome or Firefox)
Despite drawing comparisons to the likes of
Kenneth Faried
, Harrell is not a particularly gifted defensive rebounder, averaging just 6.4 per-40 minutes over the course of his Louisville career, a figure that remained relatively consistent for all three years. His lack of size and reach affects him here more than in other parts of the game seemingly, as does his propensity for flying around and attempting to challenge every shot he can at the rim, which often leaves him out of position on the glass. Part of this is certainly systematic, a product of Louisville's game-plan, but some of it is due to Harrell's average awareness on the floor. Louisville plays a very aggressive 2-3 zone defense with Harrell on the wing, which certainly is not ideal for being a high volume defensive rebounder.
Harrell's average awareness translates to the offensive end as well, where he is not a great decision maker and does not appear to be the type of player a team can run much offense through from the high post. His 7.5% assist percentage for his career is a very poor rate, as he posted just over 100 assists in nearly 3000 minutes of action, or one for every 29 minutes he's on the floor. He struggles with double-teams, and is prone to making bad decisions with the ball at times, relying on his instincts and aggressiveness more than you'd like, showing just an average feel for the game.
It remains to be seen how Harrell will score consistently in an NBA half-court setting, as he doesn't have one overly polished skill you can point to, besides his tremendous motor. His touch around the basket is average, and his footwork is underdeveloped, while his shooting range is very much a work in progress and may never be something a coach can consistently rely on. Harrell will make a living off hustle plays, but with the way the league is evolving, teams often are hoping for a higher skill-level from the power forward position.
Nevertheless, there is a place for players like Harrell still in a NBA rotation, as a physical and ultra-aggressive role-player who comes in and does the dirty work. That might not get him drafted in the lottery, but it can certainly help him carve out a long career.