Big 12 player of the year
Thomas Robinson
is also one of the top prospects in the 2012 NBA Draft. What has he improved on this season and how will his game translate to the NBA? We explore.
-NBA Draft Prospect of the Week: Jae Crowder
-NBA Draft Prospect of the Week: Quincy Miller
-NBA Draft Prospect of the Week: Anthony Davis
-NBA Draft Prospect of the Week: Jared Sullinger
-NBA Draft Prospect of the Week: Royce White
-NBA Draft Prospect of the Week: Moe Harkless
-NBA Draft Prospect of the Week: Damian Lillard
-NBA Draft Prospect of the Week: Cody Zeller
Walker Beeken
As we anticipated in the preseason, Kansas's
Thomas Robinson
seemed primed for a breakout junior campaign in 2011-2012. After a productive sophomore season playing limited minutes, as well as some impressive summer showings, NBA scouts were anxious to see how Robinson handled a larger role this season following the departures of the Morris Twins, who played the majority of the minutes at the big positions for the Jayhawks last year.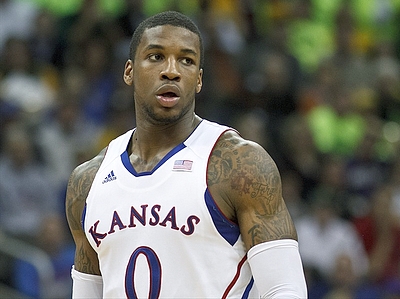 Through the regular season, Robinson has exceeded all expectations, making a seamless transition from bench player as sophomore to one of the most dominant players in all of college basketball as a junior. He's led Kansas to a surprising top five national ranking, while establishing himself as one of the frontrunners for National Player of the Year honors, along with Kentucky's
Anthony Davis
.
Much of the intrigue with Robinson prior to this season revolved around his outstanding physical tools for an NBA power forward prospect. Listed at 6-10 this season (he measured the same in shoes at the
LeBron James
Skills Academy over the summer) with a 7-1 wingspan, broad shoulders, and a chiseled frame, Robinson also possesses excellent quickness and explosiveness for a player his size, which he further enhances by playing with tremendous energy.
These traits are on full display when watching Robinson on the glass, as once again as a junior he was second amongst all players in our database in
rebounds per-40 minutes
. His size and strength enable him to get good position inside, and his length, athleticism, and energy allow him to go get rebounds out of his area. This is an area where he can make an impact immediately at the NBA level, giving him a skill to hang his hat on while he continues to polish some of the other facets of his game.
While Robinson's ability to affect a game with his energy and rebounding likely won't be in question by NBA scouts, his upside as an NBA player will likely depend on how he improves his skill level on the offensive end. What he's shown this season, though, as the leading scorer and focal point for one of the nation's top teams, is certainly encouraging.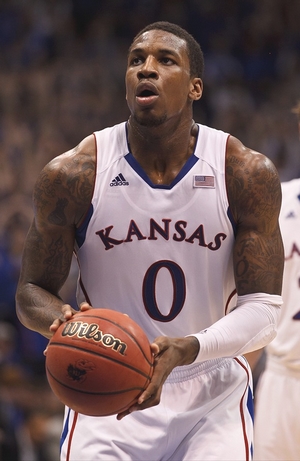 He's done much of his damage on the block, as about a third of his possessions come on post-ups. Bill Self's Kansas teams make it a priority to get the ball into the paint, and Robinson does a great job of establishing position and making himself an easy target to receive entry passes from his teammates.
Once he catches the ball in the post, he isn't the most fluid player, but he has shown improved footwork and a developing skill set as a junior. He's able to shoot jump hooks over either shoulder, face up and shoot a jumper, or make a power move to the rim. He goes up strong and aggressively with the ability to finish above the rim or draw fouls, but has also displayed a soft touch finishing with either hand.
Robinson has also shown flashes of being able to catch the ball facing up and isolate his man at the elbow or in the mid-range area. He's a very good ball-handler for a player his size and he's able to utilize his quickness advantage on most opposing big man and get to the basket on straight line drives. He also does an excellent job using spin moves to change directions and get to the rim.
Robinson's court vision and passing ability are still a bit subpar at this stage, as he's drawn more defensive attention than he's seen in past seasons, and he hasn't seemed to adjust to feeling defenders collapsing in the post or on the drive.
Improving as jump shooter will also be a big key Robinson and his NBA potential. After shooting only 17 jumpers all of last season, he's shot nearly four times that many as a junior, but connected on an unimpressive 35% of those attempts. His shooting mechanics look improved, however, and he's shot 68% from the free throw line this season, up from a miserable 51% as a sophomore.
Establishing himself as a reliable mid-range jump shooter will open up opportunities for him to attack more off the dribble and make him more of a pick-and-pop threat, adding another dimension to his game on the offensive end. While he certainly has work to do in this area, the progress he's made is a step in the right direction.
Defensively, Robinson has excellent potential to defend the power forward position in the NBA. He's big and strong enough to defend on the block, and he's quick enough laterally to defend more perimeter-oriented four men and help on pick-and-rolls. He's extremely active and plays with great energy and toughness, and his three years playing for Bill Self at Kansas should serve him well as he makes the transition to learning the defensive schemes at the NBA level.
While many saw a big season coming from Robinson, the extent of his individual and team success has been very impressive. Scouts may differ on just how much upside he has to tap into, based on the polish he can add offensively, but Robinson has certainly elevated his draft stock into the mid to high lottery with his decision to return for his junior season. His incredible motor and the enthusiasm he plays the game with are extremely appealing to NBA teams, and his combination of physical tools and production at the highest level of college basketball should earn him a very high draft pick this June.