Nike Hoop Summit Practices: Day Two
2011 Nike Hoop Summit: International Measurements
Days three and four at the Nike Hoop Summit have given us a much clearer picture of the prospects on hand and what to look for during the game on Saturday night. We got our first glimpse of Team USA as they all arrived in Portland and practiced twice in front of media members on Thursday, with both sessions being closed off to NBA personnel.
We also got to watch two practices for the international team – a fairly low key practice on Wednesday night followed by an intense session on Thursday with the team going full speed in a very informative five on five scrimmage with a scoreboard and officials. NBA executives and scouts lined the court and finally got what they've been looking for, as the international players went at each other for over an hour.
Kyle Wiltjer
was one of the standouts during the scrimmage, scoring efficiently all from all over the floor. After having some trouble adjusting to the length of
Lucas Nogueira
and
Bismack Biyombo
during drills the first couple days, Wiltjer showed his offensive versatility, taking his man away from the basket and knocking down jumpers from mid-range and behind the 3-point line. When the threat of his shot was established, Wiltjer put the ball on the floor and drove all the way to the basket, showing an extremely high skill-level for a player his size. His feel for the game was evident throughout the scrimmage, and it's pretty clear that he'll be a player opposing SEC coaches will need to be worried about from day one at Kentucky.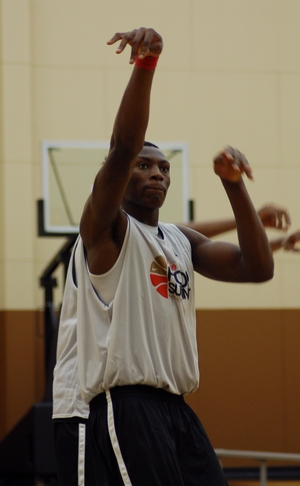 Biyombo also continued to impress with some eye-popping dunks and blocked shots, looking like a man amongst boys in the paint and playing with the same incredible energy we've gotten used to seeing from him the past couple days. The USA team doesn't have the size of players like Lucas and Pyrzemyslaw Karnowski, whom Biyombo has been facing during practice, but it will be interesting to see him against the athleticism of some of the USA big men like
Anthony Davis
,
Rakeem Christmas
, and
James McAdoo
on Saturday night.
Karnowski had a nice scrimmage as well, showing an impressive skill level for a guy his size, and smoothly knocking in a couple jump shots, while also doing some damage in the post. With his tremendous size and girth, he's the one player Team USA doesn't have any answers for inside, and it will be interesting to see whether the World Team looks to establish him inside and let him take advantage of his terrific passing skills.
Canadian point guard
Kevin Pangos
has also been solid. His ability and willingness to run the team and play mistake-free basketball has stood out so far, as has his work ethic, leadership, and ability to knock down open perimeter jumpers. He'll share the point guard duties along with
Raul Neto
and maybe a little of Guo Ailun, and how they fare taking care of the basketball against the pressure of Team USA will likely be a factor on Saturday night.
Clearly the World Team does not want the game on Saturday (7 PM PST, FSN) to turn into a track meet, as that's exactly where the Americans are at their most dangerous from what we saw from them in practice. Pangos is the perfect type of point guard to slow the game down and get everyone involved, which is exactly why he was selected for this game.
Davis Bertans
continued to display his beautiful 3-point stroke in the scrimmage, and
Evan Fournier
and
Mateusz Ponitka
showed very good aggressiveness and scoring instincts on the wing. Scouts will likely be watching closely as to how they adjust to the athletes on the USA squad, and whether or not they're still able to create off the dribble and get their own shot.
Team USA had a fairly low key Thursday morning session followed by an evening scrimmage against local Portland college kids. The USA team is comprised of eight USA basketball veterans along with two newcomers to the USA basketball program in
Rakeem Christmas
and
Anthony Davis
.
This goes along with the continuity we've seen from USA Basketball at all levels, as they try to establish a pipeline of players within the program. We discussed these goals a few years ago
in an interview with USA Basketball Managing Director Jerry Colangelo
, and you can really see that plan coming together as of late, already at a
very early age.
Although USA has less time to practice together before the game on Saturday, we asked
Bradley Beal
, the MVP from the 2010 U17 World Championships, about the chemistry with most of the team playing together before for USA basketball – "The chemistry is going to be instant, because we only have two new guys in Anthony and Rakeem. And they know how we play, so they should be able to collaborate with us really quickly."
Team USA started the Thursday night scrimmage in the halfcourt, and they really struggled to score against some of the older local college players (savvy vets from Portland State and the University of Portland), looking a bit sloppy and out of sorts.
soon as the game was opened up to the full court, however, Team USA looked outstanding, pressuring the ball and creating turnovers, getting out and running off of misses and displaying their incredible physical talents.
We asked Beal about the tempo and style of play to expect on Saturday against the bigger international squad – "They're a lot bigger. They have a couple 7-foot guys. I saw their roster. But I believe our athleticism and quickness will be able to beat them up and down the floor." Beal also discussed how important defense will be in helping control the tempo – "Coach Sutton's emphasis is on defense first. Defense is going to create shots for us on offense, if we can get stops on defense we can push it up on offense."
Today's Friday practice for Team USA will be the only one all week where NBA representatives will be allowed to attend, so it will be interesting to see if the focus and intensity level picks up a bit. Even though the USA players aren't even eligible for the NBA draft until next year, and most of the international prospects likely won't be in this year's draft either, it's clear from the attendance of NBA teams that it's important to see these kids early and get a feel for them as prospects. This has been an extremely well run event, and tomorrow should be a great showcase of some of the world's best young basketball talent.