Matt Williams
A tough, athletic shooting guard from San Diego,
Norman Powell
's solid four year career at UCLA came to an end at the hands of Mark Few's Gonzaga Bulldogs, after the Bruins made a surprising run to the NCAA Tournament Sweet 16. A consensus top-50 recruit in the high school class of 2011, Powell struggled to find his footing during first two years in Westwood playing a minor role offensively and seeing his playing time dry up for stretches.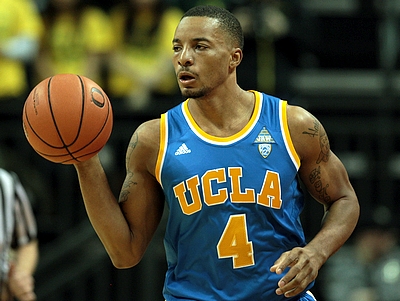 It wasn't until last season, when the coach he committed to, Ben Howland, was replaced by
Steve Alford
, that Powell hit his stride, averaging 11.4 points per game as an exceptionally reliable roleplayer on a team that sent five players to the NBA. Opting to return to school rather than taking a gamble and declaring for the 2014 NBA Draft, Powell relished his opportunity to shine as the Bruins' first option, even if he wasn't terribly efficient, earning All-Pac 12 First Team honors and solidifying his draft stock.
Powell's campaign for the 2015 NBA Draft started with a strong showing at the 2014 adidas Nations experience, where he, and a number of other high level college prospects, attended as a counselors. Standing 6'4 with a 215-pound frame and a massive 6'11 wingspan, Powell's physical tools and aggressiveness helped him stand out among a group that included
Stanley Johnson
,
Terry Rozier
,
Montrezl Harrell
, and
Frank Kaminsky
. A tremendously explosive leaper with great speed and unique strength for a guard, Powell was dominant at times competing against his peers, showcasing his game in front of scouts and gaining significant momentum heading into his senior year.
Powell's final collegiate season can be split into two segments that highlight his strengths and weaknesses as a prospect on the offensive end.
| Split | POS/G | PPP | At Rim FGA/G | At Rim PPS | Jumper FGA/G | Jumper PPS |
| --- | --- | --- | --- | --- | --- | --- |
| Before 1/1 | 15.7 | 0.95 | 2.5 | 0.79 | 3.8 | 1.14 |
| After 1/1 | 17.6 | 0.95 | 4.7 | 1.08 | 4.2 | 0.79 |
Powell's most appealing attribute from an NBA perspective is his ability to make use of his athleticism, which translated into very prolific scoring numbers around the basket during the 2nd half of the season. An aggressive slasher whose first step, strength, and willingness to try to play above the rim in traffic made him a physically imposing matchup at the college level, Powell did his best work last season attacking the basket.
In contrast, Powell's jump shot was very steady early on, but didn't serve him particularly well during the 2nd half of the season. His regression was particularly notable in catch and shoot situations, as he made 51.4% of his attempts prior to January 1st, but only 28.6% after that. Looking comfortable knocking down jump shots in rhythm when his mechanics are fluid, his tendency to shoot on the way down and hesitate before his release continue to limit his efficiency. An average shooter over the course of his college career, Powell's ability to become a reliable spot up threat could be a game-changer for him at the next level, as there's quite a few other things to like about his game.
To Powell's credit, he changed his approach offensively when his shooting struggles began as a senior, looking to attack the rim more aggressively both in transition and the half court. He ended the season ranking among the most prolific transition scorers in all of college basketball in terms of points per-game according to Synergy Sports Technology. It will be interesting to see if Powell can continue to make a significant impact on the break and as a slasher at the NBA level.
After posting a 62% true shooting percentage as a junior functioning as a high volume roleplayer, Powell's 55% true shooting percentage this year reflects the room he still has to improve offensively. Considering that some of his weaknesses are improvable, Powell has more intrigue as an offensive player long-term than many of the seniors we see at his position.
Aside from his scoring ability, Powell is still developing as an offensive player, which isn't surprising considering this was his first season as a featured option. Despite his ability to draw additional defenders attacking the rim, he tends to look for his own shot rather than find the open man. His quickness and solid, but not spectacular ball-handling skills give him some upside as a playmaker if he can gain a better grasp of the nuances of running the pick and roll, and refine his ball-handling and shot-creation ability.
Defensively, Powell was solid as a senior after being tremendous at times as a junior. Possessing good lateral quickness, great length, and active hands, Powell has promising tools on this end of the floor. He lunges at shooters and can fall victim to quicker guards with tremendous advanced ball handling ability when they make multiple moves, but generally plays with good energy, doesn't get out of position too often, and isn't prone to giving up anything easy one-on-one. His athleticism and length allows him to make impressive plays as a rebounder and scrapping for turnovers, but he doesn't do either at an elite level. His role and heavy playing time this season seemed to wear on him on this end of the floor relative to what we saw from him when he was coming off the bench last season, but there's no question he has all the tools you look for in a multi-positional shut-down defender.
Norman Powell
may not be an elite scorer or a dynamic playmaker at this stage, but he's one of the more hard-nose competitors you'll find in the college game. Never missing a game over the course of his UCLA career playing through a number of injuries, Powell's grit can't be questioned. A likely second round pick, if Powell can improve his jump shot and reach his full potential defensively, he could carve out a long NBA-career as a complementary player playing a role closer to the one he filled as a junior than the one he filled as a senior.