Holiday Inn – Portsmouth 113 - Cherry, Bekaert & Holland 103
Russell Carter, 6-4, Shooting Guard, Notre Dame
28 points, 9 rebounds, 7 assists, 5 turnovers, 3 steals, 12-17 FG, 2-4 3P, 2-5 FT
Jonathan Givony
Possibly the most impressive single-game performance of the entire tournament belonged to Notre Dame's
Russell Carter
. Besides the fact that it came in the Championship game and was the dominant reason why his team won the PIT, it did a great job demonstrating just how effectively his skill-set can translate over to a hypothetical role in the NBA.
Carter made a great living tonight from mid-range and beyond the arc. He was absolutely phenomenal catching and shooting coming off screens, and also was a potent weapon spotting up off the dribble any time the defense gave him even an inch of daylight. He has a super quick release, terrific elevation on his jumper, effortless mechanics, and outstanding instincts for how to move off the ball. It's quite clear from watching him here that the transition to the NBA 3-point line will not be very difficult at all for him, and that the inch or two he might lack in prototypical size for his position can be neutralized by the way he gets his shot off. Furthermore, he also possesses a fairly effective mid-range game pulling up off the bounce after a short dribble or two to create space for himself, sometimes adding in a little fade-away action with nice body control for good measure.
More than just a one-dimensional shooter, though, Carter did a terrific job showing off his excellent defense and passing ability. Built like an NFL fullback with excellent quickness and plenty of smarts, Carter is a very willing and able perimeter defender. He puts lots of pride into this part of his game, getting in his matchup's chest and being extremely physical, staying in front of his man nicely and being very active getting in the passing lanes and coming up for steals.
This got him in transition on a number of occasions during this game, where he showed awesome strength finishing with contact around the basket for a layup or emphatic dunk, and also a high skill level and nice decision making skills pulling up off the dribble from mid-range for a sweet looking jumper.
Despite being seemingly unable to do any wrong tonight no matter what he did, Carter did not force the issue even one bit, doing an admirable job creating shots for his teammates, as evidenced by his 7 assists. Even though they are somewhat similar players and there could have been some concern that their skill-set would overlap with one another, Carter and
De'Angelo Alexander
showed great chemistry throughout the tournament and again made some incredibly unselfish passes to each other all game long. Carter found Alexander beautifully in transition on two separate occasions, and also had a terrific drop-off to a streaking
Anthony Tolliver
on another occasion. It's obvious from watching him play on the court and seeing how he handled himself off it that the Notre Dame senior is a very intelligent player and person. He really seems to enjoy playing basketball, having a permanent smile on his face for every minute he's on the court. Today, though, he gave the NBA executives that were still in attendance (like Minnesota T'Wolves GM
Kevin McHale
for example) plenty to smile about too for staying in Virginia rather than running off to attend the Hoop Summit JUCO all-star game in Memphis.
In terms of weaknesses, Carter has two glaring ones, one that can be corrected and one that probably can't. The first would be his ball-handling skills. Against average competition like he faced here at PIT, Carter can create his own shot only semi-effectively, much preferring to have a point guard like
DaShaun Wood
next to him to can make him solely a finisher. His left hand is especially poor, being unable to dribble or finish without being a complete liability. The second would be his size, which is not ideal at 6-4. As mentioned already, though, he does make up for this to a certain extent with his strength, athleticism, and the quickness in which he can get his shot off, along with his high release point.
Carter was, to us, the best NBA draft prospect here, and has moved firmly into the second round of the draft on our board thanks to his outstanding performance here. He will still need to do it all over again at the pre-draft camp in Orlando to guarantee getting drafted, but we have very little doubt in our mind now that he has what it takes to be an effective NBA rotation player.
---
Jamaal Tatum, 6-2, Guard, Southern Illinois
17 points, 7 assists, 7 rebounds, 4 turnovers, 5-11 FG, 1-3 3P, 6-7 FT
Eric Weiss
Jamaal Tatum did exactly what he set out to accomplish in the PIT by taking the reins of his team and leading the charge during a spirited championship game. Tatum needed to show that he could run the point during his three game stint, and he did exactly that, finishing with over eight assists per contest while keeping his turnovers down.

Tatum progressed substantially in each game he played. He started off over-dribbling during his first outing, though it should be noted that he didn't turn the ball over or take poor shots. But between the first and second game Tatum made adjustments and must have cut down his clock usage by at least half while still maintaining his ability to make plays for both teammates and for himself.

Tatum's best attribute may be his defensive ability. Tatum has excellent athletic ability and can move his feet with the quickest of guards. He stays low and in sound fundamental position while using his hands and keeping a constantly changing distance between himself and his opponent which makes it extremely difficult for anyone to advance the ball. This was never more evident than in the championship game where he held tourney MVP DeShaun Wood in check for at least 80 percent of the time they were matched up.

Offensively, Tatum can shoot the outside shot, pull-up from mid-range, and even finish up high on the inside on occasion. His ability in all these areas isn't completely polished yet, but his shot is smooth and consistent and it's not hard to project him developing his arsenal to a point where it is difficult to deal with. Tatum could benefit from adding some runners and other floating shots in the lane, as larger, faster big men will certainly take away most of his finishes around the hoop.

Overall, Tatum looks like he may have potential as a backup point guard on the NBA level. There are certainly points in the league that have less ability than Tatum has on both sides of the ball. Like most of the players in Portsmouth, Tatum's chances of success will depend on his determination to outwork everyone he goes up against. Pushing the limits of his ability hasn't been a problem for Tatum thus far and if he continues to shot the proactive mentality and positive demeanor that he showed at Portsmouth he may become a coach's favorite somewhere down the line.
---
DaShaun Wood, 5-11, Point Guard, Wright State
14 points, 9 assists, 4 turnovers, 4 rebounds, 2 steals, 3-5 FG, 1-1 3P, 7-7 FT
Jonathan Givony
While this might not have been quite as impressive a game as his previous two outings, Wood played extremely well once again, helping his team win the PIT championship, while locking up tournament MVP honors for himself. He did a terrific job running his team's offense, scored some timely baskets, and really showed outstanding leadership skills in the clutch by taking them on his back and shouldering plenty of responsibility. This whole week was really an inspiring performance by the extremely underrated point guard from Wright State, who only got in because some "better" prospects decided to cancel.
In terms of his playmaking, Wood did an excellent job running the show. His team was by far the most unselfish here, recording 31 assists out of 43 made baskets, and Wood was really the catalyst behind that with the example he set for how things should be run. He was extremely patient throughout, letting everything come to him rather than forcing the issue, and making his teammates look very good by constantly creating easy shots for them. He did it with a combination of terrific ball-handling skills and hesitation moves, keeping his defender on his heels constantly with his excellent perimeter shooting ability and outstanding quickness to get into the lane almost whenever he pleased at this level.
Wood's passing ability was on full display, whether with a series of drive and dish plays, some terrific lobs into the post, and a couple of perfectly timed bullet passes in transition for easy baskets. Wood clearly had the best awareness of what's happening around him of any of the point guards here, and it's become incredibly obvious that he was not able to fully show just how talented a playmaker he is in college because of the huge scoring burden that was put on his shoulders at Wright State.
This has obviously made him a much more versatile player, though, as instead of just being a phenomenal point guard or a fantastic scoring combo, he can do both very well. If left open for even a second, Wood shows no hesitation knocking down jump-shots with 3-point range. He can also get to the basket and finish amongst the trees in a variety of ways off the glass (runners, floaters, pull-ups, etc), although he clearly needs to improve his left hand. His toughness is exemplified in the fact that he averaged over 5 rebounds per game despite being a skinny 5-11.
The two weaknesses we could identify had to do with the player he was matching up against,
Jamaal Tatum
. Wood had some problems in the first half adjusting to the incredibly tough defense that Tatum played on him, as he is bigger and quicker than him and just absolutely relentless. Later on in the game he seemed to adjust very well, though, taking Tatum off the dribble on a number of occasions and getting to where he needed on the floor. In fact, it was two baskets he created while being matched up with Tatum late in the 2nd half that really secured the victory for his team, making him fall down with a phenomenal crossover and then dishing off wonderfully for an assist on one occasion, and then taking him strong all the way to the hoop for a gorgeous floater with contact off the glass plus the foul.
The other concern to come out of this game had more to do with his lack of size and strength. He had some trouble getting through the screens that were set on him, and was beat off the dribble on a few other occasions by the quickness that Tatum has at his disposal. Not being particularly tall or long, it's not clear how well he'll be able to contest the shots of the bigger guards in the NBA that he potentially could match up with, but to his credit we must say that Wood plays just as hard on the defensive end as he does on offense.
All in all, this couldn't have been a better week for
DaShaun Wood
. He did virtually everything in his power to show that he can play in the NBA, and surely locked up an invite to the Orlando pre-draft camp in late May. Many will question his size, but he won't be the first player to make it at 5-11 ½, and obviously won't be the last. Something that can never be questioned is the size of his brain, heart and cojones.
---
James Hughes, 6'10, Center, Northern Illinois
10 points, 8 rebounds, 2 blocks, 5-7 FG
Joseph Treutlein
There wasn't much new to see from Hughes in this game, but he did make some solid contributions for his team, and his play here should make him a lock to get into the Orlando camp, where he can try to expand on the positives he's shown here. Hughes makes most of his contributions in the rebounding and weak-side defense department, and even though he scored 10 points today, eight of them came on wide open jams around the rim that were created for him by his teammates. His other score was on an 8-foot jumper. He doesn't have much in terms of offensive skills, and that's something he should work on in the next month and a half, preparing himself to show a bit more at Orlando.

Defensively, Hughes did a good job again contesting and blocking shots around the rim, but his man-to-man defense is very raw, as he doesn't have much of a fundamental base in the post, not getting leverage and not showing much in the footwork department. He was beat a few times in the post in this game, and just looked very questionable even when he wasn't beat.

With his physical attributes, Hughes should get a few chances down the road to find a role in the NBA, and it's up to him to make the necessary strides in the weaker areas of his game. His conditioning could also be improved, as he seems to get winded easy, but to his credit, whenever he was hunched over and taking deep breaths during dead ball and free-throw situations, he came back strong the next play and fought through it to still contribute for his team, showing motivation one wants to see from a player like him.
---
Anthony Tolliver, 6'9, PF/C, Creighton
13 points, 3 rebounds, 4 assists, 1 block, 5-8 FG, 1-2 3PT, 2-4 FT
Joseph Treutlein
Anthony Tolliver had a solid camp overall, showing off some nice passing ability, three-point range, and a well-rounded game with the many things he's capable of doing. Tolliver shows excellent court awareness for a big man, and he passes well out of both posts. He also has the ability to step out behind the arc, shooting a flat-footed shot with decent form that he scored with a few times. In the post, Tolliver battles hard for position and usually goes up strong, as he drew quite a few fouls here, but while not showing the most advanced array of moves down low.
Defensively, Tolliver has some trouble when drawn out to the perimeter, as he couldn't quite stick either Ivan Harris or
Justin Doellman
in this game when he was matched up with them, not being agile enough to risk tightly playing them, which left them open for outside shots. He hustles a lot on the defensive end in the painted area, though, and is able to get some blocks and steals off that more-so than explosiveness or excellent athletic ability, which he lacks. In the post, he's a pretty good defender when he gets physical, but he doesn't always do that, which is also a problem with his rebounding. He seems to get most of his rebounds due to his size and being in the right spot as opposed to throwing his weight around and using physicality to pull down boards in the crowd.
Tolliver probably isn't an NBA player, at least not now, but he should be invited to the Orlando pre-draft camp, and with his well-rounded and smart style of play, he should make a nice complementary player in Europe.
---
Justin Doellman, 6-9, SF/PF, Xavier
12 points, 6 rebounds, 5-11 FG
Jonathan Givony
For the third straight game at the PIT, Doellman quietly showed off his versatile skill set and effectively helped his team by doing all the little things they needed to have a chance to win. A guy like Doellman is never going to wow anyone in a setting like this, since that's just not the type of player he is, but if you watch him closely enough, you can clearly see what his value could be in the right situation.
Every time we watch Doellman we discover a new little wrinkle to his game that we previously were not aware of. This time it was his intelligence finishing around the basket in the half-court and in transition. Not being a very explosive player, Doellman needs to rely on his smarts and skills rather than sheer athleticism. Going up to finish around the hoop in traffic, Doellman does a wonderful job adjusting his body to create contact and avoid the shot-blocker, telegraphing the direction he wants to go in and then at the last second completely altering his shot to avoid the block. It's these suddle type of moves that give you an idea for just how smart he is, and really could endear him to an NBA coach someday looking for a glue guy to bring off the bench.
Beyond that, Doellman also displayed his phenomenal shooting stroke. He has a super high release point on his jumper, allowing him to get his shot off effectively with a man in his face almost whenever he pleases, aided by his excellent size at 6-9 as well obviously. He can spot-up effectively from the perimeter and also pull up off a short dribble from mid-range as well. Trying to go any deeper than that exposes his lack of speed, though, as he'll clearly never be a shot-creator in the NBA. He's a mismatch threat who doesn't quite fit into the 3 or 4 spots, which is where a lot of his effectiveness comes from.
Defensively, Doellman doesn't really have a natural position either, which is certainly a concern. He does have excellent length and smarts, though, which he uses very well to bother smaller players with limited ball-handling skills (like
Russell Carter
at times for example) into taking more difficult shots than they'd probably prefer.
One big concern we have is with the huge brace Doellman sports on his knee. That's something that only a doctor can fully evaluate, but it's not something that scouts necessarily like seeing from a player this age.
---
De'Angelo Alexander, 6-4, Shooting Guard, UNC-Charlotte
13 points, 3 rebounds, 2 assists, 5-13 FG, 1-5 3P
Eric Weiss
Alexander really bucked the "selfish" label during his three PIT games, proving that the right team chemistry can drastically alter the nature of a player's game. Alexander was the third cog in the well-oiled Holiday Inn team that won the PIT tournament championship. Alexander fell into a rhythm with teammates DeShaun Wood and
Russell Carter
, appearing as if the three had played together for years instead of mere days.
Alexander was more of an offensive facilitator in game three than a big time scorer, but he moved the ball exceptionally well, played sound team defense, pushed the tempo in transition, and generally made the plays that needed to be made in order for his team to win. In the process, he displayed good shot selection and communication skills throughout.
Alexander has nice athleticism and size, though he isn't particularly tall or long for his position. His ball handling isn't good enough to create his own shot when tightly guarded in half court sets, but his perimeter shooting and off-ball movement make him a threat to score coming off curls or camping out behind the three point line.
Alexander is certainly a rhythm shooter. When he tried jab-stepping on the perimeter to free up his shot, he lost a substantial amount of accuracy in the process. But, with a live dribble or when moving into the shot Alexander looks very comfortable taking shots from all over the court.
Defensively, Alexander showed good footwork and a dedication to playing his man tough. He looked to be inspired by his team's pace and chemistry and this translated to both sides of the court. It'll be interesting to see if this type of play on both sides of the court continues in other settings, but here it was evident that the ability to do so is there.
Alexander doesn't have the overall package that teammate
Russell Carter
possesses, but he has good overall ability and definitely drew some attention from some scouts here, be it domestic or abroad. He's got the potential to be a solid pro player for a competitive team somewhere for sure if he can continue to harness his game and blend with teammates the way he did in Portsmouth.
---
Portsmouth Sports Club 89 - Norfolk Sports Club - 88 (OT)
Caleb Green, 6'8, PF, Oral Roberts
19 points, 17 rebounds, 1 block, 2 steals, 4 turnovers, 8-14 FG, 3-4 FT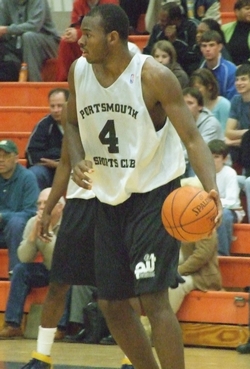 Joseph Treutlein
This was definitely Green's best showing of the camp, but he didn't really quell many of the doubts scouts have about him as an NBA player, specifically in regards to his athleticism. Green did most of his damage very close to the basket in this game, as he uses his body very well to secure position, and once he gets close enough to the rim, he has a very nice touch with the basketball, which allowed him to score many lay-ups here. A few of his scores came from putting his body to work to carve out space, but he also had a turnaround jump hook from five feet out, an 8-foot jumper, a little face-up drive that he laid off the glass, and scored on some put-backs off offensive rebounds. Green also uses his body well on the boards, which is clearly evidenced by his 17 rebounds. He establishes good position, boxes out well, and goes up strong for the ball. Defensively, Green has some troubles, specifically against more agile, perimeter-oriented power forwards, but that wasn't really an issue in this game, as he had a favorable matchup against Rashad-Jones Jennings, another bruiser.
---
Adam Haluska, 6-6, Small Forward, Iowa
19 points, 4 rebounds, 1 assist, 3 turnovers, 7-19 FG, 0-9 3P, 5-6 FT
Eric Weiss
Haluska showed the good and the bad of his game during the third and final installment of his PIT performance. He is a physical specimen who has excellent athleticism, especially when attacking the basket. Haluska has the ability to finish shots with a high degree of difficulty while making it look easy at times. He absorbs contact well and displays some excellent body control when in the air, hitting a number of tough lay ups and a few smooth fade and fall-aways within eight feet of the basket.

His ability to hit tough shots around the basket is certainly a plus skill, as is his defensive awareness in help situations. But Haluska will have to work on his ball-handling and jump shot before he can be considered a legit prospect for the NBA level. Haluska showed almost no ability to go to his left hand in the half court and absolutely could not hit the perimeter shots that will be essential for him to master if he wants a role in the league. He's got good size for the two-guard position, but it's a position that requires consistent range and accuracy, two things that Haluska didn't show in this game, but has in the past here at PIT and especially during his career at Iowa.

An absolute dedication to working on his shot mechanics is a must for Haluska if he wishes to stay stateside with the big boys. The kid from Iowa has some skills around the basket, but his shooting form needs tweaking. Haluska shows solid shoulder and hip alignment on most of his shots, but he pushes the ball instead of pronating his wrist and getting underneath his shots with his hand, which causes his shots to drift left and right. After that, a little more court sense couldn't hurt as Haluska tended to force the issue, especially during the last game. There is no excuse for going 0-9 from three point range no matter what you're trying to display to the scouts. Finding a good coach and trainer will be key for him going forward if he wants to harness his game.
---
Rashad Jones-Jennings, 6'8, PF, Arkansas-Little Rock
8 points, 13 rebounds, 2 assists, 2 blocks, 2 steals, 2 turnovers, 2-8 FG, 4-8 FT
Joseph Treutlein
Jones-Jennings put forth yet another strong performance here at Portsmouth, throwing his weight around to pull in strong rebounds and using his hustle to make a few disruptions on the defensive end.

Unfortunately, he had quite a few problems in the post offensively, as he doesn't have the best hands for catching entry passes and his touch around the rim isn't stellar either. He missed some hook shots badly, both using glass and not, missed a putback lay-up badly, and just generally had struggles going up with the ball from the post. His hands aren't very large for a player his size, so he often has to hold the ball with two hands to control it, getting him into trouble when he needs to hold it with just one. Jones-Jennings did do a good job getting to the free-throw line, though, as while he didn't finish on many of his field goals, he drew contact and went up strong to get to the line, where he shot just 4-8. His mid-range shooting needs a bit of work, as he air-balled an 8-footer, though he also hit a 15-footer from the baseline. Jones-Jennings wasn't really forcing it with his game in the post, though, as he dumped off a nice assist to a cutter and dished out a nice kick-out for a three-pointer as well.

Defensively, Jones-Jennings did a better job leaving his imprint on the game, bodying up strong against taller opponents in the post and not allowing them to get easy baskets around the rim. He also makes up for his height by fronting very well, picking off two entry passes in that manner in the game. He tried to do some damage with weak-side help as well, contesting and even blocking some shots in the lane, but at times he just comes up short because he doesn't have the length or height to get to every guard's drive. He boxed out well around the hoop and did a good job pulling in some emphatic rebounds, showing excellent instincts in tracking the ball off the rim, which goes well with his mobility in moving outside the painted area to pull down the ball.

Jones-Jennings is not your typical prospect, and most people will write him off as an NBA player, but more and more undersized forwards are finding roles on teams, and his work ethic and motor would be highly favored by coaches. He should have a chance at making a summer league team, though he will likely have to go to the D-League to work a bit on his offensive game if he plans to go the NBA route, which is certainly not a sure thing down the road.