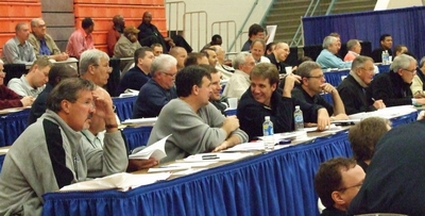 [c]Despite the complaints, day three again saw a very strong turnout from NBA executives[/c]
Word on the Street:
-According to multiple sources, both from the NBA and close to the player himself,
Kevin Durant
will be announcing in a press conference mid next week that he will be putting his name in the draft.
-Multiple sources at Portsmouth told DraftExpress that
Acie Law
has decided to hire Arn Tellem of Wasserman Media Group as his agent.
-
Ty Lawson
will be staying at North Carolina for his sophomore season, tells us a source very close to the situation. The source told us that Lawson did not go to Chapel Hill just to be one and done, and that if solely "making" the NBA was his goal, he would have gone somewhere that would have given him a better opportunity to pad his stats and "be the man." Lawson reportedly wants to leave North Carolina with a legacy behind him, and declaring for the draft after losing the way he did in the Elite Eight is not what he had planned.
-
Dominic James
will be announcing that he's putting his name in the draft, according to a source close to the situation. For now he will be just testing the waters and not hiring an agent, but it appears likely that he is in the draft for good. Where he lands will depend heavily on who amongst
Mike Conley Jr
,
Darren Collison
,
Javaris Crittenton
and
Gabe Pruitt
ends up declaring for the draft, as this draft could quickly return to being a very weak one for point guards if all those decide to return to school. James finished off the season in a horrible slump that extended for almost two months, and right now is by no means guaranteed to be a first round pick. If he can have a good showing in the pre-draft camp and then show NBA executives in workouts just how explosive a player he is, he has a chance to regain the ground he lost in his stock.
---
Portsmouth Day Three
Holiday Inn - Portsmouth 93 - Portsmouth Sports Club – 85
DaShaun Wood, 5'11, PG, Wright State
15 points, 9 assists, 5 rebounds, 2 blocks, 1 steal, 3 turnovers, 5-13 FG, 3-6 3PT, 2-2 FT
Joseph Treutlein
Dashaun Wood continued his stellar performance here at Portsmouth, where he is the frontrunner for the MVP award by a huge margin at this point. There's really not much new to say about Wood from this game, as he basically replicated everything he did in the previous game, dishing out assists, scoring from behind the arc, getting into the lane, finishing at the rim, pulling up from mid-range, and doing just about everything you can expect a point guard to do, except stand taller than 5'11, which is really his only major weakness.

With more extensive viewing of Wood, some things have become a bit more clear about his game. He uses his body extremely well on the defensive end for one thing, always getting up in his defender's face and having the lateral quickness to go step-for-step on most occasions. While not possessing a great deal of bulk in his upper body, he's very fit and functionally strong, as he doesn't get pushed around on defense and he draws contact very well on offense. He also managed to block two shots today, despite being three inches shorter than everyone he defended. On one block he followed his man step-for-step down a drive in the lane and got up high enough to swat down his lay-up attempt.

On both ends of the floor, Wood's awareness of everything going on is especially impressive, specifically that of the spacing on the floor. Defensively, Wood recognizes passing lanes and switches extremely well, making him a strong defender of the pick-and-roll, and he always gets into the right position to deny the first option for the opposition. Offensively, he does a really god job of waiting for openings in both passing and driving, using hesitation dribbles to anticipate the perfect timing for a lane to open, after which he usually drives through or puts through a perfect bounce pass to his teammate. Wood's ambidexterity is also very impressive, as he makes as many drives going left as he does right, looking equally comfortable at both. He also does a good job changing hands once in the lane, using crossover extremely well, usually combined with the hesitation dribbles he loves to use to get his man off-balance.

Wood's making more and more of a case for the NBA each day here, and he's a virtual lock for the Orlando camp at this stage, where he will have the opportunity to show if he can maintain this level of play against higher competition. While not yet securing himself a draft pick yet, Wood has played himself into discussions, and he'll undoubtedly get a chance in summer league, where he can make his case for being a third-string point guard or maybe even a second-stringer. If he doesn't make it in the NBA, he should have a very successful career in Europe with his high intangibles, understanding of the game, and more-or-less complete package at the point guard position.
---
Darryl Watkins, 6'11, Center, Syracuse
7 points, 8 rebounds, 3 assists, 3 turnovers, 1 block, 3-5 FG, 1-3 FT
Joseph Treutlein
Darryl Watkins has had a pretty non-descript tournament thus far, scoring only six points along with two rebounds the first day, while not blowing anyone away in the second day either, though showing some more flashes of his potential as a big man at the next level. In this second game, Watkins showed periods of aggressive play, but they were surrounded by periods of just going through the motions, not showing how dominant a player he could be in this setting.

Watkins is primarily a defensive player, as evidenced by the 3.5 blocks per game he averaged in his senior season. Watkins hasn't shown off that ability much here as of yet, though, blocking only one shot in his two games played, often looking a bit slow with his defensive instincts, as he has committed two goal-tends tonight, though was only officially called for one. Both plays were ones he was capable of blocking if he reacted quicker, but he didn't try to make the play until it was too late both times. There were also some plays he just simply didn't try to pursue, which is strange coming from a player with his defense capabilities, specifically in terms of weak-side shot-blocking. In defending the post, Watkins was inconsistent, at times being very active, bodying up, and forcing his man into tough shots without fouling, but at others he just seemed content to stand where he was, not really trying too hard to hold his ground or force a tough shot.

Offensively, Watkins was much more active today than yesterday, working for position in the post and calling for the ball frequently, but his guards weren't always quick to reward him, and passed up on multiple possible entry passes, depriving us of seeing more of Watkins in the post. He did have some nice flashes there when he did get the ball, though, such as a pretty five-foot hook shot off the glass from the right block, which is a move that he could frequently use at the next level should he work on his consistency with it. Watkins also showed a bit of game from the ten feet range, hitting an elbow spot-up jumper on one occasion and faking a shot from 10 feet out on another, then driving the ball towards the basket; he was blocked on the play, but it was impressive nonetheless for a player of his size to make the move as smoothly as he did. Watkins also scored on a little face-up jumper from five feet out.

On the glass, just as Watkins is sometimes content to not contest drives in the lane, Watkins isn't always quick to mix it up under the rim, sometimes not using his massive size to grab rebounds he should be able to. He's not a bad rebounder, as he gets plenty just do to his size and positioning around the hoop, but for a player his size, he's capable of much more.

In terms of passing the ball, Watkins did a good job passing from the high and low post, making some nice bounce and chest passes to cutters, though he also had a few turnovers passing in the same situations.

Watkins is an extremely intriguing prospect, and it would be extremely surprising to see him not make an NBA roster in one way another, even if he isn't drafted, which he should be by the end of the second round. While Watkins has definitely not yet been able to put everything together on the court, players with his height, bulk, athleticism, and mobility aren't common, and he shows flashes of multiple skills, most notably on the defensive end. Offensively, he has solid form on his mid-range jumper despite his 61% free throw shooting, and that, along with his hook shot, have the potential to develop into staples of his offensive game. With the proper coaching and if he can find the motivation, Watkins could definitely develop into a solid contributor in the NBA down the road, and in our estimations, most teams would be willing to take him on as a project player, even with his inconsistent play.
---
James Hughes, 6-10, PF/C, Northern Illinois
10 points, 9 rebounds, 3 blocks, 4-5 FG, 2-2 FT
Jonathan Givony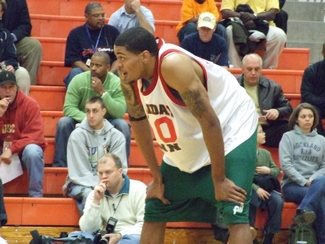 Another nice showing for Northern Illinois big man
James Hughes
today. Standing a legit 6-10, with a nice frame and an excellent wingspan, he's clearly one of the more intriguing big men we find here. Hughes was extremely active all game long, challenging shots around the rim and coming up with a number of nice blocks on the ball and from the weak-side, and going out of his area on a number of occasions for some strong rebounds, a few offensive that ended up in tip-ins or easy buckets.
Offensively, he's a pretty raw guy, with a fairly limited assortment of post moves and just average touch around the basket. He got really winded early on due to the up and down style of play that we found here, and looked like he was going to collapse every time play stopped for a moment. To his credit, though, he did not let that stop him from playing hard when the ball was actually in play, and he did run the floor very hard and made lots of effort plays. Hughes has probably shown enough here to get an invite to Orlando, and if he continues to develop his fairly skinny body, he will at the very least have a chance to play in the NBA at some point in his career. We would like to see him develop a little bit more of a mean streak and try to maximize his tools even more.
---
Jahsha Bluntt, 6'6, SG, Delaware State
17 points, 5 rebounds, 3 assists, 3 turnovers, 6-13 FG, 3-7 3PT, 2-2 FT
Jahsha Bluntt is taking advantage of his opportunity here in Portsmouth, showing off some skills outside of the confines of his team, which plays at one of the slowest paces in the country. Bluntt is a skilled shooter, decent passer, and can finish strong around the rim as well, all of which he showed here in his second game of the tournament. Bluntt started off the game strong, hitting three three-pointers in a four-possession span not long into the game, all of the spot-up variety. He also dished out a few nice assists in the first half, including one impressive behind-the-back assist for a lay-up in transition. He also threw a nice alley-oop pass in transition that wasn't converted by his teammate, and had two powerful, athletic transition dunks.

In the second half he cooled off a bit, missing a fade-away three-pointer, a pull-up jumper in the lane in transition, and a spot-up three-pointer in the halfcourt. He tried to run a bit more point guard in the second half as well, showing decent handles, but not much ability to create with the ball, for himself or others. Most of his assists and nice passes came in the flow of the game, not off isolation dribble penetration.

Bluntt should have a chance at getting invited to training camp in the summer for NBA teams, but at this stage, he looks more likely to be heading to Europe, where he could be a solid scorer, because he doesn't do much else at an NBA level.
---
Caleb Green, 6-8, Power Forward, Oral Roberts
14 points, 14 rebounds, 2 assists, 1 turnover, 5-9 FG, 4-5 FT
Jonathan Givony
This was a stronger performance for
Caleb Green
that he had in the first day, settling into his role a little better and doing a good job showing off what he does best. He's a strong player with great smarts and a nice all-around skill-set, and this helped him get a number of easy baskets around the basket off cuts or offensive rebounds. Green has played under the rim for the most part, lacking the athleticism that most of the other undersized power forwards bring to the table. He works as hard as anyone as his 14 rebound would tell you, but after watching him in person we have some pretty serious doubts about whether he has what it takes to make it in the NBA, particularly on the defensive end.
---
Russell Carter, 6'4, SG/SF, Notre Dame
17 points, 4 rebounds, 2 assists, 3 steals, 6-11 FG, 1-2 3PT, 4-6 FT
Joseph Treutlein
Russell Carter had a good second day here at Portsmouth, continuing to show his good long-range game and ability to finish at the basket, but not showing much in terms of dribble creation or mid-range shooting. He also did a good job on the defensive end, and has shown a good work ethic and energy level throughout. Carter's lone three-point field goal in this game came off a smooth-looking curl, but he also hit two from NCAA three-point range, one coming off a curl and another a spot-up, which he also was fouled on for the and-1.

As mentioned earlier, Carter didn't get much done from the mid-range, as he rarely does, and whenever he went inside the three-point arc, he took it all the way to the basket, showing off his impressive ability to draw contact and finish at the rim. Carter got to the rim multiple times in this game, drawing contact to get to the free throw line on many occasions. He mostly got to the rim on cuts and straight-line drives, showing off a finger roll on one occasion and a reverse lay-up on another. He also showed the ability to pass the ball off once in the lane, as well as in transition and by feeding the post. He set up more open shots than he had assists, as his teammates didn't always finish.

Defensively, Carter used his full physical abilities to disrupt his man, getting his body up into him and moving fairly well laterally to stay in front, sometimes recovering with a poke-away from behind when he didn't. At times he gets a bit too aggressive bumping with his strong upper body on his man, getting him some foul calls for the refs, but for the most part he does a good job intimidating and disrupting his man. At the next level, he may not have the quickness to defend some quicker shooting guards, nor the height to defend some larger small forwards, but there will definitely be many reserve players and some starters he'll be capable of defending. As of now, Carter has an outside chance of being drafted, though he should be a lock to be invited to Orlando and get into some training camps, where he can use his notable skill-set and excellent work ethic to find someplace he can try to earn a roster spot.
---
Cherry, Bekaert & Holland 96 - Norfolk Sports Club – 86
Ryvon Covile, 6-9, PF/C, Detroit
16 points, 18 rebounds, 1 assist, 5 turnovers, 2 steals, 8-16 FG, 0-4 FT
Jonathan Givony
Arguably the best performance from day three of the PIT was
Ryvon Covile
's excellent 16 point, 18 rebound outing. Covile showed off a really nice combination of skills from inside and out, draining shots from all over the floor and finishing very strong around the basket. His outside shot looked great, knocking down most of his looks from 16, 17 and 18 feet on numerous occasions and even hitting a college 3-pointer when dared to. In the post, he took the ball really strong to the basket and finished well, although his touch on more advanced post moves could still stand to improve. He was extremely aggressive on all of his moves, playing smart and hard and not being afraid in the least bit to take contact while making his way to the rim.
On the glass, Covile was absolutely terrific as his 18 rebounds might indicate. He has great strength and plenty of drive to go after anything that is even remotely in his area. After the game his father told us that battling with the #1 rebounder in the country (
Rashad Jones-Jennings
) being the #3 rebounder in the country himself gave him plenty of motivation to go out there and show the scouts what he can do. That was clearly the case and then some as both bruisers were out there looking for blood, and we obviously enjoyed every moment of it.
In terms of how this affects his draft stock, Covile has helped himself in his two games here so far and should have locked himself up an invite to the Orlando pre-draft camp at the very least. He's not the most athletic 6-9 big man you'll find, lacking some explosiveness to finish around the basket and not being all that quick laterally when forced out onto the perimeter to hedge a screen or make quick rotations. He does have quite a few good things he brings to the table, though, so it wouldn't shock us at all to see his name hanging around leading into workouts, summer league, and training camp and such. At the very least he deserves another look to see how he stacks up against stronger competition.
---
Rashad Jones-Jennings, 6-7, PF/C, Arkansas Little-Rock
14 points, 16 rebounds, 2 assists, 4 turnovers, 2 steals, 6-8 FG, 2-2
Jonathan Givony
The player that is slowly evolving into DraftExpress' favorite player at the camp,
Rashad Jones-Jennings
got by on very little today to make a very big impact on the game. One way to describe his style of play would be to say that Jones-Jennings is an addict, and the basketball is his drug. He is simple everywhere on the floor at any given moment, making big plays wherever he goes. Looking at how small he is (he looks around 6-7 or maybe even less), you want to just write him off in warmups before the game even tips off, but once you see how much of an impact he has, he forces you to rethink the sitaution…
After watching him play for two games here, it's no surprise at all to see him lead the entire NCAA in rebounding. He seems to have an innate sense for where the ball will end up once he sees it come off the hands of a shooter, positioning himself perfectly to come down with the rebound while pinning his man down with his strong frame. It's almost comical to see how quickly he goes to work once the ball hits the rim, just going after the rebound with reckless abandon and knocking over anyone that is in his way. Once he corrals it with his two huge and strong hands, he'll sometimes swing his elbows around ala
Charles Barkley
to scare off his opponents for good measure, just to further emphasize his dominance. No one here has figured out if Jones-Jennings actually has any teeth hiding inside his mouthpiece, but that's just another thing that adds to the level of intrigue.
Defensively, Jones-Jennings did a pretty solid job with the tools he has at his disposal, despite the fact that he gives up a lot of height and doesn't bring an incredible amount of explosiveness to the table to make up for it. He likes to gamble for steals on post-entry passes, and had some success at this tournament doing so, even if at times he'll get burned. His lateral quickness is obviously very solid, allowing him to get out and hedge screens on the perimeter and then recover quickly just like an NBA coach would want him to.
Offensively, Jones-Jennings is a very limited guy, lacking serious touch on his post moves and not having much to hang his hat on outside of 10 feet. He did hit a mid-range jumper from the baseline on one occasion, and mixed in a turnaround jumper with some strong finishes on others. If given the opportunity, Jones-Jennings will attempt to absolutely kill the rim every time he touches it. If he makes a bad play, he'll run down the court with a big snarl on his face, and sometimes clap his two massive paws together like he's crashing a pair of cymbals, creating a similar sound effect too.
Most NBA people we spoke to seemed somewhat dismissive of his chances of making an NBA roster. That's not a surprise considering that he's 6-7 at best and not particularly skilled or athletic. Jones-Jennings is a guy that coaches fall in love with, not scouts, since he's clearly not the prototype for what they are looking for in an NBA player at his positon. We're not saying he's a surefire bet to make the league or even that he has any real chance of being drafted (barring a great showing in Orlando), but he is a guy we enjoyed watching and wouldn't be shocked if someone found a spot for him somewhere. His matchup with
Ryvon Covile
was definitely a classic.
---
Jamaal Tatum, 6'2, PG/SG, Southern Illinois
11 points, 11 assists, 4 rebounds, 1 steal, 2 turnovers
Jamaal Tatum today did an excellent job improving on some of the weaknesses he showed in the previous game while also maintaining or improving all of the strengths he displayed. In the previous game, Tatum did a fairly good job running his team, but dominated the ball a bit, hurting the offensive rhythm of the team at times. Today, he didn't over-dribble at all, while still being able to consistently create offense for his teammates and keep everyone involved. He didn't shoot as well in this game, but still had an overall efficient game, and is continuing his campaign to prove he can effectively play the pure point guard position.

Tatum got into the lane very well today, both getting to the rim himself to score and dishing the ball out to his teammates for open perimeter jumpers or lay-ups around the basket. He does a good job drawing contact at the hoop, and is constantly putting pressure on the defense with his excellent first step and hard-nose in your face mentality. When a clear option to the rim isn't available, Tatum did a nice job finding the open man on drive and dish plays, being highly unselfish and showing pretty good awareness for where his teammates are. He's a good ball-handler and very smart finding openings to make good decisions, as he showed down the stretch using a screen to get into the paint and then knock down a pretty floater to give his team a clutch basket that was influential for the win.

Defensively, Tatum is a pesky guy who likes to get right in his man's grill and put outstanding pressure on the ball. His lateral quickness is very solid, and he has the type of aggressive mentality about him that can be very bothersome.
---
Adam Haluska, 6-5. Shooting Guard, Iowa
16 points, 4 rebounds, 1 assist, 2 turnover, 2 blocks, 1 steal, 5-13 FG, 3-7 3P, 3-5 FT
Jonathan Givony
This was another strong outing for
Adam Haluska
, a player that is establishing himself as one of the best prospects in Portsmouth and clearly one of the strongest candidates to get drafted. He showed off the various scoring tools he has at his disposal, and again got the job done in short scoring spurts. Haluska got to the rim constantly thanks to his terrific first step, and showed good toughness continuing to get into the paint despite traffic and the inevitable contact he was going to take. Haluska gets his shot blocked a decent amount even at this lower level of competition that he faces, so he will need to polish up his mid-range game and add a better array of floaters and runners if he's to find similar success driving the paint in the NBA. He's not the best ball-handler you'll find around either, so he's much better driving the paint in transition type situations than he is in the half-court. He got stripped on the few occasions that he tried to attempt some more complicated moves from the triple-threat position.
Haluska's 3-point shot was hot and cold today. His release isn't the cleanest in the world, but he has good enough touch to heat up from time to time and knock down a few shots. Not being a guy that really overly excels in any one area, he will clearly need to improve this part of his game if he's to stick in the NBA. Most teams aren't going to allow him to take over as big a part of their offense as he's been accustomed to in college and here at the PIT, so he will have to become more efficient and also a better defender and passer if he's to show that he can play rotation minutes in the NBA at the 2-guard position.
---
Sales Systems 73 - Norfolk Naval Shipyard 57
Stephane Lasme, 6-8, Power Forward, UMASS
5 points, 5 rebounds, 5 assists, 3 blocks, 2-4 FG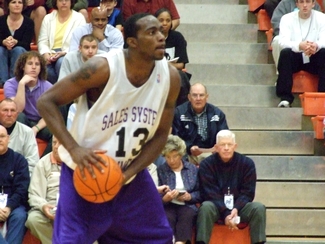 Eric Weiss
Lasme showed somewhat of a mixed bag of skills in his second showing at the PIT. The NCAA shot-block leader got a chance to display his interior defensive ability in this game due to the opposition's insistence on trying to come into the paint in their half-court sets. Lasme showed both weakside and on-ball timing blocking shots in this game, which gave those in attendance an up-close look at his quickness around the basket on the defensive end.
Lasme gets up off the ground extremely quickly and knows how to keep body separation well enough to avoid picking up fouls while looking to challenge shots. Lasme made it difficult for his opponent to not only score around the basket, but to shoot from outside as well. Lasme has the closing speed and quickness to challenge jump shots, getting his hand on a couple of fifteen footers while defending against the drive. It's not common for a player to effectively challenge for blocks at this range, but Lasme keeps himself on the balls of his feet and has the intuitive knack for reading the man and committing at the right time.
Offensively, Lasme tried to operate in the post a little more and didn't have much success. He can move with speed on his spins and overall movement around the basket, but he doesn't have a refined go-to move and often got ahead of himself while trying to make an aggressive play toward the hoop, losing control of the ball in the process. His face-up shot shows a bit of promise however, though its not a reliable weapon at this point by any means.
Lasme also lacks substantial lower body strength despite being a strong physical specimen overall. His core strength isn't where it needs to be in order for him to hold post position effectively against thicker, larger big men so this forces him to jostle more than he should have to. Working on getting defensive position in advance and holding it from the waist down is an essential element of post defense and something Lasme will have to improve on.
Overall, Lasme has the raw athletic ability that scouts like to see. He's strong, quick, coordinated, and explosive, while maintaining control over himself for the most part. Lasme's shown an eye for reading the court and making plays out on the elbows with his ball movement and has shown patience with the ball while setting up his moves, always a good sign. Lasme may be quick enough to guard NBA small forwards and eventually strong enough to guard power forwards, somewhat like a mix between
Udonis Haslem
and
Shawn Marion
in terms of size and activity defensively. But to compete on that level he'll have to build his body, refine his defensive fundamentals, and build out a basic go-to move offensively to fill a role. He's got some ability, but it will be the "intangibles" and opportunity that ultimately decide where he lands. He's an intriguing player to watch though and one worth watching further.
---
David Teague, 6-5, Shooting Guard, Purdue
14 points, 3 rebounds, 2 assists, 1 turnover, 6-13 FG, 0-4 3P
Eric Weiss
Teague showed marked improvement in his second game at the PIT in terms of seeing the court and making a concerted effort to get the ball to teammates when the opportunity presented itself. Teague was most effective with his passing in transition, but had a couple of nice looks in the half court set when he was driving the lane.
Defensively, Teague picked up his man and was more aggressive with his ball-pressure than the previous day as well. Its important for Teague to use his hands and footwork on defense early before his man gets the ball because Teague's body strength is not where it needs to be to play a contact game in the post and his foot speed is average for perimeter defense. Ball denial and a high level of hand and foot activity is a must for him when defending on-ball.
Offensively, Teague has a nice shot from a set position and when in motion, but doesn't have the type of tight handle to create high percentage shots for himself when tightly defended. For a player his size it will be essential to work on ball-handling skills, but with his ability to shoot the ball in motion it would be ideal for Teague to work on coming off of screens and becoming deadly on the catch-and-shoot. This is especially important for Teague because he's not explosively athletic and isn't going to have tremendous success attacking the basket and trying to take it all the way into the interior defense of a team.
Overall, the threat of his jump shot should enable him to shot-fake his opponent on the perimeter or off a curl which will then set him up for many open looks from mid-range. This should be his bread-and-butter offensive role wherever he ends up playing professionally. More Rip Hamilton and less
Steve Francis
should help to refine his offensive game and quickly develop an offensive role that a team can utilize in a structured offense.
---
Brandon Wallace, 6-9, Power Forward, South Carolina
10 points, 13 rebounds, 3 blocks, 5-6 FG
Eric Weiss
Over the past two games
Brandon Wallace
has shown a distinct knack for getting to the offensive glass, which is particularly impressive when considering how underdeveloped he is from a physical standpoint. Wallace is in dire need of a strength and conditioning regiment that can put about 20 to 25 pounds of muscle onto his long and lanky frame, but it would be time well-spent on his part.
Wallace moves very well without the ball and knows how to get into rebounding position while other players are standing still and watching the ball while it's in the air.
Offensively, Wallace shows a very promising stroke from 3-point range. He shoots with his arms above his head and squares up to the basket nicely using a short wrist-driven follow through on his release. He hasn't shown any ability to hit any type of motion shot to date, but as a set shooter he's got the potential to develop the range necessary for his position. Coupled with his offensive rebounding ability and solid athleticism, Wallace has a nice offensive base to work off of.
Defensively, Wallace hasn't stood out in this tournament aside from a couple of impressive blocks around the basket across the lane. But Wallace is quick off of his feet and has long arms and a low reach which helps his make it difficult for his opponent to put the ball on the floor offensively.
Overall, more work on his body and an increased commitment to building out his perimeter shooting will do a lot for Wallace's game. Player's that can have an impact without the ball in their hands are always a valuable commodity and with the addition of a reliable set shot, Wallace could impress more.