________________________________________
Ricky Rubio, 6-4, Point Guard, DKV Joventut, 1990
12.5 points, 3.3 rebounds, 3.5 assists, 2.1 turnovers, 2.5 steals, 45% FG, 36% 3P, 83% FT, 24 minutes
Jonathan Givony
Joventut's shaggy haired 17-year old point guard played an indispensible role in his team's Copa del Rey triumph. Coming off the bench in two of three games, but always seeing significant minutes, particularly in crunch time, it's amazing to see how much trust his coaching staff has in this precocious youngster.
Rubio is a point guard and a point guard only, standing 6-4, with a skinny frame that should fill out decently in time, long arms, and very nice athletic ability. He's quick, and has excellent body control and ability to change speeds, which helps him get basically everywhere he needs to on the court.
Offensively, he's primarily a slasher when it comes to his scoring ability. His footwork is a thing of beauty, and this, combined with his terrific ball-handling skills, creativity, and feel for the game, allows him to put constant pressure on the defense in a style that is somewhat reminiscent of
Steve Nash
. He's sometimes a bit too weak and not quite explosive enough to finish all his drives in traffic, though, which forces him to get a bit cute around the rim. He does know how to draw fouls, actually looking wise beyond his years in his ability to bait a referee into making a call that might otherwise have been borderline. There is actually already some behind the scenes grumbling going on that the men in stripes are protecting the Spanish wonderkid excessively.
Rubio can hit a 3-pointer, a static jumper he shoots with no elevation off the floor and somewhat ugly mechanics, but this is not a reliable enough weapon in his arsenal at this point, even if it's shown big improvement over the last year or two. Expanding his mid-range game will be another area he can work on to continue to progress offensively. His ability to become a consistent perimeter shooter will probably play a big role in deciding whether or not he reaches his full potential.
As a playmaker is where Rubio is probably at his best, though. He pushes the ball up the court extremely well, and shows incredible timing and instincts being able to create shots for his teammates. He's poised, mature and extremely confident here, not being afraid to attempt the unexpected, like making a no-look pass against the grain at top speed for example, a full-court skip pass or a behind the back look in one fluid motion without hesitating for even a second. He's a flashy guy, but there is always a rhyme and a reason behind his madness, he's not just trying to get on a highlight reel. Sometimes his creativity ends up costing his team in the form of a turnover, which is unavoidable considering his style of play and the high-risk nature of many of his passes. With that said, the experience he's gaining right now against some of the top defenses in the world outside the NBA at such a young age will prove invaluable down the road as he continues to progress as a point guard, and should help him cut down on these types of mistakes.
Ricky wouldn't be getting the minutes he's seeing if he wasn't able to hold his own on the other end of the court, though. It's here that he earns his keep, and already is able to hold his own against the best of the best in the ACB as he showed us this weekend, as the feature piece of his team's outstanding zone defense. His long arms gained his team a huge amount of extra possessions throughout the tournament, as his activity level, toughness, awesome hands and incredible anticipation skills makes him a menace in the passing lanes, as well as hitting the glass. He also showed the lateral quickness to stay in front of most anyone he went up against, which allows him to play outstanding on-ball defense as well.
Late in games, Rubio seems to elevate his game even more, proving himself as the winner he was made out to be when he first truly burst onto the European basketball scene by scoring 51 points in the Final game of the U-16 European Championships. He took plenty of responsibilities in both of the close games Joventut had to get through to advance through the semi-finals and finals, knocking down clutch free throws, grabbing big rebounds, showing poise as a playmaker, and not looking rattled at all even after making a questionable decision, of which there were a few in late game situations. As much as he amazes you sometimes, he still reminds you of the fact that he's extremely young at times, as his lack of experience showed in a few select moments that ended up luckily not hurting his team too much. To his credit, though, Rubio realizes that this is not his team, and therefore knows when to defer to his team's true superstar Rudy Fernandez when he feels like he might want the ball.
As you have probably already heard, we're talking about a truly special talent. After having the pleasure to watch him three times in three straight days here in Vitoria, it's safe to say that Rubio was pretty much worth the long trip to the Copa del Rey all by himself.
Victor Claver, 6-9, SF/PF, Pamesa Valencia, 1988
5.6 points, 3 rebounds, 1.4 assists, 1.2 turnovers, .6 steals, 47% FG, 40% 3P, 67% FT, 18 minutes
Jonathan Givony
After a very promising ending to his rookie season, particularly with his showing in the ACB playoffs,
Victor Claver
has seen inconsistent playing time on this very ambitious Pamesa Valencia squad, which plays both in Spain and in the ULEB Cup. That is somewhat to be expected considering his age, but due to numerous injuries Pamesa suffered on their front line, we were fortunate enough to see Claver get a career-high 35 minutes in the Copa del Rey.
Claver is a very intriguing prospect for a number of reasons, first and foremost due to his physical profile. Standing 6-9 with a good frame, long arms, and very intriguing athleticism for a European forward, Claver passes the eye test and then some on first glance. He has a very quick first step, is explosive off his feet, and looks like a very fluid all-around player, bouncy and reactive to things going on around him, clearly looking like his physical tools will not be what stands in his way of a hypothetical NBA future.
Claver started at the power forward position for Pamesa, and wasn't really anything more than a cog in their offense, which seems to be the case for how he's been playing all season long. His job here is to be a part of his team's ball-movement, mostly a spot-up shooter who moves off the ball looking for room to use his athleticism in open spaces, either with a sharp cut to the basket or a simple two-dribble foray and finish at the rim.
His perimeter shot looks decent when he has time and space to set his feet, with solid, fluid mechanics, and decent elevation off the floor, but he's inconsistent with his release point at times, particularly when rushed. He needs to improve his versatility here—especially the quickness in which he gets his shot off, as well as his ability to knock down shots off the dribble and in movement. He doesn't always fully set his feet and square his shoulders, which leads to some off-balance attempts, and it doesn't seem like he's fully confident in his ability to knock down shots, as he'll look quite hesitant at times if not completely open.
This seems to be a bit of a theme with Claver in general from what we saw at the Copa del Rey, and from the footage we evaluated of him this season. He's not a confident offensive player, somewhat cold in his approach to the game, and a bit tentative or passive on the offensive end. He has great tools to play the game, but at this point (possibly partially due to his role on the team), doesn't look 100% certain in his abilities as a player.
To fully make the transition to the small forward position, Claver needs to become a much better ball-handler. He is capable of taking advantage of unbalanced defenses and putting the ball down on the floor with a very quick first step, but struggles when forced to create anything more complicated than that off the bounce. He doesn't show much in the ways of advanced moves, not being able to change directions or use his off hand, which limits his potential on the offensive end of the floor, since he's not yet a great shooter.
Defensively, Claver brings excellent energy, looking very intense moving his feet and contesting shots, and doing a good job using his excellent leaping ability to make his presence felt in the paint and come away with rebounds. At this level, he does a fine job stepping out to defend the perimeter, but there are some question marks about his ability to defend the small forward position in the NBA, as he's a bit too upright in his stance (he's not very flexible bending his knees), and shows average lateral quickness staying in front of athletic wing players. He appears to be more comfortable in a hybrid forward role on an up-tempo team, but might not quite be as tough as you'd hope a player like that to be.
This summer is going to be very important for Claver's development, as it will go a long way in deciding what position he'll be best suited to play down the road. He needs to work on his ball-handling skills in particular, and become more versatile with his perimeter shooting ability. Getting more comfortable defending the perimeter will also be key for him.
Sergio Llull, 6-3, PG/SG, Real Madrid, 1987
2.9 points, 1.2 rebounds, 1.1 assists, .6 steals, 44% FG, 19% 3P, 69% FT, 9 minutes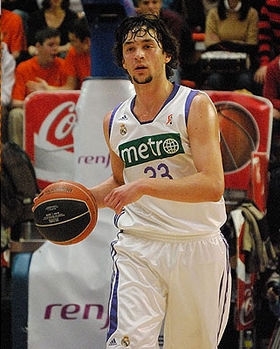 Luis Fernandez
After having regularly played throughout the season, it seems like coach Plaza thought that perhaps this Copa del Rey was a bit too demanding and important an event to trust Llull with meaningful minutes. It makes sense, since the young point guard is yet to settle his game down and mature as a playmaker. So he didn't step foot on the floor for the quarterfinal. However, he was given a chance in the semifinal, as Real Madrid was struggling late in the third quarter against Joventut, and he certainly didn't disappoint, indeed becoming a crucial factor in Real's comeback.
Playing as a shooting guard in the minutes he spent on the court, he did most of his work off the ball, and particularly stood out with his defense on
Rudy Fernández
, using his physical strength and athleticism to stay very aggressive on the ball, forcing the MVP into bad shots and turnovers. Offensively, he delivered a couple of nice transition plays, which is exactly the situation where he feels more comfortable, as he takes advantage of his quickness and fearless style of game (indeed a bit crazy at times).
Pau Ribas, 6-4, Point Guard, DKV Joventut, 1987
4.2 points, 1.1 rebounds, .9 assists, .6 turnovers, .8 steals, 50% FG, 41% 3P, 85% FT, 13 minutes
Luis Fernandez
Coming off an excellent ACB showing, Ribas continued enjoying playing opportunities in this Copa, and he did take advantage to showcase his solid perimeter stroke.

Although a point guard, when Ribas is on the court he usually officiates as an off guard, as it happened in the Copa. He's basically asked to be intense on defense and hit open shots. Still, he often shows a lack of confidence when it comes to executing any offensive plays. Not this time in the shooting department, as he seems to have gained confidence in this regard. In the Copa, he basically settled for spot-up jumpers (he enjoys three-point range), but he can easily go for pull-up shots.

Where Ribas struggled to get things done is whenever he decided to put the ball on the floor to attack an opponent. Not being a very explosive player, the lack of confidence he shows in his slashing abilities is hurting him, as he gave up the surprise factor with tentative moves. He also became a little bit predictable driving and dishing the ball the same way twice, having the ball stolen in the second.

Not blessed with amazing potential, Ribas still has the makings of an excellent European player. He just needs to gain experience and, obviously, continue working on his game.